Some of the links below are affiliate links, which means I will earn a commission at no additional cost to you, if you click through and make a purchase. Regardless, I only link to products we use on our homestead or believe in.
One of the things I love about the pioneer lifestyle is they didn't let things go to waste like we do in modern society. They reused old clothes as patches for other items or quilts. And there's one thing at our house that we have plenty of-coffee.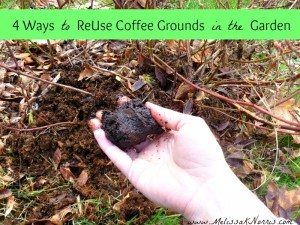 The coffee grounds you see below are called toddy grounds. It's a finely ground coffee that you allow to soak in cold water for 12 hours. It has 67% less acid than hot brewed coffee and doesn't bother my ulcer or stomach. It has the same amount of caffeine and I can heat it up if I want a hot cup of coffee. It stores in the fridge for up to 2 weeks and is the only way I can drink coffee. But regular hot brewed coffee will serve your purposes just the same. 🙂
The pioneers re-used everything and one thing most north westerners have plenty of in their home is coffee grounds. We enjoy a good cup of coffee on a daily, if not hourly, basis. Don't toss those old grounds when you're done with them. In true pioneer fashion, we're going to put them to good use. 4 ways used coffee grounds benefit your garden and plants.Tweet this
Place coffee grounds around your raspberries, blueberries, azaleas, rhododendrons, and hydrangeas, concentrating on the drip line. The level of acid left in used coffee grounds can vary, so they may not boost the acid level of your soil much, but the aforementioned plants thrive in acidic soil. Coffee grounds provide nitrogen to the soil and they also provide some resistance to some common fungal rot and wilt. This is great for tomatoes, commonly susceptible to blossom end rot.
Use it in your compost pile or worm bin. Keep this to 20 percent of your total volume for best results.
Use coffee grounds as mulch in your flower beds. It's high in nitrogen and adds other minerals to your soil. Work in a small amount to the top of your mulch. Compacted in large amounts coffee grounds can keep oxygen and water from getting to plants. Do a thin layer and work in with other materials, such as wood chips.
When planting new plants, mix in some coffee grounds with the soil to give it a quick boost. Don't go too heavy, a little will go a long ways.
One caveat is to use organic coffee if you're going to be placing them on your edible plants and berries.
I know Starbucks saves their used coffee grounds and have them available as a first come first serve basis. So even if you don't drink coffee, you can still get your hands on some grounds. We live over 45 miles away from the nearest Starbucks, so I haven't done this myself, but if you're close to one, swing by and grab some grounds for your plants!
Do you currently compost? What's your best gardening tips? How do you take your coffee? I like milk and raw sugar.
Get my free gift to you, Heirloom Gardening Guide-Plant to Save Money, with 2 other Free e-books here.