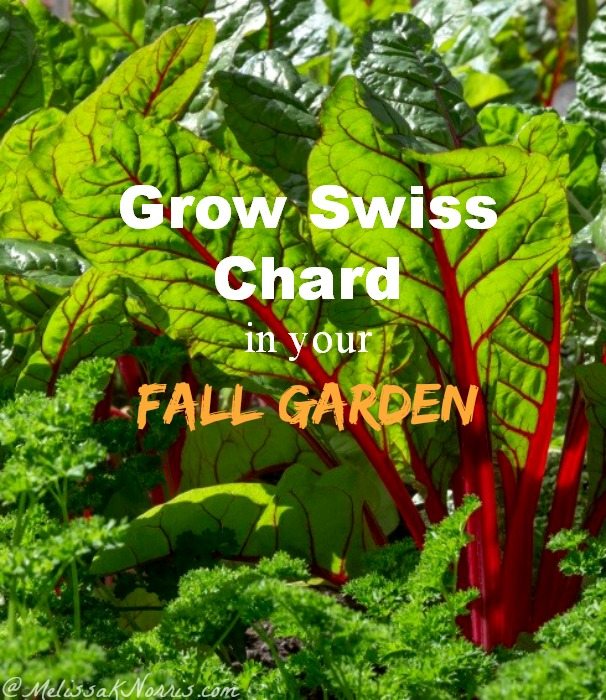 I don't know about you, but if I don't know how to do something, I'm not shy about asking. Because no one knows it all right? Between you and me, if someone does seem to know it all, I usually don't like to hang with them for very long.
While I'm a pretty old hand at gardening, there is a lot I'm still learning. And one of those things is increasing our fall vegetable garden. These 5 Plants to Grow Now for a Fall Harvest are some of my favorites, but I knew there had to be more veggies I could put in. (P.S. Did you catch our Planting a Fall Garden Podcast? It's packed full of tips for putting in your fall garden, cooling the soil, and using the frost to your advantage)
In steps Mike. He's a master gardener, lover of heirloom plants (a must in my book, literally and the e-book version) and he offered to write about growing Swiss chard, because I've never put this darling in. Can you believe it? Now I'm super excited to get my hands on some seed and see what I think of it.
Take it away, Mike!
Grow Swiss Chard in Your Fall Garden
If you were ever looking to add a vegetable to your fall home garden that tastes great, is easy to grow and does well in cooler weather, than look no further than Swiss Chard.
Swiss chard is a leafy green vegetable perfect for a cooler climate. With so many people in America expanding their gardening season well into the fall, the need for "what" can grow in the fall is in high demand. I was surprised to learn that not many people know what Swiss Chard is, what it tastes like, or how it grows.
Swiss Chard has high amounts of vitamins A, K and C as well as Iron. So not only does Swiss Chard make for a great addition to anyone's fall garden, but also a part of their nutrition plan.
You have a wide variety of choices when it comes to Swiss Chard. There are classical green leafy looks to Swiss Chard such as the White rib variety and a beautiful arrangement of colorful stalked varieties such as rainbow. As a side note, Rainbow Swiss Chard is wonderful to grow as an ornamental plant, making it a great choice for front yard gardens.
STARTING SEEDS
Sow your Swiss Chard seeds ½" to 1" deep into soil that has been well cultivated with fresh organic compost 45 to 60 days before your first hard frost. But, it will survive a few frosts, it's hardy that way. If you are growing in rows, be sure to spread your Swiss Chard out twelve to eighteen inches to give them the room they need to grow. If you use the square foot gardening method, I would recommend one Swiss Chard plant per square.
LOCATION
Like the other popular leafy green vegetable in the Amaranthaceae family, spinach, Swiss Chard grows well in light shade, but since you are growing in the fall, choose a spot that receives a full day's worth of sun. Remember, the days are getting shorter.
WATERING
A light daily watering, or every other day will suffice. When the Swiss Chard is growing, try to avoid watering the garden bed from above getting the leaves wet. With cooler temps setting in, constant fluctuations in temperatures, wet leaves make a perfect environment for your Swiss Chard plants to get cercospora (leaf spot) or mildew growth on its leaves.
CARE & MAINTENANCE
Feed your Swiss Chard weekly with a good organic fertilizer such as fish emulsion. I personally like to use compost or manure tea or take some fresh compost and spread it around the base of my Swiss Chard plants. The important thing is to make sure they are fed.
HARVESTING
Your Swiss Chard is ready to harvest when you have nice vibrant leaves that are six to eight inches in length. Simply cut the leaves off at the top of the stalk, below the leaf, and they are ready to use. The next question you may be thinking is, Can I eat Swiss Chard Stalks? The answer to that questions is yes. Here is 5 Ways to Eat Chard Stems.
Personally to me, I think the leaves taste better cooked than raw, although my wife disagrees and often eats a Swiss chard salad with just a touch of balsamic vinaigrette dressing. Regardless of how you consume your Swiss Chard, you will not be disappointed in this great choice for a fall garden.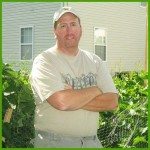 About the Author
Mike Podlesny is the author of the book Vegetable Gardening for the Average Person as well as the creator of the Seeds of the Month Club where members receive non gmo, heirloom variety seeds every month. You can listen to Mike each week on the Vegetable Gardening Podcast where he interviews gardening industry experts.
More Posts You May Enjoy