Some of the links below are affiliate links, which means I will earn a commission at no additional cost to you, if you click through and make a purchase. Regardless, I only link to products we use on our homestead or believe in.
The biggest garden planning mistakes and how to avoid them! Planning a garden is one of my favorite subjects although I didn't always recognize or realize how much value it has. Today I'll be sharing my tips on planning a garden and mistakes to avoid…including one common tip that you'd find when doing a Google search on how to plan your garden.
Raising food has been a part of my life since I was born. I was lucky enough to be raised by gardeners. I'm a fifth-generation homesteader so from my earliest memories of spring and summertime are of being out in the garden and helping to plant the beans.
I remember when I was really little I would walk through and my mom would show me how deep to put my finger in the soil, by showing me the line on my finger, so the hole would be the appropriate depth. I would poke my finger all along the row and she would come behind and drop the seeds in, in case my spacing wasn't exactly ideal or the depth was wrong, either too deep or too shallow. I would then go along and firm the soil over the seeds.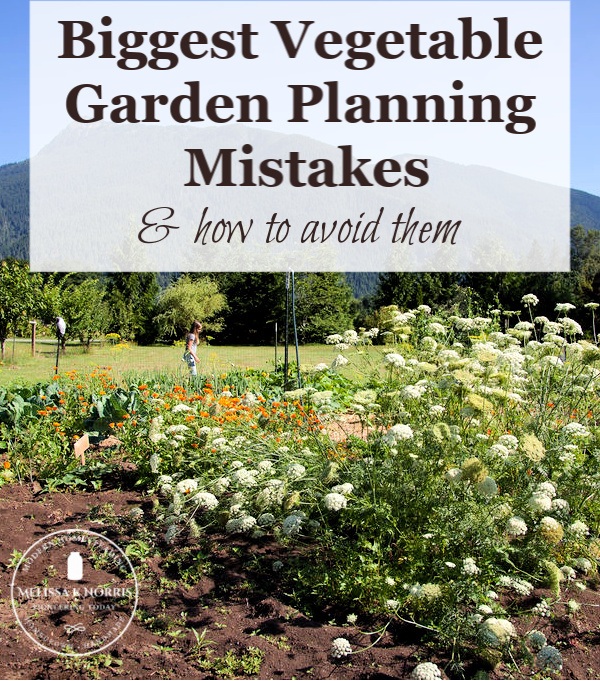 Why am I sharing this with you? Well, one, because I have been growing a garden and helping my parents from the time I could walk and toddle up until now and all through my marriage. I have 20 plus years of my married life having my own garden. I also share this because I have made many mistakes myself despite many years of experience under my belt.
Listen in below to the full podcast, Episode #226 Biggest Garden Planning Mistakes & How to Avoid Them of the Pioneering Today Podcast, where we don't just inspire you, but give you the clear steps to create the homegrown garden, pantry, kitchen and life you want for your family and homestead.
Best Garden Plan Challenge
That's why I want to talk today about these mistakes so that you can avoid them. I want you to be able to have amazing homegrown food with the least amount of work. I call it being very strategic and smart in the garden with the time and resources we have. And I want to help you make this happen.
I'm giving you five days worth of videos to help you plan your best garden ever, totally free. Each day you'll get a link to the video where I walk you through step by step so it's easy and bit-sized chunks that you can do. By the end of it, you will have a customized garden plan for your specific growing area, your climate, size of your family and the foods that your family loves and eats the most. I'll help break down the steps to help get rid of the overwhelm and I'll give you my best tips and strategies to make that happen, including free worksheets and charts.
Every day of the workshop I'll send you an email that will include a link to the session AND I'll be live during the video session so as we're going through it, you can ask me questions. Does this sound like something you'd be interested in? If so, register for the 5 Day Best Garden Plan Challenge today. It starts on December 30th! You'll still be able to register after the 30th and go through the challenge, but you'll want to go through it live with me so that we can go through it as a community.
Mistakes of Garden Planning
1. Starting Without a Plan
One of the biggest mistakes that people make when they're planning their garden is going in without really having a plan! I know, it seems kind of obvious but bear with me. I did this for years myself. Most people start planning by going to the store and buying seeds or ordering seeds after going through a seed catalog. From there they plant them in the ground and that's the extent of their planning. They just pick out seeds that look interesting or pretty and putting them in the ground. We're going to talk about doing it in a way that is going to serve you much more effectively and get you a bigger yield.
Key Elements Needed
When I did a Google search on how to play a vegetable garden what I saw in most cases as the number one starting point was to decide where to plant your garden. But that is NOT where you should be starting your garden planning.
You are missing a lot of key elements if that's where you start because it's not taking into account growing food that's going to take you through a year. Elements that are missing that needs to be considered in your planning:
Need to pick crops that your family eats the most of on a regular basis.
Pick crops that will actually grow well in your gardening climate and gardening zone.
Of the crops you want to grow, pick varieties that are best suited to the number of growing days you have in your warm-weather growing season.
Decide on Crops to Grow
From there, decide how many of those specific crops you need to plant in order to feed your family for an entire year. The number of plants I put in and the number you put in are going to vary, and they should.
What I mean is that what serves my family of four for where we're at right now with the amount of food that we are eating of tomato plants, for example, is going to look different than the number of plants that your family is going to need to take you through a year. One, obviously, the size of our families may be different and that's going to dictate how many you need based on the amount per person. The charts I mentioned that you receive in the 5 Day Best Garden Plan Challenge as well as the charts in my new book, The Family Garden Plan, have been designed with calculations for how much yield on average of one plant provides per growing season. From there you'll be able to calculate out per people in your family.
Based on how much your family eats of a certain crop every week and month, that's going to dictate how many plants you need to put in. For us, I need 18 to 20 tomato plants in order to take us through an entire year of tomato products and never buy tomatoes from the store. This includes all my tomato sauce, salsa, marinara sauce, pizza sauce, stewed tomatoes…everything made from tomatoes.
2. Having the Idea You Need a Lot of Land
After identifying crops and how much you need to get your family through a full year and picking varieties that are best suited to your growing climate, especially for warm weather crops, THEN you can decide where to put your plants. Most of the time a lot more can be put in than we think.
Even though my family has 14.96 acres, the majority of it pasture for our livestock or wooded areas. Where we actually grow our produce is on just half an acre in our backyard. On that half-acre we have:
People are always surprised how much is grown in the small space. In fact, when my editor came up for the photoshoot of my garden for my new book, she was very surprised to see the actual square footage where we're growing everything. She envisioned a much larger area. I say this because, even though the most common first tip is to decide where to put your garden, it's not where you should start even though you absolutely do have to do it.
When most people start there, they're not taking the best advantage of the actual food that's going to grow best in their area and that's going to serve their family's needs. They're not really looking at it strategically enough. Another area where a deeper dive is needed is looking at available space in order to get even more plants in to hit the goals of having enough plants to take you through a whole year. A lot of people get really limited by just thinking of this big vegetable garden area or a certain yard size where maybe you can put in a few raised beds, for example, if you're on a smaller plot.
Maximize the Space You Have
There are several steps you can take to make the most of the space you have. You can grow so much more in so many different areas than you think. The following are some great options to consider:
Sometimes all it takes is picking a slightly different variety that allows you to grow a lot more.
Vertical gardening makes it possible for you to grow more in less space.
Sneak food crops into your landscaping. Utilize spaces like a back deck, patio, or cooking area.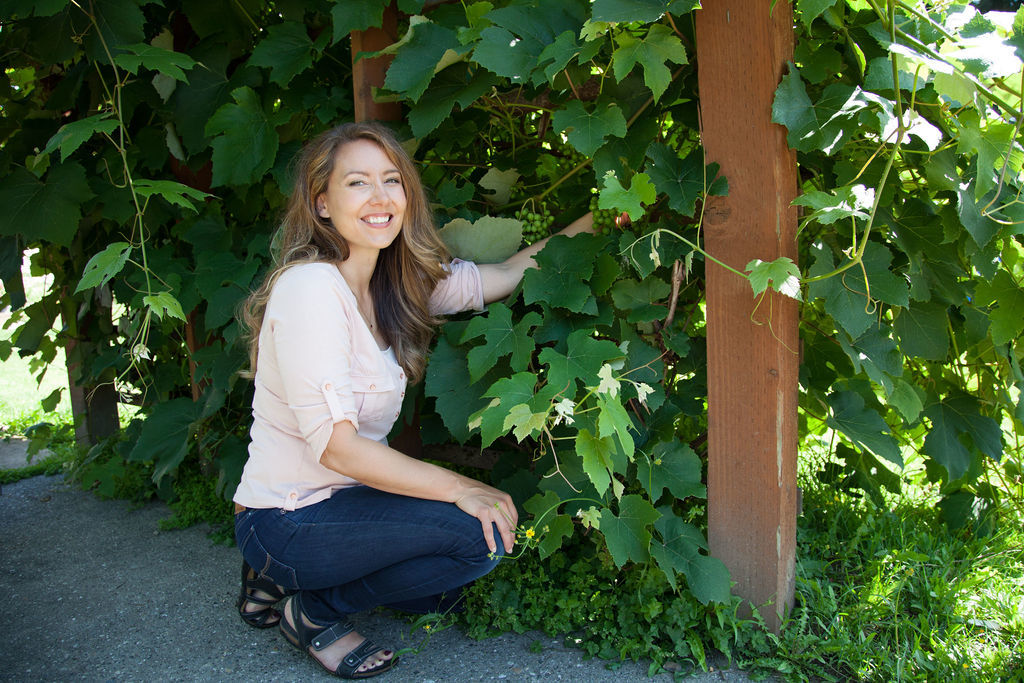 You'll see a picture in my book of a cooking area in our backyard where we have a fireplace and patio. Over the patio we built a grape arbor (I say we but mostly my husband). We have four grape plants, two on each side, that grow up and over and meet in the middle of the arbor. The actual yard space for the base of these plants is about one and a half square feet for each plant. So even if you don't have a lot of space, you can definitely go vertical where all of the growing space happens up and over.
We get a lot of produce from those grapes and they actually take up a very small amount of space. That's why I say many times we need to shift our vision of what we think growing in the garden should look like. Many of you could put in a lot more food-producing plants than you realize.
3. Not Adjusting Your Plans
Another one of the big gardening mistakes that I used to make was that I would just go off what I had done the previous year or only what we had always planted. That's how I would end up with an excess of 20 jars of something that I had preserved. The error of that rinse and repeat behavior would be realized when going through my pantry cupboards and find that I have 15 jars of a specific relish or 20 jars of this jam and jelly from two years ago. So why on earth am I still planting the same amount of those crops?
It's really key that we do this planning. Like I said, even if you have 20 plus some years of gardening that you go through this planning step so that each year's garden is based upon your family size and the foods that eat and the amounts that you're eating in this time and season. That's what I walk you through in very detailed steps in the 5 Day Best Garden Plan Challenge that I have coming up very soon. I really hope that you join me. It's going to be fabulous. Additionally, check out Planning and Preserving Q&A with Melissa where I go beyond the garden to implement proper planning in all areas of the homestead, and New Gardening Techniques & Varieties to Grow in 2022 that illustrates part of what this planning looks like in practice.
Here's to your best garden plan, and garden, ever.
Gardening is for the soul as much as it is for our bodies and the actual food we get from it.
If you are looking at growing more of your own food this year, you definitely want to check out the bonuses that you get when you order The Family Garden Plan.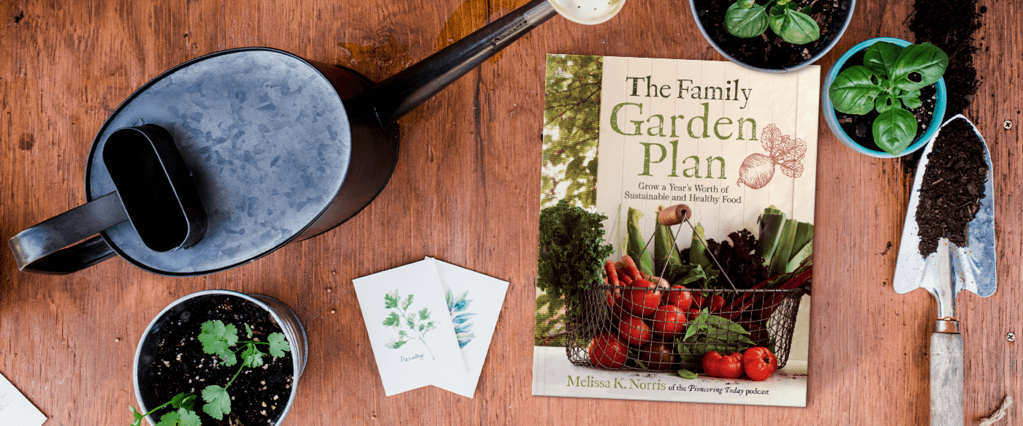 Preorder my new book today The Family Garden Plan to take advantage of all the bonuses! In this book, you'll learn how to grow a year's worth of food for your family! Increase your harvest and maximize the space you have using organic and natural methods to raise a year's worth of the fruits and vegetables your family enjoys with Melissa's step-by-step plans and charts.
If you've already ordered the book (thank you so much!) claim the bonuses by clicking here and then click the Get My Bonus Now button. Simply fill in the short form with your name, email and receipt number. I'll then send you the bonuses, both the Crop Rotation and Companion Planting videos to visually walk you through how to do it in your own garden. You'll also receive my Seed Saving 101 Video and e-book Package as well as the Organic Soil Amendment Guide. This guide alone is so in-depth and walks you through how to identify when your soil might be low, what your plants will exhibit, etc. This is especially helpful if you've not done a soil test but you're experiencing issues stemming from poor soil nutrition.