Learn how to grow Brussels sprouts the best way whether directly sown or starting from seed, and growing in a garden bed or a plant in a container. These easy tips do not take long, but you will need to follow them to ensure the best harvest possible.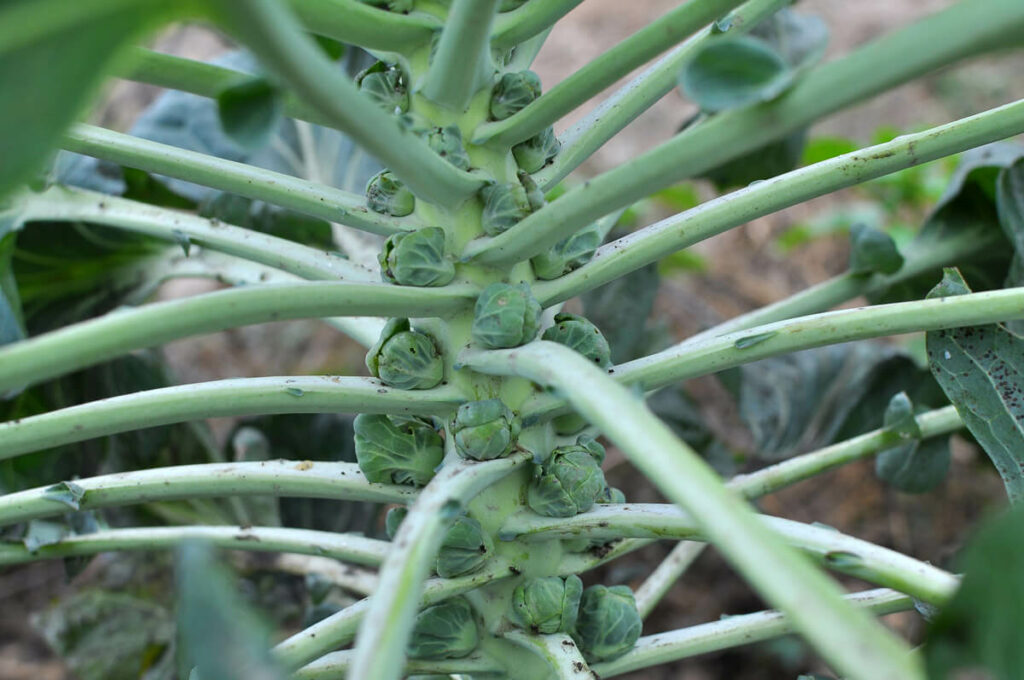 Read on to learn why it's no wonder Brussels sprouts are included in my top 28 crops to plant in the fall.
Table of Contents

[Hide]

[Show]
Why You Should Learn How to Grow Brussel Sprouts
Knowing how to grow enough food to feed a family for a year is becoming an increasingly popular topic in our culture but has always been a cornerstone of this pioneer lifestyle.
In the past, I have taught how to grow a large-scale garden without acreage, how to avoid common gardening mistakes, and shared gardening tips every beginner should know.
Brussel sprouts are a great choice when looking for a highly nutritious addition to your self-sufficient homestead. By weight, Brussels sprouts are denser in calories, fiber, protein, and vitamins (A, C, and K), and have a milder flavor than cabbage.
When asked "Are Brussels sprouts easy to grow?", you can be assured that when you know these simple basic guidelines, you can expect success in your garden too.
Before Planting
It is important to know that, like all other brassicas, Brussels sprouts are heavy nitrogen feeders. (Brassica is a grouping of the cabbage family that includes Brussels sprouts, broccoli, cabbage, cauliflower, collard greens, turnips, and kale.)
To ensure Brussels sprouts receive the amount of nitrogen needed, a quick soil test in the fall is best. This allows time for proper amendments to be made before planting in the spring.
Because Brussels sprouts remove so much nitrogen from the soil, there should be at least three years between planting a new crop of Brussels sprouts in the same place.
During these years, crop rotation can be practiced where other crops can be planted that replenish the nitrogen in the soil, and prepare it for Brussels sprouts once again. To learn more about crop rotation, read crop rotation based on plant families.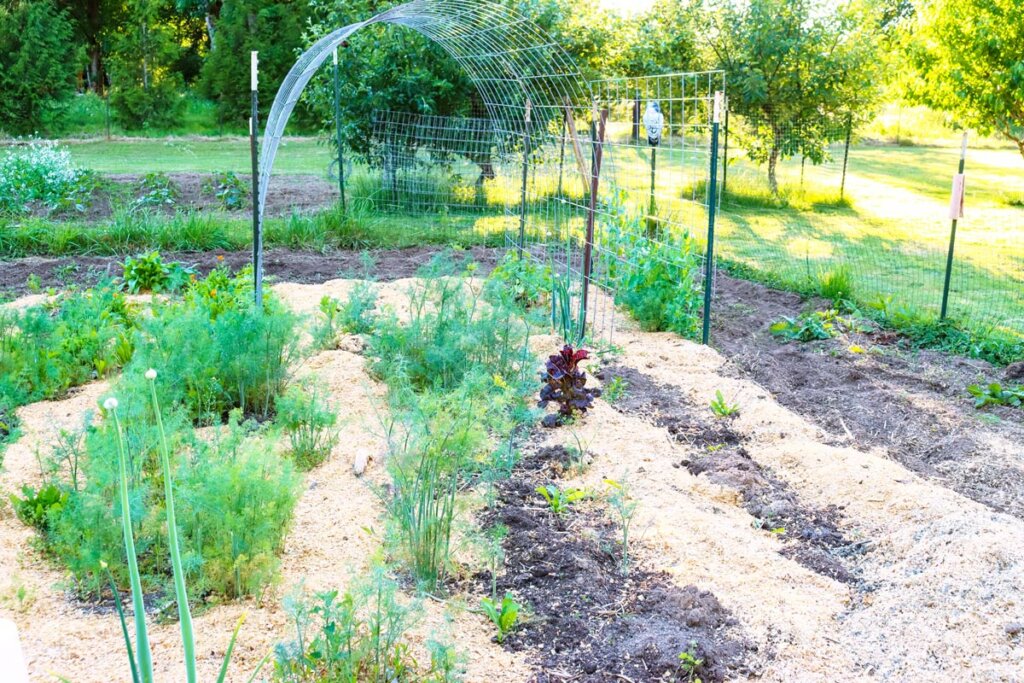 Supplies Needed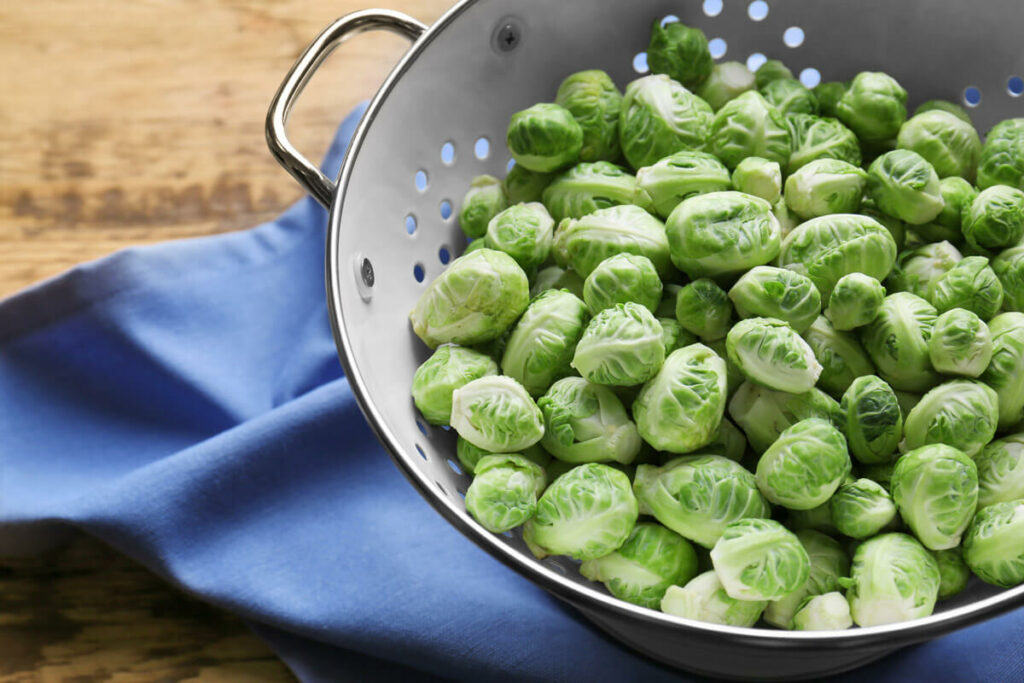 When to Plant and Harvest Brussel Sprouts
Brussel sprouts are a crop that requires a long growing season (anywhere from 80-200 days). In ideal growing conditions, each plant can produce up to 50 sprouts.
It is best to plant from seed in mid to late summer or 6-10 weeks before the first hard frost. Brussel sprouts grow just fine in cool weather, and the flavor is greatly improved by a frost.
Because of this, we try not to harvest our Brussels sprouts until after the first frost.
Pro Tip: If you struggle with slugs, cabbage loopers, or other garden pests, Brussels sprouts can be started indoors from seed, and transplanted after they have established healthy seedlings that are more resistant. You can read my step-by-step seed starting tutorial here, and I share more natural pest control methods here for you as well.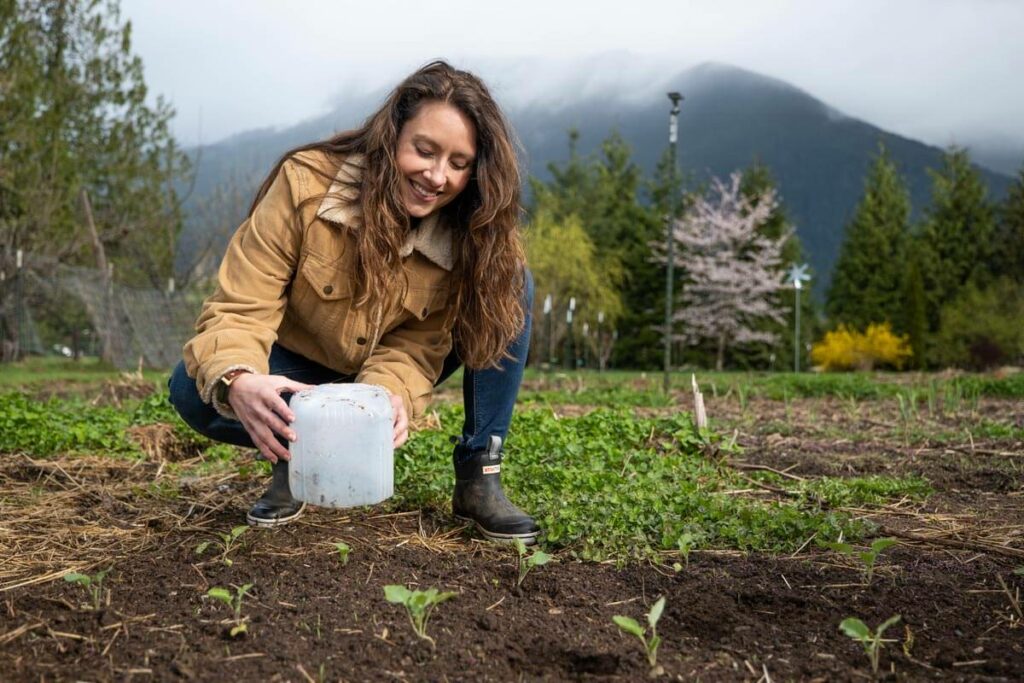 How to Plant Brussel Sprouts
Select a site with full sun and nitrogen-rich soil.
Sow seeds about ½ inch deep and 3-4 inches apart. (Planted seeds should germinate within 7-12 days and will need to be thinned with 2 feet spacing after they have a few sets of leaves.) When planting seedlings, wait until they are 4-6 inches tall and have a couple of sets of leaves. Plant seedlings 2 feet apart, and water well.
Water often by checking the soil regularly. Water whenever the top inch of soil shows dryness. To help retain moisture, add mulch after the seedlings mature. I share my experience with using wood chips as garden mulch here.
Every 2-3 weeks, add an organic nitrogen-rich fertilizer such as this fish emulsion fertilizer when watering.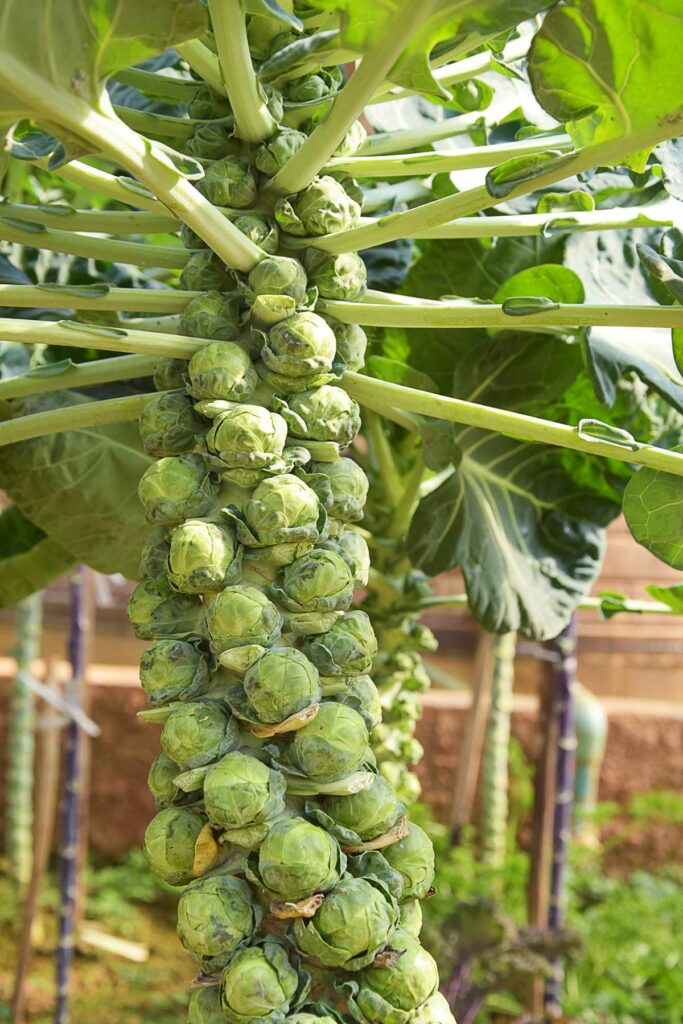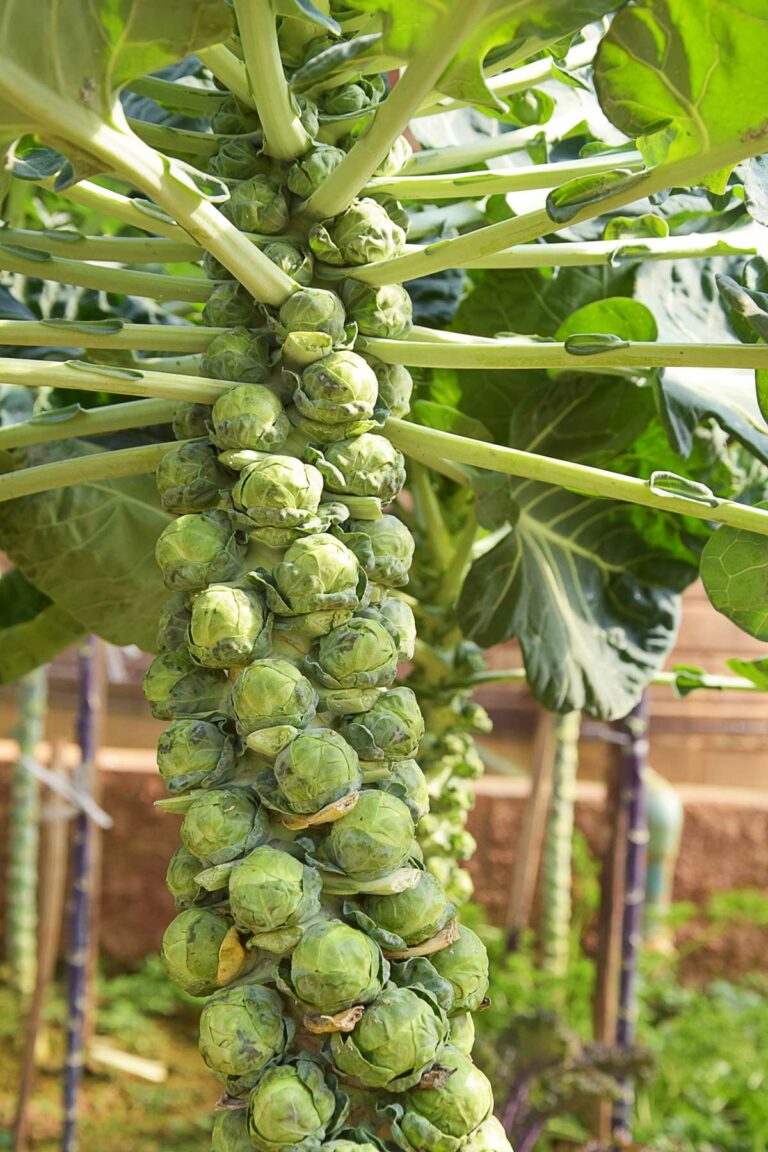 Pruning and Caring for Brussel Sprouts for High Yields
Brussel sprout leaves will start to yellow and decay around the bottom of the plant. Trim these off with a knife or trimmers to allow more airflow. This is especially important as you head into those rainy fall months.
Trimming off the lower leaves also allows the plant to put more energy into growing the Brussels sprouts and less energy into the leaves promoting a better winter harvest.
It is recommended to continue to trim the leaves up the stalk as the Brussels sprouts are harvested.
Topping the plant will also help force the plant to concentrate its energy into forming Brussels sprouts. Ideally, you'll want to do this two to three weeks before your first hard frost. To top the plant, simply remove the top three inches of the stalk with a clean cut.
Pro-tip: Planting companion plants around Brussels sprouts will help keep insects and other pests away. I've planted orange nasturtiums around the base of mine. To learn more about this method read my tips on companion planting for a healthier garden.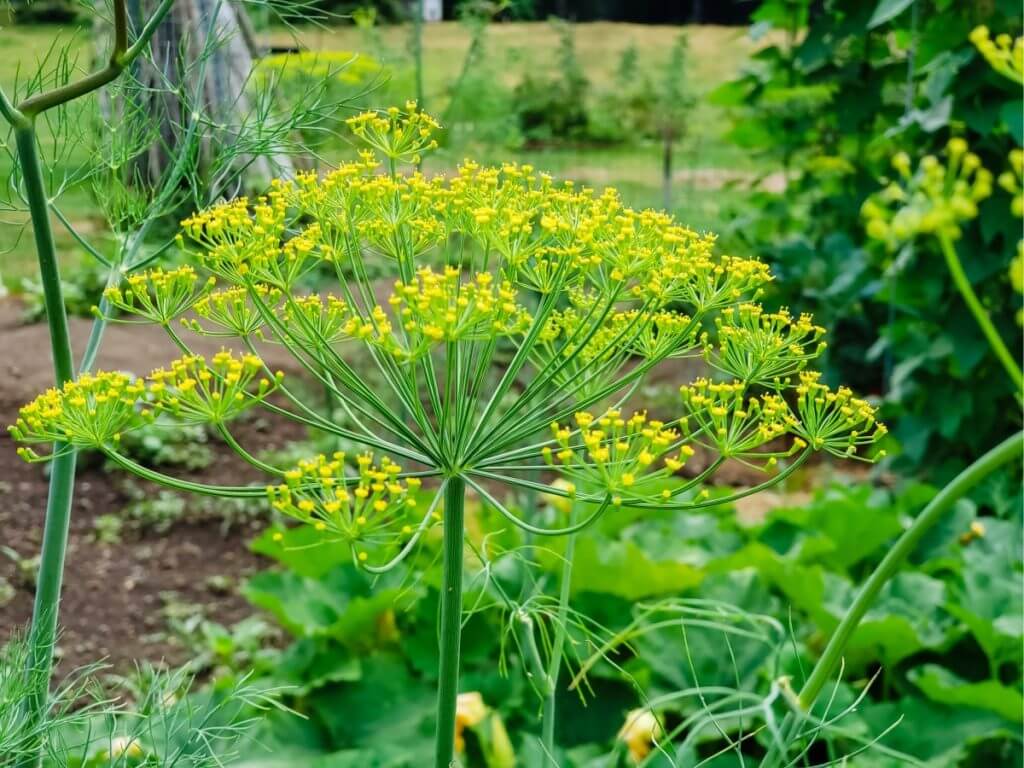 More Gardening Tips and Tutorials