Some of the links below are affiliate links, which means I will earn a commission at no additional cost to you, if you click through and make a purchase. Regardless, I only link to products we use on our homestead or believe in.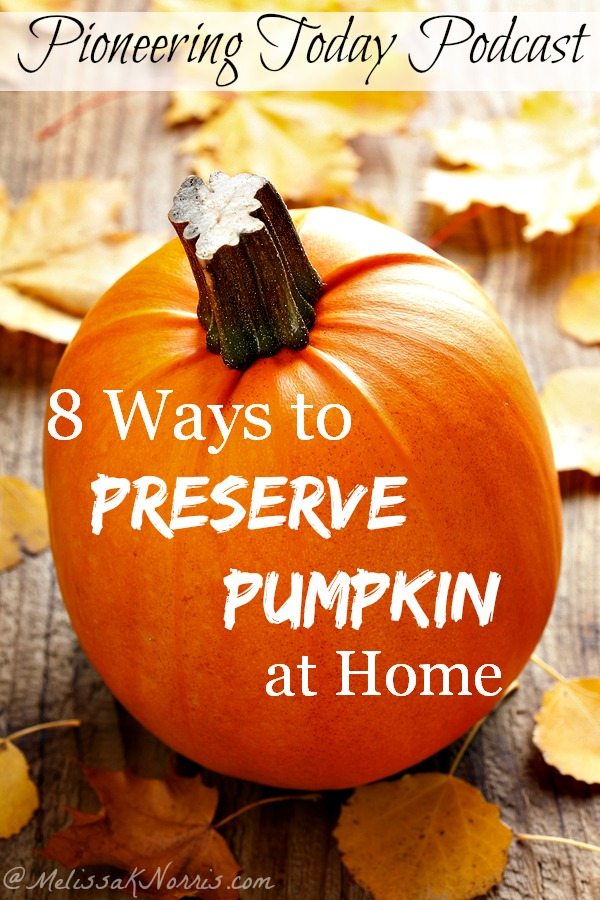 Did you know fall is the official season of everything pumpkin? We pioneer folk know the importance of putting up food when it's in season to use all year long, I give you 8 ways to preserve pumpkin at home. Including safety tips about canning pumpkin products at home.

Pumpkin, glorious pumpkin. I use pumpkin all year long thanks to my pumpkin preserving, but pumpkins are one of my favorite thing about fall.
Where to get your pumpkins?
We didn't grow pumpkins this year because quite frankly I ran out of room. Thankfully, my folks planted sugar pie pumpkins (which are smaller and sweeter, preferable to baking and cooking with), and they gave me six of their pumpkins.
If you didn't grow pumpkins, try and find a local pumpkin patch, preferrably organic.
8 Ways to Preserve Pumpkins at Home
1. Root cellar or cold storage. Make sure the pumpkin is mature. The skin should be hard on the outside and best to allow to mature on the vine. You always want to leave the stem on any squash you harvest to preserve it longer. Pumpkins won't store in cold storage as long as potatoes or other squashes, but you can store it for 2 to 3 months usually. Be sure none of the skin of the pumpkin is punctured or blemished for this method. To use for decoration or storing to use longer, wash the outside down and make sure it's thoroughly dry and has good air circulation. You can wipe the outside down with vinegar to help get rid of any bacteria that would make it break down faster.
Pumpkins like between 50 and 75% humidity and 50 to 55 degrees. For more info on storing pumpkins and winter squash click this link http://www.ces.ncsu.edu/hil/hil-24-c.html
Cook your pumpkin. There are two ways to cook pumpkin in order to use the following preserving methods. The method I've always done is to cut the pumpkin in half, scoop out the seeds, and put it face down in a roasting pan with about 1/2 to 1 inch of water, and bake until it's soft. This next method is one I'm excited to try. If you've done both, you are obligated (because I know my listeners/readers are into helping others out) to tell me which you like better, okay?
You can put the whole pumpkin in the oven (provided it's not too big to fit) and roast it. Check it by inserting a knife, similar to a baked potato, allow the pumpkin to cool before opening it out. Update: I now cook my pumpkin whole in my Instant Pot (you can do the same thing in the oven, it will just take longer)
2. Freeze it. You can freeze it in puree form or in cubed. I usually put cubes of cooked pumpkin in a wide mouth pint sized Mason jar because most of my recipes call for 2 cups of pumpkin. It thaws really quickly and I puree it right before using in my recipes. You could put it plastic bags as well, but I prefer to use my Mason jars.
3. Dehydrate pumpkin You can dehydrate pumpkin in either puree or cubed form. Jane from Mom with a Prep prefers the puree and then grinds it into a powder. Check out her tutorial here, plus a pumpkin pie smoothie recipe using the dehydrated pumpkin. http://momwithaprep.com/dehydrate-pumpkin-make-pumpkin-pie-smoothie/
4. Pumpkin fruit leather How did I not think of this one on my own? Take pumpkin puree, applesauce, and spices and make them into an yummy fall fruit leather. Here's the recipe http://www.chatelaine.com/recipe/fruits/pumpkin-roll/
5. Pumpkin butter (NOT a canning option) We've got to talk food safety here for a minute guys. Pumpkin butter is made from pumpkin, an non-acid food, and is only safe when pressure canned, but because pumpkin butter is thick it's not safe to be canned in a pressure canner. Pumpkin butter is safe to freeze or store in the fridge, not canned. Don't do it. I'm seeing lots of this on Pinteres and it's not a safe practice to can pumpkin butter.
However, some yummy pumpkin butter is definitely a way to preserve us some pumpkin. Pumpkin butter is something I sometimes just eat with a spoon. You don't do that too? Okay, I know, I know, it's supposed to go on things. But on a spoon counts, right? This is a great from scratch recipe for Pumpkin Butter.
6. Can cubed pumpkin (the only safe way to can pumpkin)
You may can cubes of pumpkin at home, not pumpkin puree, butter, or pie filling. Store bought canned pumpkin items are done with industrial canners that reach much higher temps than home models.
You put heated pumpkin cubes into the jar and pour heated cooking liquid over the cubes and process in a pressure canner. Here's an awesome tutorial from my girl Jill at The Prairie Homestead.
Having canned food is great for when I've not planned ahead and get the hankering to bake, aka, no time to allow frozen food to thaw.
Reader Question of the Week: What kind or brand of pressure canner should I get?
Answer: I go over this and many other recommendations, pros and cans of equipment for home food preservation in The Ultimate Home Food Preservation Guide (totally free, get your copy here). But for this particular question I have a 13 year old Murro pressure canner that I don't believe is still on the market. The closest one I found from our affiliate partner Amazon is this Presto Pressure Canner and is the more economical option and under a $100 to get started. If I had the funds or need to purchase a new pressure canner I want to try the All American Pressure Canner made in America and has a metal on metal seal, with no rubber gasket to replace. However, I've only replaced the rubber gasket and pressure relief valve on my pressure canner once for about $10. The All American Pressure Canner is the cadillac of pressure canners and something you can pass down for generations.
7. Roasted Pumpkin Seeds. I hate to throw away the scraps of food. I use apple scraps for compost, chickens, or apple cider vinegar. I know, it's not a pumpkin thing, but if you've got apples check out 9 Ways to Preserve Apples at Home. So pumpkin seeds are really a fun snack. The Jack-O-Lantern pumpkins are great for this as they have a ton of seeds in them. We can empty a baking sheet of pumpkin seeds in one sitting. We like them sweet and savory. Here's a fun 10 Different Roasted Pumpkin Seed Recipes. (You guys, the cinnamon maple one sounds awesome!)
 8. Pumpkin Syrup. Yes, pumpkin puree and sugar into a pumpkin syrup. Genius, right? Another Pinterest find. If you love Pinterest as much as I do, check out my Pinterest boards and see all the fun stuff I've got going on! Here's the Pumpkin Syrup Recipe.
Now that you've got all these ways to use pumpkin, one you definitely have to make is Grandma's From Scratch Pumpkin Roll, I even made you a video to walk you through each and every step!
Speaking of sharing
New Feature- What I'm Reading this Week
Books have changed my life and I know they have the power to change other people's lives. I thought it would be fun to share what I'm reading as a feature in the podcast.
I've felt really overwhelmed lately with all of the things I do online, at home, my day job, and the homestead. I know we all have demands and things that keep us busy. Knowing how to choose and focus on what's really important is something I need to get better at. This is a biblical based book that helps you lean on God to show you what and where you should be focused. It's made me cry and given me some revelations. . The Best Yes *affiliate link by Lisa Terkeurst. Lisa is the president of Proverbs 31 Ministiries, and the tag line of this book is making wise decisions in the midst of endless demands.