The deeper your pioneer roots go, the more you'll want to plant. After planting our garlic bulbs in raised beds for two years, we've decided we want to plant more.
If you need to enlarge or create a new garden bed, fall is the perfect time to get started.
When you're starting with lawn, lay a heavy and dark tarp over the grass. Make sure to weigh it down. Don't use white or clear, the light will still get through and you'll create a greenhouse effect instead of killing the grass.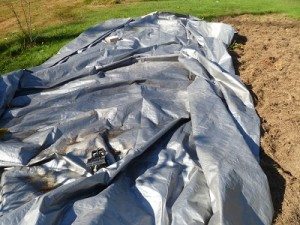 Leave the tarp down for at least two weeks. Lift up a corner to make sure the grass is dying. It's best to do this in the fall when grass is already beginning to go into dormancy.
After grass is killed, till up the ground. The first pass will leave larger clumps of roots. Keep going back through until they're all tilled up.
Now is the time to find out what kind of soil you have, if you don't know. We happen to have very acidic soil, which is great for blueberries and raspberries. But we add lime to our vegetable garden soil.
It's important to add organic matter back into your soil. Fall is a great time to add this in. It will have all winter to break down and enrich your dirt for spring planting.
We use chicken manure that's been allowed to sit for a year. Chicken manure is high in nitrates and will burn plants if not allowed to sit for a period of time. Dried cow manure, well-rotted horse, and dried llama manure all make great natural fertilizer.
Don't have access to poo? Spread leaves over your soil. By spring you'll have great dirt ready for seeds and starts.
What are your best gardening tips? Do you plant any fall or winter crops? Have you had to enlarge your gardening area since you started?
This post is featured on The Prairie Homestead Barn Hop.