Ever wonder if those old-time natural remedies really worked? I love old-fashioned things, but I also know some things we used to do way back when just weren't smart. That's what we're looking at today my friend, the smart things!
Seems everywhere I look, people are turning back to the old ways. There's something to be said from our mother's, grandmother's, great-grandmother's wisdom, or great-great-grandmother (you whippersnapper you).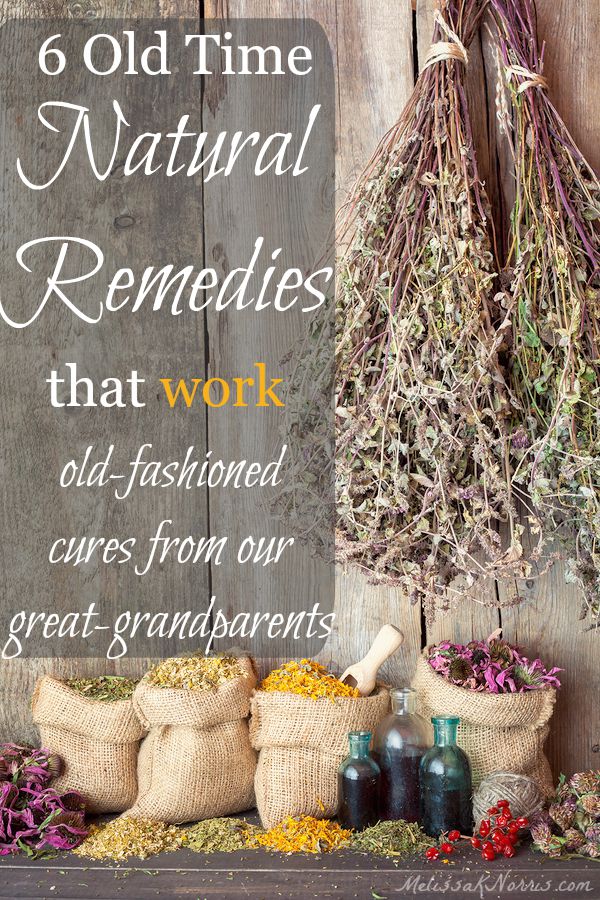 One of my favorite things is learning about old-fashioned skills I can use in my every day modern life. You, too? Ahh, I love kindred spirits. And because we're kindred spirits you need to make sure you get yourself on this Pioneering Today Free newsletter to get our weekly old-fashioned tips and articles, and our Ultimate Home Food Preservation Guide, putting up food like our great-grandparents!
I bet when you come down with the sniffles or common ailments, your mother or grandmother had a bunch of different remedies she'd recommend. Some of them are plain odd and really have no place accept for the fondness of telling the tale.
My grandmother told my mother quite seriously when she was pregnant with me to never lift her hands above her head or the cord would tangle around the baby's neck. And she seriously meant it. My grandmother was a smart woman, she survived the Great Depression and was widowed twice. She had her last child in her forties. She could squeeze four quarters and a penny out of a dime. But some of the things she was taught about medical things, we now know to not be true.
Resource for Old-Time Ways and Living
One of my absolute favorite old-timey ways is the Foxfire Books! I purchased the first of our set for my husband for Christmas, and they instantly became one of my favorite treasures. Full of pictures and old-fashioned wisdom from the Appalachians, you're going to love them.
This is the edition I have with over 100 page section on herbal remedies–> Fox Fire Book 11

Want 96% Off Herbs & Essential Oils Learning Resource?
This year's edition of the Herbs and Essential Oils Super Bundle includes 16 ebooks and printables and 10 full eCourses!
These top-quality resources cover everything you need to give you the skills and confidence to start using natural remedies in your home.
You'll get a complete library to help you:
Rebuild your medicine cabinet with natural remedies
Create beauty and skincare products without harmful ingredients
Treat your digestive complaints, pain, colds, and flus with everything in your medicine cabinet
Preserve, harvest, and cook with healing herbsDiscover the cancer-sugar connection and take back control of your health
Boost your mood, heat up the romance, and increase mental clarity with essential oil blends
Liven up your meals and get major health benefits by using the right herbs
and so much more!
Plus, it comes with over $100 worth of bonus offers from companies you'll love (even essential oil products!).
You sort of need to see it to believe it, but the package includes 26 digital products and it's worth over $770! check it out here
Special Bonus
I'm offering an additional bonus to anyone who purchases the Herbs & Essential Oils Bundle through my affiliate link, because I want you to be safe and have the knowledge you need to be successful and get started building and using a natural medicine cabinet with herbal remedies for cough and cold, skin issues, sleep and calming, and more!
A 2 page quick reference sheet of herbs listed by their medicinal properties, from anti-inflammatory, insect repelling, anti-viral and many more categories.
To get my bonuses, plus the 26 products (including 16 eBooks & printables and 10 eCourses) in the Herbs & Essential Oils Bundle, you only need to do two things:

1. purchase the bundle here
2. then go to melissaknorris.com/heobonus to claim your bonuses from me.

The combined value of the resources in the bundle is over $770, but you get EVERYTHING for 96% off!
You have to take old-time remedies with a grain of salt and do a bit of investigating before using them. After researching common old-time advice and "cures" this is a list of 6 that have been proven or have evidence that they actually work. This isn't an exhaustive list, but a great place to start. We'll be diving further into herbal medicine and treatments coming up soon!
6 Old-Time Natural Remedies that Work
1.Chicken soup is good for a cold. Grandma knew her stuff on this one. Chicken soup is good for a cold and there's science to prove it, even though us homesteaders knew it before they did, cuz we're cool like that. This article from the New York Times says: "In a study done in 2000 by Dr. Stephen Rennard at the University of Nebraska, lab tests on both homemade and commercial chicken soup with blood samples from volunteers, showed that chicken soup could help reduce upper respiratory symptoms."
Homemade chicken soup made with traditional bone broth and lots of vegetables is going to be even more beneficial. As we move into cold and flu season, I recommend stocking up on your stock. (You got that little pun, right?) Here's How to Make and Bone Broth & 5 Ways to Preserve It
2. Mustard plaster for chest congestion. My husband's mother and grandmother swore by this one and he still remembers having to wear the stinky mustard plaster. This is one of those that goes both ways. It's actually better for sore muscles and pain because it's a counter irritant (good info here on the actual enzyme), think capsacian cream, and warms the skin.
Note: mustard plaster applied directly to the skin can result in blistering burns! Do not apply it directly to the skin. Here are instructions on how to make a mustard plaster, application and how long to leave it on.
3. Baking soda for a bee sting. My daughter was stung by a bee a few weeks ago. The sting itself wasn't hurting, but she was itching it like crazy. I mixed up a paste of baking soda and water and applied it directly to the sting. It took away the itching and she was back to playing and running around in no time. This gets a thumbs up as works for me!
Note: If you're allergic to bees or suspect an allergic reaction, Benadryl or Diphenhydramine is always smart, along with a call to a Doctor.
4. Inhaling steam. When your nose is congested and you feel like you can't breath, take a hot shower, fill a sink or pot with hot water and make a tent. Take a towel and cover your head with it while leaning over the hot water, trapping the steam and allowing you to breathe it in. Make sure you use common sense and don't burn yourself. The steam will help loosen up your congestion (sounds much nicer than saying snot, right?) and allow you to cough up the ick easier.
Menthol (derived from the mint family) is often used in humidifiers and as aroma therapy and you can try adding a vaporizer or diffusing the oil to help. However, some small children and others may have sensitivities to peppermint and especially eucalyptus, so it' s not recommended to use this method with infants or small children. Watch for any signs of irritation when using this method of adding in the menthol family to your steam.
5. Honey. A spoonful of sugar helps the medicine go down…. well, actually, if you're using good raw honey, your medicine is in the sugar. A cup of warm honey tea with a bit of lemon doesn't just help warm you up, it actually helps your cough symptom.
Honey is now being (again, us homesteaders were ahead of the curve on this one, because we're cool that way) recommended as a cough suppressant in the medical community instead of over-the-counter products. Is there anything more cool than being able to use your food storage as your medicine cabinet, too?
Here's an article from the MayoClinic that talks about honey being an excellent cough suppressant all on its own.
I prefer local raw honey for all of the benefits it offers. If you can find a local bee keeper or local source, I'd go with that, otherwise look for raw honey at your local co-op or grocery store.
Learn how to make this ginger infused honey for a powerful two for one punch!
Note: Do not give honey to children under 1 years-old due to the risk of botulism.
6. Ginger for nausea and upset stomach. If you had an upset stomach, there's a good chance your granny might have given you some ginger tea. Turns out, ginger is actually a powerhouse in the medicine cabinet and can be used for not only nausea and upset stomach, but also for headaches, arthritis pain, and cold feet. Check out this article from WebMD on the powers of ginger.
Note: Ginger works well for helping soothe an upset stomach, but if you're on blood thinning medications or have a blood clotting disorder (such as my daughter) you shouldn't use ginger.