Some of the links below are affiliate links, which means I will earn a commission at no additional cost to you, if you click through and make a purchase. Regardless, I only link to products we use on our homestead or believe in.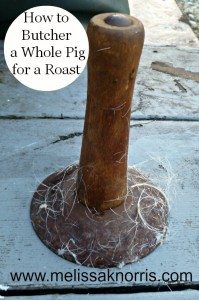 After asking several of you if this would be a subject of interest, the answer was yes. The video is done as tastefully as I could while still showing you how to do things.
The pioneers had to butcher their own meat and while you can go to a butcher, we prefer to do things ourselves if we can. Below is the video link to show you how to butcher and prep a whole pig for a pig roast. It starts after the pig is shot and bled, beginning with the scraping off of the hair.
To scrape off the hair, you have to dip your pig in hot water. The water needs to be 150 degrees, or hot enough to hold your hand in for only five seconds according to old timers (I recommend a thermometer). If it's boiling, then you'll cook the skin and you don't want to to do that until you begin roasting your pig.
Tug on the hair and if it starts to come loose, transfer your pig to a table and begin scraping off the hair with a bell scraper and sharp knife. Even if your pig has patches of color, it will scrape off leaving a nice white hide.
Once all the hair is scraped off, use a small torch to sear off any small remaining hairs.
Now you need to gut your pig, the same as you would for a deer or cow. If you've never gutted an animal, have someone with experience come over to show you how. If you nick the bladder or intestines, your meat will be tainted.
After gutting the pig, put him in a cooler. Next week I'll share my recipe for the dry rub, barbecue sauce, and we'll go through the actual roasting process.
Do you raise any of your own meat? Do you butcher it yourself or hire that part out?