Making a creamy green bean casserole from scratch is nearly as easy as the typical "traditional" version using canned soup and french fried onion strings (I hate to use the word traditional for that version because in my mind traditional is the from scratch version… )
My version is made completely from scratch, with homemade cream of mushroom soup, green beans, and a delicious twist that makes this recipe the VERY best green bean casserole recipe you'll ever make, I promise!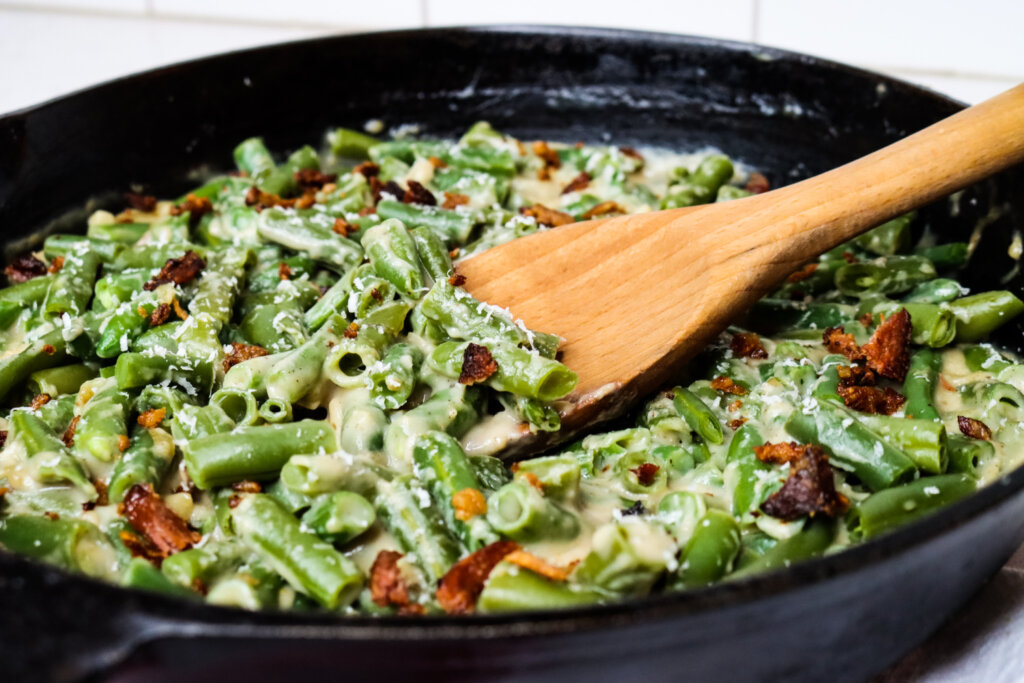 This wasn't a dish you'd have seen at the first Thanksgiving (check out true traditional Thanksgiving fair from 1621!), but it sure does grace the Thanksgiving table of many homes today.
Round out your Thanksgiving dinner with any of my pie recipes (apple pie, old-fashioned vinegar pie, mini cherry pies, or even these fun homemade hand pies), or go less traditional, but perhaps even more delicious (?) with fermented cranberry sauce and my great-grandma's pumpkin roll recipe.
Table of Contents

[Hide]

[Show]
What Makes This Recipe the Best?
Quite simply put, the FLAVOR. When you're making a homemade green bean casserole from SCRATCH, using home-grown and home-canned green beans, plus homemade bone broth, ya get all the flavor without any of the icky ingredients found in condensed cream of soups. Plus, with all that beautiful homemade goodness you don't want to ruin it by using canned cream of mushroom soup.
Especially when you can make your own cream of anything soup at home, from scratch in mere minutes!
So when you're making this recipe, truly from scratch, the flavors are richer, the ingredients are so much healthier, and you can rest easy knowing you're feeding your family true comfort food without the guilt of unknown or questionable ingredients. Amen!
How Did Green Bean Casserole Become a Thanksgiving Dish?
Green bean casserole dates back to the 1950's when the goal for a Thanksgiving side dish was to be a simple and frugal as possible. And what two ingredients did most homes have in the '50's? Cream of mushroom soup and canned green beans!
The recipe actually used to be called "Green Bean Bake" and was printed on the cans of Campbell's Cream of Mushroom soup.
The recipe has come a long way, and may I say, improved greatly!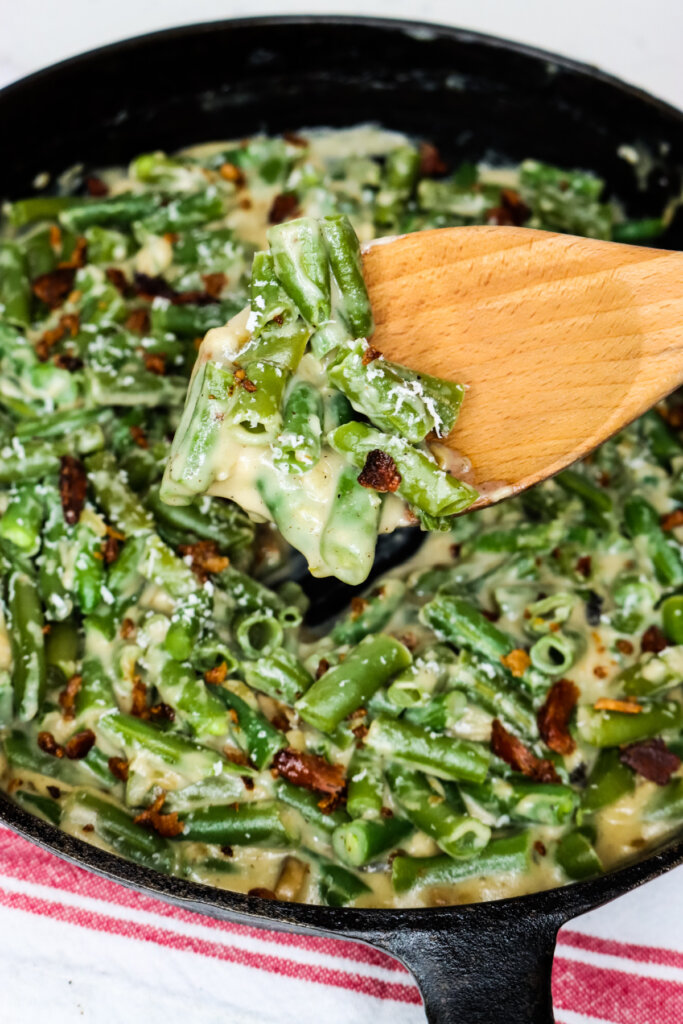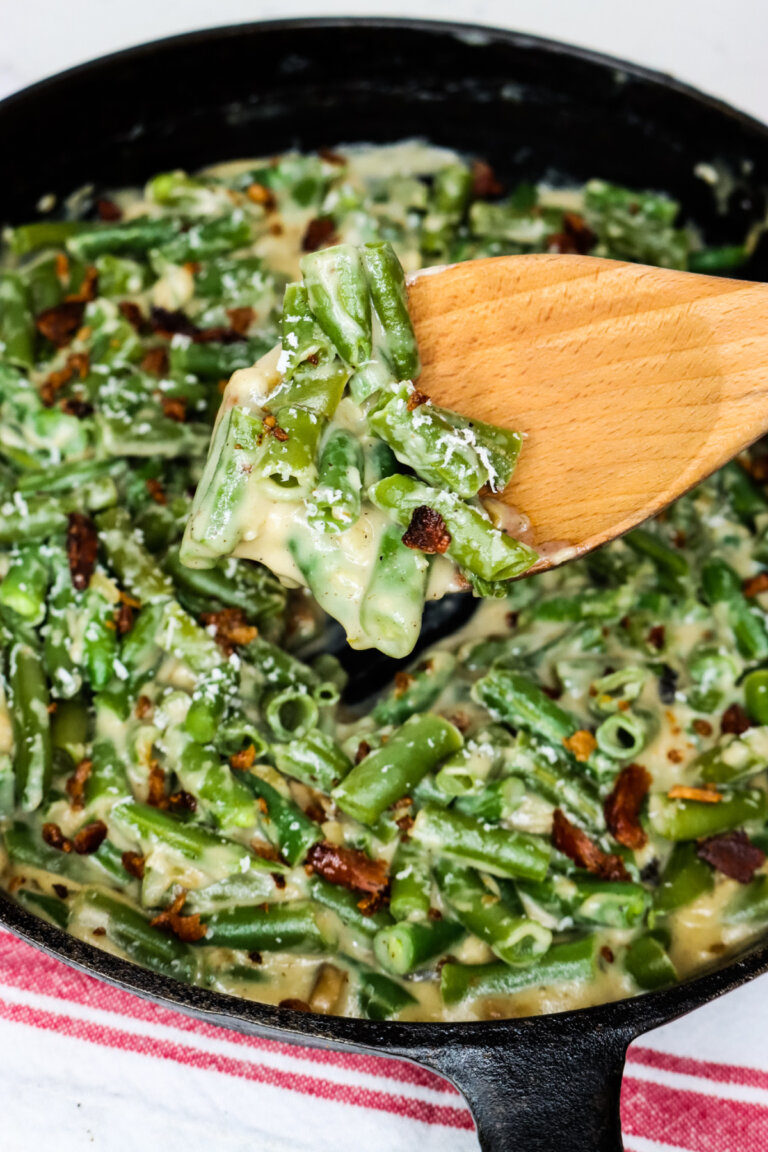 What I Love About This Recipe
My very favorite thing about this recipe? The bacon! That's right, I said BACON!
Green beans and bacon just go hand in hand, don't they?
One time when I was making up this recipe (because in my family we eat it throughout the year, not just on Thanksgiving), I didn't want to take the time to slice, flour, and fry up homemade onion strings (although they're amazing, I just didn't want to spend the extra time or trouble and let's face it, when making holiday dinner we don't have extra time for that step).
And being an ingredient label reader whole foodie, I can't bring myself to buy and purchase those cans of french fried onions.
Instead, I fried up a few slices of bacon, crumbled it on top to give that same "crispy crunchy" factor, and I've never gone back since! I suppose, if you really wanted to get fancy, you could add BOTH crunchy bacon and fried onion strings!
I also love how quick this recipe is. If you haven't seen my recipe for homemade cream of anything soup, you really need to hop on over there and bookmark that recipe, because this green bean casserole calls for homemade cream of mushroom soup.
But don't get too intimidated, it's really simple and can be whipped up in just four minutes flat! I timed it!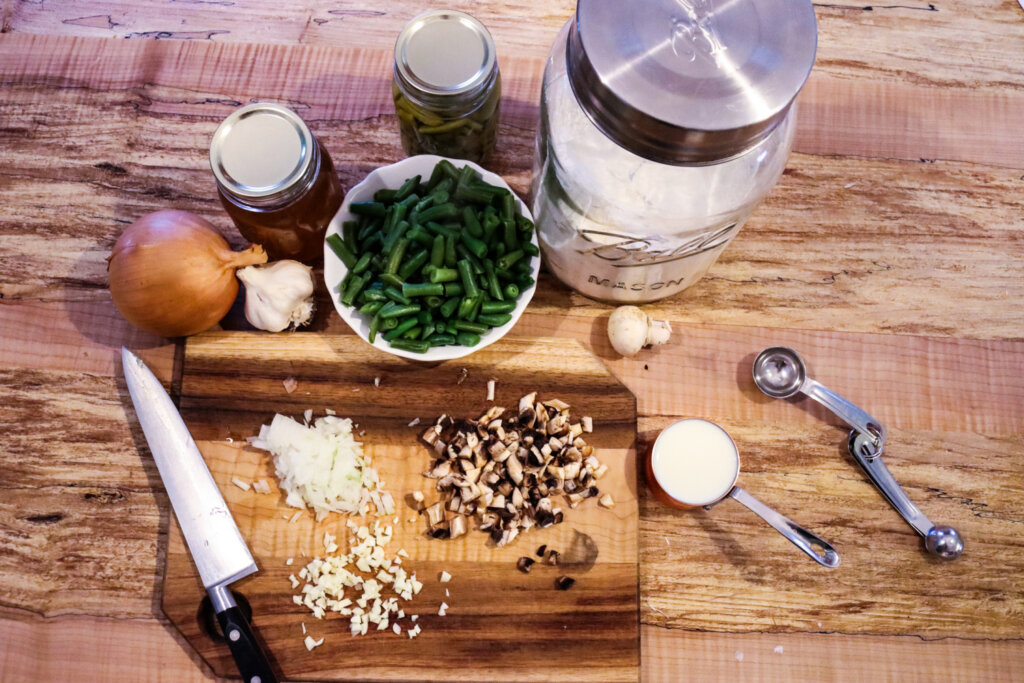 Ingredients Needed
Green beans – you can use canned, fresh, or frozen green beans.
Bone broth – using homemade broth is truly the best, healthiest, and most flavorful! See my tutorial for making homemade chicken broth and if you'd like to make up a big batch and pressure can it, I have instructions for canning broth at home, too!
Cream of mushroom soup – please, PLEASE don't ruin your green bean casserole with store-bought cream of soup! If you've never made it at home, from scratch, go check out my cream of anything soup recipe now and realize just how quick and easy it is! As in, 4-minutes and 5 ingredients easy! The creamy sauce is truly what makes this recipe decadent!
Bacon – y'all can still add the french fried onion strings if you'd like, but if you haven't given crispy bacon a try to sprinkle all over the top, you haven't lived! I've never gone back to onion strings since trying my green bean casserole this way! TRUST ME!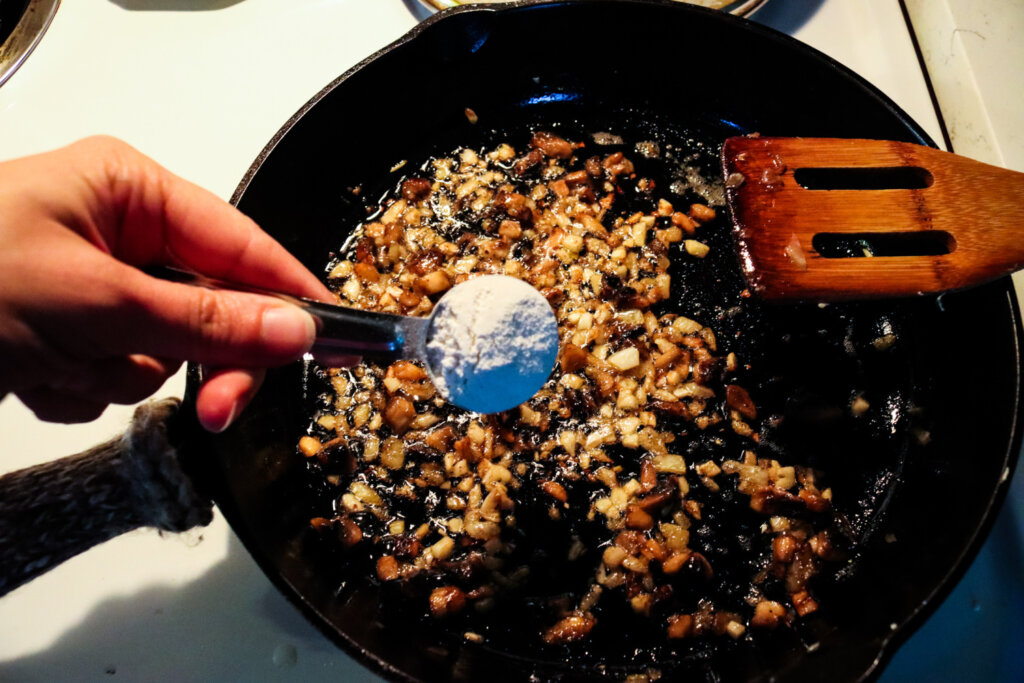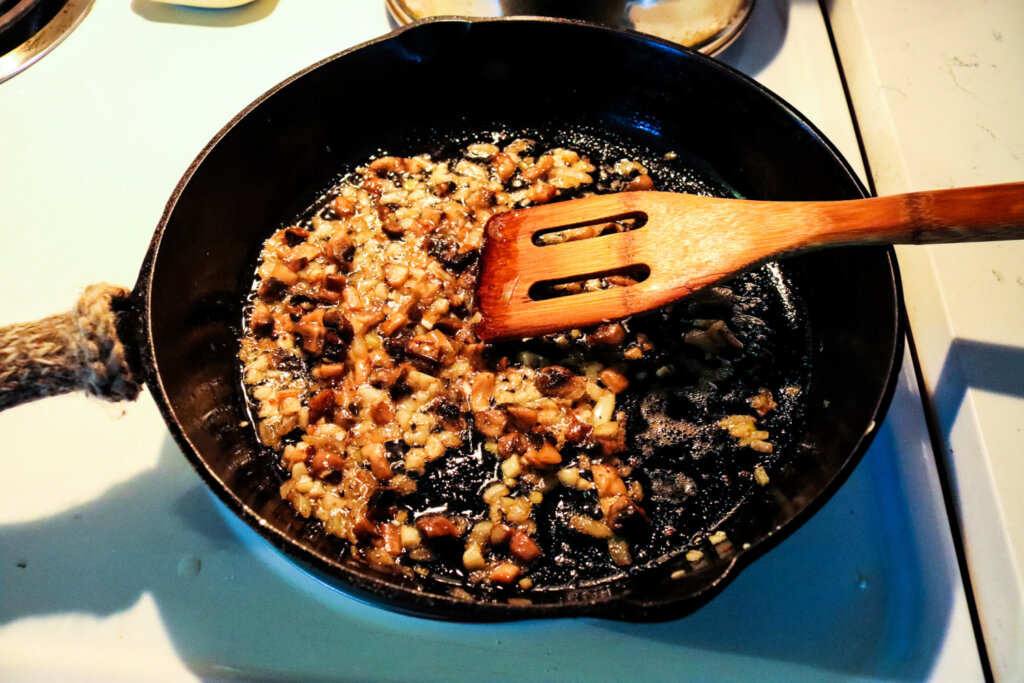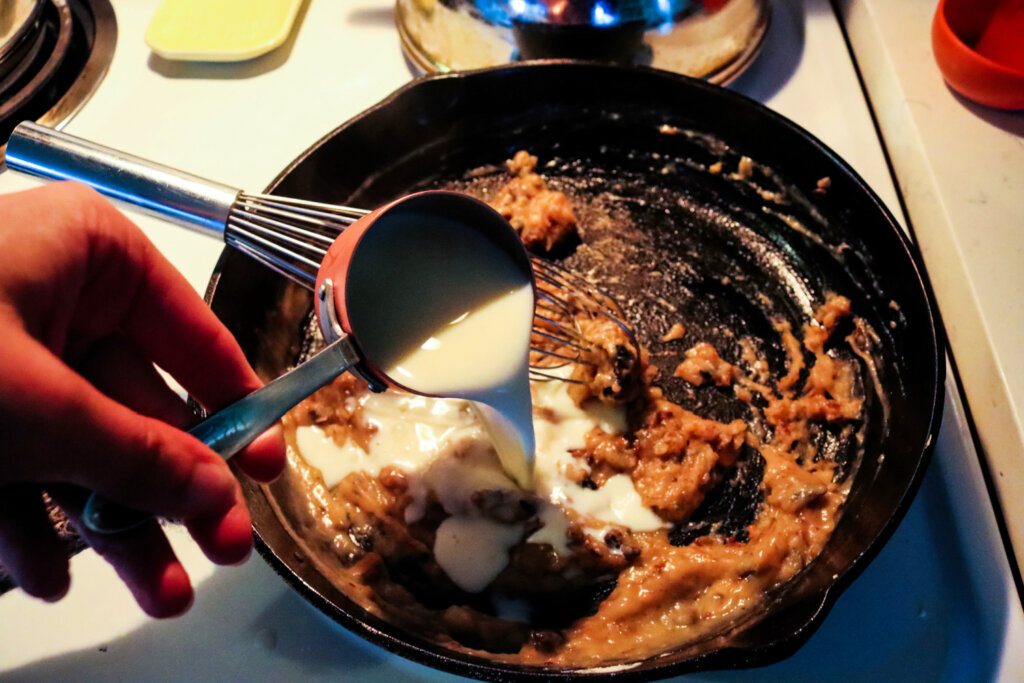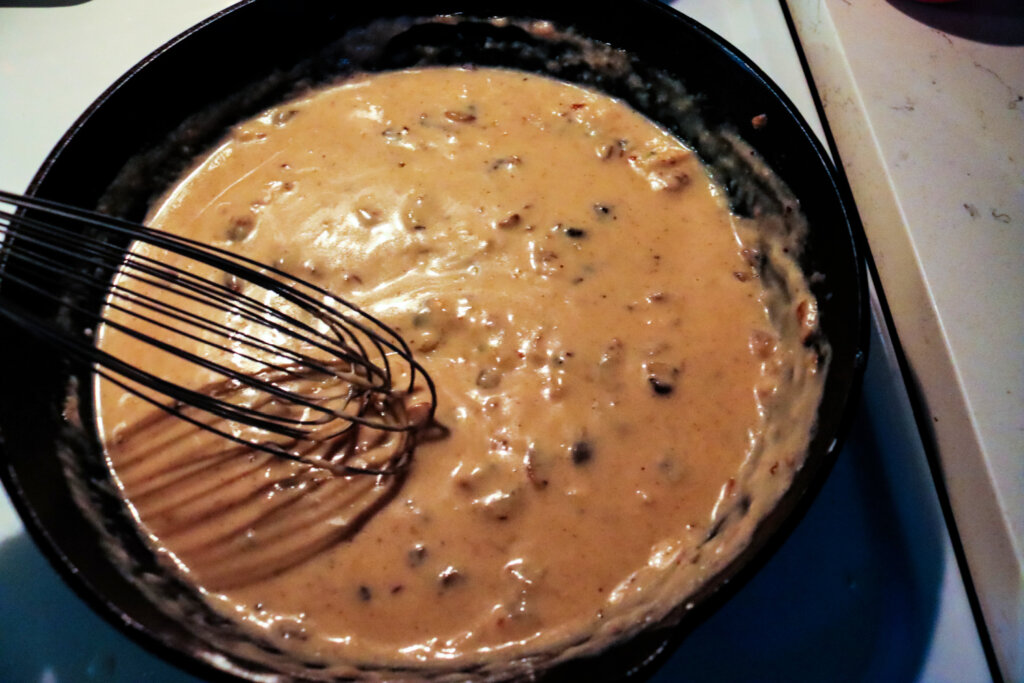 Instructions
Preheat the oven to 350 degrees F.
Grab a cast-iron pan or a casserole dish and add your homemade cream of mushroom soup (I like to make this up ahead of time and have it ready to go in the refrigerator for an even faster side-dish!).
Open up your jars of green beans and drain. Or, if you're using frozen green beans you'll want to thaw them first (you can do this quickly by placing them in a colander and running them under cold water) and blanch for 3 minutes. Or, if you're using fresh green beans, blanch them for 1-3 minutes beforehand and drain well (or add them raw if you like them a little bit crisp). Add green beans to your cream of mushroom soup and stir gently to combine. Evenly distribute beans around the pan. Add salt and pepper to taste, if desired.
Cook and cool three to six slices of bacon. Crumble bacon over the top of the casserole and pop into the oven. (Now is when you'd add your french fried onions on top if you're using them, too!)
Bake until casserole is heated through and bubbly, about 20-25 minutes.
Remove from oven and grate about 1 tablespoon of fresh parmesan cheese over the top. Serve immediately.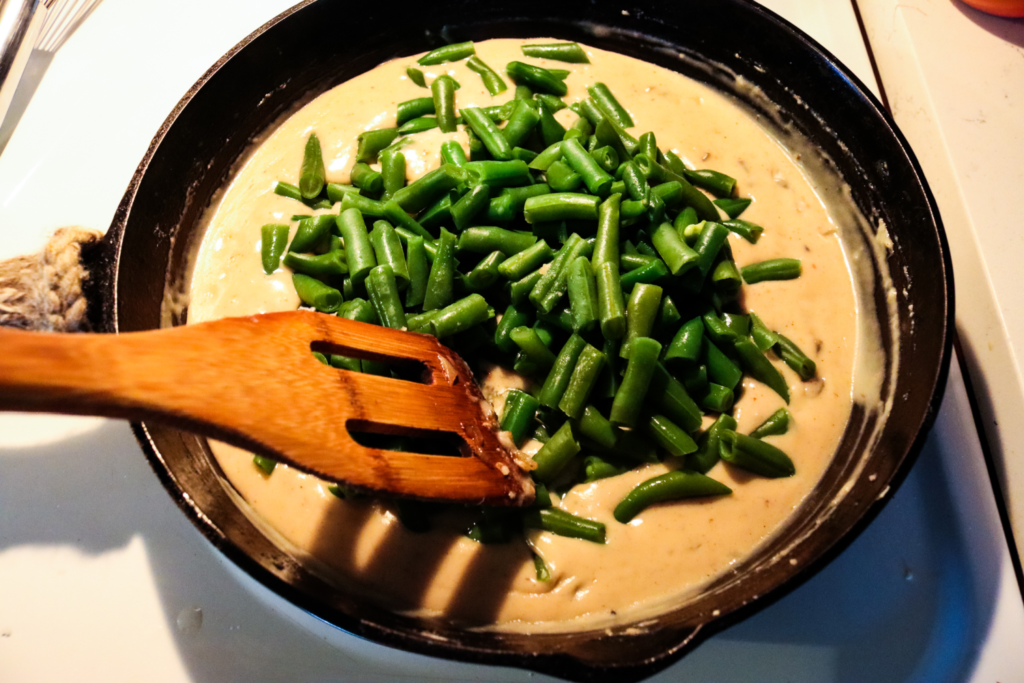 Make-Ahead Instructions
If you were wondering if you can make this recipe ahead of time, the answer is YES! You can make this recipe a day ahead of time. Simply follow the instructions through step 3 (you can even cook and cool your bacon ahead of time, just don't top your casserole with it yet!), cover, and pop it in the refrigerator.
About 40 minutes before you're ready to serve, preheat your oven to 350 degrees F, remove the cover from your casserole, top with crumbled bacon, and bake until heated through and bubbly, about 25 to 30 minutes.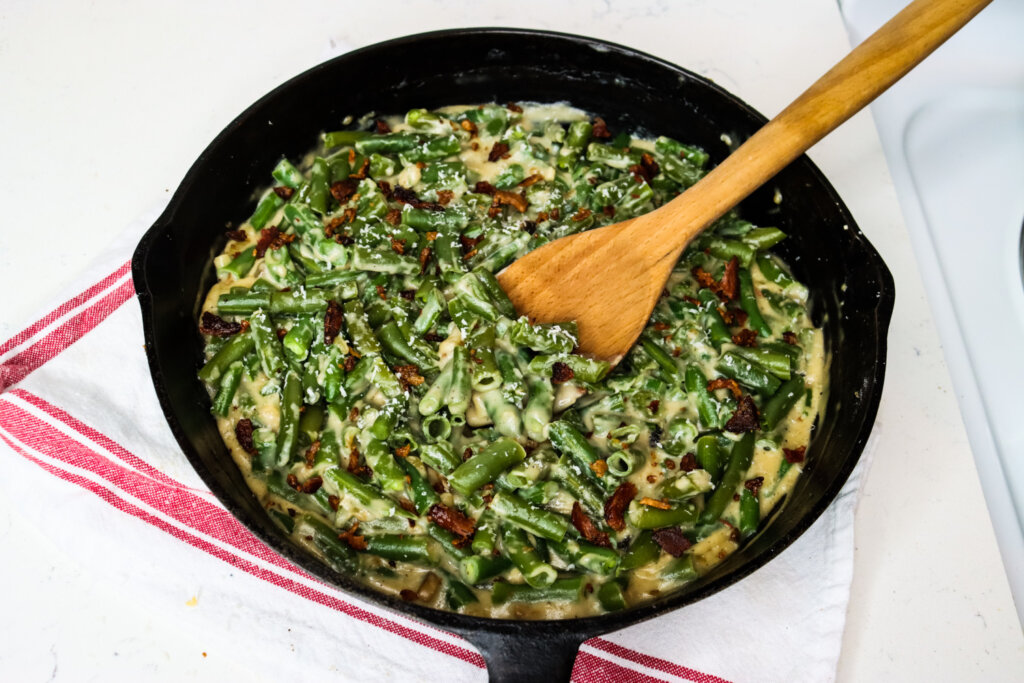 If you like this recipe and make it, snap a photo and share it on INSTAGRAM! Tag me @melissaknorris so I can check it out, leave a comment, and maybe even share it! ?
More Recipes You May Like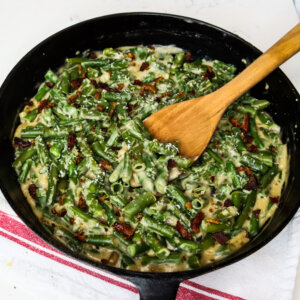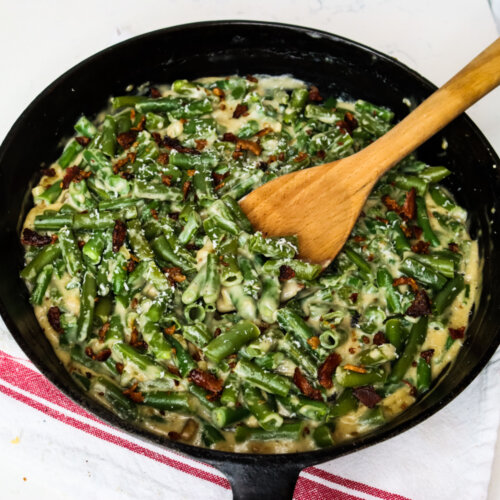 Green Bean Casserole from SCRATCH
This homemade green bean casserole is made completely from scratch. It's the true epitome of comfort food without any of the guilt from questionable store-bought ingredients. Plus you'll love the crispy bacon topping as my delicious twist on the traditional recipe.
Ingredients
1 1/4

cups

cream of mushroom soup

4

cups

green beans

canned, frozen and thawed and blanched, or fresh and blanched

3 to 6

slices

bacon

cooked, cooled and crumbled

1

Tbs

parmesan

optional
Instructions
Preheat the oven to 350°F.

Add green beans and stir gently until all beans are coated in the soup. Distribute them evenly in the pan.

Meanwhile, cook up 3 to 6 slices (or more!) of bacon, allow them to cool completely and then crumble them all over the top of your casserole.

Place pan into the oven and bake until casserole is heated through and bubbly, about 20-25 minutes.

Add freshly grated parmesan cheese over the top, if desired.
Video
Notes
Make your cream of mushroom soup ahead of time and store it in the refrigerator up to 3 days before making this recipe (this is really handy for Thanksgiving day!).
Cook and crumble your bacon ahead of time and store in the refrigerator up to 3 days before making this recipe.
You could alternatively sprinkle seasoned bread crumbs and parmesan cheese over the top for a different topping option. (Using my homemade no-knead artisan bread would be fantastic!)
For dairy-free and gluten-free options, you can omit the butter, milk, and flour from the homemade cream of mushroom soup (see my recipe for substitution ingredients and instructions!).
You can make this recipe the day before serving. Just assemble the recipe but don't add the bacon topping. When you're ready to bake, crumble the bacon over the top and bake for 20-25 minutes until heated through and bubbly.
If using frozen green beans, you do want to blanch them unless you REALLY don't mind still partially raw green beans.
Nutrition
Calories:
150
kcal
Carbohydrates:
8
g
Protein:
7
g
Fat:
10
g
Saturated Fat:
4
g
Cholesterol:
18
mg
Sodium:
536
mg
Potassium:
264
mg
Fiber:
2
g
Sugar:
2
g
Vitamin A:
506
IU
Vitamin C:
9
mg
Calcium:
39
mg
Iron:
1
mg