Some of the links below are affiliate links, which means I will earn a commission at no additional cost to you, if you click through and make a purchase. Regardless, I only link to products we use on our homestead or believe in.
How long could you survive without electricity and a trip to the grocery store? Sadly, most of us very dependent on "the grid." The longest we went without electricity at our home was 10 days four winters ago. A mudslide took out the power and highway.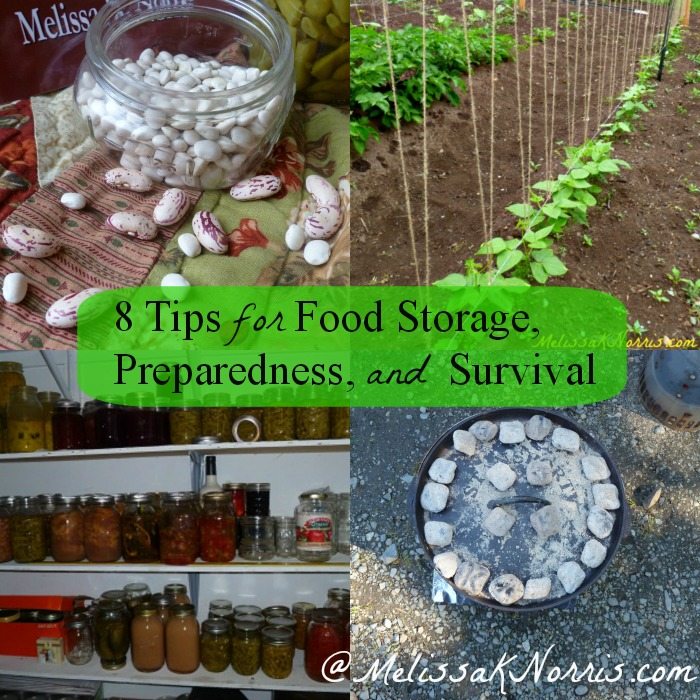 That was a natural disaster that was short lived, but what if some kind of catastrophe, either nature or man invoked, happened on a large scale. Would you and your family be prepared? After living through almost 2 weeks without power, I decided I'd be better prepared if it happened again.
Here are my tips for being prepared.
1. Food storage. Having home canned foods is essential in a long term power outage scenario. Canned food isn't dependent upon electricity like the freezer. In the threat of long term power loss, I know I could can up the food in the freezer as it thaws. In order to do this I always try to keep a years worth of canning lids on hand. (My Canning 101 water bath vs. pressure canning tutorial and other canning recipes.)
Rice, wheat berries, and dried beans are also good staples to have on hand. I have an electric flour grinder (Why You Should Grind Your Own Flour & Choosing a Mill), but I'm planning on purchasing from our affiliate partner this manual wheat grinder Victorio VKP1012 Hand Operated Grain Mill*affiliate link for emergency back up and nut grinding.
Many folks have vegetables and meat, but what access to a fat supply and salt? Consider stocking up on coconut oil and salt.
2. Water Supply. Do you have a way to get water? We have our own well and pump, but it runs on electricity. We do have a generator, but if you don't have a large gas supply and the stores aren't getting deliveries, gas is one of the first things to go in a crisis situation. You need to decide how you can get and sanitize water.
3. Heat. Do you have a heat source without electricity? We have a wood stove and our self-sufficient with the trees on our property. Not everyone is equipped this way and you should consider how you'd keep your home heated.
4. Sanitation. In other words, where are you going to go to the bathroom. You need to make sure you have enough water to keep your toilets flushed or a place outside that won't contaminate water supplies, with proper techniques.
5. Medication. For some, this might just be fever reducers, but if you're on any prescription medications, you need to have a back up plan. My daughter has a blood clotting disorder, so this is something I have to prepare for. In the even of a long term incident, many folks would return to more holistic remedies. A medicinal herb garden and know how would be beneficial. Tip: honey can be used as an anti-biotic, cough supressant, and sore throat treatment. Here's how to make ginger honey for medicinal use.
6. Heirloom Seed. If the grid went out for months or years, would you be able to replant your garden without a store? If you have heirloom seeds and know how to harvest the seeds, then you'd be fine. Most seeds are viable, when stored correctly, for up to five years. Either save or order enough heirloom seed to keep on hand for up to a year ahead. (Sign up for my free 40+ page e-book, Heirloom Gardening Guide for more info on using, planting, and saving heirloom seeds)
6. Cooking methods. How will you cook your food without power? We have a wood stove so we can heat things, but what about baking? A wood stove top or a burner will limit your food options. Consider investing in a Dutch oven to bake anything you would in a regular oven. (My tutorial on baking with a Dutch oven over an open fire) Being able to cook hot meals and sanitize water is important, here are 11 Ways to Cook Off-Grid Without Power.
7. Light source. How will you keep your home lit? Do you have flashlights and enough batteries stored for long term? What about candles and matches to keep them lit? Consider a hurricane or oil lamp. Here's an option from our affiliate partner Lamplight 110 Chamber Lamp *affiliate link . They put out much more light than a battery operated lamp and lamp oil is easy to store and not horribly expensive.
8. Information. While the internet is a vast source for learning things, what if you couldn't access it? Have you printed out the e-books and articles that contain survival information? Do you have hard copy books and resources?
What ways to do you prepare for a natural disaster? Any tips I didn't address or think of yet?
More Posts You May Enjoy: