Some of the links below are affiliate links, which means I will earn a commission at no additional cost to you, if you click through and make a purchase. Regardless, I only link to products we use on our homestead or believe in.
If you've ever been along a camping trip and became tired of the typical hot dog and hamburger dinners, then you need to get yourself a Dutch Oven. Anything you bake at home in the oven can be cooked in a Dutch Oven.
For campfire cooking you need to make sure you buy one with legs, often referred to as a spider Dutch oven. Check out this one from our affiliate partner Amazon Lodge Logic 8-Quart Pre-Seasoned Cast-Iron Camp Dutch Oven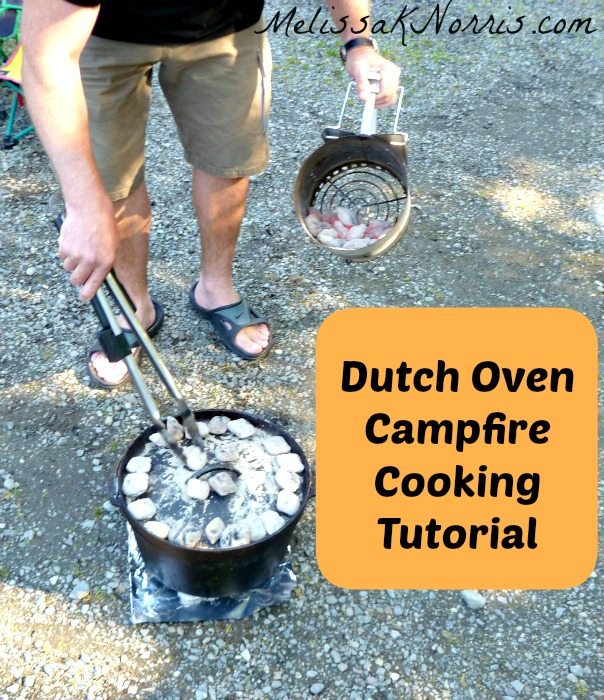 The pioneers did all of their cooking on an open fire. The heroine in my book is a chuck wagon cook and I love experiencing the olden day art of cooking outdoors. In fact, when we lose power, I simply pull out my Dutch oven.
When we're camping with our extended family, every Saturday night is Dutch oven cook-off competition night. Everything has to be prepared in a Dutch oven and we vote on the best dish.
To start, you need a chimney to start your coals in. Most stores carry these or here's one from our affiliate partner Amazon Weber 7416 Rapidfire Chimney Starter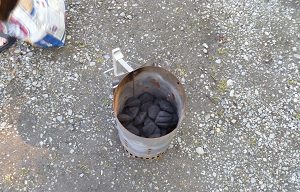 Light your coals and let them heat up. It doesn't take very long, about 7 minutes. You'll know they're ready to begin cooking when they look like this. We prefer ours to be about half grey, if you wait until fully grey, you lose some of the cooking time. You just want to make sure they are fully lit.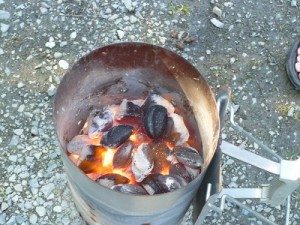 When cooking outdoors, especially at a campground, you want to put down a piece of tin foil so you don't burn the ground. Due to heat rising, you'll put less coals on the bottom, seven is perfect for most dishes.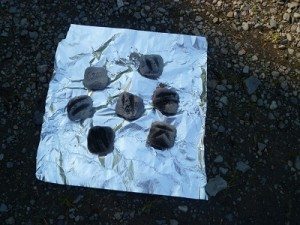 Now set your Dutch oven top of the coals. Make sure your lid is firmly in place and pile coals on top. You'll find tongs are your best friend when dealing with hot coals.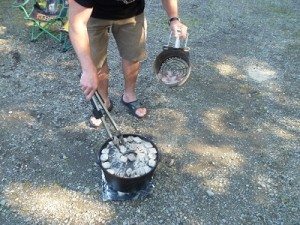 It takes about twenty minutes for your cast iron to heat up to full temperature. Think of it as preheating. The more coals, the hotter the temperature, for this dish, I needed it to be about 375 degrees, so we used twenty one coals. Wind and outside temperature will affect your cooking time, luckily, we had some sunshine and only a light breeze. Always a gamble in the Pacific Northwest.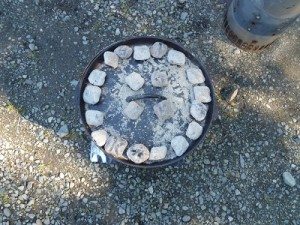 Check your food after a half hour and if it isn't cooking fast enough, add more coals to the top. If it's too fast, simply pull some off. Caring for your cast iron properly is very important.
You'll be surprised at how good food tastes when cooked in cast iron and out doors. We ended up purchasing three Dutch ovens of different sizes so we could cook an entire meal, main dish, dessert, and appetizer.
I'll share our favorite Dutch oven recipe next week. Be sure to sign up so you don't miss out.
What's your favorite food to eat when camping? Do you enjoy cooking outdoors? What's your favorite memory of camping?