Some of the links below are affiliate links, which means I will earn a commission at no additional cost to you, if you click through and make a purchase. Regardless, I only link to products we use on our homestead or believe in.
8 lessons learned from our eat from your food storage challenge.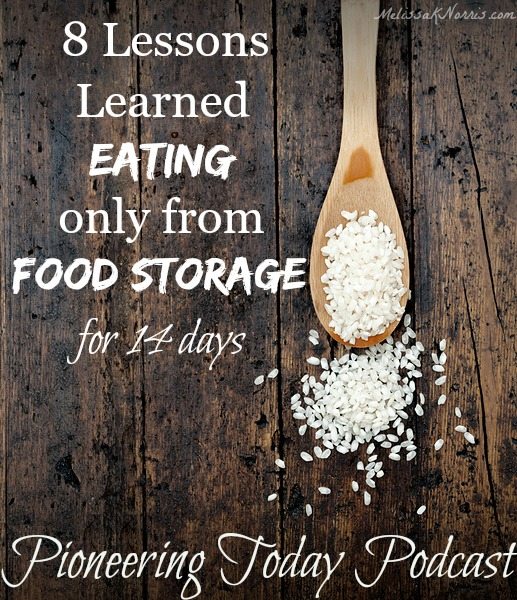 Have you ever wondered if when it comes down to it, you can really do what you think you can? I write a lot about self-sufficiency, building up your food storage, and living off the land, but I still do purchase things from the grocery store.
What if you had to rely solely on the food you had right now in your food storage and pantry? Myself, and over a hundred and seventy other readers decided to take the challenge together. Challenge rules, to eat from your food storage and pantry without purchasing anything from the store for 14 days.
I post new episodes every Friday morning. You can subscribe via RSS and receive every episode for free.


Or subscribe via Itunes
8 Lessons Learned From an Eat From Your Food Storage Challenge
You have more food in your fridge than you realize. Bad part, there is probably an item or two in the back of the fridge or in tucked in the crisper drawer that is passed its usability. Too often, we don't really truly see what we have. We need to make the time to take inventory.
I tend to cook more along the lines of what we want, than what we have. When you dedicate yourself to only using the ingredients on hand, you learn to craft your eating and meals with the resources you have. I thought we were already doing this for the most part in theory, but when you're forced to do it, you see where you weren't necessarily following through.
We could go a lot longer than 14 days eating only from our food storage. I actually have more food stored than I realized, which is a pretty good feeling. We'd be able to not purchase any food and not go hungry for months. Build up your food storage with these 8 Foods You Should Be Storing & How and 6 Tips to Buying Food in Bulk (plus our free bulk spice and herb storage list)
We might be able to eat from our food storage for a very long time, but we're lacking variety in a few areas. Dairy is the one area we are sorely lacking in our food storage. We don't have our own dairy animals and while I have a good stock on butter and other fats, I don't have a source for milk, cream and cheese. I need to put a few more blocks of our favorite cheddar in the freezer (you knew all dairy freezes wonderfully, right?) as well as some powdered varieties for sauces and baking.
While we have tons of home canned tomato products, all of our green beans, and pickled asparagus,
I actually have more time. One would think cooking all of our meals from scratch from our food storage would make things more hectic, but I found that to be the opposite. Meal planning really does save time and the key to making this challenge work is to plan out meals ahead of time. I used my slow cooker almost every day for supper, and baked ahead on the weekends or when I had other blocks of time for snacks and breakfast items. Because I wasn't driving to the store and spending my time shopping, I actually had more time available, even with cooking everything myself.
You will save money and not just during the challenge. Obviously, if you're not buying groceries or food for 2 weeks, you'll save some money. However, the benefit of this challenge I didn't see going in, is it's forced me to look at our current shopping and buying habits and to re-evaluate them. Often times, when I'm at the store, I purchase items and then don't end up using them. For example, I have a package of shredded coconut, pecans, and dates that have been in my cupboard for six months.
Have they went bad? No, but before I go and purchase something else to eat, we need to use up what we already have. From here on out, I'm still going to purchase as little as possible until I've used up more of our dry goods section. I've even went through some of our closets and am re-using and re-purposing things we already have instead of donating them or purchasing something new. Reveals of these in our coming up Homemade Christmas Series! Sign up here for an old-fashioned Christmas.
This really does give you a new appreciation for what you have.

We have holes in our food storage. I am keeping a list of items we don't have at all, ran out of, or am very low on. For example, I only have two bags of chocolate chips left. I love to bake and my family loves to eat chocolate. I have over two pounds of cocoa powder, but very little chocolate chips. So I either need to make my own chocolate chips or have a better supply on hand.
I ran out of lemon juice while canning tomatoes, a back form of acid for safe canning is non-negotiable, and I'll be investing in some citric acid. I mentioned dairy, some powdered varieties are coming in and dairy goats are looking more and more appealing.
Vegetable variety. I rely on being able to purchase fresh vegetables to supplement our canned variety more than I realized during our off growing season here. I need to can/freeze/or dehydrate more vegetables than I currently have. I also want to experiment more with cold frames and cold weather crops. Our fruit variety is pretty good with our canned applesauce, dried cherries and blueberries, and frozen bananas, raspberries, blackberries, and blueberries.
Oatmeal is way more versatile than I realized. Seriously, oatmeal is a breakfast go to, makes wonderful cookies, can be ground into flour, used as toppings for muffins and desserts, and does not get enough credit! I have a large amount of old-fashioned oats in my food storage, but I'm upping our quantity and will keep using it more.
If you haven't been following our live vidoes on Periscope (follow me @MelissaKNorris), I invite you to do so. If you don't have a smart phone or haven't been able to catch the daily live videos (I've had so much fun getting to know you guys and chat with you over coffee!) you can watch all the replays on your computer here)
Without our home food preservation, my food storage would be a lot more expensive and a lot less than it is. I'm thankful for our crops and putting up food when it's in season to see us through the rest of the year. Everyone should be putting up some of their own food, even if they don't purchase it.

Just now catching this? No worries, grab our FREE Ultimate Home Food Preservation Guide and when we our next round of 30 Days of Preparedness, you'll have a choice to join in, too! sign up here!