This old-fashioned molasses cookie recipe is the perfect holiday cookie, especially if you're after down-home simple recipes that Great-Grandma would have baked. You can almost hear the harness and bells jingling as you pull these from the oven.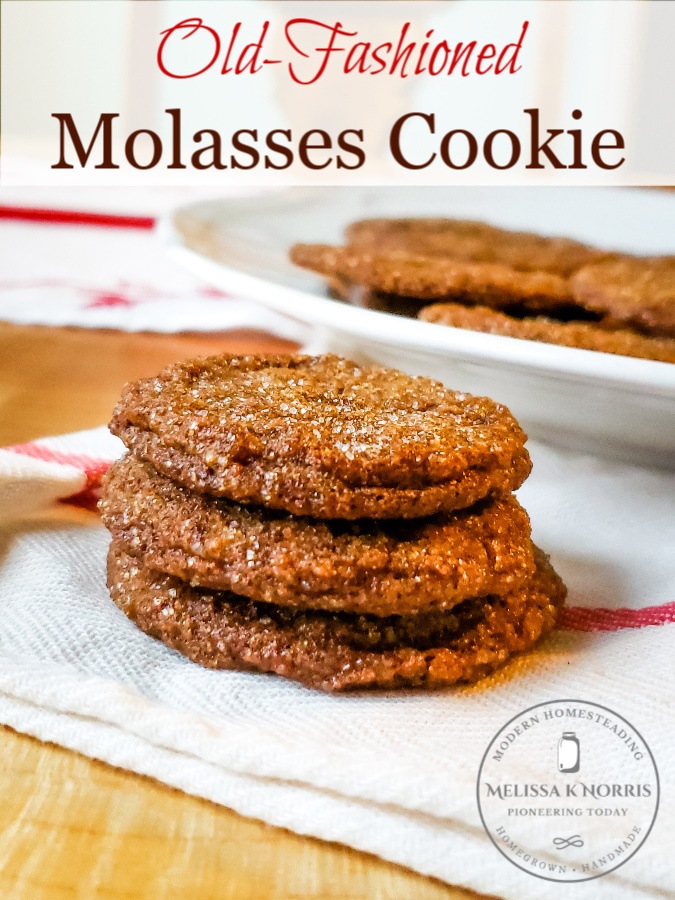 If you've ever worked retail around Christmas, you know it can be both brutal and beautiful. In one of my first years in the pharmacy, a patient brought in a plate of cookies as a thank you (greatly appreciated).
We were so busy I couldn't try them until later in the day after she left. They were like Christmas in your mouth, soft, delicious, a hint of spice.
The next time she came in I immediately bee-lined it over to ask for her recipe. She graciously shared and now I'm sharing it with you.
They have just the right amount of spice paired perfectly with the molasses. I've used all different kinds of molasses with these cookies and the ones in the picture are made with blackstrap molasses with a mixture of fresh ground spelt and all-purpose flour. Blackstrap molasses do give them a stronger flavor and generally make them crisper rather than soft, but either blackstrap molasses cookies or regular molasses, they're delicious!
And who doesn't need a versatile recipe that can swing either way with both types of molasses?
If you're looking for molasses cookies without shortening you've found them! As I said, these are an old-fashioned cookie and I hate to break it to you, but shortening is NOT an old-fashioned ingredient. Plus, they taste better with real butter, trust me, throw away the shortening for good, you don't need it.
I only use butter in my baking, from my biscuits to my flaky pie crust.
But back to the cookies.
How to make big soft molasses cookies
First, see the tip below on the flour, but form the cookies into 2-inch size balls and increase baking time by 1 to 2 minutes.
If you bake your first sheet and find yourself asking why are my molasses cookies flat it's because you didn't use enough flour or your butter was too warm. The flavor and texture are developed with chill time. Seriously, the longer your dough chills the more the spices and flavors come together.
But chill time also can help with cookies spreading flat if you got your butter a tad too warm when creaming it together with the other ingredients. This is true with almost any cookie (chocolate chip) but especially with molasses cookies. To fix it, add 2 to 4 Tablespoons flour (if you've only baked 1 dozen, go with 4 Tablespoons, if you baked close to the 1/2 dough, then just add 2 Tablespoons flour), mix until just incorporated, and chill for another 15 minutes.
Want all my baking recipes and tips? Get your copy of my book Hand Made: the Modern Guide to Made-from-Scratch Living
Can you freeze molasses cookies
Yes, bake the cookies, allow to cool completely, and then place on a parchment or butcher paper-lined cookie sheet and flash freeze for an hour. Transfer frozen cookies to a sealed freezer container or a plastic bag. To thaw, transfer frozen cookies to a different container (to avoid condensation as it thaws), thaw and serve!
Can you make the blackstrap molasses cookie recipe dough ahead of time
Yes, you can make this dough ahead of time and store it in the fridge for up to 5 days, make sure it's wrapped tight so it doesn't dry out. Or, store cookie dough in the freezer for up to 3 months.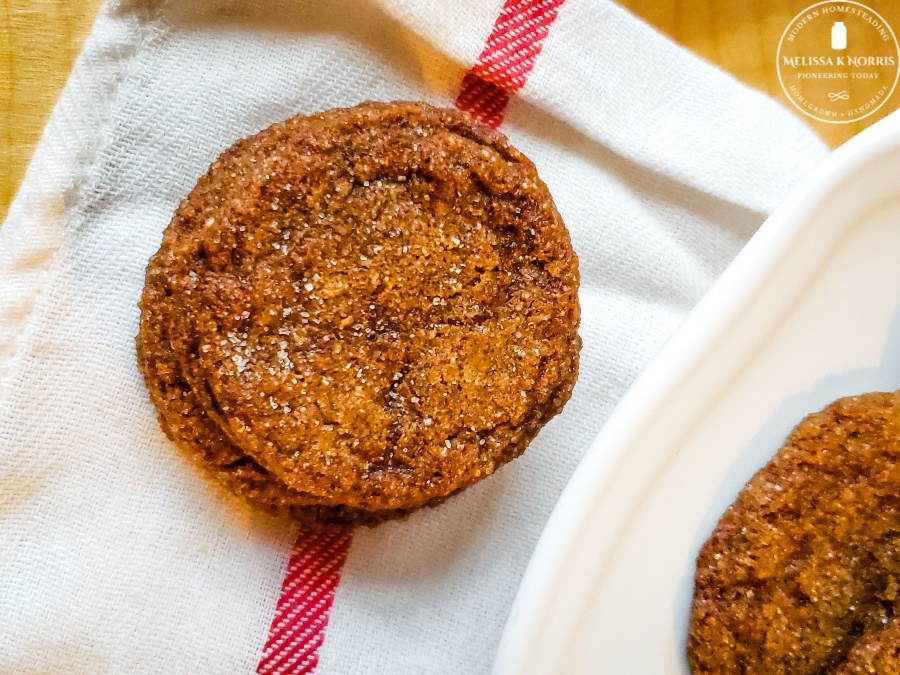 I've also heard these cookies referred to as molasses crinkle cookies because they crinkle up on top as they bake in the oven. But no matter what you call them, you'll find them a favorite and probably a mainstay all year-round, not just during the holidays.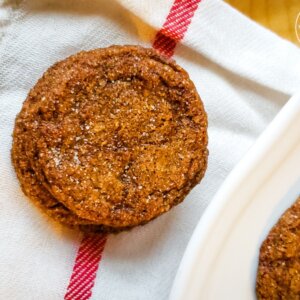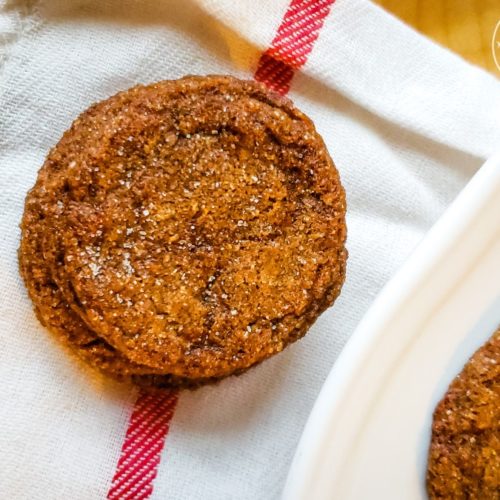 Old-fashioned Molasses Cookie
Old-fashioned molasses cookies recipe straight from Great-Grandma's kitchen. Easy recipe for a delicious soft and chewy homemade cookie
Ingredients
3/4

cup

softened butter

1

cup

sugar + 1/4 cup to roll cookies in

1/4

cup

dark molasses

1

egg

2

cups

flour

2

teaspoons

baking soda

1/2

teaspoon

salt

1

teaspoon

cinnamon

1/2

teaspoon

ginger

1/2

teaspoon

nutmeg
Instructions
Preheat oven to 375 degrees F

In a large bowl beat together the butter and 1 cup sugar until creamy. Add molasses and egg, beating until well blended.

In medium bowl, blend flour, soda, salt, cinnamon, nutmeg, ginger; add to molasses mixture, mix well.

Cover and chill at least 20 minutes.

Form dough into 1 inch balls, roll each in sugar, place 2 inches apart on cookie sheet.

Bake for 6 to 8 minutes, until cookies have just set. Allow to cool 1 minute on sheet and then transfer to a wire rack to cool.
Video
Notes
To make Gingerbread, just cut 1/4 cup butter and increase the molasses.
Other Favorite Old-Fashioned Christmas Recipes