Some of the links below are affiliate links, which means I will earn a commission at no additional cost to you, if you click through and make a purchase. Regardless, I only link to products we use on our homestead or believe in.
If you've made the plunge into baking your own homemade bread then you're also probably interested in learning how to store homemade bread to keep it as fresh as possible for as long as possible. There are many options, but I'm sharing the method that I've found to be the very best at keeping bread fresh the longest.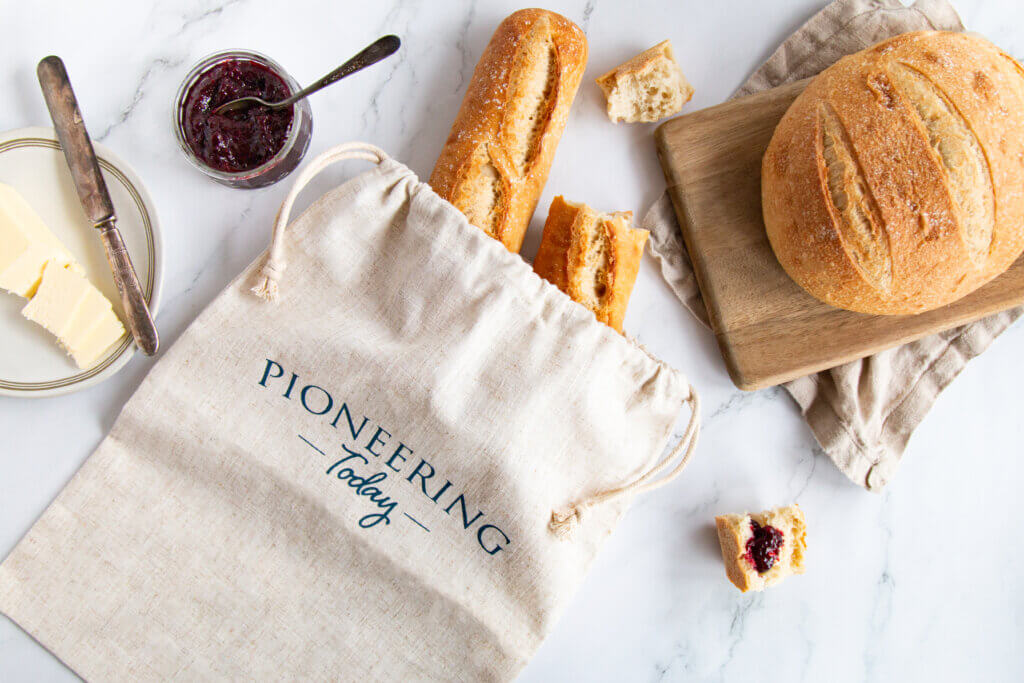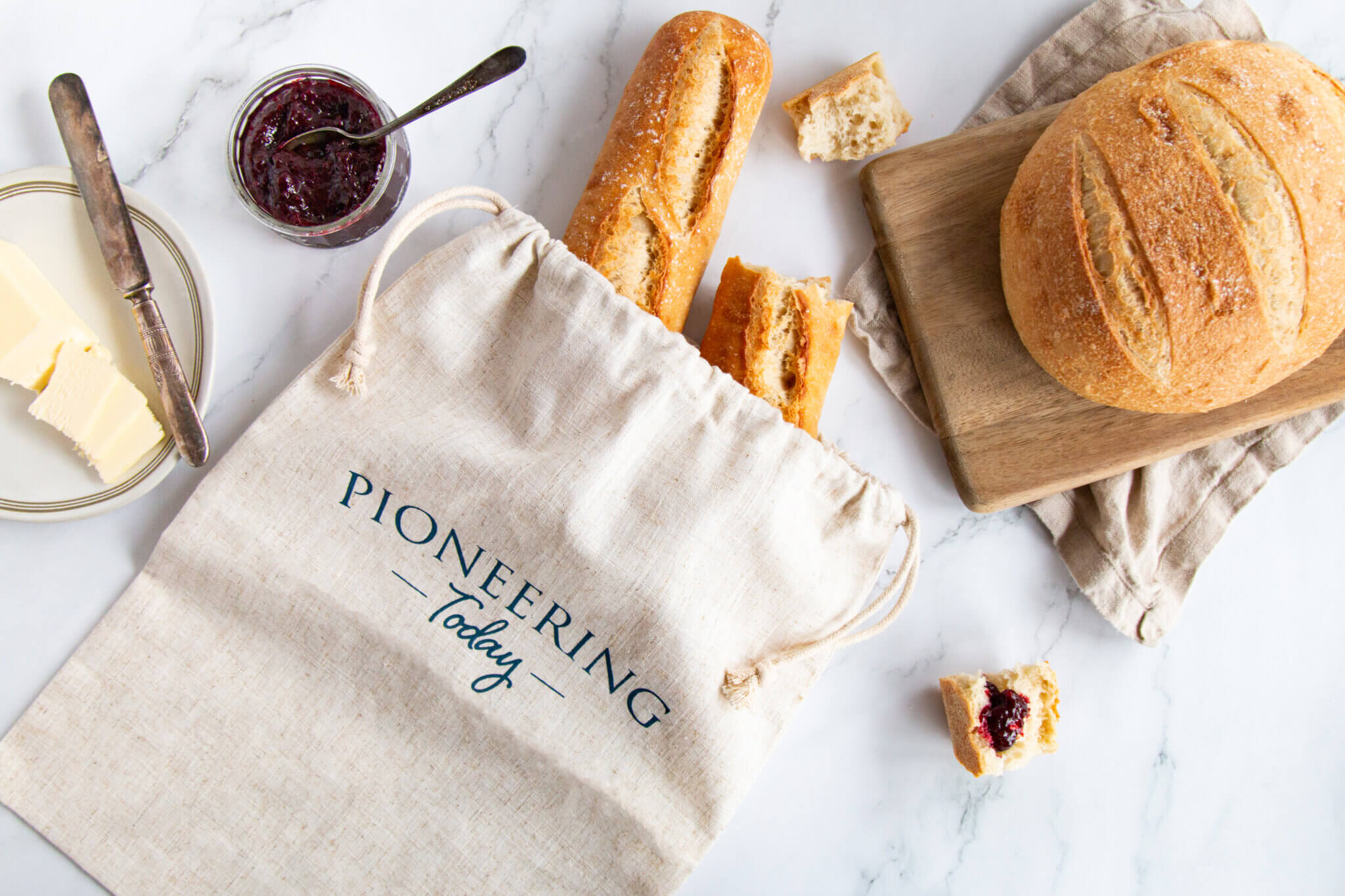 Let me start off by saying congratulations! Because if you're looking for ways to store your homemade bread that means you're making homemade bread!
To get you off on your bread-making journey with some tried and truly delicious recipes, be sure to give my 5-minute no-knead artisan bread a try. If you've ventured into the world of sourdough, then you'll love the best beginner sourdough sandwich bread (and you can learn how to make your own sourdough starter here), and lastly, you'll want my grandma's easy homemade dinner rolls gracing your holiday tables this year!
Scroll to the bottom of this post for even more amazing bread recipes, or recipes you'll want to know how to store to help them stay fresh and last as long as possible. But now, back to the question at hand… what's the best way to store homemade bread?
You've probably noticed that homemade bread doesn't last as long as store-bought bread. You can't cut into a loaf and expect it to be fresh and mold-free for weeks on end, and that's because it lacks the preservatives that are in store-bought bread which gives it that long shelf-life.
Quite frankly, a long shelf-life doesn't mean a better loaf of bread! Bread wasn't meant to last for weeks on end, that's why traditionally there was a "bread day" where homes would bake bread to meet their family's needs for the week.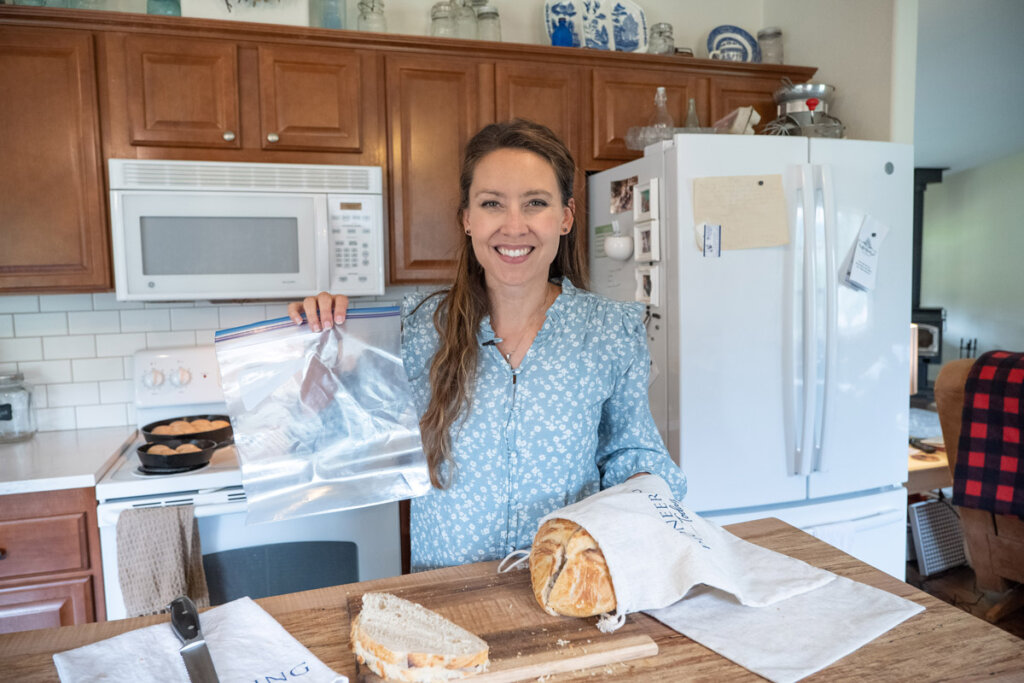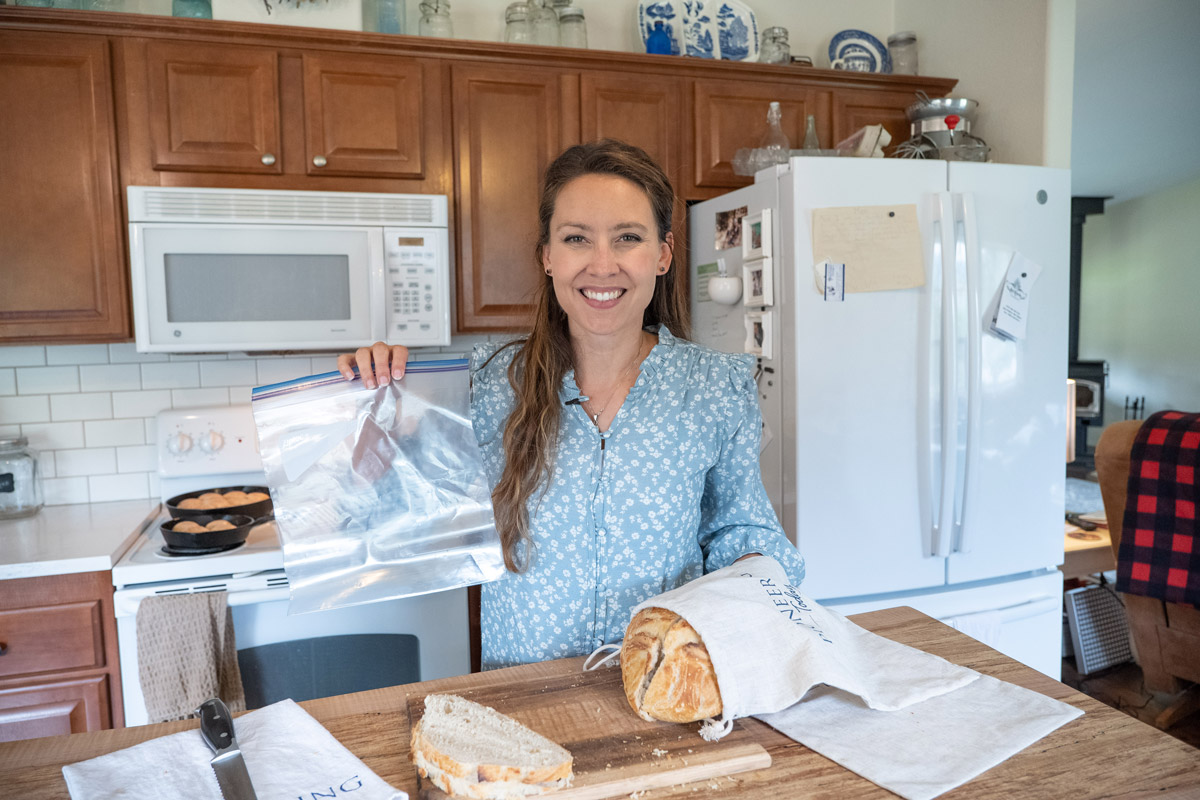 Different Options for Storing Homemade Bread
Plastic Wrap & Ziplock Bags
Tinfoil
Bread Box
Cotton Bread Bag
I've listed different options for storing bread because not all bread should be stored the same. Hard, crusty loaves of bread will last much longer than softer crusted loaves like sandwich bread and rolls. So it's important to take into consideration what kind of bread you're storing when knowing how best to store it.
I listed plastic wrap, tinfoil, and a ziplock bag as options 1, 2, and 3. While these methods will keep your bread fresh, my hope is that most of us are trying to avoid using plastic and want to turn to more reusable resources instead.
However, for those of you who want to know how bread stores in each of these, I'll give a quick breakdown…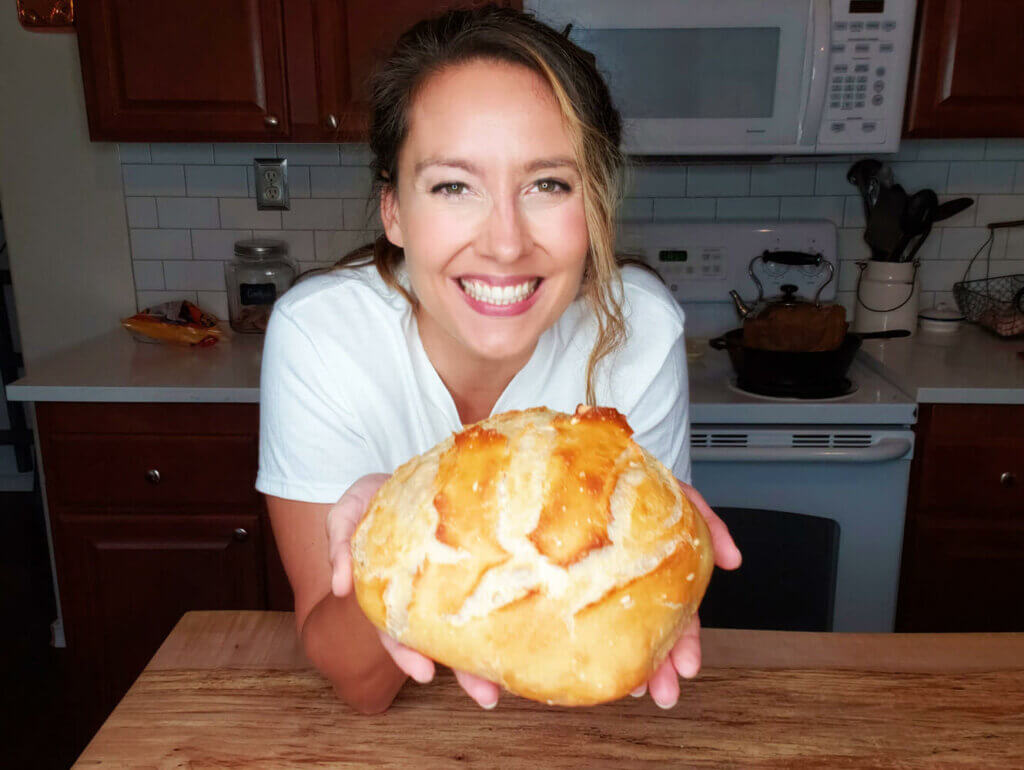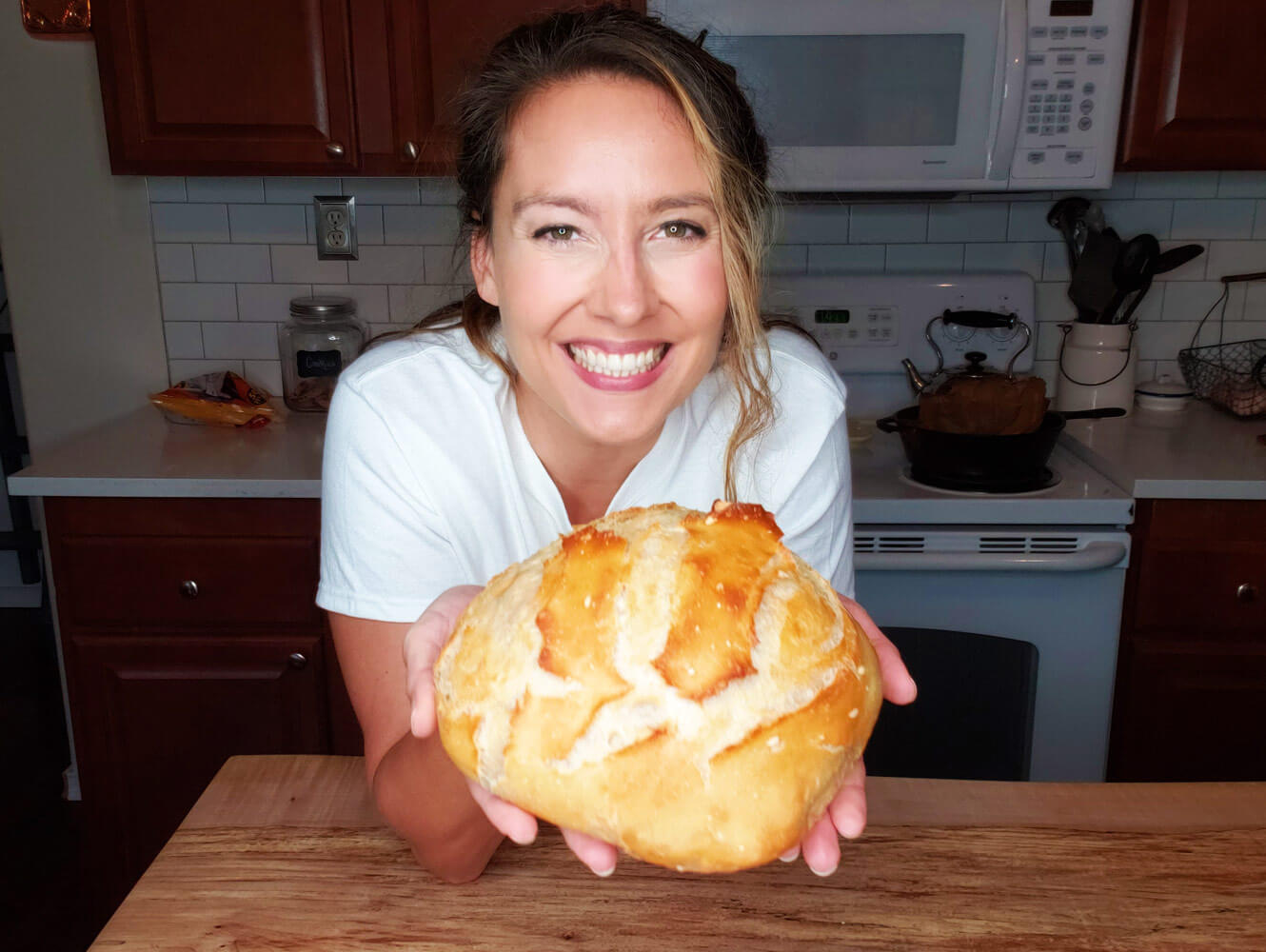 Plastic Wrap & Ziplock Bags
Plastic wrap is an inexpensive option for storing your homemade bread. However, it does get cumbersome if you want to reuse the same piece of plastic after getting into the loaf of bread multiple times. I found I needed a new piece every time I needed to slice into the bread. So that quickly eliminated plastic wrap for me.
I also don't like constantly throwing away plastic, or plastic coming into direct contact with my food either.
I will say that if I wrapped the bread up tightly enough, it did keep the bread from drying out. However, because plastic wrap isn't breathable, I noticed my loaves of bread molding much more quickly than when using something breathable like a bread bag.
Ziplock bags solve the issue of needing a new piece of plastic each time you want a slice of bread, however for my larger loaves, even the gallon size ziplocks were sometimes too small.
We also have the same issue of plastic and the fact that a ziplock is even less breathable than plastic wrap.
Tinfoil
Using tinfoil to wrap homemade bread is a decent option if you don't mind another disposable resource.
I found when wrapping my crusty artisan loaves of bread in tinfoil they would puncture through and create a hole. They're not airtight, so they do allow for some airflow, but I'm just not fond of using tinfoil all that much.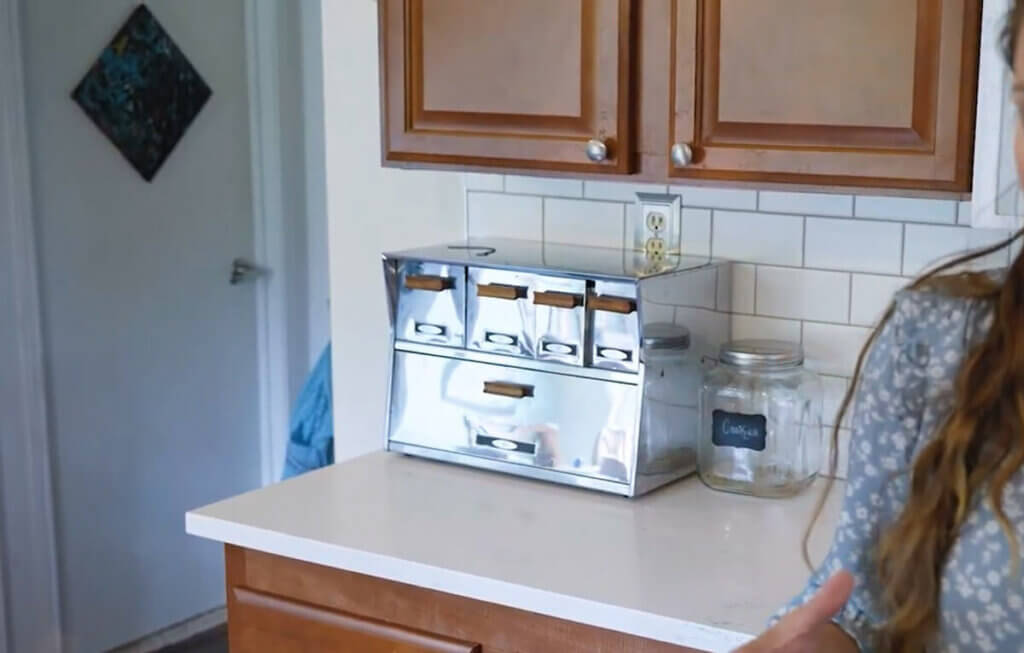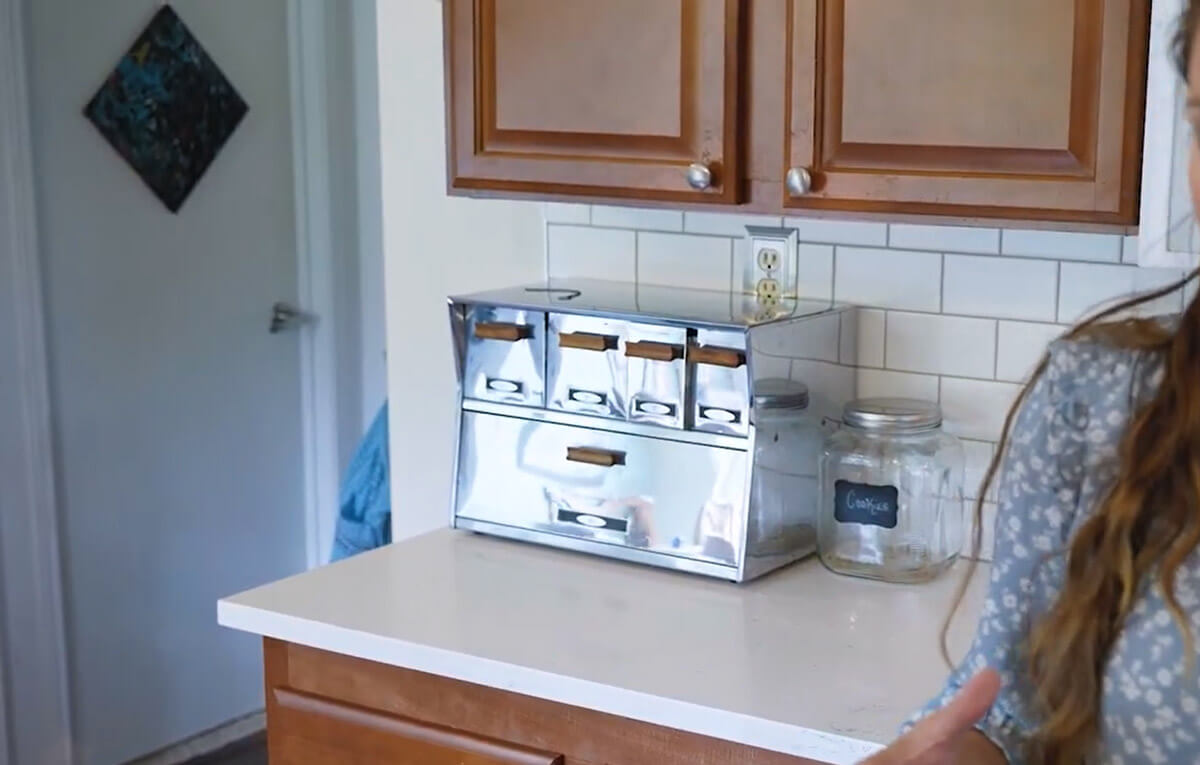 Bread Box
A bread box is a great option for storing bread, and they come in all styles to match your kitchen. The downfall of a bread box is they do take up a large amount of space, so they may not be a great option for those without extra counter space.
I've also found that using a bread box alone doesn't help keep a loaf of bread from drying out, so it's best to use a bread bag and one other method below.
Cotton Bread Bag
Cotton fabric is less expensive, so this is a great option if you're on a budget and just need something to store your homemade bread in.
I have found that the cotton bread bags are breathable, which is nice, and I had no issues with mold on our loaves of bread. However, I also noticed that my loaves of bread tend to dry out faster in a cotton bread bag (as in 1-2 days), and that just isn't OK with me.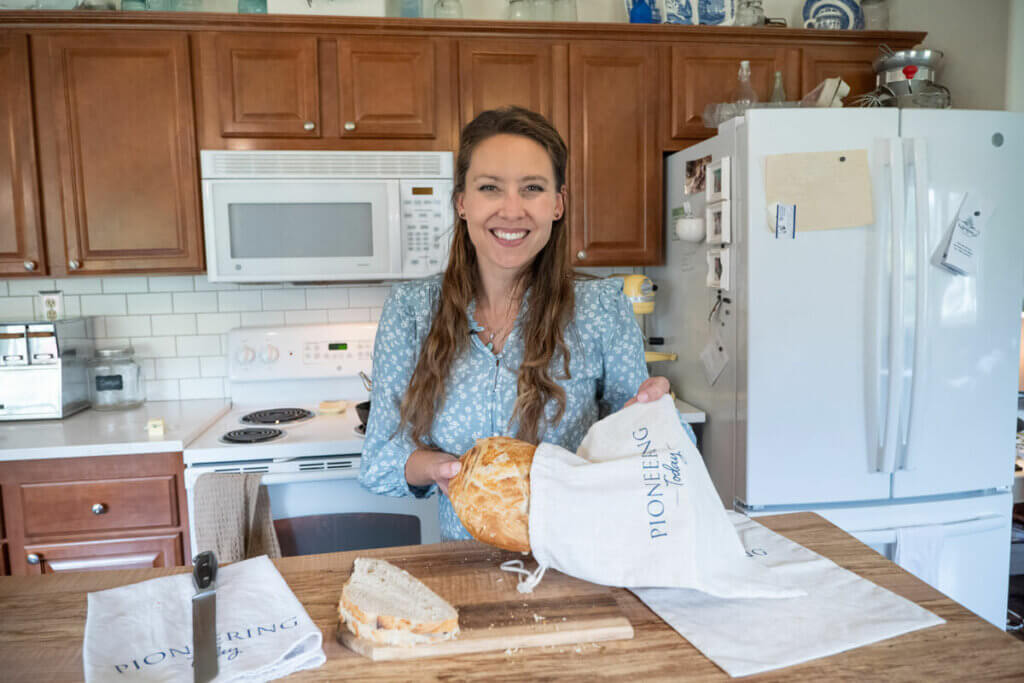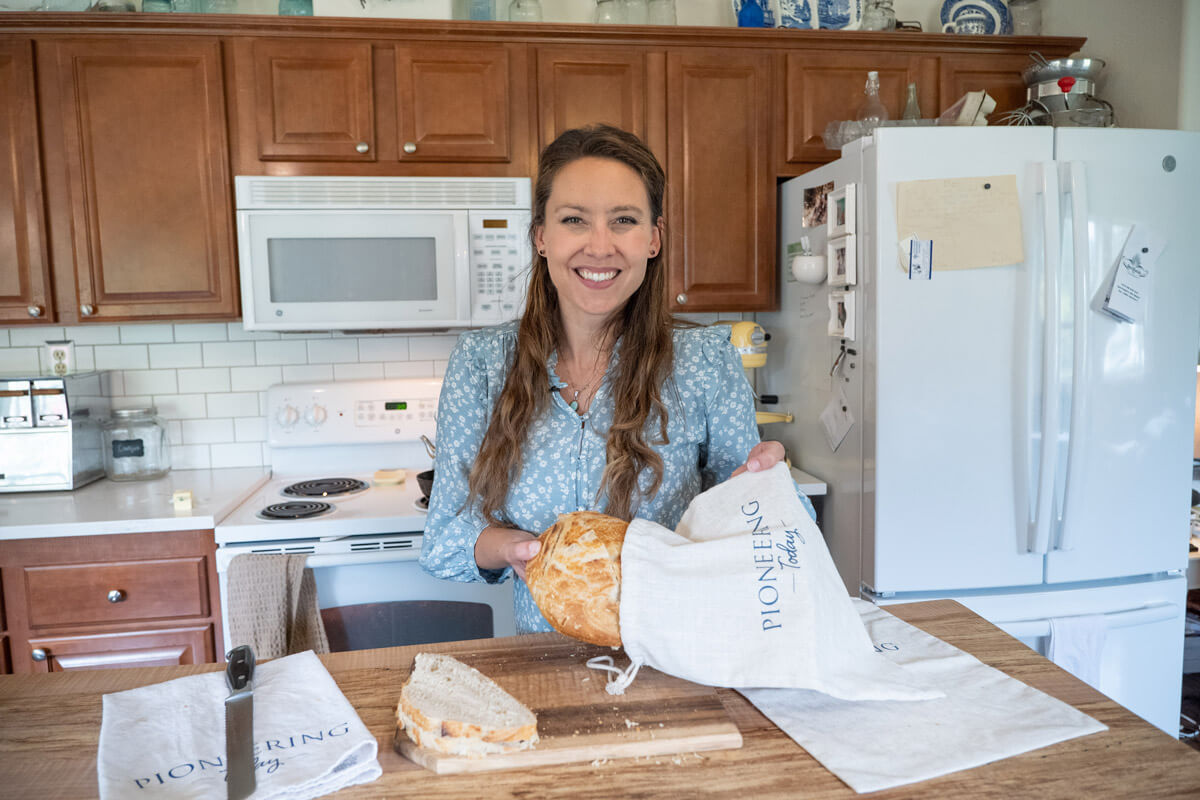 Linen Bread Bag
After I switched to a bread bag made out of linen, I noticed a big difference in how long my loaves of artisan bread were lasting before getting too dry to eat.
Using a linen bread bag my loaves of homemade bread will last for up to six days before drying out (you do notice the bread getting a bit drier once you hit day four, but it's still sliceable and soft on the inside).
The linen bread bags are also great for storing things like rolls, flaky homemade biscuits, and English muffins.
If it's a softer, crusted bread, such as sandwich bread or homemade rolls, they will dry out after 1-2 days.
Linen is superior to cotton when it comes to bread storage for a few reasons. It's is made from flax, which is also a beautiful flower but easier to grow than cotton in a wider range of environments.

Linen fabric is stronger than cotton, meaning it will last longer in a homestead kitchen, hello durability, you lovely thing you. While cotton is moisture-wicking, linen has a slight edge on it in that department, making it a winner between the two materials.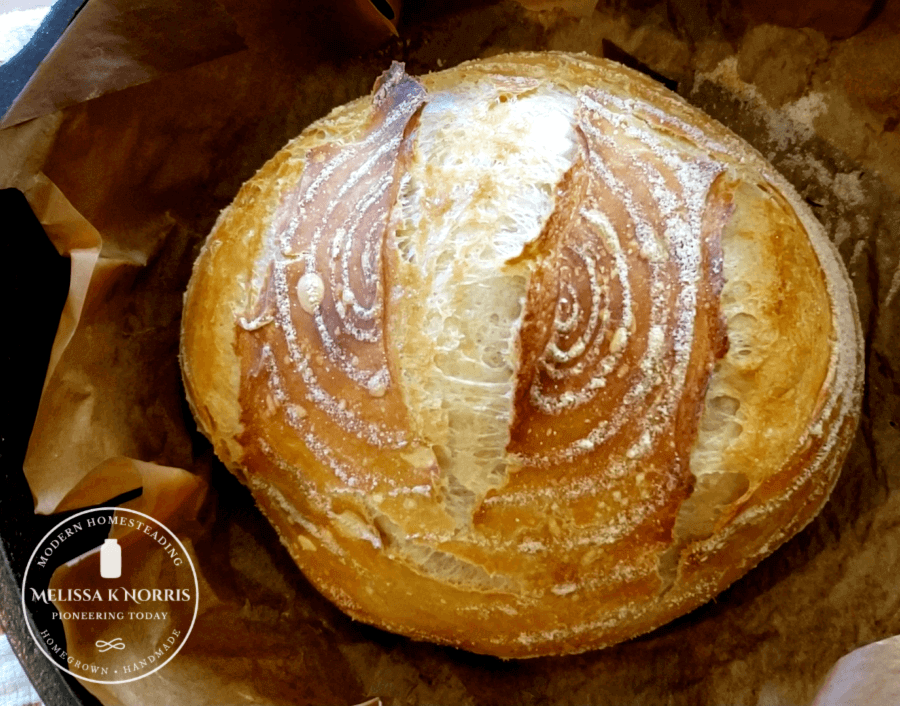 How Do You Keep Homemade Bread Fresh?
There are a few tips for keeping your homemade bread as fresh as possible for as long as possible. And there are also a couple of things you definitely don't want to do as well.
Let Bread Cool Completely
Before storing your bread, be sure it has cooled completely. It's also a good idea to allow your bread to cool completely before slicing into it to avoid getting a gummy loaf.
Slice From the Center
When slicing into your loaf, try slicing down the center and taking your first pieces from the middle. That way you can place your loaf back together, cut sides together, to keep them from drying out.
Freeze
When storing softer bread like sandwich bread or rolls, they won't last much longer than 1-2 days before getting hard. That's why these kinds of bread are really best baked the day you want to eat them (another reason to love my grandma's easy dinner rolls recipe!), but if we have a loaf of sandwich bread that my family hasn't eaten within 2 days, then I'll slice whatever is left and store it in the freezer in a ziplock bag.
When we're ready to eat, I'll pull out however many slices I need and defrost them super quickly in the toaster (only until they're defrosted, but not toasted). They taste like the day it was baked!
Don't Use the Refrigerator
It seems like storing bread in the refrigerator would prolong the shelf-life, but because of the cold temperature, it actually turns your bread stale more quickly.
The one caveat here is quickbreads that contain fruit and more sugar, as these breads do tend to mold much more quickly because of their moisture content.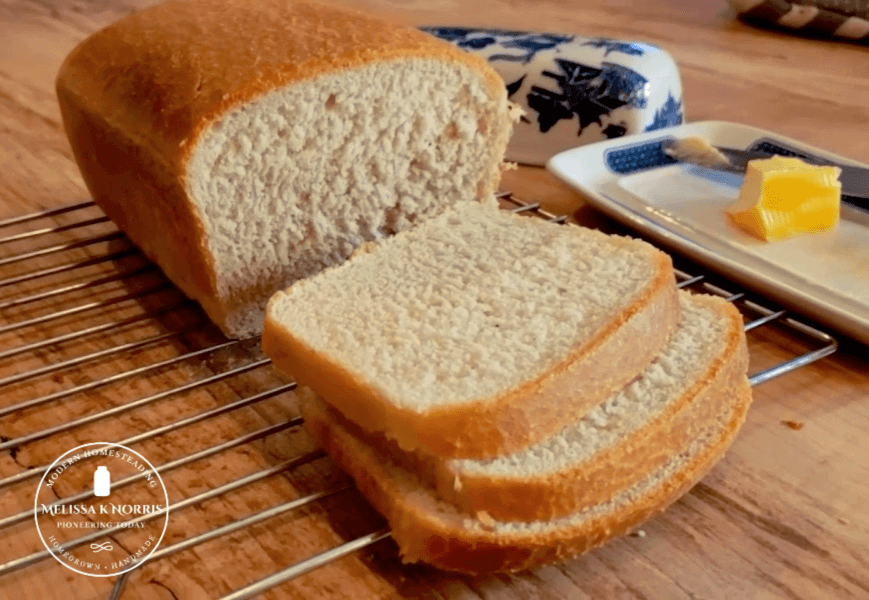 How Long Will Homemade Bread Stay Fresh?
As I mentioned before, homemade bread simply will not stay fresh as long as store-bought bread that has preservatives.
Typically speaking, my crusty artisan loaves of homemade bread lasts up to six days. We generally finish off a loaf before it's too dry, but on the rare occasion there's any bread left, it's usually the end pieces and by day 7 they have gotten pretty tough to chew and even harder to slice (don't try it).
Softer bread such as rolls, biscuits, and even sandwich bread only last 2 days tops before they begin drying out. That doesn't mean they're inedible, but they just don't have that fresh-baked taste anymore (read my tips below for storing sandwich bread so it tastes fresh longer!).
Once your bread starts drying out, it's the perfect opportunity to turn those pieces into breadcrumbs (to make homemade sweet and sour meatballs!), for homemade croutons, or if you really want to eat them as is, dunk them in a bowl of bean and ham soup, that'll soften them back up.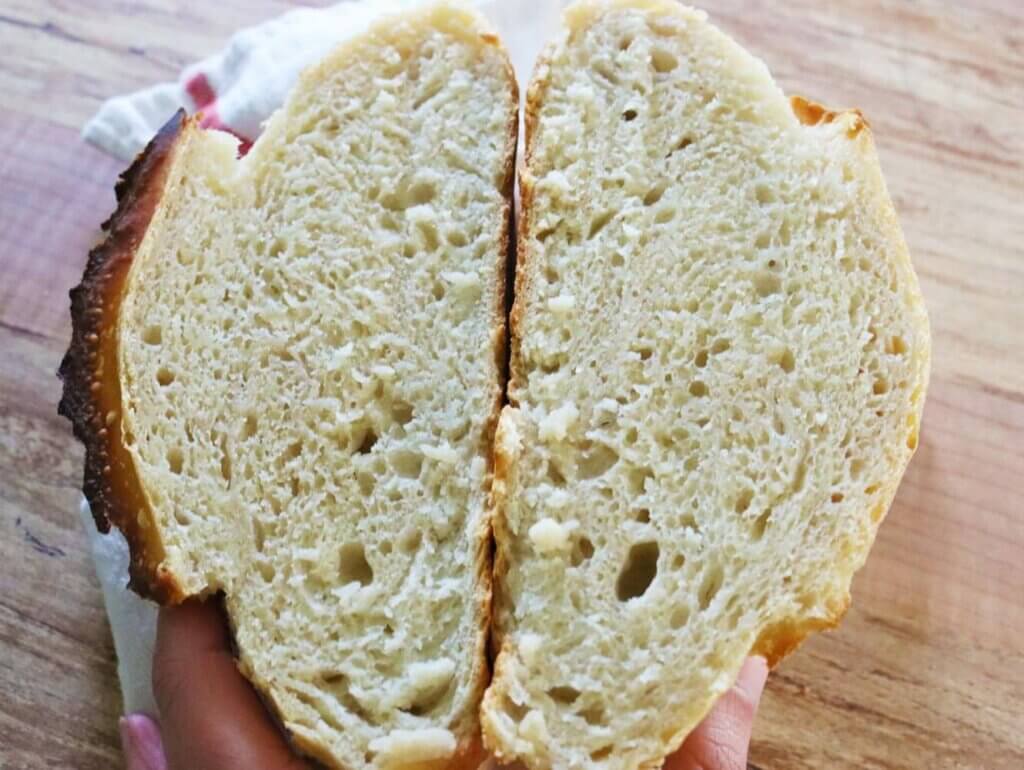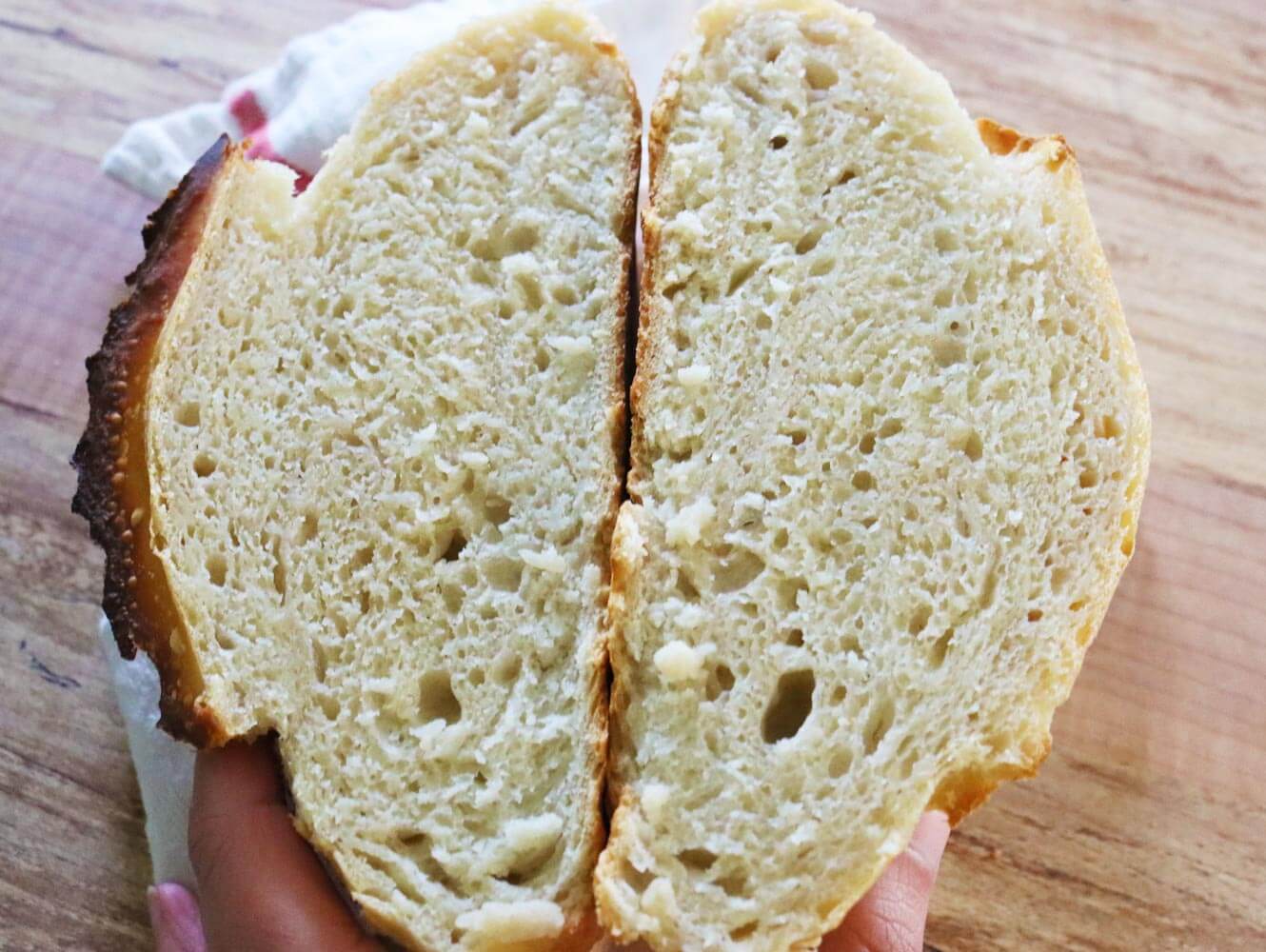 Staling vs. Drying
What Makes Bread Stale
Stale bread and dry bread don't mean the same thing. Though they may produce a similarly dry or hard loaf of bread, what's actually happened to the bread is distinctly different.
Stale bread happens as bread ages, but it's not necessarily due to the bread drying out. It will be a hard or firm loaf of bread.
What Makes Bread Dry
Dry bread occurs mostly in dry, arid climates or even in homes that burn wood heat during the winter months where humidity gets low.
If you live in a dry climate, be sure to store bread cut-side-down, or as I demonstrate in the video, cut sides together. You might also benefit from using a bread box in addition to a linen bag to maximize your efforts (more on this below).
Working with a long loaf of bread (such as sandwich bread or a baguette)? Cut the loaf in the middle, then slice from the center toward the edges so you can piece the halves back together to make a whole for better storage.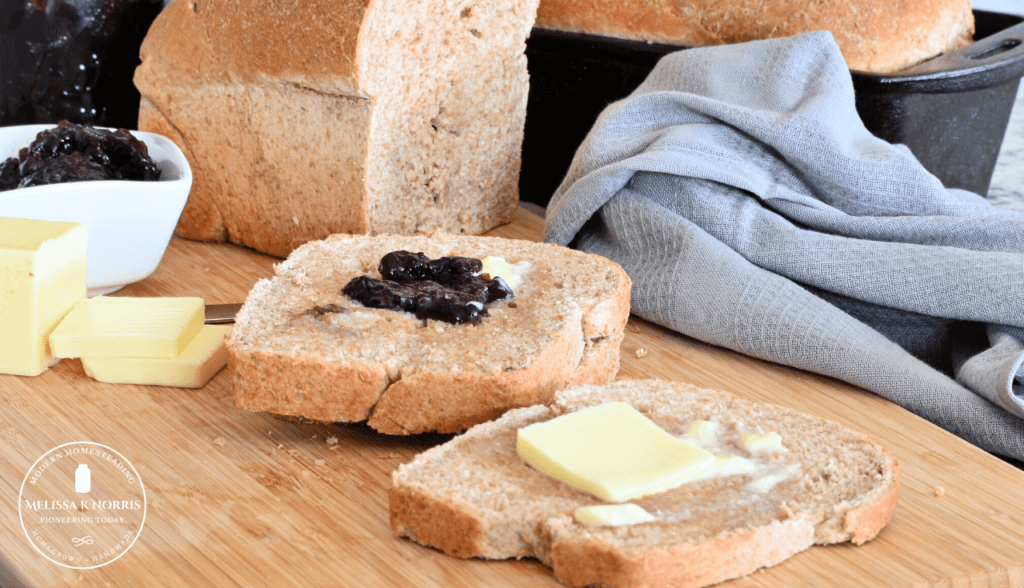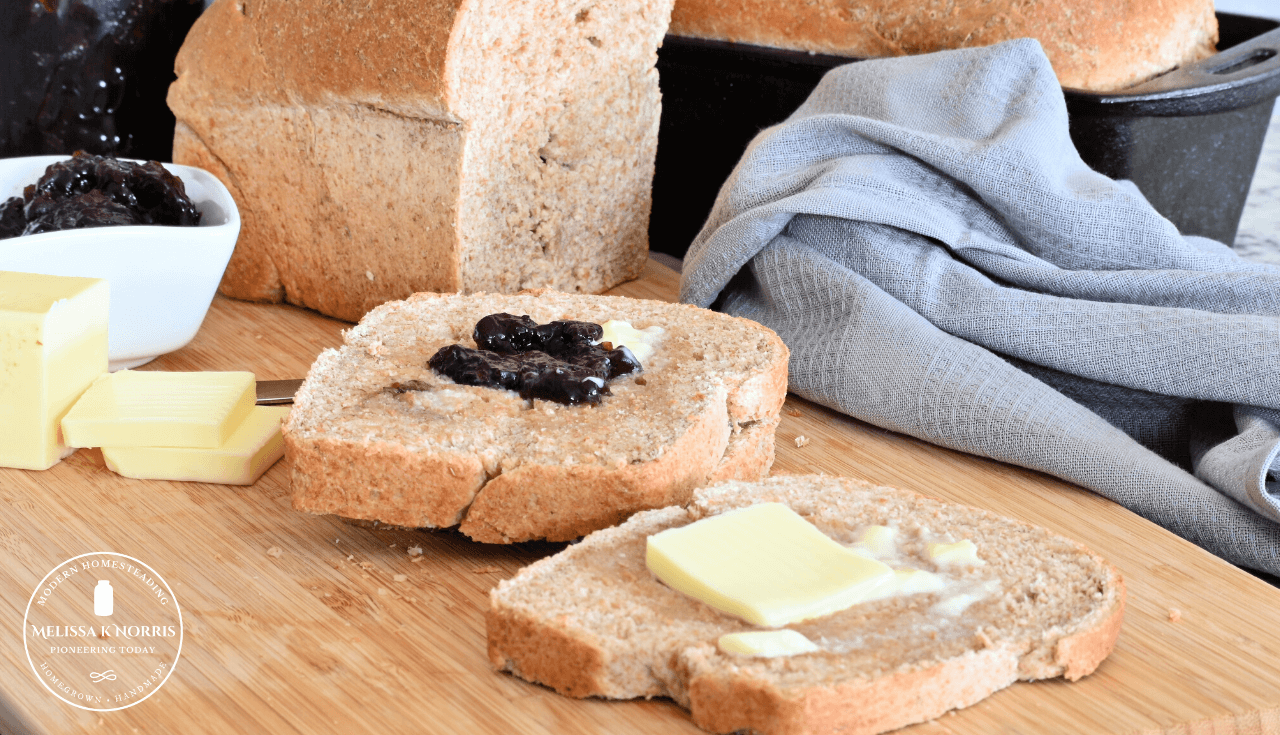 Can I Leave Fresh Bread on the Counter Overnight?
The only good reason to leave a loaf of fresh bread on the counter overnight is if it just came out of the oven and needs to cool before storing. This is the only time I would say yes to this question.
Otherwise, no, you should not leave fresh bread on the counter overnight. You will wake up to a hard loaf that's difficult to slice and beginning to dry out in the center.
Store your bread in a bread bag, or one of the other storage methods listed above so this doesn't happen.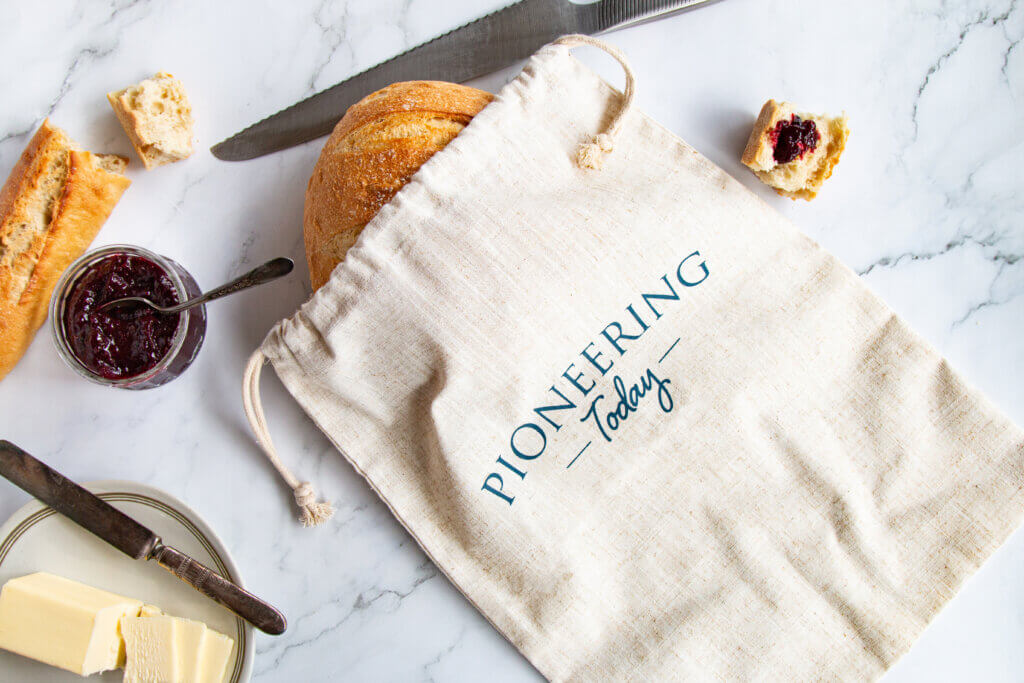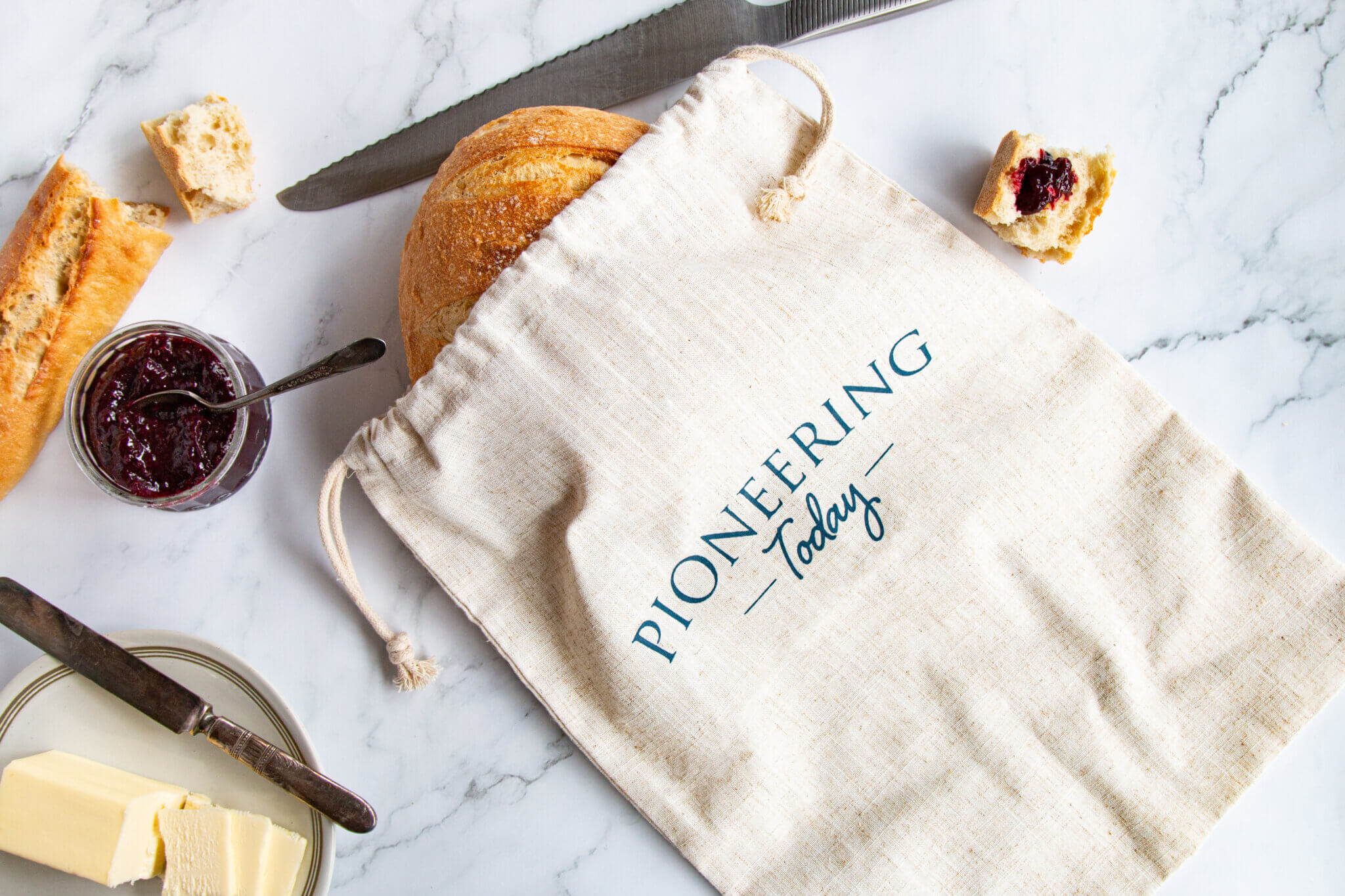 Best Way to Store Homemade Bread
So there you have it, the very best way to store bread is wrapped in a linen bread bag (preferably with drawstring closure), and either tucked away in a pantry or cupboard or placed inside a bread box to pull double-duty.
More Homemade Bread Recipes