Where do I keep my food storage? Many of you are like me and don't have a ton of space for long term food storage. Even though we live on a fifteen acre homestead, I actually have very little storage space. We don't have a barn, we don't have a garage, we don't have a basement, nor do we have a crawl space or an attic.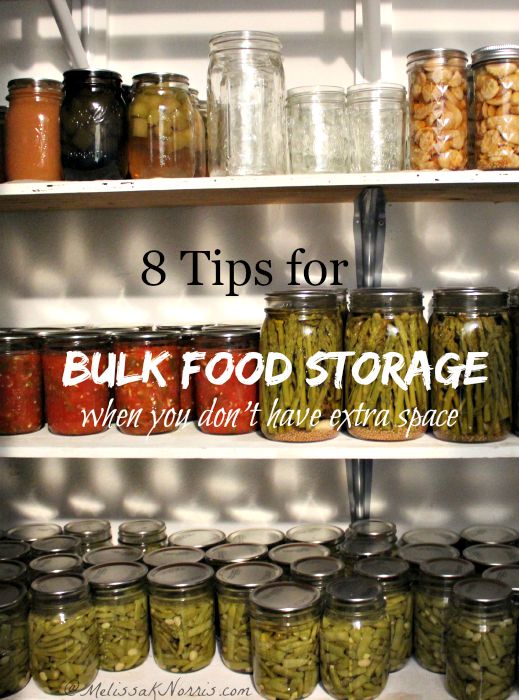 Our home isn't huge by any means. So if you're like me, you might be thinking there's no way you can store a few months worth of food, let alone up to six months or a year.
Let me assure you, it's possible and with less space than you think.
The 2 most important things in choosing your food storage location
For the majority of our long term food storage and pantry, we converted a coat/broom closet into a walk in pantry. We used plain metal shelf brackets and sheets of plywood (we did a quick paint job with white pain) and installed shelving along the back and sides of the closet. I still hang my broom and mop on the wall, and we put a hanger that goes over top of the door to hang our coats from.
1. Our coat closet turned food storage pantry is at the farthest end of the house from our wood stove and is against an exterior wall. Food will store and last much longer when kept cool.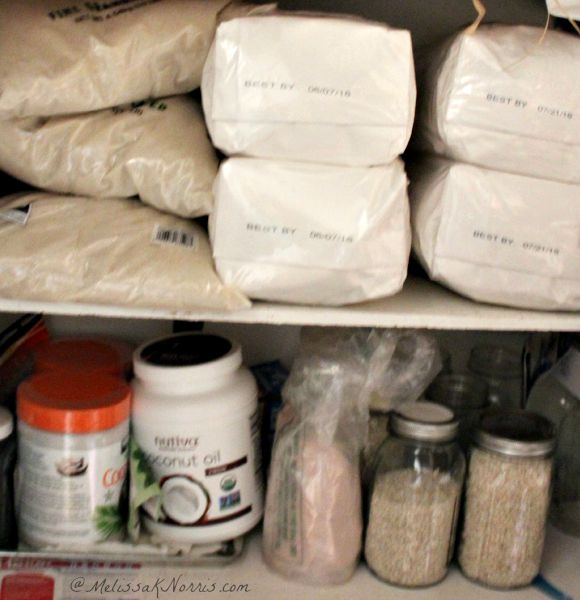 2. No windows. Light will degrade your food and significantly shorten its shelf life.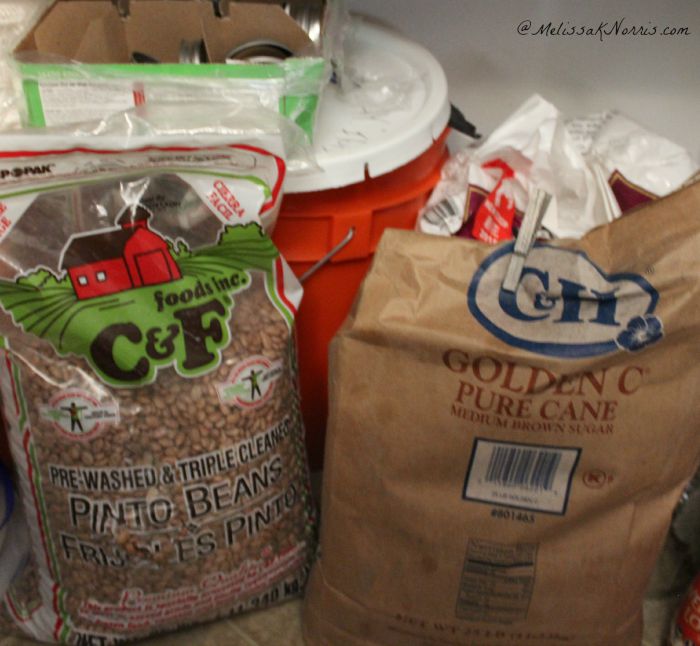 I store the majority of our bulk food in the closet pantry. You can see in the photo the 30 pounds of organic evaporated cane juice (our sugar source) and 40 pounds of organic unbleached all-purpose flour fits on one shelf. Anything that has an expiration date on it, I stack with the expiration date facing outwards. We used pretty good bracing as you can imagine. My coconut oil sits beneath that with some of our salt and buckwheat.
The floor houses our dried beans, rice, and 50 pound bags of wheat berries. Normally, I store our 25 pound of brown sugar in a plastic 5 gallon bucket with lid, but my bucket got swiped for another use on the homestead and I have to replace it.
The other majority of space is for all of my home canned goods. I'm still canning as the garden is producing, so it's not quite full yet.
You can tell by looking at the photos, probably two thirds of our bulk and home food storage comes from our home canned goods. From those home canned goods, we grow almost all of it ourselves, making it virtually free. Even if you don't grow it, preserving it yourself is both frugal and a step towards self-sufficiency. I've got a complete FREE Ultimate Home Food Preservation Guide just for you!

Want to build up your food pantry with home food preservation? sign up here!

How to Re-Package Bulk Food for Food Storage
I repackage a lot of our bulk food storage into glass containers and keep them directly in the kitchen. I prefer glass as it's much harder for pests to get through it or for it to rip, like said plastic bags. Plus, I'm a sucker for anything in a Mason jar and consider it part of my decor.
Labeling is important, as you might think you'll remember when you canned it, or which type of wheat it is, but trust me, you're likely to forget a year from now. I'll write with a permanent marker on old canning lids, but I adore these chalkboard labels for prettier use and it makes it easier when going at a glance then having to look at the top of each jar or container. I use them on my spice jars, different wheat berry varieties and just about anything else that stands still in the kitchen.
Small jelly jars work well for re-packaging herbs and spices.
Pint size jars for things like dill weed and chili powder, which I tend to use more of.
Quart size jars are what I use for my garlic and onion powder. I also keep popping corn and wheat berries in my quart sized jars. Wide mouth jars work best for re-packaging and a canning funnel works well if you're pouring things from one container to another.
Half gallon jars work well for dried beans. I re-use my used canning lids on my dry good storage. Old peanut butter jar lids work well as well. You can grab a case of these for less than $15.
I adore the gallon size Ball jars with a rubber seal. Note: they're not for canning, but they work very well for things like oatmeal, flour, and sugar. However, these gallon jars are half the price.
Keeping food in an air tight environment also helps with the shelf life. You can use the attachment on a vacuum sealer or check out this tutorial on using a non-electric Mason jar vacuum sealer.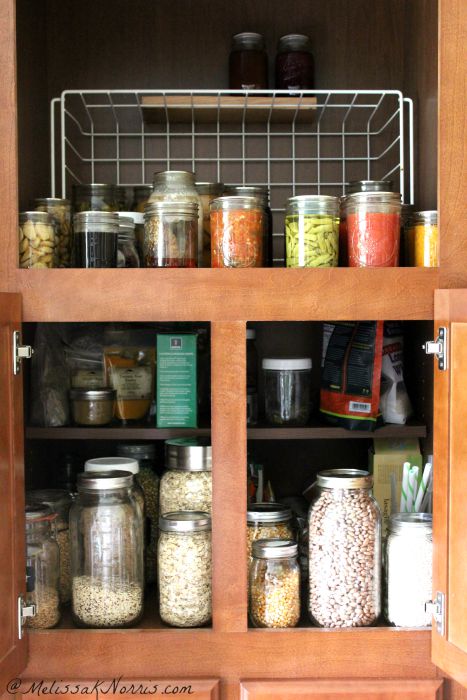 Here is my in the kitchen home food storage area. The top open shelf is home canned goods that need to be used first. I practice my rotation by placing the newly canned items in the back closet and bringing out the older stuff to the kitchen to make sure I don't "loose" track of things.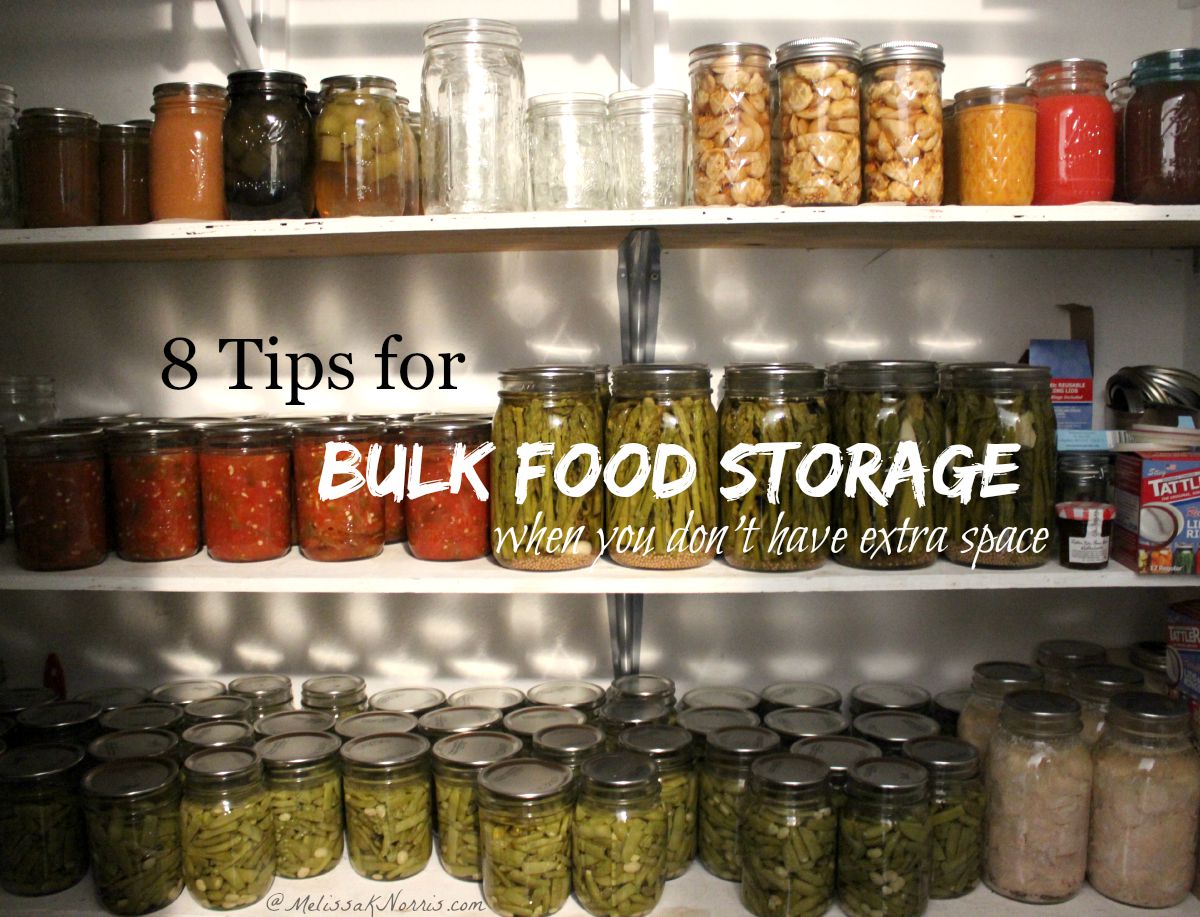 Need to get even more creative with your storage?
Creative Food Storage Ideas
Some folks will slide things in underneath their bed. Just make sure you keep notes of what you have and practice rotation. Another creative idea is from my friend Angela over at Food Storage and Survival and she shares how she stores food behind her couch.
Daisy has some great ideas for storage spots, plus grouping items together in her 6 OCD hacks for to organize stock piles.
The Magazine holder in this post is a great idea!
Love this post from Common Sense Homesteading, her shelf idea is great, not to mention the corner and small area ideas.
What creative spaces have you used for food storage?