Today I share 4 tips to success in growing your own food this year. I believe everyone should grow at least one item of food. These 4 tips are items you can get going now to ensure a successful gardening season.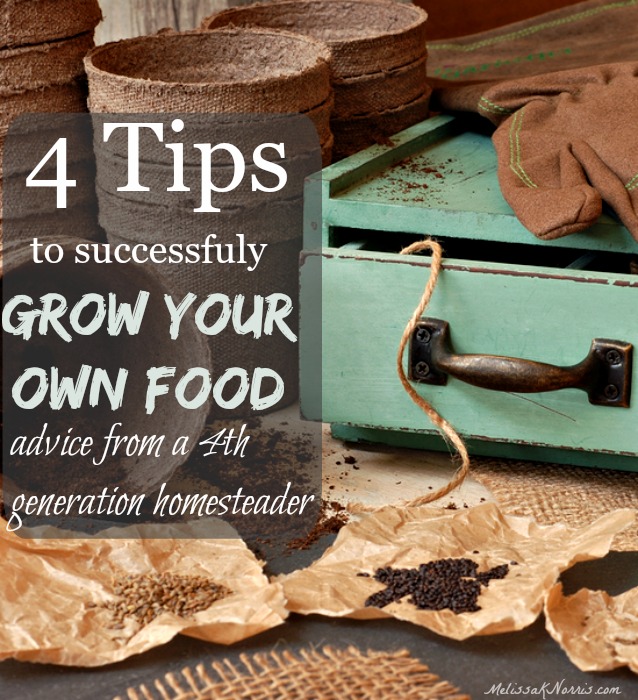 Very first thing we need to do is to commit for the season. This is two-fold. If you're a first time gardener or a long term you're going to run into some kind of pitfall when gardening. It happens to everyone.
I was raised growing our own vegetables, when we got married (I was eighteen) we started growing our own vegetables, so with decades of experience, every year we still run into something that is slightly different. This past year we had an extreme drought, most extreme in recorded history where we live, so I learned a lot and have a lot more empathy who live where there is a water shortage.
Listen to this post (just push play below) and all our episodes of the
Pioneering Today Podcast while you're on the go, scrubbing the house, cooking up dinner (can I get an invite?), or mucking out stalls! I post new episodes Friday mornings. You can subscribe via RSS and receive every episode for free.


Or subscribe via Itunes
4 Tips to Successfully Grow Your Own Food
1. Commit. We still had a good harvest, and I learned a lot. Gardening is a lifetime learning experience. Know you'll push through and on with your gardening. Commit to one season if you're brand new.
Enlist the help of family. Try to get everyone on board. From the time my kids were infants they've been out in and helping in the garden. If you're going to eat it, you help. The little kids help with eating and as they grow, get different jobs.
Small kids do well when they have a small section of soil as their own. Then it doesn't matter if they pull up things they shouldn't.
My kids don't necessarily always like veggies from the store (homegrown tastes better), a lot of times they wouldn't want to eat it, but if they grew it at home, because they'd helped raise it, they wanted to eat it. Gardening creates a good family time and bonding experience.
My daughter is six and anytime I bring out the canner or we're harvesting, "Momma, are we putting this up for dinner."
If you're doing all of it yourself, it can feel like a lot of work, so have your family members help.
It can be family (or friends or neighbors) who live nearby and they don't have an area to do a large garden, so they've come and helped us raise things and then they share in the harvest. Community gardens are an option where you can rent land to grow a garden as well.
2. For the success of your garden, you need to know your first and last average frost date.
This lets you know when it's safe to plant and when your harvest times are. You can find yours by putting in your zip code here
For your warm summer crops you put them in about 4 weeks after your last average frost date, when your soil temperature hits 65 degrees Farenheit.
3 Types of Garden Seed
GMO seeds are done in a lab and injected with things that aren't plant DNA and not from that species, such as animal DNA and pesticides. Those seeds are patented and it monopolizes the food system, I strongly disagree with the use of them.
Hybrid seeds are the same plant species, but in a lab a scientist takes two different types of the same plant and injects it into that seed. They're generally sterile and if planted, will revert back to one of the parent plants, but they won't be what you initially thought you were planting. For example, they won't taste the same, low germination rate, look different, etc. This is regards to large seed companies that you purchase in the store.
3. Heirloom seeds are exactly as God created them when nature began. They're what humans have used, saved, and planted every year. I've never purchased our bean seed from the store, talk about frugal! We like to seed save. Beans are one of the easiest seeds to seed save.
Heirloom seed sources
Baker Creek Heirloom Seeds
Seeds for Generations -ran by a small family, who have also helped me on this website and other projects. I really love to support a single family and small operation.
Down to Earth Seeds
Anyone in your local area who saves seed
Even if you don't plan on seed saving your first year, if you use heirloom seeds from the beginning, and you later change your mind, you've got that option. I only use all heirloom seeds myself.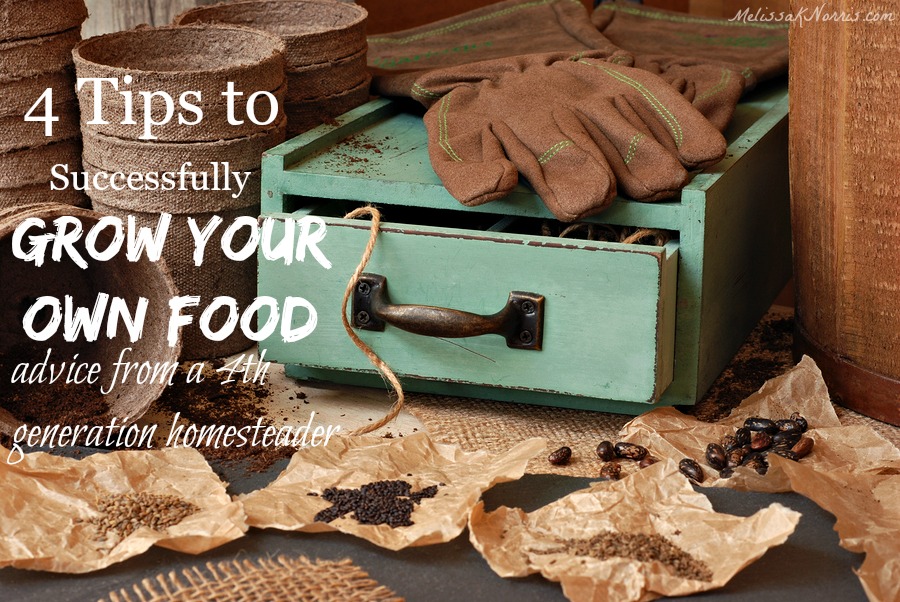 How to Keep Weeds Down Organically
Weeding– use a hoe and your hands
Permaculture– you put down a heavy natural layer of mulch to protect the soil and smothers out the weeds
Planting methods-use shade from your taller plants and the way you plant your vegetables. Ever heard of the Three Sisters Planting method? Native American Indians would plant a tall plant, corn, then they'd plant the beans to crawl up the corn, and pumpkins at the bottom to vine out and block weeds.
I can't start my corn enough in advance for the beans to grow up with our shorter growing season, but I plant our pole beans (which grows taller than our corn) or peas, anything to go up vertically, then plant at the base our vine plants, such as cucumbers, summer squash, and winter squash. Vertical planting is a great way to get more in a small space.
The vining plants create shade so the weeds don't come up. Pumpkin releases a chemical that inhibits the growth of some weeds, but it doesn't inhibit the growth of your pumpkins or your harvest yield. (Awesome, right!)
I also talk about in The Made-From-Scratch Life how to plant your garden to do as much of the work for you as you can. I share in the book that most of the seeds about 10 days after you've tilled and planted, you can take a hoe and shallowly hoe the surface, you disrupt the weeds life cycle. Easy peasy!
How to choose your garden spot
4. Choose your garden spot carefully. Your garden spot needs to be level. You don't want it to be at the bottom of a hill, so it doesn't get swamped or flooded out by heavy rain. The top isn't good because the water will run off, leaving thirsty plants. Make sure it's not near property lines or where you'd get unwanted run off or contamination.
Full sun- vegetables need at least 6 hours of sunlight in order to grow and ripen. Make sure your garden spot provides plenty of sunlight.
Remember, in the middle of summer, the sun is higher in the sky. If your trees are bare, in the summer they'll have leaves and will be shady.
Close to a water source-most of us will need to water to a degree in the middle of summer. You don't want miles of hose to water your garden and then have to remember to move them every time you mow the lawn.
No one wants to pack water for long distances. During harvest season, you'll want to be able to rinse your produce off, and having it near the garden is a plus. I'm a barefoot gardener and rinsing off before coming back inside saves a lot of cleaning time.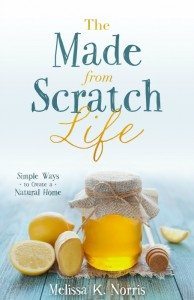 In our new book we've got amazing charts, you just plunk in your last average frost date and know when to plant, when to harvest, seasonal buying guide, root cellar storage charts, and more!
Over $20 in FREE digital bonuses, including exclusive access to The Made-From-Scratch Life Workbook and our 5 Day Bonus Fast Track e-course!
For full bonus info and how to access them go here–> Yes, I want all the charts and bonuses!