Some of the links below are affiliate links, which means I will earn a commission at no additional cost to you, if you click through and make a purchase. Regardless, I only link to products we use on our homestead or believe in.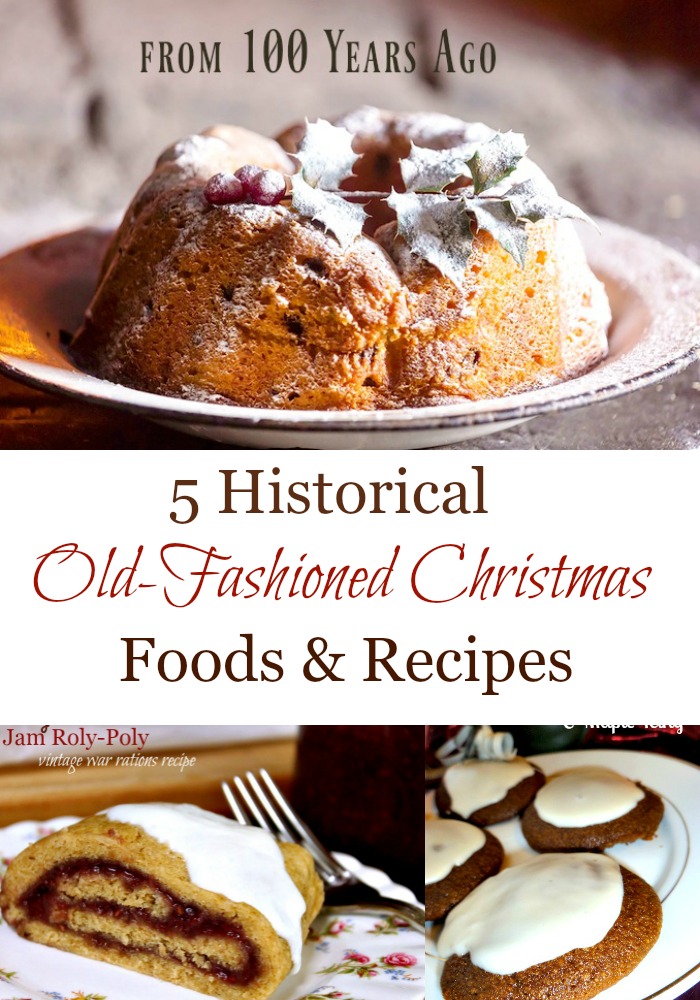 These 5 historical Christmas foods from at least 100 years ago are what the pioneers would have most likely had on their table. Many of these food have their origin from even further back and give us a glimpse at how times have changed and yet some of these remain a favorite food to be served during the holidays… or not, hello fruitcake, we're talking about you.
It's important to look back at these old customs as well as preserve some of these older recipes to pass down and enjoy with future generations and our families. All my Little House on the Prairie® will love the molasses recipes and remember Ma only kept out the white sugar for company.
Listen in as you decorate, whip up your favorite Christmas recipe, or go about your Christmas cleaning…. or read below!
You can subscribe via RSS and receive every episode for free.


Or subscribe via Itunes
5 Historical Christmas Foods from 100 Years Ago
A Christmas Goose- The Christmas goose goes back even farther than just the pioneer days in America. The goose was chosen for a couple of reasons, one it had more meat on it than a duck or chicken, meaning it could feed more mouths. Friends and family gathered so having enough meat to feed everyone was important.
Second reason, a goose has lots of down feathers and in the winter time, those feathers are the heaviest (think your cattle, horses, and chickens all getting in their thicker winter coat, or feathers, come the cold months) so there was more down to stuff mattresses, pillows, and coverlets. Depending upon your area of the country, most butchering was done in the late fall when the freezes came. Without refrigeration, the proper time of year ensured the meat would keep longer. Ham could be salt cured and stored and the larger pieces of meat or roasts were saved for Christmas dinner.
Learn how to salt cure a ham at home
Venison may be another fair served at Christmas time and this is because deer go into rut in the fall, making them more focused on the females and often time, giving the hunter a bit more of advantage with the buck's focus shifted on mating.
Molasses old time recipes used molasses in their recipes because regular white sugar was harder to come by and more expensive. Most farms and homesteads served cookies and baked goods made with molasses to help stretch their sugar.
My very favorite old-fashioned cookie–> Old-Fashioned Soft Molasses Sugar Cookies
From my great-great-grandmother's cookbook–> Old-Fashioned Ginger Cream Cookies
Fruit Cake fruit was something sweet that most folks could harvest and put up without spending money on sugar or sweeteners. It was saved to bake or serve at Christmas time. Dried fruit was used but another form was to preserve your fruit in alcohol.
Fruit cakes were important because they had the sugar, fruit and alcohol that would preserve the cake until Christmas. Usually, the cake was baked at least one month prior to Christmas time in order for the cake to age and develop its full flavor.
Fruit pies apple and pumpkin were traditional desserts as well as mince meat pie. Mince meat pie uses minced up meat, fruits, and spices to create a pie. There's also variations of non-meat pie, but my mom's favorite was bear mince meat pie when she was growing up.
It was a way to stretch the meat and your fruits to create a full dessert to feed everyone. If you don't have it, you need to get your hands on my great-grandmother's no fail flaky pie crust recipe.
Steamed puddings were a tradition, though they aren't in favor as much in current times. Steamed pudding again were usually made with fruit and contained less flour than a cake. They're not a pudding like you may think of chocolate pudding or a really custard type pudding. This jam roly poly is a steamed pudding that features your favorite jam or jelly as the sweetener and it can also be made gluten free.
One of my favorite things about this is it hails from the pages of Andrea's great-grandmother's cookbook and was made during World War II rationing in Europe, here's the recipe–> Vintage Jam Roly Poly without Suet
I almost forgot this one!! Here's a traditional Christmas pudding with a Brown Sugar Sauce–> Traditional Christmas Pudding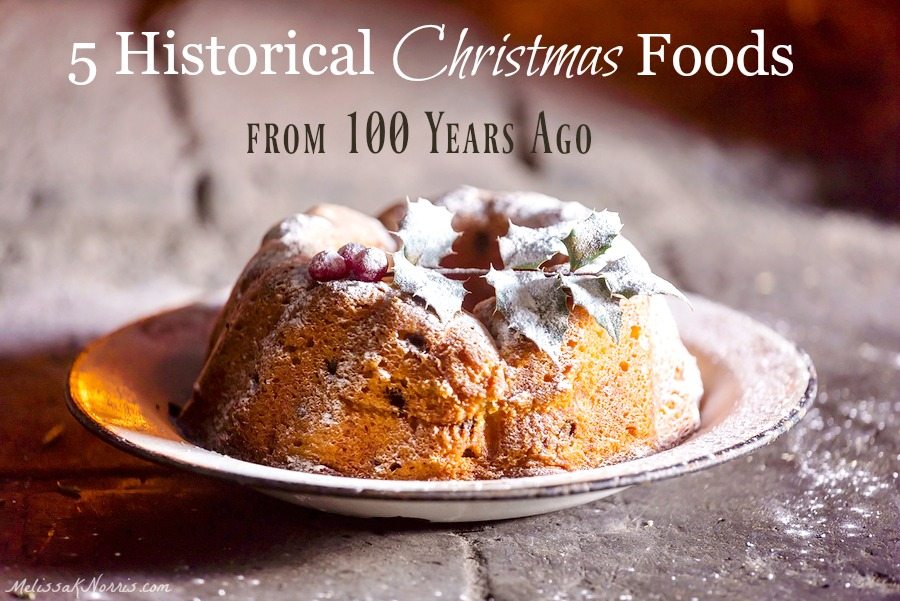 What are some of your favorite traditional or family Christmas recipes? Do you serve up any of these 5 traditional fares during the holidays?
Aside from the Christmas goose and the fruitcake (we go the pie route) we make many of these recipes and I love teaching my kiddos the history behind them.
More Historical Recipes To Enjoy