We try to replace as many processed products with homemade ones as we can. When we'd raised, butchered, and roasted our own pig, I couldn't very well serve it with store bought barbecue sauce. (Okay, I could have, but I didn't want to)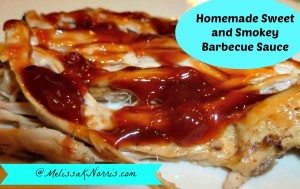 My neighbor makes one of the best barbecue sauces around and she gave me her basic recipe and I tweaked it a little. I like my barbecue sauce on the sweet side with just a bit of smoke.
Disclosure: Some of the below links are affiliate links.
Pioneering Today-Sweet and Smoky Barbecue Sauce
2 cups ketchup (You can use tomato paste and dilute it with water, or boil down stewed tomatoes)
1 cup brown sugar
1 finely chopped onion
5 cloves minced garlic (we use our own homegrown garlic)
3 tablespoons apple cider vinegar (if you prefer a tangy sauce, then up this to taste)
3 tablespoons Worcestershire sauce or soy sauce (I use Bragg's Amino Acids in place of soy sauce)
1 teaspoon liquid smoke (optional)
1/2 teaspoon ground black pepper
Mix all of this in a saucepan and bring to a boil. Stir and reduce to a simmer. Allow to simmer for an hour, until sauce has thickened and turned a pretty dark red. Use immediately, store in fridge or freeze
What's your favorite homemade replacement for store bought processed foods?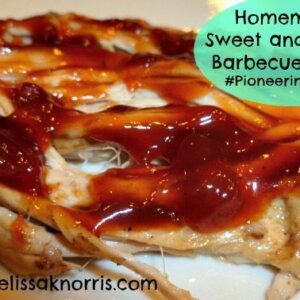 Pioneering Today-Sweet and Smoky Barbecue Sauce
Ingredients
2

cups

ketchup

(You can use tomato paste and dilute it with water, or boil down stewed tomatoes)

1

cup

brown sugar

1

finely chopped onion

5

cloves

minced garlic

(we use our own homegrown garlic)

3

tbsp

apple cider vinegar

(if you prefer a tangy sauce, then up this to taste)

3

tbsp

Worcestershire sauce or soy sauce

(I use Bragg's Amino Acids in place of soy sauce)

½

tsp

ground black pepper

1

tsp

liquid smoke

optional)
Instructions
Mix all of this in a saucepan and bring to a boil. Stir and reduce to a simmer. Allow to simmer for an hour, until sauce has thickened and turned a pretty dark red. Use immediately, store in fridge or freeze
Related Articles You May Enjoy