Some of the links below are affiliate links, which means I will earn a commission at no additional cost to you, if you click through and make a purchase. Regardless, I only link to products we use on our homestead or believe in.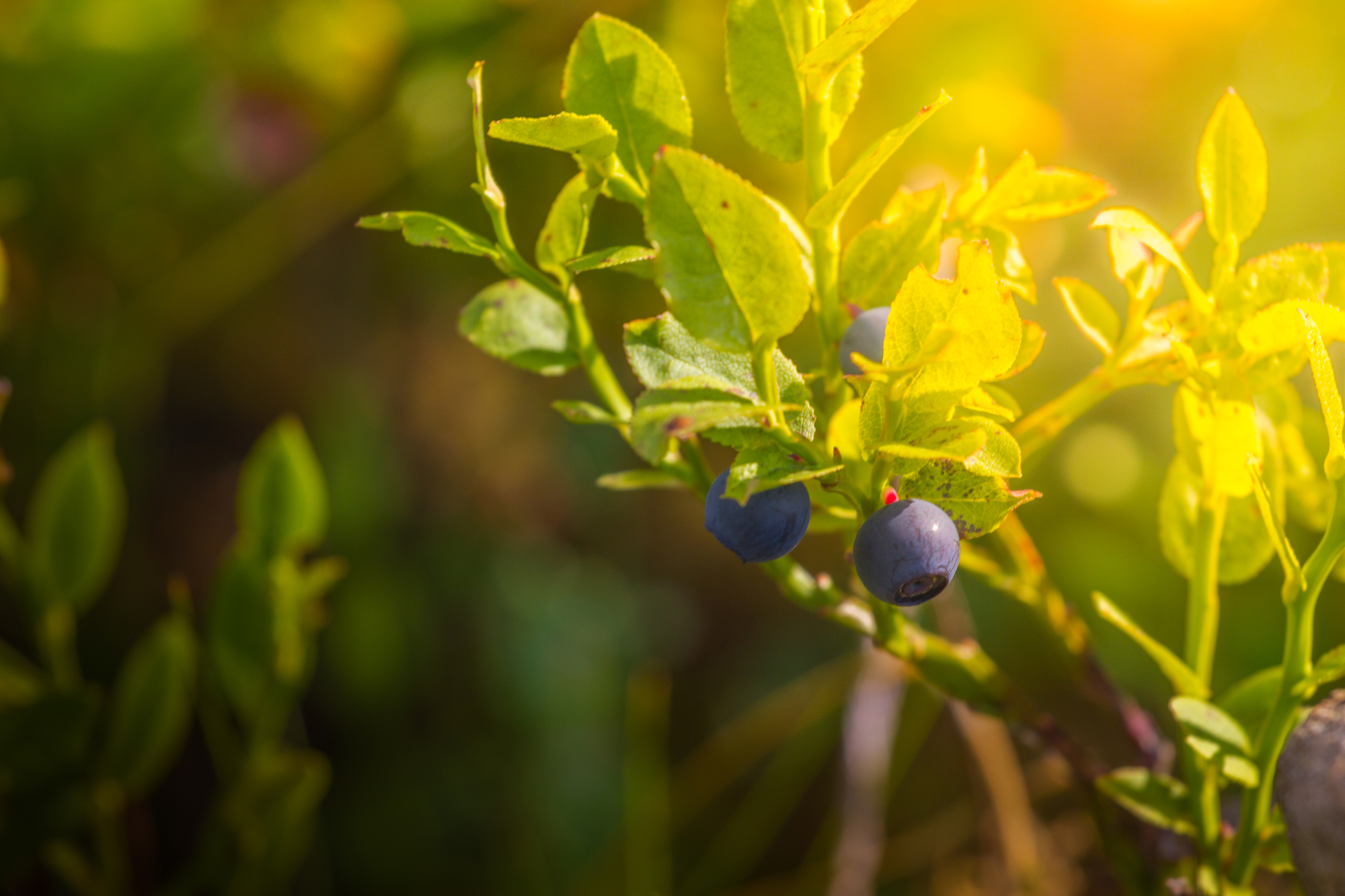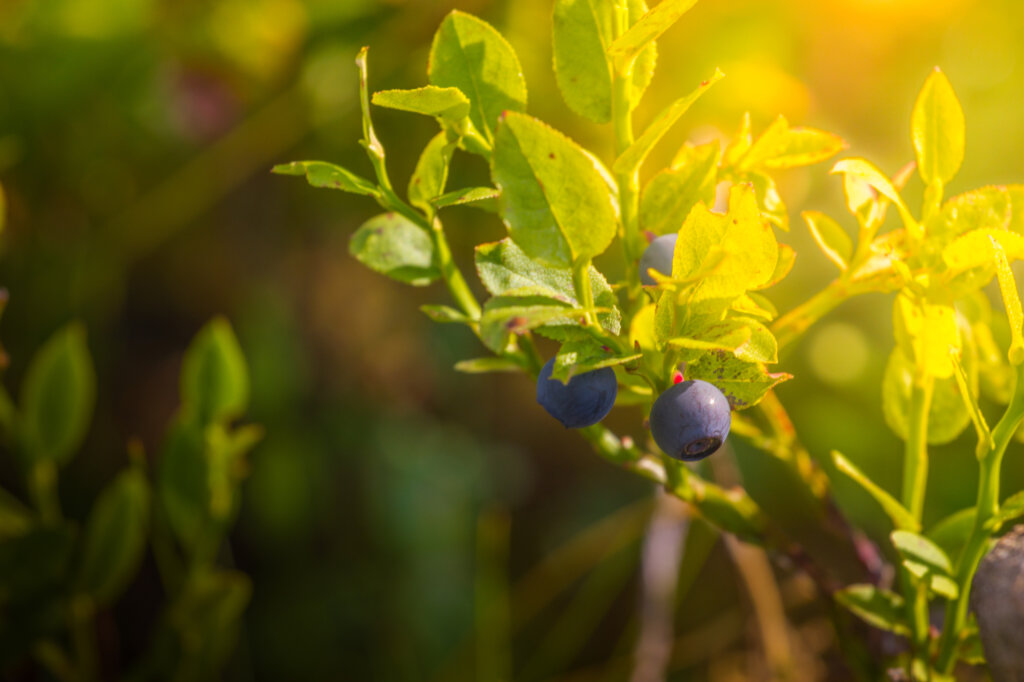 Pruning blueberry bushes and proper blueberry bush care can help yield not only a larger harvest but also larger, juicier berries. Follow these easy step-by-step instructions on how to prune blueberries and properly amend the soil for quality growth.

Why Should I Prune My Blueberry Bushes?
It seems so contradictory to cut OFF branches in order to get MORE fruit, but that's exactly what we need to do with our fruit trees and shrubs, namely, blueberry plants.
If you want larger, tastier berries, then yearly pruning of your blueberry bushes will become your new best friend. The best (and most tasty) blueberries tend to grow on newer, stronger canes that are pointing straight up, and while the older canes will still bear fruit, you want a constant steady rotation of new fruit-bearing canes to maintain the fruit quality.
Furthermore, blueberry bushes that are neglected year after year can become overcrowded, making it hard to produce sizeable fruit. The bush may also become unruly and an undesirable shape for harvesting berries.
Pruning blueberries is slightly different than pruning fruit trees, though some of the principals remain the same.
I can't help but think of this verse every time I think about how to prune blueberries or any of our plants. I'm always amazed at how gardening brings to mind so many of the scriptures.
He cuts off every branch in me that bears no fruit, while every branch that does bear fruit he prunes so that it will be even more fruitful. John 15:2
Blueberries are one of my favorite fruits. They're sweet and juicy on the tongue, freeze better than any other berry, dehydrate well, and can even be grown in a container or pot. Plus, they turn things purple (one of my high school's colors), what's not to love?
Looking for great ways to preserve all those blueberries your bushes will be producing? Check out my FREE Preserving Blueberries & Blueberry Recipes eBook or my Home Fruit Preserving eCourse.
How to Prune Blueberries & Proper Blueberry Bush Care (For a Better Harvest)
Update: Watch this video to learn how to prune blueberries, especially older or mature blueberry plants, including restoring old blueberry bushes that might have missed a few prunings.
Blueberry Bushes are Great for Small Spaces
Almost anyone can grow blueberries, even if all you have is a patio or small yard because blueberries can be kept compact. One mature bush, allowed mostly full sun will produce a good amount of berries for eating fresh and preserving.
Blueberries make a gorgeous addition to your flower beds as their flower buds turn to dainty white blossoms in spring and in the fall, their leaves turn a pretty red before falling.
Blueberries are a fairly slow-growing plant. If your plant is only a year or two old, I wouldn't prune it yet, just let it grow and establish its root system. Our bushes are going on five years old and are definitely in need of some pruning.

When is the Best Time to Prune Blueberry Bushes?
The best time of year to prune blueberries is in late winter or early spring. You want to prune them when the fruit buds are showing. It's also best to prune on a dry day.
If you're like us, the answer for when to prune blueberries (in Washington State) would be mid-January through the first part of March. I also was out for a run and happened upon my wonderful neighbor pruning her blueberries. She's an organic farmer who has served on the board for Organic Tilth, making her my go-to person when I have gardening questions.
She gave me a quick pruning lesson and I'm passing it along to you guys, cuz us homesteading peeps have to stick together.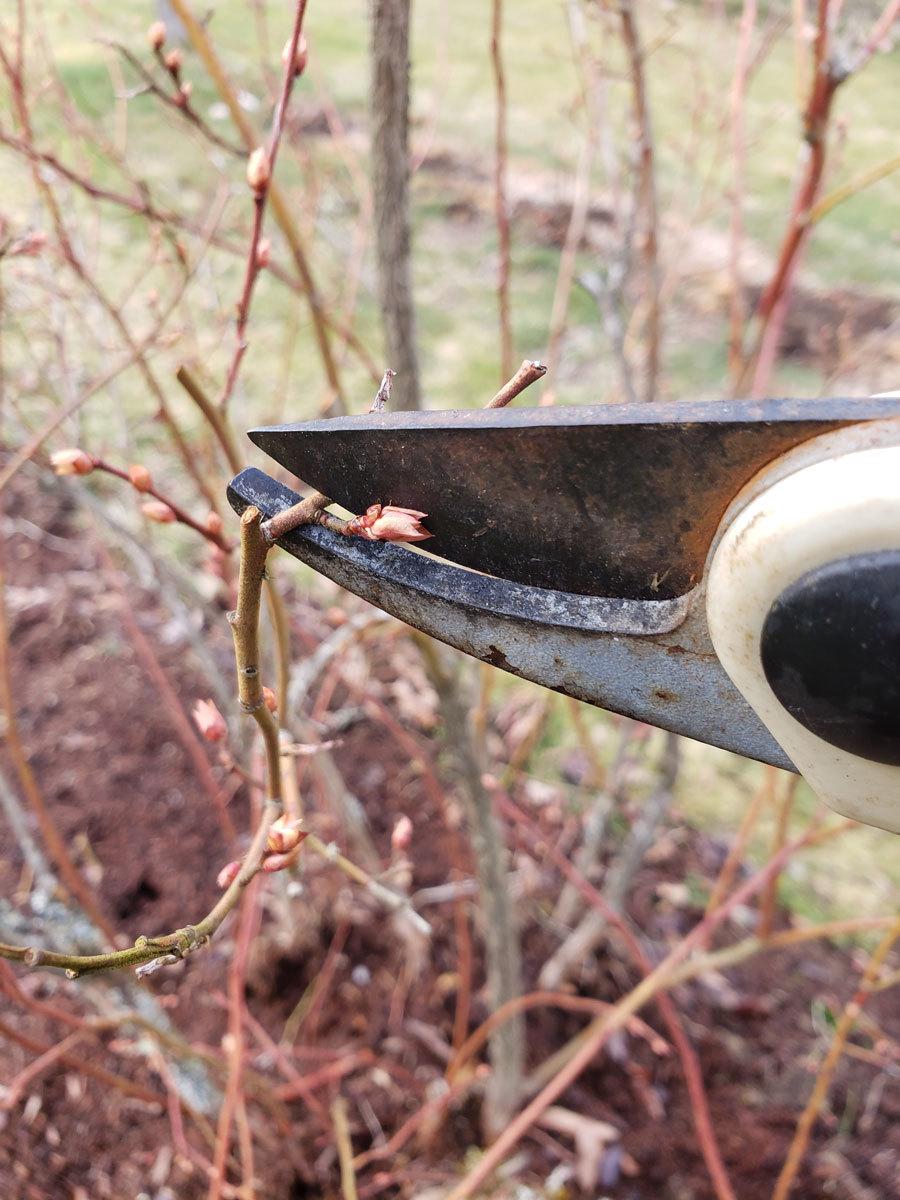 The Best Method for Pruning Blueberry Bushes
As I mentioned in the video above, I had just pruned my elderberry bushes with my garden tools. Because of this, I always start by sterilizing my tools to avoid the possibility of spreading disease between my plants.
Once you're ready to prune, the first thing you want to do is take off all of the dead branches, these should be the oldest canes on your plant. You'll want to be sure your pruning shears are nice and sharp because it's best if you prune off the dead branches at a 45-degree angle.
If you're cutting off an entire branch, you'll want to cut the branch straight across, right at the very base.
How to Prune New Blueberry Bushes
If your blueberry bush is brand new (the first or second year after planting), you'll stop after the step mentioned above and only remove any dead or diseased branches. You don't need to prune anymore than that on first or second-year-old blueberry plants. The goal for newer bushes is to establish their shape and set them up for success in years to come.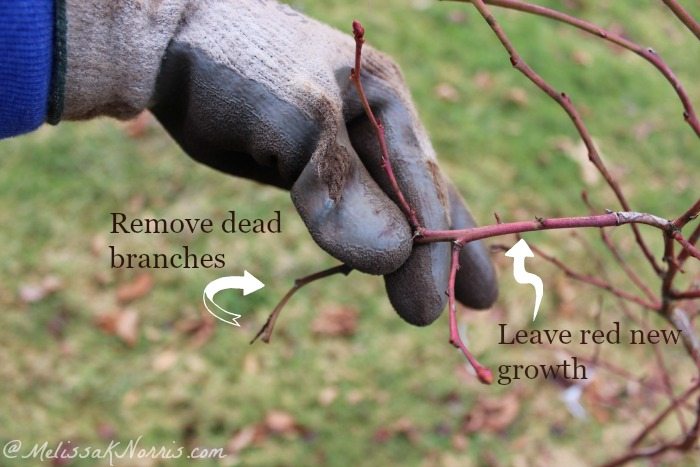 4 Tips to Identify Which Branches to Prune Off Your Blueberries
As mentioned above, the first thing you'll look for is dead branches. They have to go.
Next, step back and look at the bush. You want the middle of the bush to have good circulation. If it's too compact the berries in the center won't receive much light and won't ripen well.
Look for branches in the middle that don't have any or very much new growth. Those will be the ones you want to remove.
Be sure and cut the branch off down to the very base of the bush. This will encourage healthy new growth.
Now, look at the bush again. Are there branches that don't have any new fruit buds?
There's no point in keeping branches that aren't going to be producing any fruit. Each fruit bud will produce a good handful of berries, so if a branch has several, that's a decent amount of berries.
Finally, look for branches that grow long and leggy with no branches until the end. It's best to cut these as they're not producing fruit along the length of the branch, just the end. Your goal is to keep the branches with lots of new red growth and fruit buds.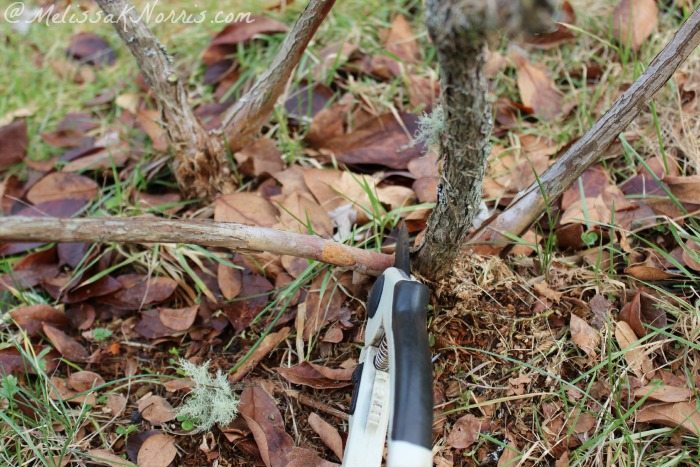 So to recap, when identifying branches to prune off you're looking for the following four things:
Dead branches.
Branches in the middle with zero or very little new growth.
Branches with no (or very few) fruit buds.
Long and leggy branches.
As your blueberry bush grows, you'll want to cut off any small shoots coming up at the very base of the plant to encourage upright growth. It's not much fun to hunch over the whole time you're picking berries. Or maybe that's a sign I'm starting to get old… nah.
Once your branches start showing signs of slowing down their production (usually after six years or so) you'll want to begin to trim them back to allow new younger shoots to get established.
Mulching and Feeding Your Plants
After you've gone through and pruned your blueberry bush(es), you'll want to add some new mulch and fertilizer. Blueberries are one of the most acid-loving plants around. In fact, our soil is about a 5.5 on the ph scale and it's not quite acidic enough for the blueberries. My neighbor even adds sulfur to her soil.
I've found various reports on the acidity of used coffee grounds. Some articles say it's only about a 5 while others say it's more. Regardless of how acidic it is, it's an excellent food for your bush and something most of us have on hand.
I put a good layer of coffee grounds around the base of my blueberry bushes each year, making sure to mix it up so it doesn't grow mold. Here is my article on 4 tips for using coffee grounds in the garden.
Next goes on a good layer of manure. Because this layer is going on top of last year's layer of mulch, I don't worry if it's a little bit hot because it won't be hitting the roots right away. After I've added my manure I put on a 5 to 6-inch layer of sawdust.
Cedar is a good choice for blueberries (but not all plants), fir, maple, and pine will work as well. Whatever you can get your hands on basically.
The reason we mulch so heavily here is threefold.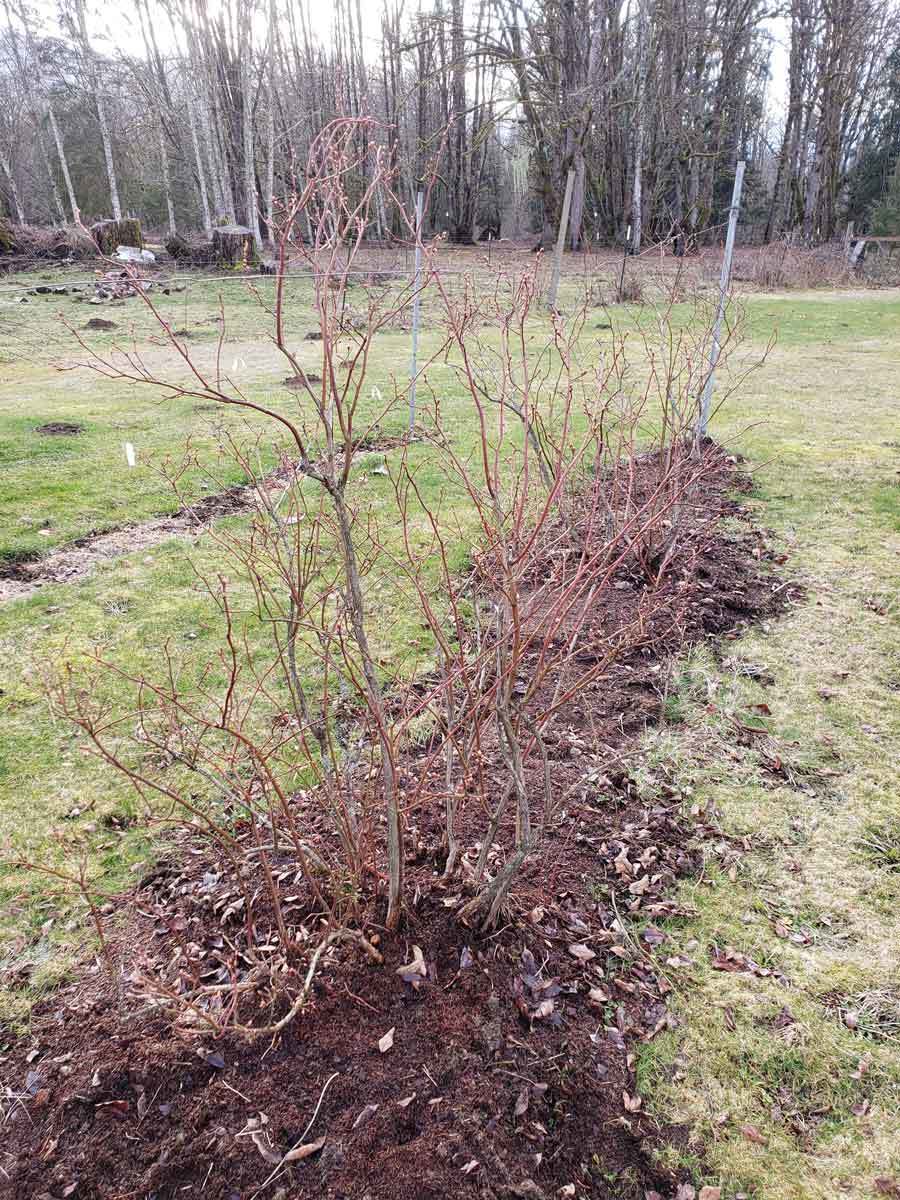 Why Mulch for Proper Care of Your Blueberry Bushes?
Prevent new weeds from growing.
Help keep in the moisture come our drier summer months (though in the Pacific Northwest that's usually not until after July 4th).
What is the Mummy Berry Disease?
If you're in a wetter climate like me, you've probably heard of the dreaded mummy berry disease. It's a fungus that infects first the branch of the plant and then the blossoms. The berry starts to develop, but then stops about halfway through and instead of ripening, turns into a shriveled mauve-colored berry that resembles mummification.
If the infection gets worse, you'll eventually end up with no berry harvest.
The fungus actually comes from a tiny mushroom that grows during the first part of spring (and develops where the mummified berry falls). If you put down a thick enough layer of mulch, the fungus can't grow and therefore can't spread.
Do you have blueberries or plan on putting some in?
Here's a great resource for further reading:
More Spring Gardening Posts You Might Like:
Here's our resources page for pretty much everything I've ever covered on growing your own food.