I've been grinding my own flour and stocking grains in bulk for almost 10 years now and am sharing my favorite sources with you in this post (check out the video on buying and storing grains embedded in this post). A homesteader prides themselves on having a well-stocked pantry and when you're making almost all your items from scratch and grinding your own flour, you need to know where to buy grains in bulk and which ones are the most versatile.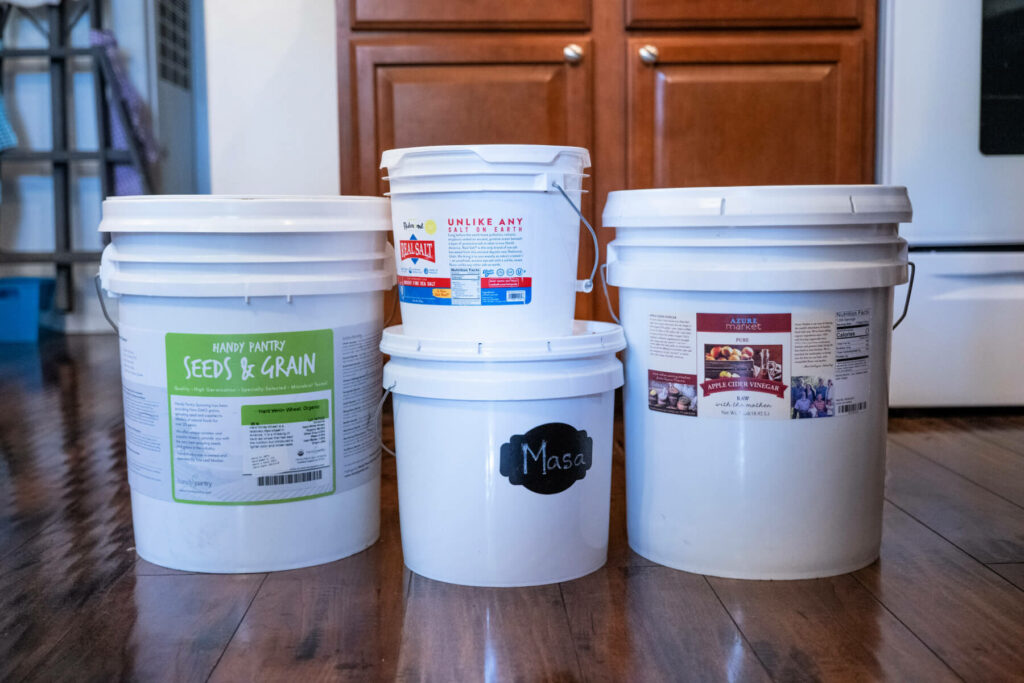 In today's episode of the Pioneering Today Podcast (episode #239), I'm discussing where to buy grains in bulk, as well as which grains I buy in bulk and which grains I buy in smaller quantities and why.
Why I Love Buying Grains in Bulk
Knowing where to buy grains in bulk is especially helpful if you are:
wanting to build up your food storage
considering grinding your own flour
thinking about buying a home flour mill
looking for the best prices of bulk grains
This has been one question that I am frequently asked. If you've listened to my podcast or visited the blog before, you may know I'm a huge advocate of my home grain mill. So today its time to discuss where to buy grains in bulk.
I have several different sources on where I buy my wheat berries and grains in bulk depending on the type of grain.
I do like to buy locally when I can, but I have to be honest that price does become a consideration for me as well and I try to buy when the price is right. Sometimes I can't find specific items in bulk locally, so I'm forced to look elsewhere. It's good to have options, especially with ongoing supply-chain issues and the fluctuating economy.
Where to Buy Whole Grains in Bulk
When I am purchasing my grains in bulk, I usually buy them in 25-50lb bags. You can get smaller quantities, and I would recommend this if it's a grain that's new for you, before investing in a larger size.
I do have another blog post on deciding which grain is best for baking (it's also my home baker's flour guide!). That post will help you decide which types of grains are best for what baked goods. It's extremely helpful if you're wanting to build up your food supply, but just don't know where to start.
I purchase the wheat berries and the grains I know I use a lot of in bulk, but for grains we use sparingly, I may buy smaller quantities.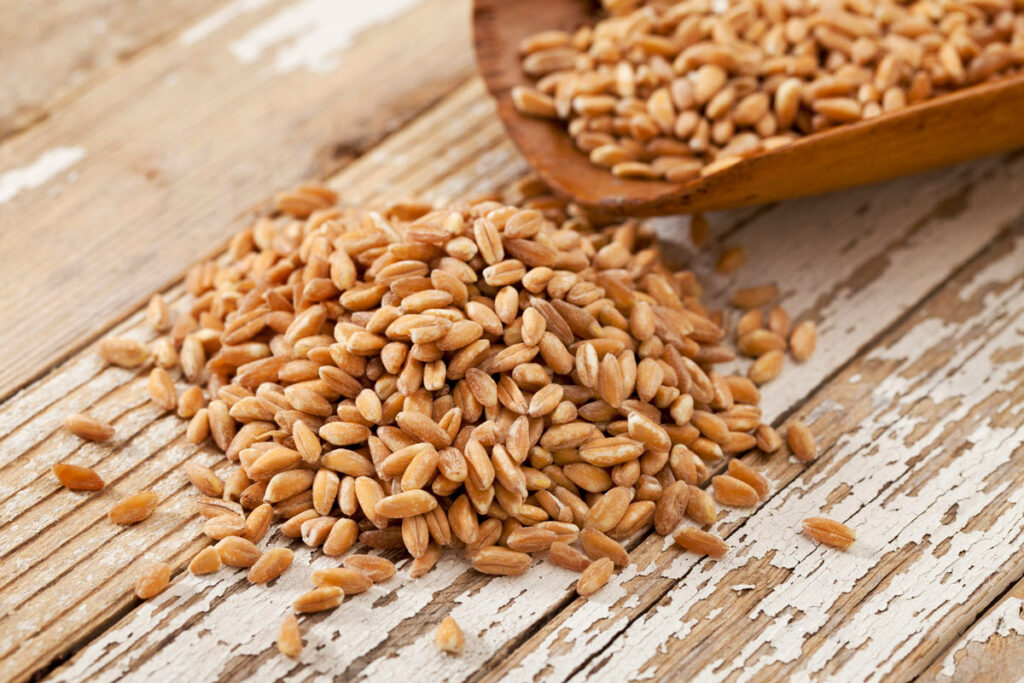 Where to Buy Wheat Grain
I will list all my recommendations below in order of first choice to last choice. Choose which option is available and works best for you:
Azure Standard – If organic is important to you, like it is me, you'll definitely want to check out this option for your organic whole grains. Azure Standard is an online co-op where you can get a lot of items in bulk. Simply pop in your zip code to see where they deliver in your area. They use what they call your drop zone where everything is delivered in one area in your location. They offer once a month (or every two weeks, depending on your area) drop-offs, so you have to plan and order ahead. You can find out if you have a drop zone in your area by going to their website and researching your zip code. You may even want to consider being a drop zone for your area and community. I plan on getting most of my wheat berries from them from here on out.
Locally – Normally a local store would be my first recommendation for products, but sometimes, as a homesteader, you have to go with the best price, especially when it comes to buying large quantities of something. But, if you still like supporting local farms, and you live in my area, Skagit County in Washington State, Fair Haven Flour is a great place to buy wheat grain. They have an organic flour mill and you can also buy local flour and wheat berries. Update: Since I first published this blog post, they now sell their products online and can be shipped right to your home! You can place an order online.
Palouse Grains are grown in Washington state and they ship online, they're non-GMO verified but not organic.
Amazon – If you are an Amazon Prime member, they have a local granary from my area that is available on Amazon. They are non-GMO project verified, 100% non-radiated certified kosher, but they are not organic. The prices are decent. Here's the Palouse brand that is based out of Palouse, Washington for Hard White Wheat
Costco or grocery stores with a bulk food area often carry wheat berries and other grains.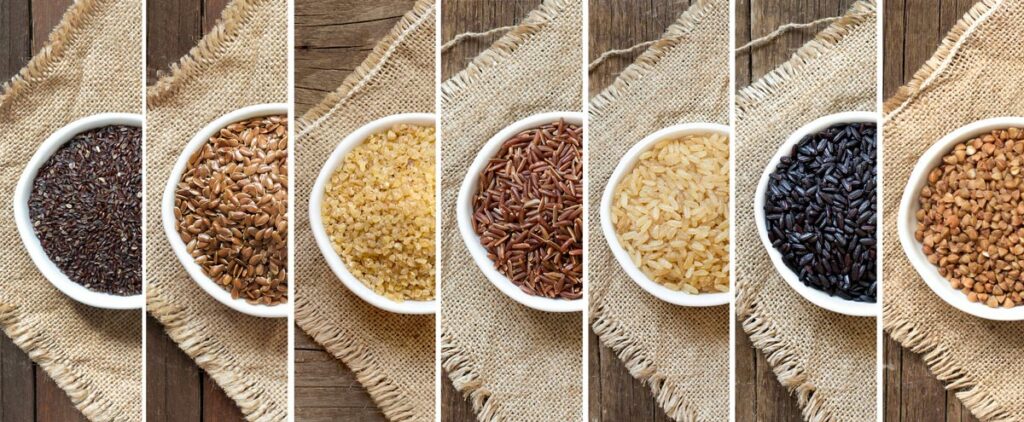 Grains I Purchase in Bulk
Hard White Wheat
First on my list is the hard white wheat. Hard white wheat is what I use and grind up for all of my bread baking. I also use this for the majority of my sourdough such as making a sourdough starter, rehydrating a sourdough starter, baking sandwich bread, artisan loaves, french bread, sourdough chocolate bread, etc. I do like to purchase organic wheat whenever possible.
In the past, I have used my local co-op, and they would let me purchase large bags at a discount. I would call them and order ahead of time, and I would give me 10% off. It's worth a shot to call up any local stores near you to see if they'll offer the same kind of discount.
Since not all of you will have this option available, I have a couple of online options as well. Honestly, I have been doing more online purchasing of bulk items lately because of the convenience.
For the best price and organic options, again I recommend Azure Standard. If you don't care about organic, Palouse is a local farm and has excellent prices from their website.
Snag my favorite Honey Whole Wheat Bread Recipe made with fresh-milled hard white wheat grains.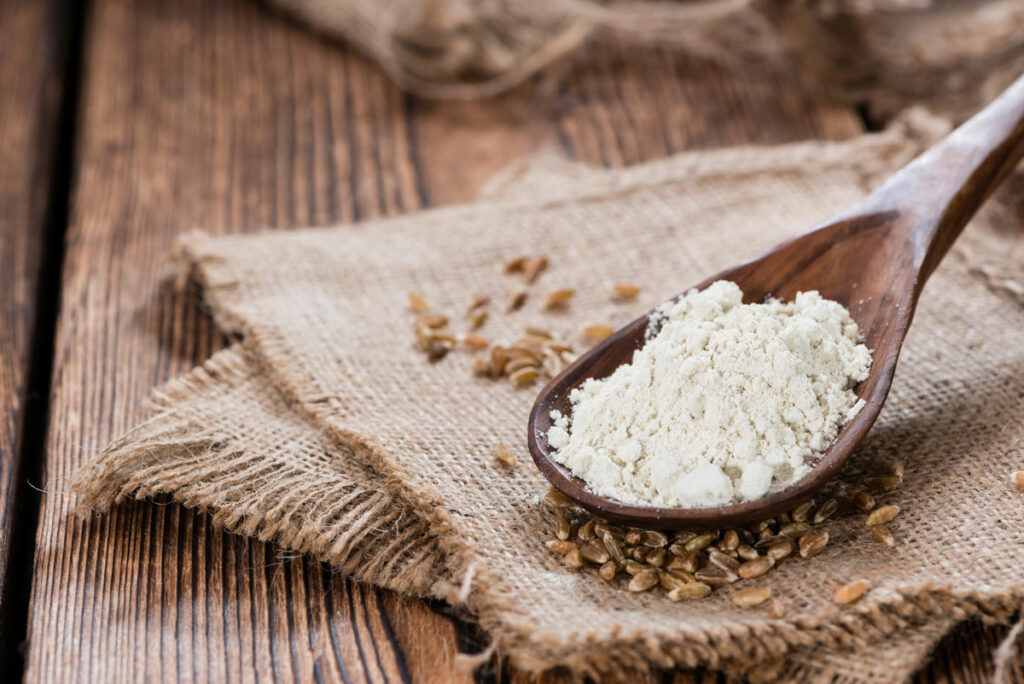 Spelt
The berry I buy in bulk is Spelt. Spelt is an ancient grain, and it works wonderfully in pastry flour. This is what I use when I am baking cookies or muffins or cakes or those delicate baked goods. I got my most recent bag of Spelt from Azure Standard.
Spelt has a lower gluten content than most grains and is my preferred go-to as my home-milled pastry flour, it's less expensive than Einkorn and you don't have to adapt your recipes as much as you do for Einkorn. But no worries, Einkorn does have its place in my kitchen, as well. Keep reading for my Einkorn tips.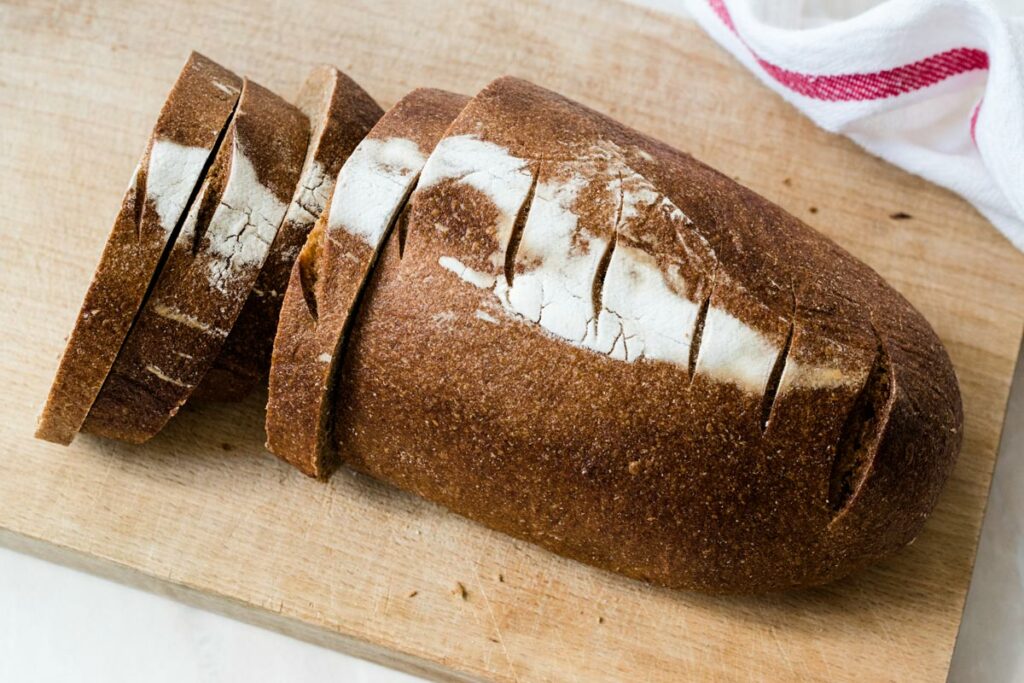 Einkorn
Einkorn is another ancient grain, and I have learned to love it. There is a learning curve when baking with Einkorn, yet it has so many great health benefits. It is, however, typically more expensive than Spelt.
With Einkorn, I use it the same as I would with pastry flour and I also use it occasionally for bread baking and sourdough.
Many people that have a lot of gut problems, digestive issues, leaky gut, or gluten sensitivities find they can consume Einkorn without issue, even though it does still contain gluten.
I get my Einkorn wheat berries from Einkorn.com They are a family farm located in Idaho.
Want more info on Einkorn? Read my Ancient Grain Einkorn- Health and Baking Guide.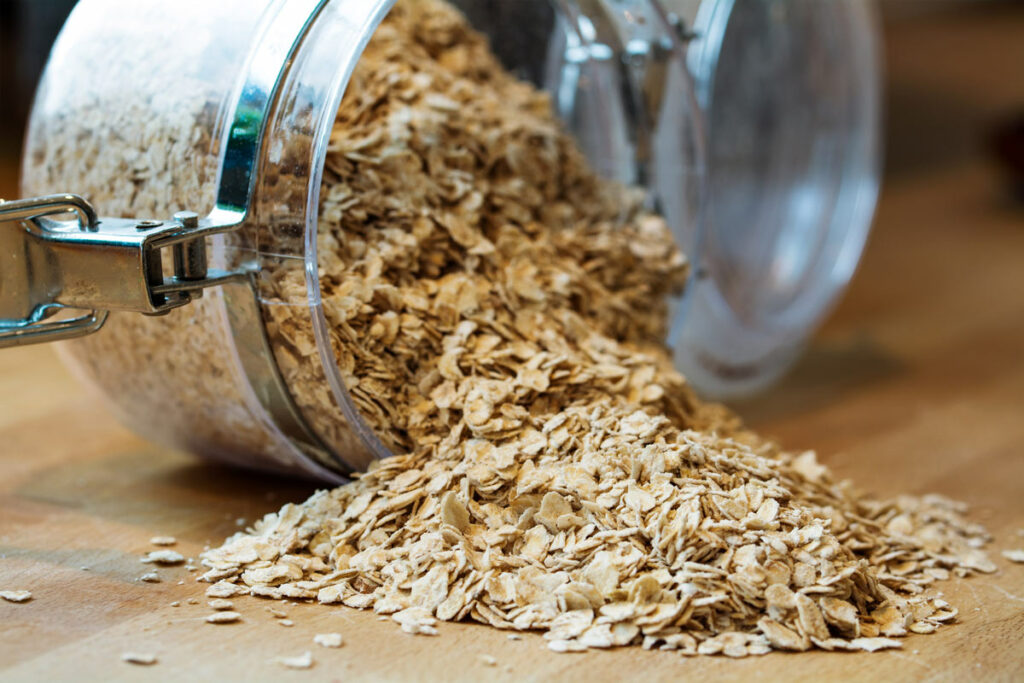 Other Grains
I do stock other organic grains that I grind into flour, like brown rice, buckwheat, and oats. Those are primarily the ones I use as flour types. I didn't use to stock them in bulk, but with rising food prices, I have started getting my oats in larger amounts.
I buy the organic rolled oats (old-fashioned) from Azure Standard in the 25 lb bag.
White rice is better for long-term storage if bought in bulk.
Don't forget corn, both popcorn and dent corn for cornmeal.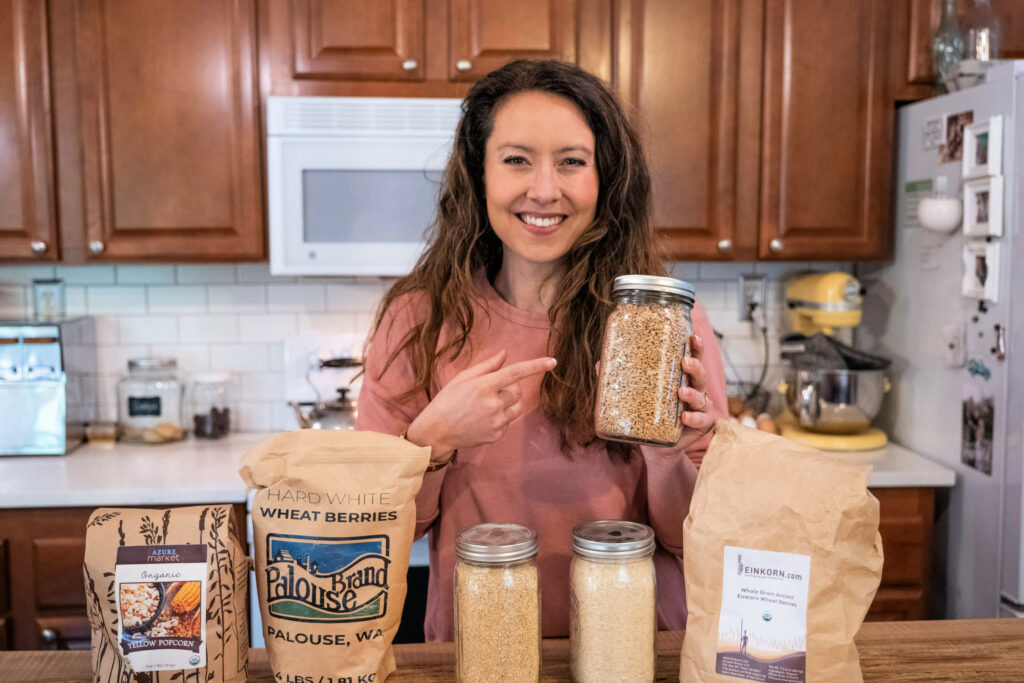 How to Store Grains
Knowing how to properly store grains for long-term food storage is important if you want the items to be edible when you need them.
For short-term storage (three to six months) storing in a glass jar with a lid and band is absolutely fine. If the bag they come in is lined and rolled tight, you can store it in the bag for up to six months.
The most important aspect is away from heat, light, and moisture. Ideally store grains in temperatures between 45 and 65 degrees F.
For long-term storage, you need to keep out the oxygen. This can be done in 5-gallon food-grade storage buckets with gamma lids and oxygen absorbers. For a 5-gallon bucket, five 300cc size oxygen absorbers are sufficient.
Wheat berries stored in ideal conditions will last for 20+ years.
If you're not using oxygen absorbers then it's recommended to freeze your whole grains when you get them to kill any insects and insect eggs.
Freeze them for 2 days (48 hours) then thaw. Many people suggest waiting thirty days and then freezing again to make sure you've caught all cycles of insects and eggs.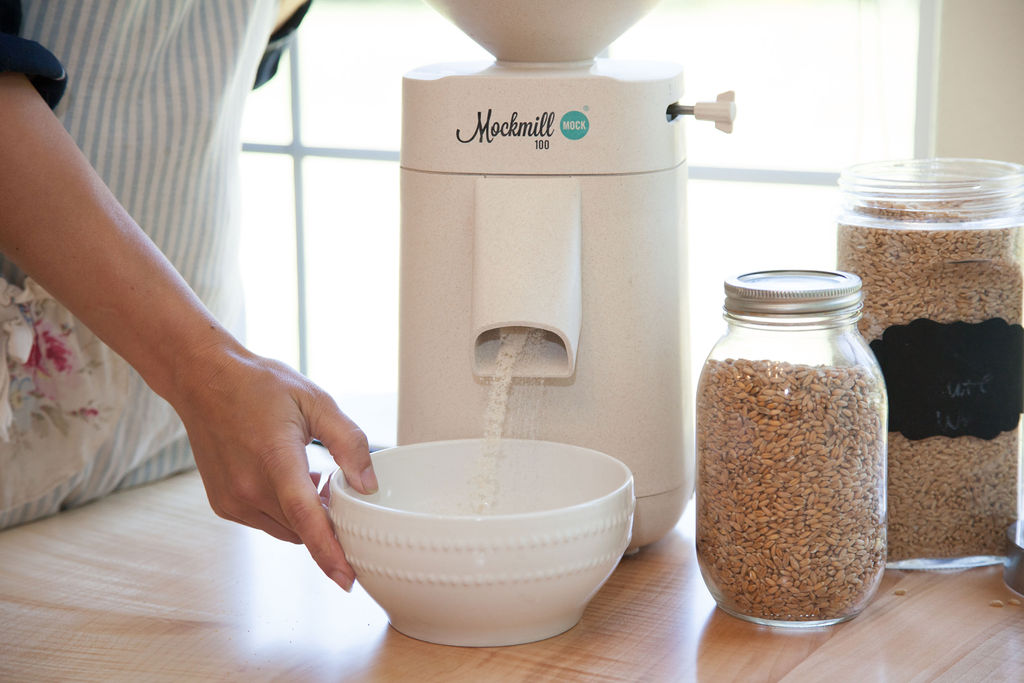 How to Turn Grains into Flour
If you want to save even more money, buy your grains in their whole state, also called "berries". However, you're going to need a way to grind them up into flour (though you can cook wheat berries like oatmeal into hot cereal or people will add them to soups).
But if you're wanting flour from your grains, you need a home grain mill. My favorite mill, hands down (and I've tried three different mills over the decade I've been milling), is the Mockmill. If you're in the market for a grain mill, use this link to get an additional 5% off your purchase (it shows up automatically when you add it to the cart).
Find out why I love the Mockmill here.
Want to learn more? Join my academy for all my best resources and step-by-step instructions to growing your own food, preserving and cooking it. We only open the doors a few times a year, so get on the waitlist for the Pioneering Today Academy today and I'll notify you when we're accepting new enrollment.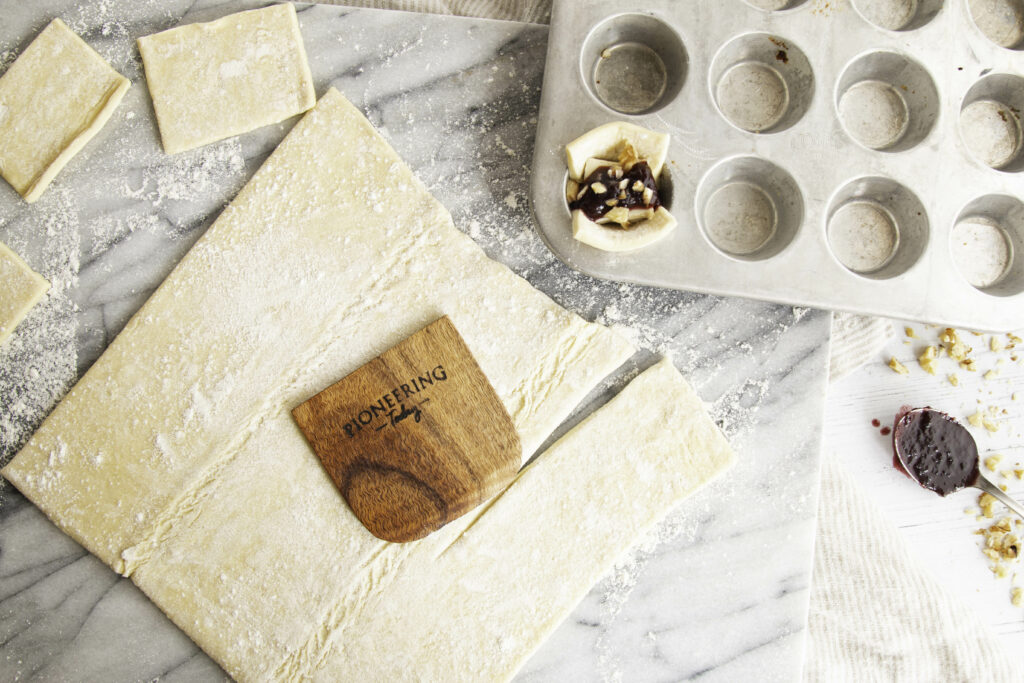 More Posts You May Enjoy