"Living like it's the 1800's in a modern world". Seems like a contradiction doesn't it? But even if you do have electricity and running water, there are some valuable tips to be learned for cooking on a wood stove that can really come in handy when needed.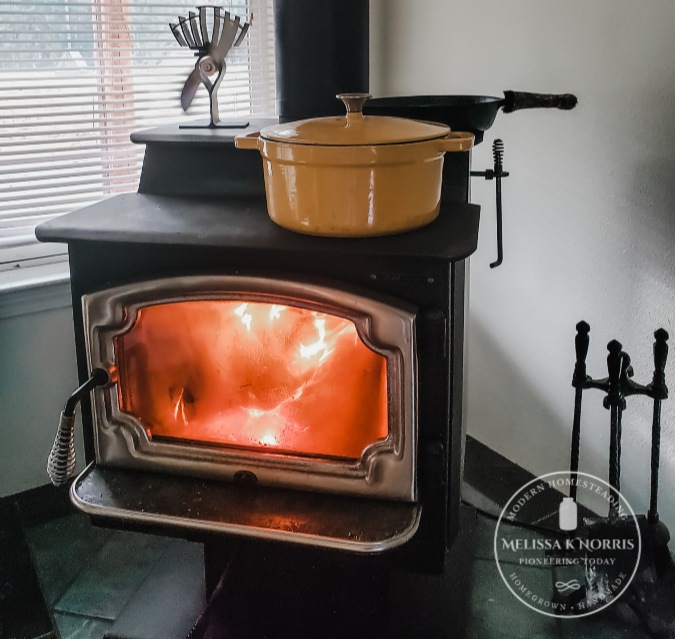 This post was originally published in December 2019 and included my podcast interview with Jackie Marie Beyer. I have updated it to include my video on how to bake on a woodstove.
In this post, I'm sharing some of my tips as well as Jackie's tips from the podcast on woodstove cooking… listen to the podcast for more tips on wise water usage and more during a power outage.
This podcast is episode #221, you can catch all my other Pioneering Today Podcasts right here. I don't only want to inspire you, but I want to give you the clear steps to create the homegrown garden, pantry, kitchen, and life you want for your family and homestead.
Listen to the podcast episode to hear how Jackie and her husband Mike have been homesteading together in Northwest Montana for over 25 years, 6 of those years without electricity or running water.
And now, onto my tips for cooking on a woodstove.
Living Like it's the 1800s
Living without power can be quite challenging on many fronts and as modern homesteaders, it's important to know how to get through your day-to-day living without it.
Because we're modern homesteaders, many of us won't actually have the need to live without power. But there are many tips and tricks we can take from those who lived during a time that was their only option.
My dad, for instance, lived for many years as a young boy in a cabin without power or indoor plumbing! You can actually watch as we tour the homestead where he grew up and he shares the memories from life during the Great Depression Era here.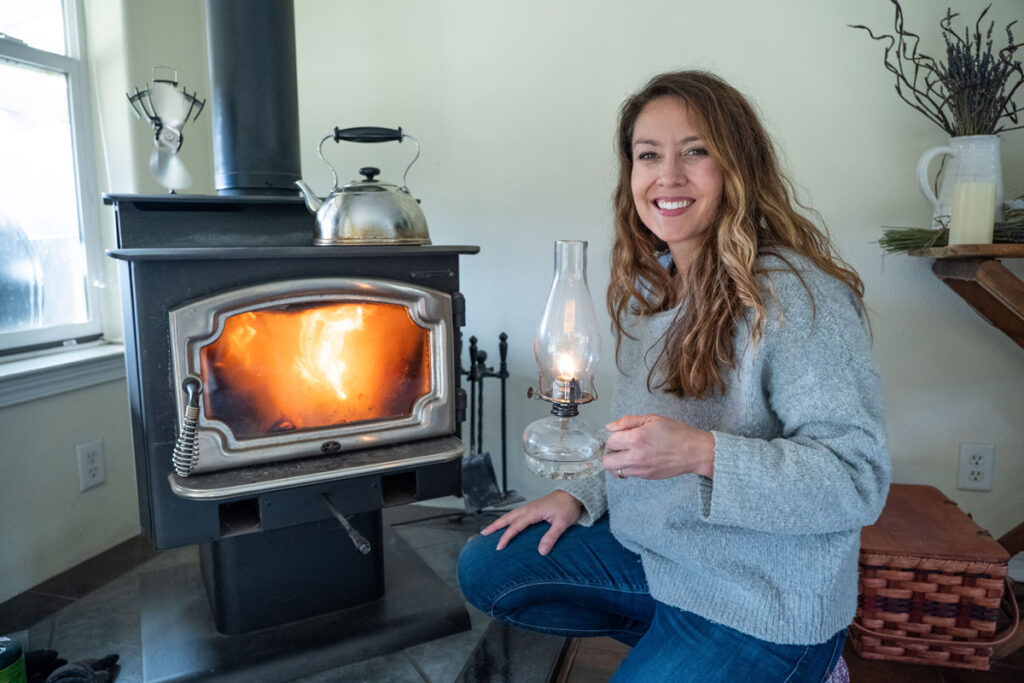 How to Manage Without Power
Managing your home without power can be tricky. Even if you're not looking to be fully "off-grid", there are so many tips and tricks to making living without power for even a short time more manageable.
Most of us could definitely survive a short-term power outage, but when they happen frequently, as they do where we live, especially when there's occasional flooding and we're without power for days, sometimes weeks at a time, it's important to be prepared ahead of time.
You can check out my post on how to use a generator during a power outage, but keep reading for some of my cooking tips.
Wood Cookstove vs. Cooking on a Woodstove
Cooking in a wood "cookstove" vs. cooking on a woodstove is very different.
A wood cookstove is a stove that is heated by wood but meant for cooking. It can also heat up a home but isn't intended to be the main heat source or to heat large areas like a woodstove.
In our home we have a woodstove that we do some cooking on and, over the years, I've picked up many tips on how to properly cook different items, even baking pies!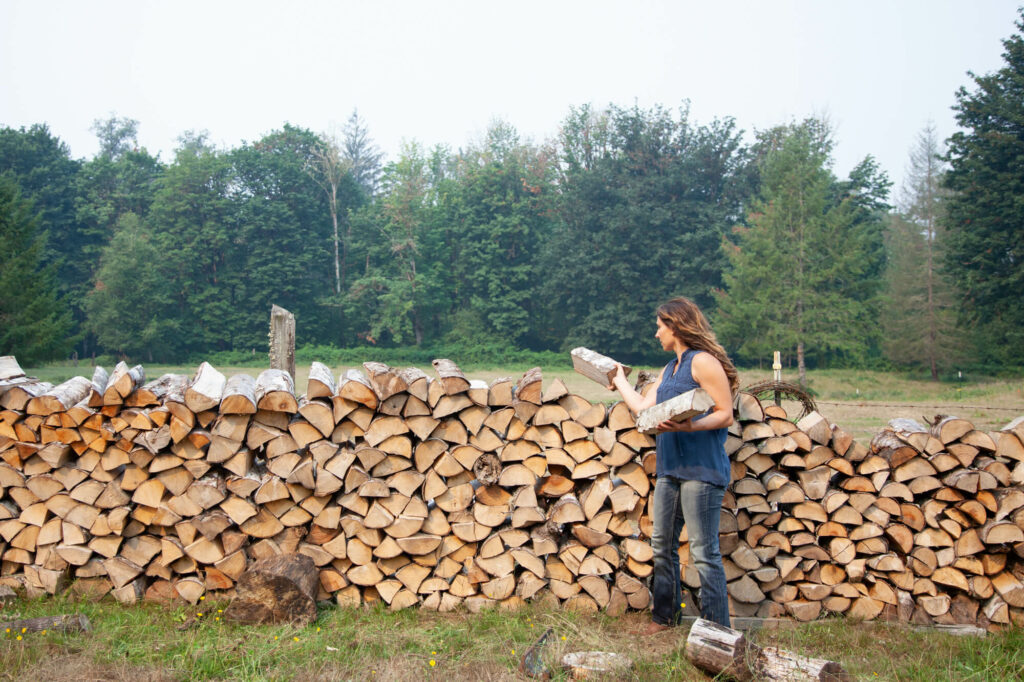 How to Cook on a Woodstove
Type of Wood
When it comes to cooking on a woodstove, the wood you burn plays a big part.
Larch – Will build a really hot fire.
Lodgepole Pine – will get really hot really quickly and then cool off.
Fir – Will burns hot and lasts a really long time.
Maple – burns hot but produces more ashe.
So depending on the type of cooking you're doing you'll want to source your wood accordingly.
For instance, if you're going to cook a stew low and slow on the woodstove throughout the day, fir would be a good choice to keep the heat up.
If you're wanting to bake and need a lot of heat to create an oven, you might want to start with lodgepole, then add in some larch to maintain the heat through the duration of the baking.
If you don't have the right kind of wood, it shouldn't stop you, it may just take some experimentation on how much wood you need, whether you need to add more during the cooking time, etc.
Baking on a Woodstove
Baking gets a bit more tricky on a woodstove because you have to first create an oven. I do this by placing a cast iron dutch oven upsidedown on the surface of the woodstove.
I've learned for certain items, such as cookies or pies, that the bottoms will cook a lot faster than the top, so I raise up the surface of the bottom by placing metal canning bands in either one or two layers to create more circulation (you can see me do this in the video in this blog post).
You can also go out and purchase trivets that are designed for this very thing, but they tend to cost more.
Simmering on a Woodstove
If you're using your woodstove throughout the winter months to keep the house warm, this is the perfect opportunity to cook dinner without using any extra electricity or gas.
You're already using the heat source for your home, may as well put it to work by cooking dinner as well.
The top of the woodstove works much like cooking a pot of chili on low heat throughout the day.
On my woodstove, I actually have two different levels that are different temperatures, so if I need less heat, I'll move it to that back level. If I need something to heat up more quickly, I'll keep it placed on the front lower position.
Woodstove Cooking Tips
Get an instant-read thermometer! This has been a game-changer for my woodstove cooking, especially baking.
Being able to see the differences in heat around the surface of the woodstove has helped me to know where to place my pots, pans, or baking sheets, as well as being able to keep more consistent heat throughout the entire cooking process.
Living Like a Homesteader
We, homesteaders, have so many dreams and goals because we're not just gardeners or being self-sufficient by living without power or running water.
We figure out a way to cook on our wood stove without relying on an electric or propane stove, we learn how to grow as much as possible to sustain our needs such as making our own soaps and salves.
We have so many facets to this lifestyle and so many things that we want to do because we want to do it all. We're go-getters and big dreamers.
It is easy to feel overwhelmed sometimes. But take notes, keep a record of all you've accomplished, and don't forget to look back from time to time to see how far you've come from when you started.
More About Jackie
Jackie Marie Beyer and her husband Mike have been homesteading together in Northwest Montana for over 25 years, having spent 6 years without electricity or running water.
Their goal is to grow as much of their own organic produce as they can and someday possibly become market farmers, but in the meantime, Jackie launched the Organic Gardener Podcast five years ago where she has been interviewing backyard gardeners, market farmers, and nutrition & sustainable agriculture experts from around the world learning the best techniques to grow the most nutritious food in the easiest manner!
Most of all, Jackie went from brown thumb to green thumb after listening to the amazing guests on her podcast, and now feels confident in her ability to grow lots of nutrient-dense produce as well as create an earth-friendly landscape.
Where to Find Jackie
You can find Jackie on Facebook and Instagram, and listen to her podcast at The Organic Gardener Podcast.
And check out her woodstove-cooked pumpkin pie on her blog: Homemade Pumpkin Pie – The Secret to Baking on a Woodstove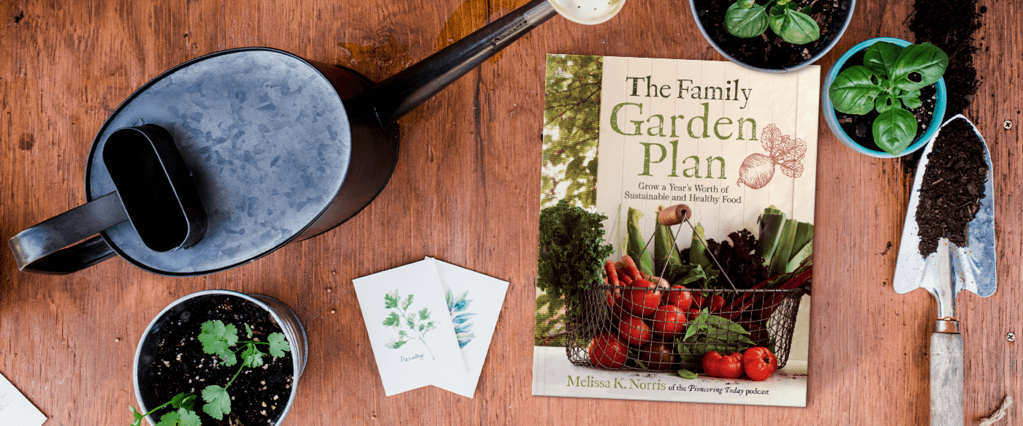 Be sure to grab my book;The Family Garden Plan to take advantage of all the bonuses!
In this book, you'll learn how to grow a year's worth of food for your family! Increase your harvest and maximize the space you have using organic and natural methods to raise a year's worth of the fruits and vegetables your family enjoys with Melissa's step-by-step plans and charts.
Interested in hearing from more homesteaders? Check out these interviews.