When the power goes out, how long can you go before boredom sets in? For most American households, the television or some form of electronics is the go to for something to do. But when the power is out, so is your t.v. and once the batteries die, there goes the electronics.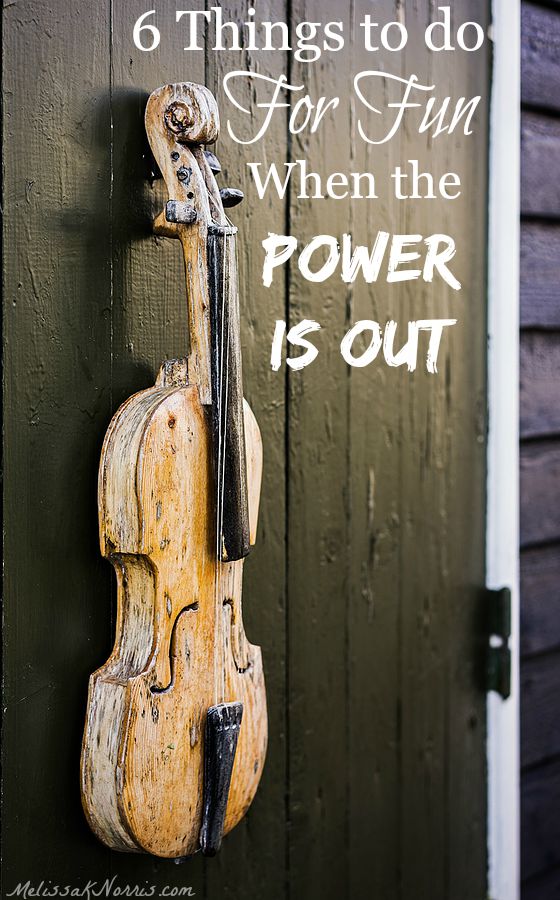 If your power is out for only a few hours, this isn't such a big deal, but when it's out for days or weeks, you'll come to realize how much you did rely on said television or computer for entertainment.
My father remembers when the first television came to the valley where he lives. Everyone piled into see it, but it was years before most families had one. In face, when I was growing up (which wasn't that long ago) we had a television, but there was no cable (still isn't) where we live. If you turned the antenna just right and there was snow on the mountain, and the wind wasn't blowing, you could get a fuzzy show on one channel and sound. No joke.
I never had a Nintendo or Atari (really going back now, aren't we?). Which might be why I love Laura Ingalls so much. I related to her and adored her stories.
If we look at generations past, we see how folks used to spend their leisure time.
6 Things to Do For Fun When the Power is Out
1. Reading. Big surprise, but books were a treasure. Many people only had one or two and they would reread these treasures over and over again. How spoiled we are today, where we have millions of books at our finger tips.
Though I do love my Kindle, it's not best to rely on during a prolonged power outage. Besides, there's nothing quite like the weight and feel of a physical book in one's hands. Because I know many of you are pioneer and homesteading fans like myself, I thought it would be fun to share a few of my favorite novels and you can do the same in the comments!
Christy by Catherine Marshall. I can't believe I just now read this wonderful story. My grandparents lived in the gaps and hollers of North Carolina's Appalachian mountains and I felt like I'd traveled back in time to my grandmother's youth.
Emma of Aurora by Jane Kirkpatrick. This trilogy is delightful-and the paperback of all 3 books is on sale! This story ranges from Missouri to Washington (which makes it a fun read for a native like myself) and shows the hardship of the time along with the beauty.
Cadence of Grace series by Joanne Bischof. This series is seriously one of my favorite ever. I cried with Lonnie and Gideon and my feet trudged up the mountain and down into the twists of the hollers with them. You'll be enchanted with the homespun setting and love the twists and turns that develop.
Ways to become more self-sufficient of course, The Made-From-Scratch Life, not only life changing information, recipes and how-to's, but true stories of hope and humor.
2. Board and card games. This is one of our favorites and we frequently bring out card games to play. One word, make sure you have a print out of different card games and the rules, because you might not be able to look them up online… or you'll end up making our own rules, which can be fun as well. We like to play Spoons with the cards as it's a game all of the kids can enjoy and understand.
3. Handwork. Quilting, embroidery, crocheting and knitting are all ways to not only pass the time, but also create both things of purpose and beauty. While I sew, I give my daughter a small piece of scrap fabric to practice on. I've gotten many a Christmas presents done when the power is out.
Again, make sure your patterns are printed out or you have a physical book, for crocheting and knitting.
4. Music. Playing an instrument or picking parties were a thing of many weekend nights back in the day. There's something about music that soothes the soul and it can do wonders when you've been without entertainment.
It shouldn't be saved just for emergency situations, but something enjoyed all the time. If you know how to play an instrument, make sure you take out and keep in practice, along with maintenance care. If you don't know how to play, consider beginning lessons now. Life is too short to not have music.
My grandfather was an expert fiddle player. He actually played in Loretta Lynn's band and I miss listening to him make those strings sing! My mother plays guitar and I enjoy singing with her. I can play a little guitar, but I haven't kept up on my practicing, so I need to take my own advice there.
My husband is a sawyer for guitar tops and beings he cuts the tops for these, we're kind of partial to Taylor Guitars. They do make a fine guitar, if I do say so myself.
I play the flute and you'll want to make sure you have sheet music, and perhaps a few new songs to learn to keep busy as well, unless you're one of those blessed people who can play by ear. If that's the case, I'll do my best not to be envious, because that's just not nice…
5. Go for a stroll. There's something to be said for meandering for pure enjoyment. Many times we're outside when we're exercising, working on chores, feeding animals, and not that we can't have or don't have enjoyment in that, but there is something wonderful about just strolling. Find a wooded path, or an open field, along a river bank or the curve of a stream. Even one a paved street and watch the way flowers and clover creep onto the pavement, a silent statement that no matter what us humans do, nature and God will gently and persistently still exist.
6. Visit with your family and neighbors. How often do you have your neighbors over for a meal and visit? Our ancestors probably did a better job at this than we do, even though you'd think we'd have more time with all of our modern conveniences. But I'm not sure that's really true. There is nothing like a good conversation spent in the company of friends. It's amazing how swiftly time passes when we're visiting up a storm.
Even though I intended this to be a guide for entertainment when the power is out, I really think it could and should be a guide for every day living. I think we'd all be happier if we did these a bit more often, how about you?
More Posts You May Enjoy