Learning how to improve soil health is the single biggest thing any gardener can do to grow a better garden. As gardeners and homesteaders, we depend on the harvest of our garden because we all know if we have a bad harvest it can change the trajectory of whether we have enough fresh food to sustain our family through an extended period of time.
The base and backbone of your garden, and that is your soil health. The importance of soil levels. Specifically, the micro and macronutrients of your soil, which includes the PH level of your soil.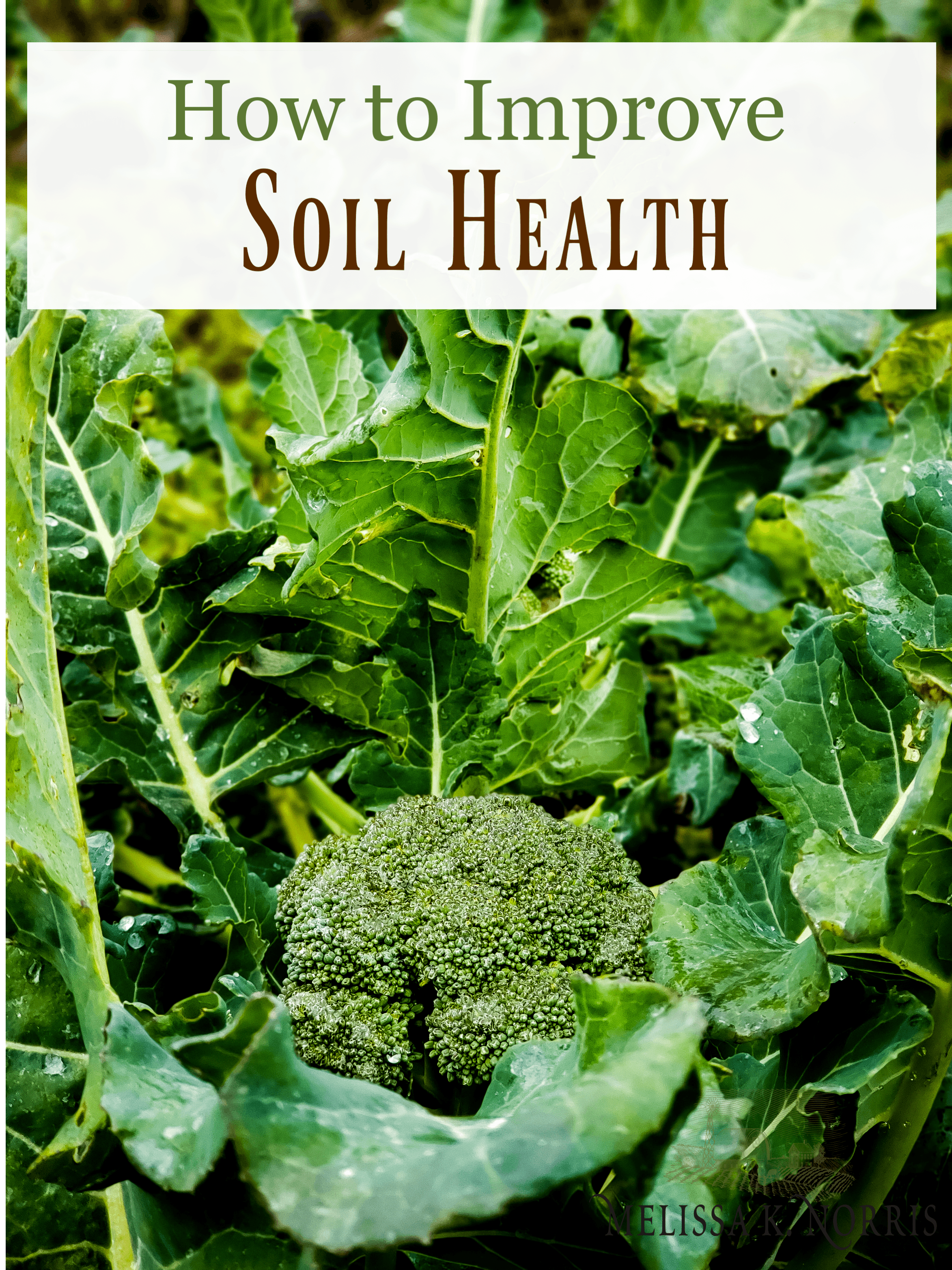 Listen in below to the full podcast, Episode #209 How to Improve Soil Health of the Pioneering Today Podcast, where we don't just inspire you, but give you the clear steps to create the homegrown garden, pantry, kitchen and life you want for your family and homestead.
How to Improve Soil Health
We've talked about soil health in several previous episodes. The reason I want to circle back around to it today is that it is really that vital to the success of your garden, and I wanted to give you a few more practical tips that you can do right now in the Fall.
Getting Soil Levels Just Right
Think of your soil levels like Goldilocks and The Three Bears – too hot, too cold, and just right. It is crucial to get the soil levels just right because if you have too much of one type of nutrients, it can actually harm your plants. Not enough of the macro and micro nutrients, then your plants won't thrive and produce.
Soil health is the most important thing when it comes to the success of your garden and the health of your plants. Most of the time, this is why people have a sub-par harvest or issues with their plants.
Nitrogen
If you have too much Nitrogen in your soil levels, it can burn the roots and kill the plant. This is why we never put fresh chicken manure on our garden and why it's important to mix this with your compost and let it sit.
If you do have too much Nitrogen in your soil, your plants (fruiting plants and root crops), they will have a lot of lush green growth, but they never actually set fruit blossoms.
But without enough nitrogen, you'll often see plants that don't produce or grow well, especially with plants that are considered heavy nitrogen feeders like the brassica family (broccoli, Brussels sprouts, cabbage, cauliflower, kale, etc.) along with corn and potatoes.
Soil Test
If you are having specific issues or if you are having difficulty growing different plants a soil test is key to give you the correct steps to fix things. Do you have to test your soil every year?
No, on my homestead, we've had our vegetable garden in the same place for the last 13 years. It wasn't until three years ago when I began to notice some issues. I went ahead and did a soil test and found that the PH level in my soil was too low, so we amended for that. The soil test also found that the nitrogen level was low, which would explain a lot of the issues that I had been having.
The following year I tested the PH levels again to make sure they were where they needed to be. As you can see, the soil test is not only important to show if your levels are too low or high, but it also helps because it tells you how much of the amendment you need to fix the issue.
Fall is a great time to do a soil test because you'll have time to test the soil but to also get the results back. This will allow enough time to amend the soil if needed. Many of the nutrients, like Nitrogen, need enough time to breakdown in the soil during the winter months. You can still do a soil test in the Winter or Spring.
In the Springtime, you have to make sure to soil test at least 4 weeks before you begin planting, so you do have some time to make those amendments.
Elemental Sulphur
If you need to increase acidity and lower the number on the PH scale, add elemental sulfur to your soil. Elemental sulfur is aluminum-free, and adding this is most ideally done when the soil is beginning to warm up. It can take up to a full year to start to see changes in the acidity of your soil.
Resources and other soil health articles
I hope that you found this post helpful. As you can see, soil health is crucial to the success of your garden and the growth of your crops. If you want to snag the Complete Soil Amendment Guide be sure to pre-order my new book The Family Garden Plan: Grow a Year's Worth of Healthy and Sustainable Food plus get all the pre-order bonuses here.
Episode #135 How to Test Soil Ph & Mistakes to Avoid when Amending Acidic and Alkaline Soil
Episode #200 How to Improve the Health of Your Garden Soil