Some of the links below are affiliate links, which means I will earn a commission at no additional cost to you, if you click through and make a purchase. Regardless, I only link to products we use on our homestead or believe in.
Many people think that in order to homestead (or at least homestead successfully) you must own large acreage and a beautiful farmhouse with all the upgrades. Truth is, you can homestead anywhere, even in an apartment in the city, because homesteading looks different for us all.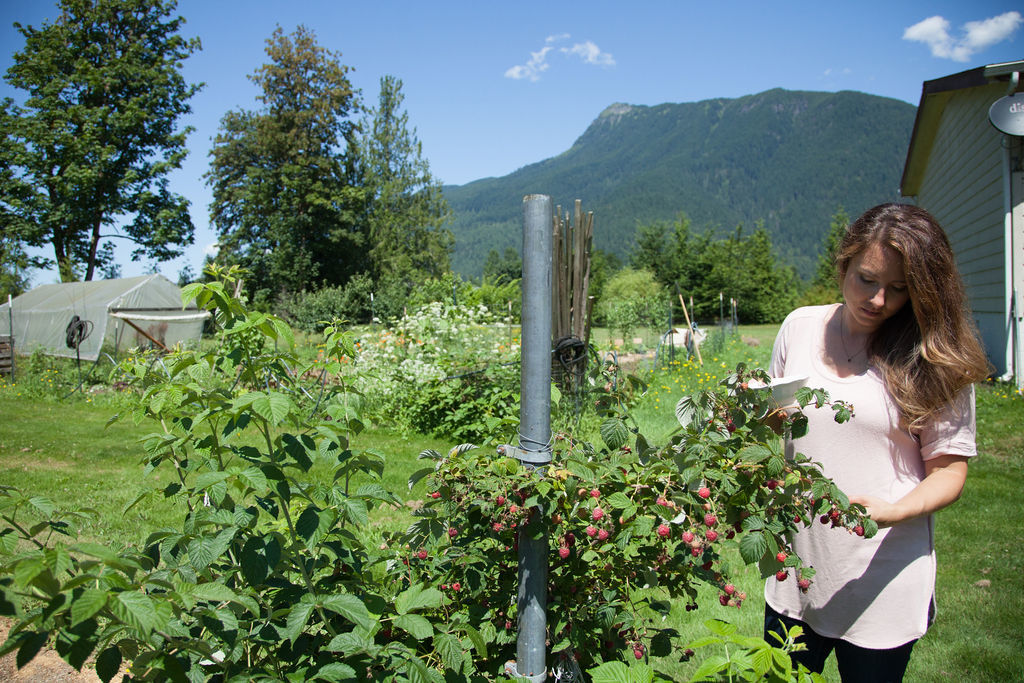 Listen in to this week's podcast (Pioneering Today episode #306) to hear the most common homesteading myths, and how I bust them all!
For more info on this topic, visit this Homesteading Myths & Tips for Success post where I even have a video of me walking you through our homestead property, sharing some of my best tips for homesteading right where you are, with what you have available.
A couple of weeks ago, I went to the Homesteader's of America Conference in Tennessee and was able to sit, shoulder to shoulder, with over 300 other homesteaders of all walks of life.
These people are my people, and I quickly realized that none of us are meant to be an island unto ourselves, but gathering together with likeminded people to help encourage, build up and spur one another on is so important!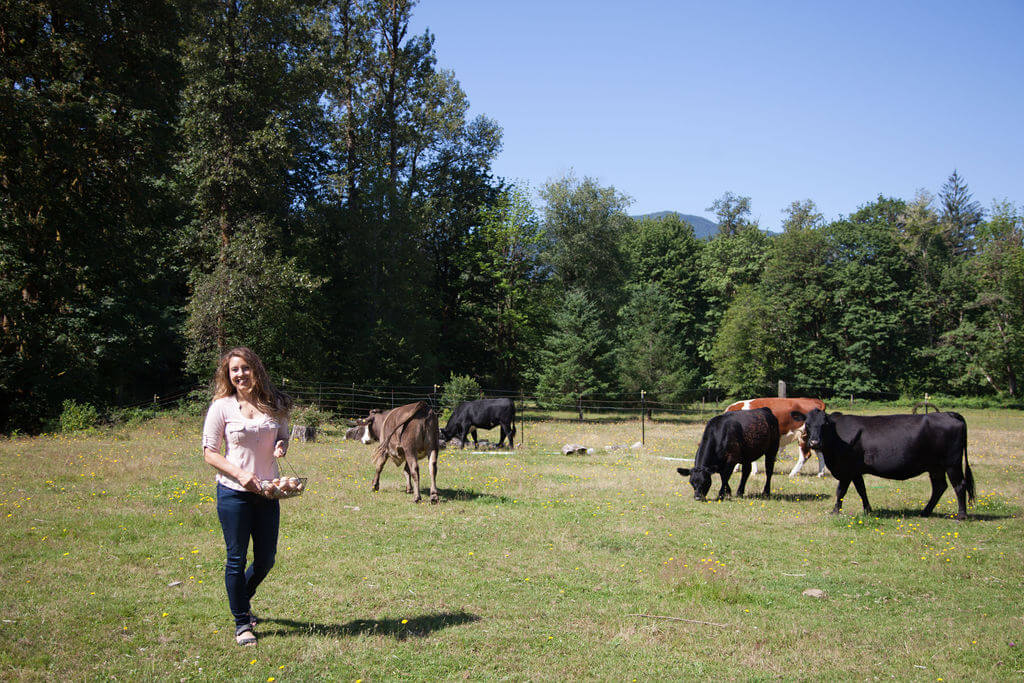 5 Homesteading Myths
Not everyone can homestead.
The type of house you own matters when homesteading.
You must have a ton of land (or even some land) in order to homestead or raise livestock.
You have to have barns, outbuildings, or other infrastructure in order to homestead.
There's a "perfect time" to start homesteading.
Links Mentioned in this Podcast:
Verse of the week: Esther 4:14
Hey Pioneers. So welcome to episode number 306. Today's episode, I'm going to be talking about things that are probably holding you back from creating a functional homestead that is meeting more of your needs than it is currently. And the reason that I'm sharing this with you is because my husband and I have had a huge epiphany and honestly, a life altering perspective change. And I'm going to be sharing more about that with you as it evolves. But all of this spawned from a couple of weeks ago, from the time of this recording, we went to our very first in-person homesteaders conference. It was the Homesteaders of America Conference and it was their spring event. It was the first time they had a spring event and it was a small event on Rory Feek's farm in Tennessee.
Now, I went there to teach, I was teaching how to grow a year's worth of food with your garden. And we actually had a live demo area. I got to plant some of Rory Feek's garden, which I will totally fan girl out with you, was a very cool moment. But what was really great is you had, and I say small, it was about 350 tickets, I believe. And there was a number of presenters there, myself and Joel Salatin, Jill Winger from the Prairie Homestead, Justin Rhodes, Ann from A Farm Girl in the Making, Janet from Timber Creek. There was so many presenters and I'm leaving, please forgive me if I left your name out, there were so many amazing presenters there, and I didn't even get a chance to meet all of them. But the reason I share that is because we went there and my husband and my children actually went as well because we had a booth where I had my books of course, were for sale. But we also had a booth where we had our family wood products that we just recently started making.
I know many of you were able to order them with our very first batch that we did and the rest, a lot of you are on the wait list for those as we're working on creating more. But what was amazing is we got to go as a family. And like I said, I went there thinking that I was just going to be teaching people, but my husband and I both learned so much from the speakers that were there and also getting to talk to many of you in person. So for any of you who are a podcast listener and you were also there and I got to meet you, that was amazing, to hear all of your different stories, where all of you guys came from. And like Aaron from Ohio, I've given you a shout out, Alyssa, there was so many of you that I got to meet. And I remember your stories and I'm actually will be praying for you. It was really incredible.
And the reason I share that, you're like, "Well, I didn't get to go and I didn't get to meet you. So why are you sharing this with me?" One is because there is something that you cannot get digitally that can really only be felt in person. And I know with travel and things that are going on in the world, I know there's a lot of things that come in play that make it hard and sometimes impossible to be able to travel to an event. I know there's costs and all that associated, but if you can get to an event, I'm obviously recommending the Homesteaders of America's Conference, but even as small one, maybe you put it on, but getting with like-minded people who want to do what you're doing and are doing what you're doing, even though I've been homestead, I'm a fifth generation homesteader, we've been homesteading for over 21 years. You guys, we came back with so many ideas and a renewing in our spirits that we didn't even know that we needed.
I don't even feel like I can do it justice by trying to put it into words, which is what I'm failing at right now, because I feel like I'm rambling trying to share this with you. But I say that because it is so important that we do surround ourselves, which is very hard living a homesteading life. There's not a lot of people who understand it as homesteaders do. There's people who are doing a vegetable garden and I'm not discounting that and vegetable gardening is a part of homesteading. But really to be around a group of people who understand this deep desire to be self sufficient in a sense, whereas we're owning our food source and our food supplies and, or working with companies who do things ethically, that we believe in and supporting one another. But you do also need that community aspect because no homestead can truly stand on its own. Not for a very long period of time.
We're meant to be a community, that's why they had barn raisings back in the day. And they had hog butchering days where you would go from farm to farm, to farm in your area and everybody would pitch in on that farm for when are we going to get it done? And then they would move on and it would be scheduled and they would go around. We're not meant to be an island to ourselves, even within homesteading and being self-sufficient. And so if you, maybe you're going to be someone who hosts one, and can find people in your area to get together, it's really incredible. And I highly recommend it. We had went 20 plus years without doing that, and I cannot believe how beneficial it was. And I've got much more to share on that subject as things unfold.
And part of this is for us too, that I realized that I want to get into in this episode is I had done a YouTube video actually, but I need to share with you a little bit of a backstory behind it that I wasn't able to go into as in depth in the YouTube video. And that is on homesteading miss or things that can hold us back and thinking, well, I need this to line up, or I need this to happen before I'm able to relate to a homestead at the level that I want, that in itself is a myth. Everybody could homestead in some aspect with where they're at, and if you have the mindset, well, things aren't perfect right now, or I can't do it how I want to, you're immediately shutting yourself down from brainstorming and being creative and finding ways around to do things in the circumstances that you're in right now. So that's the first myth, we're going to lead with that.
And one of the things is I wanted to share the homesteading video, myths busting that I did, or what I tell people when they say that they want to start homesteading is there is no perfect time, start with what you have. That's really what it boils down to. And one of the things is people think that you need to have... There's like this romanticized version and we see these beautiful photos online of old farmhouses, or really cool cabins, or just really amazing houses for homesteading. And you don't have to have an amazing farmhouse or a cabin, or even a large home. You can even do it on a rental property. When we first started homesteading, it was in a 1974 single-wide trailer, and we began much smaller level homesteading there, but we started our garden and homesteading then. So you can do it even if you're renting. Of course, you need to have permission from the land owners in order to put in a garden and maybe they won't let you till up and do an in-ground garden. But my goodness, my friend, you can do container gardening.
So there's always a way around it if you put your mind to it. Or there's community garden spots, maybe you could start a community garden. See, if someone tells you no, that is just an opportunity to look for another way to do it. At least that's the mindset that I recommend you have as a homesteader. It has served me well and one that I want to cultivate even more than I have been doing as we move forward. But the reason I bring up the house thing is because when my husband and I, we were in that little, 1974 single wide trailer, and that made it a way that we could save up money to put a down payment on a property and land and get a place of our own. And we did that.
We actually bought from my uncle, the property that we're on right now, is family property, but yes, we did pay for it and we paid fair, market value for it, but it was undeveloped. Meaning there was no septic. There was no power. There was no, well, there was nothing on it. There was actually a moratorium that you couldn't get a building permit because there'd been some logging that had been done on it before we purchased it without paying the moratorium. So we waited the two years until the moratorium was up and that allowed us to save even more money so that we could pay to put the septic in out of pocket and the well. Actually, I take that back. It was putting in the well and the power and then the septic actually went on the loan that we took out to put a home on it.
We had custom house plans drawn up because that was my dream. I actually grew up in the single wide trailer that my husband and I rented, when I was in high school my parents bought a house up the road. And then at 18, when I got married, my husband and I moved back into that single wide trailer. So I had dreams of a beautiful custom home. And we had house plans drawn up, but when we got all of the bids back, we realized that there was no way that we could afford this gorgeous custom home. And what we could afford at the time, still with a mortgage, was a manufactured home. And a manufactured home is a fancy way of saying a double-wide. We live in a double wide trailer.
And growing up, it's really funny as a young child, I didn't see any difference between our single wide trailer and anybody else's house, until I had a friend and this friend's step parent made a comment that the friend referred back to me. And not to make me feel bad, but because the friend was actually very angry at the step-parent for saying the comment. But oftentimes things that are said, just in flippant or without thinking can have a really strong effect, especially on a child. So what the step parent said was basically, I don't know why you want to go there, they just live in an old, single wide trailer. At that time, I didn't realize, I mean, I guess I knew we lived in a trailer, but I didn't realize that someone would look down negatively on that. And then interestingly as an adult, I've actually encountered even more of that, which is kind of sad.
And so one instance is we were at a local gathering, shall we say, pre pandemic, just in case anybody is wanting to be judgmental out there. And there was someone there that said, oh, we were driving up and it was so nice to see that there was at least a few houses that weren't trailers. And like, wow, you do realize that all of the people who live in those trailers are actually at this gathering, obviously you don't. And so I didn't say anything, but I just I overheard it and I'm like, very interesting that that's the view and that one you would actually say it out loud. And then this is the one that actually, it did bother me. And I know that we shouldn't let other people's opinions bother us. I know that. And I know you know that, but you know what? Sometimes that's really harder to put into action than it is just to say.
So it's actually been a couple of years ago now, I had a, it wasn't a television producer, but it was like an agent, for lack of a better term, who would look and come up with show concepts or ideas or find people. And they would work on a concept for a TV show and then they would pitch it to television networks. And I was approached and asked to do basically, to shoot a two minute video, that would be like a preview for a show idea. So it was for a, big surprise, it was for a homesteading show and walking through homesteading and going through the seasons and all those kinds of things. And so I was actually really excited about it. I'm like, oh, how cool, how awesome would this be? If there was a homesteading show on there that showed how to do it just in a regular setting, that sounds kind of funny, but without being completely off-grid, that was something that a lot of people would be able to do and to take elements from, which is how we live. And so I was very excited about it.
So I did a lot of work and a lot of research and coming up with the concept and how to film it. And I hired, for the very first time I hired a professional videographer to come out to the homestead to help shoot, because it's very hard to film yourself and get all different angles and do the audio and also be the person on camera. So I was very excited. And we shot the video and it took all day, even though it was only two minutes, which is kind of funny. And I was very excited. And so we sent the video to the person. And one of the parts of feedback that came back was, never show the outside of your home again on video. Now, for those of you who've seen my home on YouTube or in photos, it's not glamorous, but it's certainly not warranting that type of a comment. And so needless to say, we did not end up working together. There was other things which they just did not understand the homesteading and concept and everything like that.
But that's really stuck with me, honestly. I was like, wow. And so I didn't show full clips of the outside of our house and the outside of our property, honestly, like to show the full house. There would be bits and pieces, like as I was walking around, but full view, et cetera, because subconsciously it hurt when I got that feedback. And I think all of the other times and things that I've heard that I just shared with you here. And so it took me a little bit. It actually took almost two years, but then I got fed up. Am like, that is ridiculous and that is something that is not okay. Because when I look at other people who are living in manufactured homes or mobile homes or single wides, or double wides or whatever, I don't look down on them. I don't think anything except they're smart for not going into debt for a huge home if they can't afford it. But it's funny how you can look and think something about other situations when it's not yours.
And then I realized that is just silly, Melissa, we are going to just attack this head on. So I don't know if you would want to call it a comeback video, because that doesn't sound right either. But I did a video that fully showed our house and we homestead in manufactured home. There is nothing wrong with it. In fact, I think more and more people would be smart to take that on, as I said, rather than incurring a bunch of debt. And we actually were able to pay off our mortgage. So our home is debt free. I don't have a mortgage and had we done a big house, we would have been paying on it for decades longer than we did for this. So anyways, I share all of that with you because I don't really like the stigma that surrounds that. And it also holds people back I think, or it can hold people back. And that's just one element of it.
So you can homestead very successfully, even an RV, a camper trailer, definitely a single wide trailer, a double wide, whatever. And of course, also in stick-built homes, but it doesn't matter what your house looks like. If it doesn't meet that status quo, as long as it's a roof over your head, it keeps you warm, you're good to go. So that's, I guess myth number two. Now, the next one is, and this was really interesting because this really came up quite a bit at the HOA conference. And so this one is that you have to have a ton of land in order to have livestock and to homestead. Speaking of livestock, today's podcast episode is sponsored by ButcherBox. If you are not in a spot where you're able to raise your own livestock yet, or you're working on looking for property to lease or rent in order to raise livestock, that doesn't mean that you have to go without great tasting meat that you can feel good about and it's delivered right to your door. You actually get free shipping.
ButcherBox partners with people who believe in better going above and beyond when it comes to caring for animals, the environment and sustainability, you get to choose your box and your delivery frequency. So there's no membership fee. You just go in and choose what you're getting and how often it is delivered. So it's not like you have to get something every week, et cetera. And they offer five different boxes. There's four curated box options, as well as the popular custom box. So you get exactly what you and your family love. ButcherBox has 100% grass fed and grass finished beef, free range organic chicken, heritage bred pork and wild caught seafood. And it's all sourced from partners who believe in doing things the right way. And for a limited time, new members can get the barbecue bundle. That means you get two New York strip steaks, six burgers and drum sticks for free in your very first box. And this barbecue bundle, you want to hurry and jump on that because it is only through May 31st Memorial Day weekend.
Now, if you're listening to this after then, they will have other specials. But I highly recommend jumping on that. We were very happy with the burger meat and the steaks that we've had. So to get that added for free in your first box, go to butcherbox.com/pioneeringtoday. That's butcherbox.com/pioneeringtoday. Now, if your land, if you live on the land, it is going to be easier, but you can do it very successfully if the land is nearby, now nearby is going to be better than having a long commute. And it being miles away, especially if you have livestock on it, just because that's going to be extra time, extra cost. And if something does go wrong, you're further away rather than being able to get to the animals right away. And I've talked about this actually on some past episodes, one of them was on a member consult, but you can lease land. You can rent land. You could also buy land, that maybe is not where your house is. So there's lots of options there.
You don't have to own land or live on the land in order to have a large successful, or I shouldn't say not necessarily large, but successful with livestock. So that's one thing good fencing. Of course, if you have livestock, et cetera, especially if it's something that you're not there and able to keep an eye on is going to be really key. But do not let the fact that you don't have land, if you want to have livestock, hold you back. There's plenty of opportunity in different ways to do that. And I will link to some of those past episodes where I shared how my brother does that, but really just start looking around and start thinking about that. If you want livestock and you don't have property yet. Another myth or thing that comes up is thinking that you have to have a ton of outbuildings or barns or infant structure in order to homestead. And that is another false thing. We don't have a garage, we don't have a shop, we don't have a barn, we don't have a basement either. We don't really have very much outside storage or outdoor buildings.
So one of the things that we did is we got a storage container. One of those shipping containers we could afford to buy that outright. Whereas building a shop was not something that we could afford to pay cash for, we would have had to take a loan out and we do not like to take out loans for anything and are trying. We did in the beginning of our marriage have loans for different things like vehicle loans, different things like that. But now our policy, some wisdom has been gained there over the decades is to try to only pay cash for things and not put things on credit or have it on a loan. So we bought a shipping storage container about, I think it's been about three years now, that we purchased it and that has served us very well. Now, is it pretty? No. Does it serve its purpose? Absolutely, we're able to lock things up. It's very dry, living in the Pacific Northwest that can be an issue. So my husband's been able to turn that into a place to store all of our tools.
I actually have my weight bench, so my workout area is out there in it. All of my excess gardening stuff, I'm able to keep out there. So my different grow lights and things like that. We also have all of our wood products for where we now have that side business that aspect, that's all out there. So the Sanders, but the great thing is, is we can lock it up, which we do in order to keep stuff safe, not only from the elements, but also for many outside sources who would maybe like to take thanks. Because that happens even out in the country. So that's been one thing that's served us very well, but even without, before we got that, is we used the steel frame canopies. You can get them at Costco or different places and they have a canvas roof over them, but they're the steel frame, we've used those. And we do have to anchor them down because in high winds, those can definitely go. And if it snows very much, then we have to shovel the snow off of them. But they are pitched pretty well.
So we don't have to, the snow a lot of times will fall off of it. But depending on if it's a wet, heavy snow, that's not moving, et cetera, then we will have to shovel them off. Those have been very well. So like I said, we do tie those down, but we have used those to go over our tractor. And thinking you have to have equipment, that's very false as well. We actually used a large ATB four-wheeler. We used a large four-wheeler as our tractor for the first 20 years that we had a homestead. And actually we didn't even have that in the beginning. We bought that 16 years ago. We still have it. And we did get a tractor a couple of years ago, but we homesteaded for over 17 years without having a tractor. Actually over, can I do math on a podcast? This is interesting. So we've been homesteading for 21 years because that's how long we've been married. It'll actually be 22, this coming September. And we just got a tractor two years ago, which would mean we homesteaded for 19 years without a tractor.
Okay. Sorry. Had to work that equation out there. Apparently math on the fly is not my strong suit. But you don't have to have outbuildings and a ton of equipment. Now, what about barns and shelters for livestock? You do not have to have a barn and depending upon on what the livestock is that you're raising and your elements, if you are raising cattle, you do not need a barn. Most cattle were never raised in a barn, especially beef cattle, because there's no way that large ranchers could ever have barns large enough for them. And cattle are meant to be grazers and movers. They aren't meant to stand in a barn. Now, you do have to have something for them to get out of weather when it's really bad, but that can be just your natural landscape. And that's what we use. In fact, the cattle will show you where those areas are, quite naturally.
So if it's really windy out, we have a top pasture and then we have a bottom pasture where it's just natural as shack elevation change. And the cattle will go and right in the bottom pasture, right next to where the top pasture is, so that the wind will blow over the top of them. So when it's a really cold wind, they will naturally seek out that shelter. We also have some wooded areas and we have left some of our large evergreen trees because when it's very wet, they actually don't mind the rain, it's more when it's the rain where it's half rain, half snow, which we actually get in the winter here quite a bit, at the Pacific Northwest, they do better when it's full on snow than they do when it's that really cold, almost freezing rain. But they will go naturally underneath these large evergreen trees and that will provide obviously a break from the snow. And it allows them to get out of a complete downpour and to dry out some.
And so it doesn't necessarily have to be a barn or a man made structure depending on what the animal, the livestock is, you need to know their natural tendencies and the way that they live and the way that their fur and their coats work. It just all of those different things. But for cattle, you don't have to have a barn by any means, but it is important to know when weather hits where those natural areas are. It's kind of a permaculture design, knowing how your property works and using that to the advantage of both yourself and your livestock. And so we will feed in those specific areas when the weather is really bad. Now, when it comes to having chickens and pigs, pigs definitely need somewhere to get out of when it's really cold, they don't have as much fur as a cow, and so they do need an area to be able to get dry and to stay out of the elements.
So we have a little, we actually just used pallets and created a crate, a large crate, and then put 10 over the top to act as a roof and then stuff, a bunch of straw in there so they can get down and underneath the straw to get warm and not have to use a heat lamp or something like that, even in the cooler winter months or when they're piglets and they're even smaller. So again, not a barn. Now, for the chickens, chickens do need to have a coop. They need to be able to roost chickens, aren't able to fight off predators as easily. Pigs actually are pretty good at fighting off predators, especially things like coyotes. And so chickens again, knowing that lifestyle, yes, you do need to have a coop, but it doesn't need to be something big and fancy. They don't need fancy. They don't need beautiful. I know we see a lot of... And of course, there's nothing wrong with wanting your infrastructure to look nice and to look pretty, but it doesn't have to, it's function needs to be, is more important functionality and the cost of it.
Your budget is more important than something looking beautiful. Now, if you can achieve all three of those within one, go for it, but you don't have to have a chicken Taj Mahal type coop. You can do something very simple and it doesn't even need to be a stationary structure. I will link in the blog post that accompanies this episode, which you can find at melissaknorris.com/306. I will link to some of the YouTube videos where I show our different chicken coops, which were very affordable and easy to make and they move all around our pasture. They're not something that's stationary, which worked very well for us. So you can do a stationary coop if you wish. And so the point of this is there are so many things that we oftentimes in our own head think have to be true in order for us to do something with homesteading. And that is just false. You need to start homesteading and doing what you can with what you have, exactly where you are and challenge yourself.
If you're like, "Well, there's no way I can do this," then that's an opportunity to really sit back and think, well, how could I do this in this situation? So one of the things that we're going to be talking about more is my husband and I were thinking that we couldn't raise any more livestock or do the full type of operation that we would like to with our current property, that we needed to have more land. And that was something that we both realized was completely false and our eyes were really open to. And one of the ways that they really became open to that was because we were listening to a couple of different teachings that Joel Salatin had done at the Homesteaders of America's Conference.
And I'm actually getting to interview Joel, and that is going to be a podcast episode coming very soon to you that we're going to dive more into this topic. That I'm very excited about because it's part of the plans that my husband and I now have for things that we're going to be implementing and doing new on the homestead that I'm very excited to share with you guys as well. So that is coming up. My hope with this episode is that you are inspired to look at your situation and ways that you can begin doing things that you didn't think you could before. And also that if you were maybe feeling bad about your circumstances or what your home looks like or what it is or what it isn't, that you realize that it's completely okay, that we don't have to have picture perfect and your homestead and my homestead don't look the same and they shouldn't. Each one of our homesteads and our homes should be serving the purpose for us and for our family and nothing else should matter.
But I know that sometimes as I shared with you in this episode, hearing others people's opinions, if they're not kind, they can begin to seek into your psyche and they can hurt. So this is me telling you to ignore them accept where you are, and it's completely fine, embrace what you have. And don't worry about what other people are thinking because you, my friend are changing the world for the better, you are being smart. And don't let someone else's opinion who is based upon appearances really, and the status quo, you can't see me making air quotes right now, but that's really what that boils down to. Don't let that affect you. As a homesteader, we don't care about that stuff anyways. And I want share with you for the verse of the week. This was something that Joel actually preached on when we were at the Homesteders of America's Conference.
Now, Joel Salatin is not a preacher, but he is a man of God. And we had, was a lovely gathering service at Rory's Farm at Homestead Hall after the conference. It was the day after, everybody who was at the event was invited to, and it was wonderful. And one of the things that Joel shared up on, and that was from the book of Esther, and it's really stuck with me. And so I want to share it with you. And I would recommend reading the whole book of Esther, it's not very long, to have a lot of understanding with where this comes into context in the full story. But the verse specifically that I want to share with you right now is Esther 4:14 and this is the amplified translation of the Bible.
"For if you keep silent at this time, relief and deliverance shall arise for the Jews from elsewhere, but you and your father's house will perish and who knows, but that you have come to the kingdom for such a time as this and for this very occasion." And the words and the phrase from there is, such a time as this. I really feel that this is a time for all of us to increase, and whatever that means from where your current state is that you're doing. But a time to look at what we're doing and look for ways that we can increase and do more than what we have been doing in the past. Now, for me and my family, we're specifically looking at both our self-sufficiency aspect. So from the produce that we're growing and our livestock. So that may mean that we decide to bring on a dairy animal. It's something that we're looking at or other forms of livestock and also though not only just for ourselves and our family, but can we do more to help others?
And so that is some aspects that we are looking at. And I mean, I already do. Obviously you're listening to the podcast episode. I have the courses, I have the membership, my website, YouTube videos, my books, et cetera. But we are looking at ways that we can do more than what we're currently doing to help others down this path, to self-sufficiency and sustainability. And being good stewards of their land and of their health and just all of the things that come with homesteading, how can we do that in a way that's more than what we're doing right now? So I'm going to leave you with that. And I can't wait to meet you back here next week on the podcast.
Sign up to receive email updates
Enter your name and email address below and I'll send you periodic updates about the podcast.
More Homesteading Articles