Some of the links below are affiliate links, which means I will earn a commission at no additional cost to you, if you click through and make a purchase. Regardless, I only link to products we use on our homestead or believe in.
There's little else I can think of than giving someone a gift that truly helps improve their lives. I remember when I first started down the path of choosing more natural products and moving away from synthetics.
A whole new world opened up. Not only did I feel better, because let's be honest, the proof is in the pudding, but I wanted to give the same gift to all of my loved ones. I knew what a difference it was making in my life and this homesteading girl just can't help sharing the good, it's what good folks do, right?!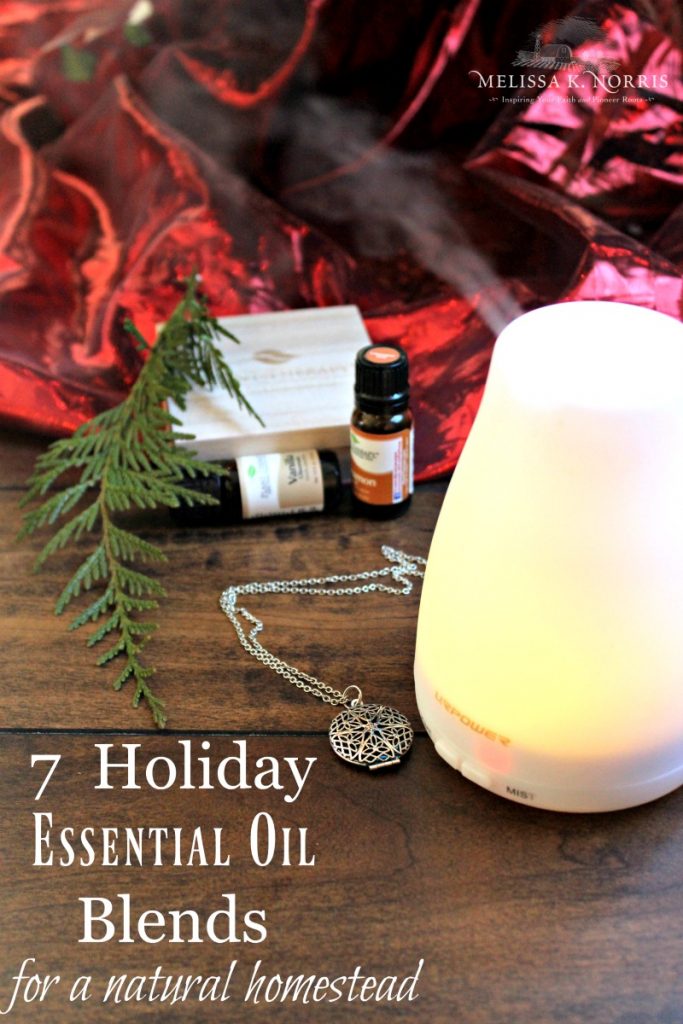 Whew, so glad we're good folks and agree on that.
Here's why going the natural route is not only beneficial, but a must!
(we'll also talk about some precautions you need to know going the natural route as well).
I don't know about you, but that's enough to get me changing out the items we use in our home lickety-split.
How to scent your home naturally
While I kicked synthetic to the curb, I still want my home and body to smell nice. I discovered essential oils and quickly dove into using them in our homemade body care products, natural perfume, and diffusing them.
But, even though it's natural, you still need to do due research. Not all essential oils should be used topically or even diffused around young children. For more on this you can read or listen to my story and experience with The Truth About Essential Oils and How to Stay Safe
Free Essential Oil Caution Guide– know which oils are photo-sensitive, which aren't safe for children, and if an oil interacts with certain medical conditions. Get your free copy here–> Essential Oil Safety Guide and Chart
Essential Oil Diffusers
The easiest way to scent your home is with an essential oil diffuser. You place water into the compartment of the diffuser and add a few drops of your essential oil and it uses a cool mist to the air, delivering both the scent and the medicinal aromatherapy components of the oil.
This is the Essential Oil Diffuser I use and it also acts as a humidifier, with a light function (you can turn it on or off), nightlight, programmable on/off cycles and auto shut-off (automatically turns off when the water runs out). I've had mine close to a year and love it.
If you're looking for a bigger diffuser for a really large room, Plant Therapy has this model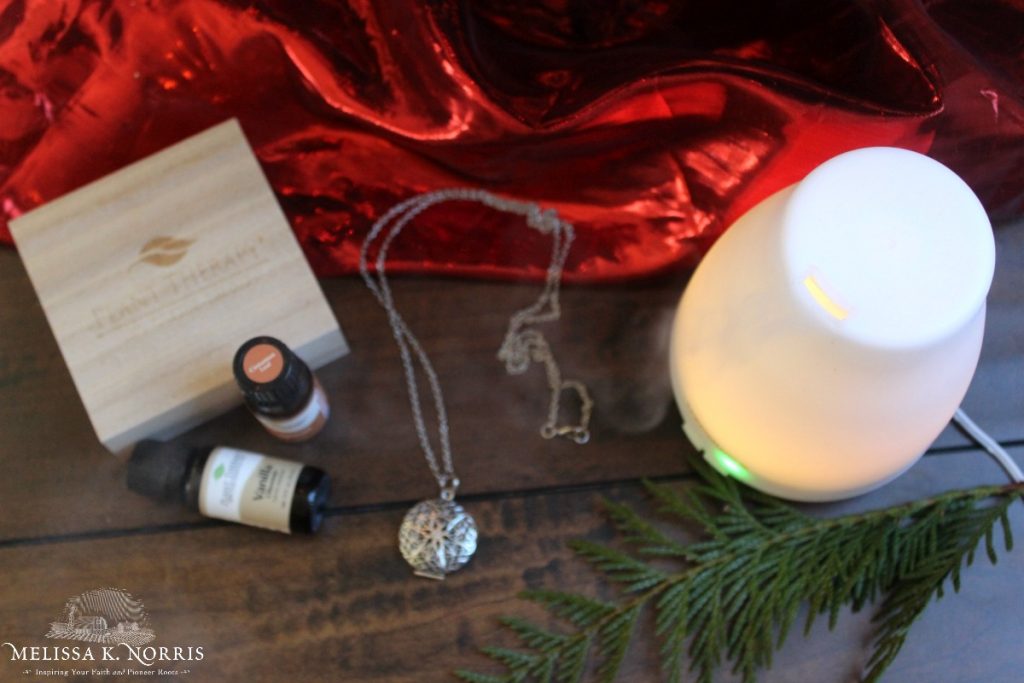 Favorite Essential Oil Diffuser Holiday Blends
Get stocked up on your essential oils from Plant Therapy with 10% Off Your $50+ Order!
Use Coupon Code: "10PER" Click here and get all your blends for yourself and as gifts
Christmas Tree
3 drops Fir Needle (this is a KidSafe oil)
3 drops Spruce (also a KidSafe oil)
Christmas Baking
2 drops Sweet Orange
1 drop Cinnamon Bark
2 drops Vanilla Oleoresin
Holiday Spice
2 drops Sweet Orange
1 drop Cinnamon Bark
1 drop Clove
1 drop Spruce
Candy Cane Swirl
1 drop Spearmint
2 drops Peppermint
2 drops Vanilla Oleoresin
Essential Oil Perfume Blends
The below blends are my personal favorite and the amounts are to use in the aromatherapy diffuser jewelry.
You can easily use a roller bottle with the same blends below (in a 10ml rollerbottle this will be approximately 2% dilution) and fill it with your carrier oil of choice.
Vanilla Burst
2 drops Vanilla Love (contains ylang ylang)
1 drop Citrus Burst
Lavender Lime
2 drops Lavender
1 drop Lime
Soothing Sweet
1 drop Lavender
2 crops Vanilla Love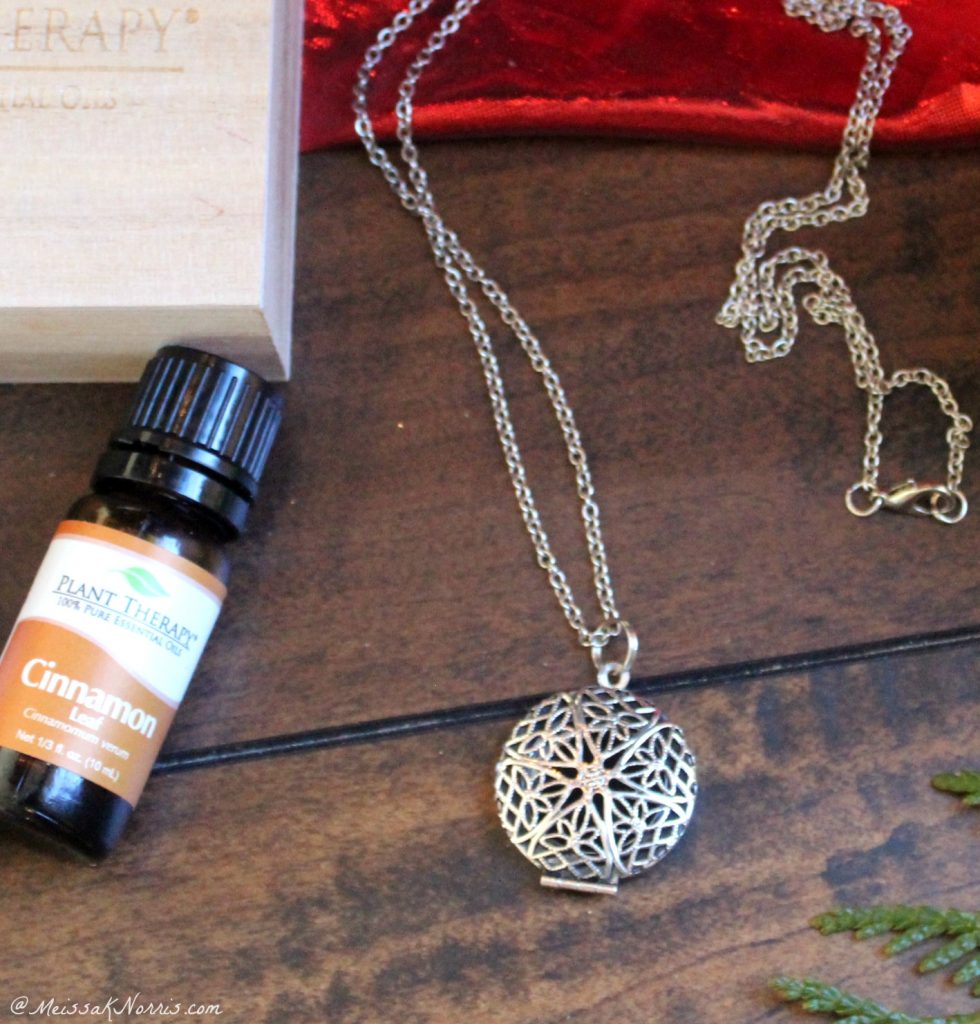 Aromatherapy Diffuser Jewelry
Let it be known, I'm a natural loving homesteading Mama, but I still like to get my girly girl on. The cattle and chickens are quite used to seeing me with rhinestones on the pockets of my jeans while slugging through barn yard.
I've never been much of a perfume wearer, quite frankly, almost every scent gives me a headache (which I now know is probably due to all the synthetic chemicals in it, so I feel fortunate I never wore it much), but I do like to smell pretty.
And sometimes, that means more than just using homemade soap, I want a scent. I love my aromatherapy diffuser lockets, because I can get my pretty on in both the scent and they're very cute. I frequently get comments on them for design alone when I do venture off the homestead.
Here are two great deals and some of my favorite designs!
Aromatherapy Diffuser Locket- Flower Burst Essential Oil Locket in Rose Gold
Stainless Steel Aromatherapy Diffuser Locket- Tree of Life Design
Get stocked up on your essential oils from Plant Therapy with 10% Off Your $50+ Order!
Use Coupon Code: "10PER" Click here and get all your blends for yourself and as gifts
Psst, if you want to learn how to use essential oils and herbs to make your own homemade soaps, beeswax candles in jars, creams, body butters and more, check out the Hand Made Masterclass here while it's still over 50% OFF and FREE shipping.