Some of the links below are affiliate links, which means I will earn a commission at no additional cost to you, if you click through and make a purchase. Regardless, I only link to products we use on our homestead or believe in.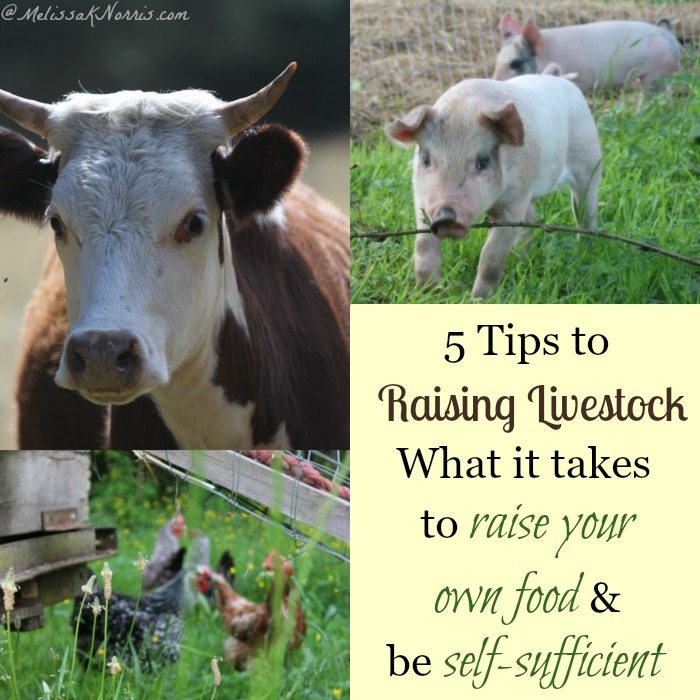 Most homesteaders want to begin raising livestock at some point on their homesteading journey. It seems every time I go to the grocery store prices have increased yet again and when listening to the news, there's another outbreak of something in connection to our food. There's a peace of mind and sense of accomplishment when I raise it myself. I know exactly how the animal was cared for, what it ate, and more importantly, what it didn't eat.
It's no wonder more and more folks are turning towards backyard or back pasture livestock. However, there's a few things you need to know if you're considering raising your own livestock.
We raise our own pigs, beef cattle, meat chickens, and laying hens here on our homestead.
5 Tips to Raising Livestock for Food
1. Choosing your livestock. There are many options from laying hens, meat chickens, beef cattle, pigs, sheep, goats, rabbits, or even fish. Laying hens are great because if you purchase hens instead of chicks, you're getting food every day from the get go. The other livestock offers larger amounts of food, but some of them will be dependent on where you live and the amount of acreage you own.
2. Consider the end game. This will help you decide which livestock animals to start with. Do you want dairy animals? Then a goat or cow will be your choice. Do you want enough meat to feed your family for an entire year with one animal? Then beef cattle will your choice. Read Pros and Cons of Raising Grass Fed Beef
Don't want to spend an entire year or two caring for an animal? Then consider meat chickens who are ready to butcher and eat in as little as eight weeks. Here's our experience and step by step tutorial on How to Butcher a Chicken at Home, How to Raise Meat Chickens, and Raising Chickens for Profit.
3. Expense. Let's be real here for a moment. It costs money to raise your own livestock. There's the initial purchase price of your animals, feed, fencing, and shelter. Many people wonder if it's truly cheaper to raise it yourself.
Well, that depends. It's definitely cheaper for us to raise our own grass fed organic beef than purchase it. We have enough pasture to feed our animals spring through fall. We purchase local fermented grass (haylage) that has a higher protein count than regular grass hay to feed during the winter months, making it a better feed option and is cheaper than regular old grass bales.
Cattle don't require a barn or heat lamps (baby chicks and piglets do), so their shelter is the hill behind our home for wind protection and the large evergreens when needed during big snows. We do have to keep up on our fence lines, so barb wire and posts are a cost we incur every year. We're able to use my dad's bull to breed our cows back each season at no cost, so we don't have to keep purchasing cattle. So for us, grass fed organic beef is extremely frugal. However, that might not be the case for you.
But if you don't have pasture and have to purchase feed all year long, then it might not be cheaper. You'll need to weigh the difference between the going cost per pound to purchase the food in your area verses your costs to purchase, house, and feed the animal until butchering time. On our meat chickens, we barely came under the cost of purchasing whole organic chickens at Costco. We're planning on purchasing our food in bulk this year and going in halves on renting the butchering equipment with our neighbors to help cut costs more.
The beautiful thing about homesteading is tailoring it for your situation and needs. Be sure to read Pros and Cons of Raising Grass Fed Beef Cattle if you're considering how to make cattle work for you.
Pigs require fencing, but you get a pretty good amount of meat for six months worth of time and effort. They'll also eat vegetables from your garden, old bread, and fruit scraps. You will probably have to purchase some feed as well.
Now chickens are a dual animal for both eggs and meat. Some breeds will provide you both and some are just best used as a meat chicken or as a layer. When free ranging, our chicken feed bill is basically nada. Sweet!

4. Your Time Investment. I'm not gonna lie to you, raising your own livestock takes a level of commitment. Most animals will require daily watering and feeding. We don't feed our cattle during the summer, but checking of the water levels is always a must. You'll want to keep an eye out for illness or injury and the best way to do this is to daily inspect your livestock. It can simply be a quick visual sweep across the herd in the pasture or strolling among them for a few minutes in the evening.
If you plan on leaving home for a period of time, you'll need to find someone who will check in on your animals for you. When we go camping, we often enlist the help of neighbors or family to check on our animals. One way to help out with the watering is an automatic stock tank valve, basically, it keeps your water tank full without you having to do it. This is especially helpful during hot summer months when our cattle can drain our tub while we're at work.
No matter what the weather or how you're feeling, your livestock will need tending. However, we're able to raise almost all of our own meat with both by my husband and me working full time. So it is doable.
5. Emotional Investment. You can't make pets out of livestock. You will care for them, you will get used to seeing them in the field or backyard, but always remind yourself they are your food source. We do our very best to make sure our livestock have a safe and clean living environment that mimics how they would live if they were wild. This means pasture raised and grass fed for us.
Our children know our livestock is for meat. They help with their care but we don't hide the harder part of farm life from them. I was raised on a cattle farm and am grateful for that upbringing. I know what goes into our food. I know the work and the end result. And knowing all that I absolutely chose it for myself and my family.
We don't name our livestock that is being raised for food. Except for our cattle, which we've named Hamburger and T-bone one year, so there wasn't any confusion on which steers were being butchered.
I believe raising livestock is worth it, despite the investment and the costs.
The Prepared Bloggers Network is at it again! We're glad you've found us, because the month of April is all about homesteading.
Homesteading is a lifestyle of self-sufficiency. It is characterized by growing your own food, home preservation of foodstuffs, and it may even involve the small scale production of textiles, clothing, and craftwork for household use or sale. Most importantly homesteading is not defined by where someone lives, such as the city or the country, but by the lifestyle choices they make.
The Prepared Bloggers are passionate about what they do and they each have their own way of achieving self-sufficiency. Grab your favorite drink and enjoy reading about the 30 Ways of Homesteading!
Crops on the Homestead
Straw Bale Gardening from PreparednessMama
Crop Rotation for the Backyard Homesteader  from Imperfectly Happy
Benefits of Growing Fruit from SchneiderPeeps
Succession Planting: More Food in the Same Space from 104 Homestead
Crops to Grow for Food Storage from Grow A Good Life
Winter Gardening Series from Our Stoney Acres
How To Build a Raised Garden Bed For Under $12 from Frugal Mama and The Sprout
How to Save Carrot Seeds from Food Storage and Survival
Animals on the Homestead
Getting Your Bees Started from Game and Garden
Homesteading How-To: Bees from Tennessee Homestead
How to Get Ready for Chicks from The Homesteading Hippy
Selecting a Goat Breed for Your Homestead from Chickens Are a Gateway Animal
Adding New Poultry and Livestock from Timber Creek Farm
Beekeeping 101: 5 Things To Do Before Your Bees Arrive from Home Ready Home
How to Prepare for Baby Goats from Homestead Lady
How to Prevent and Naturally Treat Mastitis in the Family Milk Cow from North Country Farmer
Tips to Raising Livestock from Melissa K. Norris
Raising Baby Chicks – Top 5 Chicken Supplies from Easy Homestead
Making the Homestead Work for You – Infrastructure
Ways to Homestead in a Deed Restricted Community from Blue Jean Mama
Building a Homestead from the Ground Up from Beyond Off Grid
DIY Rainwater Catchment System from Survival Prepper Joe
Finding Our Homestead Land from Simply Living Simply
I Wish I Was A Real Homesteader by Little Blog on the Homestead
Endless Fencing Projects from Pasture Deficit Disorder
Essential Homesteading Tools: From Kitchen To Field from Trayer Wilderness
Homesteading Legal Issues from The 7 P's Blog
Why We Love Small Space Homesteading In Suburbia from Lil' Suburban Homestead
Preserving and Using the Bounty from the Homestead
How to Dehydrate Corn & Frozen Vegetables from Mom With a Prep
How to Make Soap from Blue Yonder Urban Farms
How to Render Pig Fat from Mama Kautz
How to Make Your Own Stew Starter from Homestead Dreamer
Why You Should Grow and Preserve Rhubarb! from Living Life in Rural Iowa
It's a Matter of Having A Root Cellar…When You Don't Have One from A Matter of Preparedness
Other Articles You May Enjoy