Homesteading for Beginners- 9 Transition Tips from City Life on Episode #131 of the Pioneering Today Podcast
Anyone can learn the skills to be self-sufficient and a modern homesteader. Today Anna shares with us how she went from being a raised a full city girl, not even knowing how to cook from scratch to a modern homesteader, and how you can use the same tips to go deeper into your homestead journey.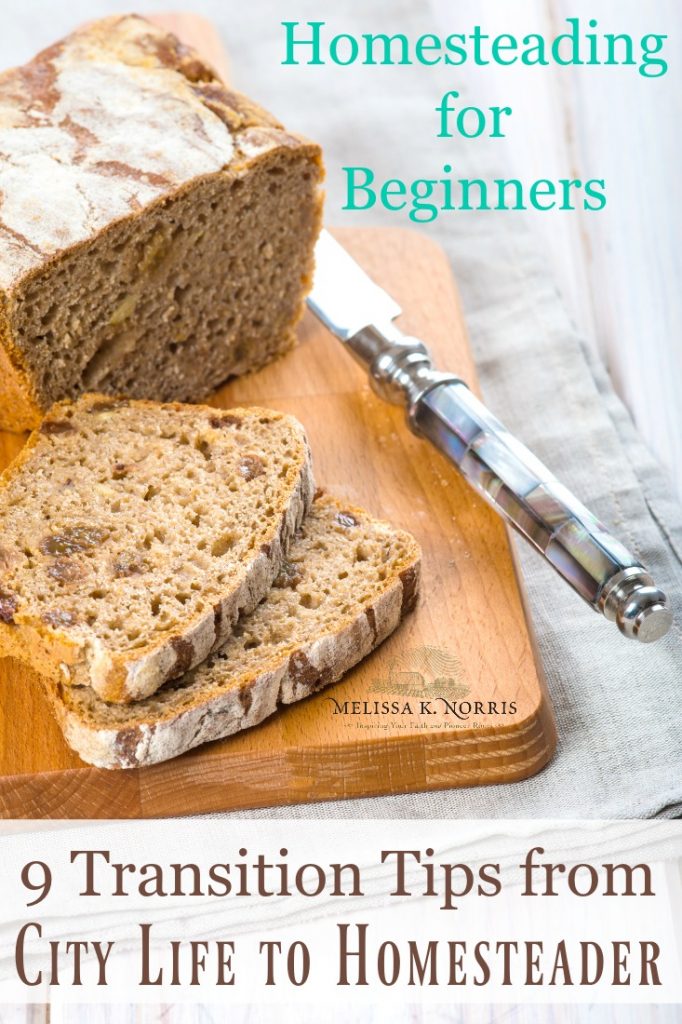 Listen Below to Episode #131 of the Pioneering Today Podcast, Homesteading for Beginners- 9 Transition Tips from City Life, where we teach families how to grow, preserve and cook their own food using old-fashioned skill sets and wisdom to create a natural self-sufficient home.
Anna's story: My grandfather had a garden and I got to do a little bit of gardening with him as a small child. But other than that we lived a typical suburb lifestyle, we bought everything from the grocery store. I didn't even consider the fact that I could own chickens, that was something just farmers did. Small scale homesteading wasn't something I even realized was an option.
Melissa: In just a few generations, this knowledge can be lost as in the case of your grandparents lived this way, but within one generation gap of not doing it, it's lost. You remember the most, not things you were bought, the time spent doing something with your grandfather.
Anna: I was young and don't really remember the gardening knowledge but I have really fond memories of that time and realized I had a natural inclination to get dirty and play in the garden.
How living in a third world country turned her towards self-sufficiency and homesteading
Anna: I was bout 21-years-old and did a volunteer experience in West Africa. I t was just myself and one other girl. We were really left to our own devices. Our realities were completely different than we were used to living back home. There weren't grocery stores.
There was a market place you could buy meat or vegetables, but not like the farmer's markets we have here, the food was vastly different. It was African homesteading where there was a sacrifice of a goat from the family next door and everyone would gather and share that meal together. It was my first time living hand to mouth.
It was my first time trying to come up with tasty and healthy dishes on what we could get that would sustain us from the months ahead. I'd never cooked at all from scratch before. We had a little propane burner.
Without my friend there I would have been really lost. I just ate a piece of bread and butter for the first month because I didn't know how to prepare food. Thankfully my friend took the lead and we'd go to the market and get some meat and vegetables.
I watched her do this a few times and was baffled that you could throw ingredients together and create a really good dish from scratch. I watched the locals and what they used. I was fascinated, they used everything from what they're were growing (they didn't import food like you do here) right there on their land.
If you can do this here where there's not very much, then surely I can do this back home, instead of using boxed and commercially canned food. That was my first introduction to cooking from scratch and eating in season and locally.
In modern society we're so far removed from our food. We've lost the connection to our food you only get when you raise it yourself or know the farmer or person you're getting it from as a neighbor or real person you meet.

Melissa K. Norris
How to start homesteading from scratch
4 steps to go from a city girl to a from scratch farm to table kitchen
Be aware of where your food is coming from. Try and find local sources if you're not able to grow or raise it yourself.
Learn to cook a few simple dishes first until you've mastered them. It was so empowering to learn I could make myself food, I didn't have to eat out or have someone else prepare the boxed or commercially canned food for me. I could take fresh ingredients to sustain myself. Check out the book Hand Made: the Modern Guide to Made-from-Scratch Living for easy fresh ingredient recipes–> Hand Made- Old-fashioned Recipes for Busy Kitchens
Start an herb garden. Even living in a tiny apartment I could grow my own fresh herbs and go snip them off the balcony to add to my dishes.
Shopping locally. Even though we lived in the city I could get a lot of my ingredients from local farmers when I couldn't grow it myself yet.
A love of learning from others
Anna: I traveled to Australia and stayed in hostiles where we'd pool our money together to buy enough ingredients to cook a big meal together.
No matter where I go, I like to not only share my skills but to really learn and glean skill sets from others.
Buy local and fresh food-urban homesteading for beginners
As I started purchasing fresh food from local farmers I became interested in preserving it. I first started with freezing some stuff.
We really wanted to be able to raise some of our own food. My husband and I knew we wouldn't be able to purchase our dream homestead with lots of acreage yet, but we could make a transition that aligned with our goals of growing more of our own food.
Transitioning from the city to a home with a yard for food production
We have raised beds and are at this time of year in February we've got mustard greens. We're trying to grow what we can in a small area and embrace that.
We had a small condo with a north facing balcony but we had our herb garden. Basil, sage, mint, oregano, and thyme are all great candidates for growing in pots. You can even grow basil in doors in nothing but water, here's our tutoria–> How to grow basil indoors all winter without dirt
You don't always have to be growing all your own food to purchase local, buy whole fresh ingredients, and use food preservation to create your own food storage and larder.
I think the kitchen is such a great place to start because everyone has a kitchen and even if you can't grow your own food you can start cooking and preserving real food.
How to transition from a city apartment to a house with 1 acre
We picked an area that was very fertile for food production in general. There were a lot of farms already and we knew it would be suited for what we wanted to do. Look for an area that already holds what we're wanting.
We couldn't afford our own property to buy yet, but we were ready to move anyways. We weren't in a position to be extremely choosy but we were able to get a place we could rent and renovate. We're doing the work in exchange for our rent. So we're getting experience and can put in our own gardens.
It's been a great practice property until we can get our dream homestead.
Enough space to have some sort of garden and grow our own food. We're learning in this transition property what we love, what'd we change, so we can practice with the placement of the garden in relation to the landscape, the sun, etc. When we get our forever property we'll know so much more about what works and what doesn't for us.
Building your own homestead skill sets
I started out not having any skill sets or knowledge about living a self-sufficient or homestead life.
We have a small garden. With food preservation I've been able to water bath can (I learned that first) and have done some pressure canning. We dehydrate our food and we share a yard with our neighbors who have chickens so we've been able to benefit from helping and learning with their flock and getting eggs.
I learned how to bake my own bread this year. Grab our easy whole wheat honey sandwich bread recipe here!
I try to take it with baby steps. We want to say I'm going to grow everything myself and throw out all this processed stuff, but if you do that, you'll often feel overwhelmed and not stick to it.
I loved candles, but they were expensive and not filled with things that are good for you to have burning in your home. I learned how to make all my own candles and that's all we burn. How to Make Soy Candles at Home with Essential Oils <– Our easy tutorial on candle making
I like knowing there will always be more for me to learn as a homesteader.
One of my goals for this past year was to learn more about foraging. I wanted to learn how to do it more last year and I got down on myself, but there will always be next season to learn it. I didn't do the mushrooms but I did get to bake the bread.
Melissa: you can check out our foraging in podcast episode #66 5 Rules for Foraging Wild Edibles + 25 Wild Edible Plants
Don't wait until someday when the stars perfect align I can start living this life I want, don't wait, you can do it today, right now. Start small and there's always something you can do

Anna from The House and Homestead
Get started with this recipe, click here for homemade flaky buttermilk biscuits
More Homesteading Articles You May Enjoy