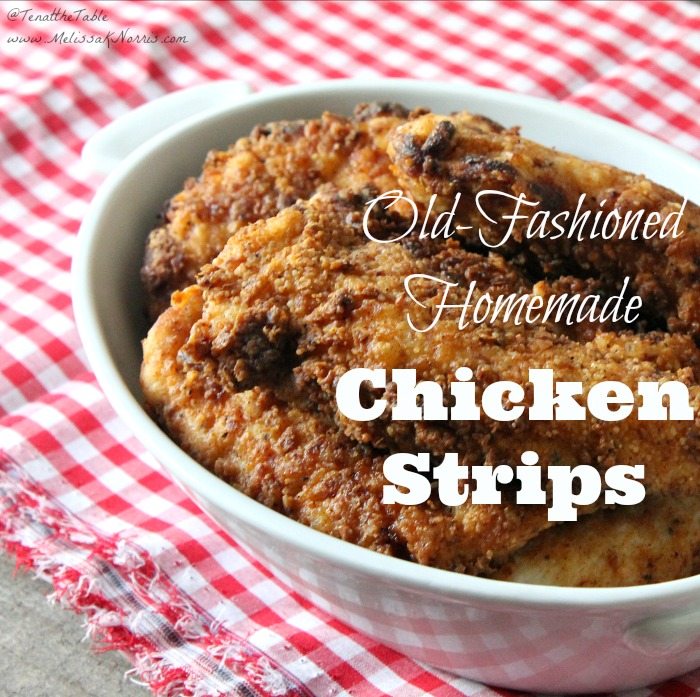 Homemade chicken strips are one of my favorite things ever? And at less than $.65 a serving, my budget is happy too. Who doesn't like from scratch goodness, combined with buttermilk, in a golden-crispy-finger-licking-good chicken strip? You must say yes or we can't be friends. Kidding, kind of.
But seriously, when you look at the ingredient list on store bought chicken strips, you're likely to find lots of soy bean oil (can you say GMO) and the "natural ingredients" which tells me nothing because it doesn't list out what those ingredients are, which leads me to believe they're not so natural. Anyone else?
Price Break Down of Homemade Chicken Strips
I paid $1.99 a pound for our chicken breasts (I used two and they're antibiotic and hormone free) and cut them up into strips. I got 16 chicken strips out of the two breasts. With the cost of the buttermilk, spices, and flour, I added another $1.00 to the overall cost.
For four people that breaks down to just $.65 a serving. I consider that a great price and knowing what's in them and what's not=priceless.
So when Maria offered up a recipe for buttermilk fried chicken strips my heart might have skipped a beat.
~Maria, I absolutely love summer at my grandparents house! I love seeing them so often, swimming, hearing stories, helping in their garden, and of course- the food! My grandpa is famous for his Hungarian deviled eggs, and Hungarian chicken paprika, while my grandmother is more of a Southern belle and prefers to cook up some good old fashioned food. My favorite? Her buttermilk fried chicken tenderloins!
She normally cooks it for a large crowd, so I usually help her get several batches going at a time. During those summers, I have become an expert. It's hard to believe that something so juicy and delicious could be so easy to make, but it is! There are just a few simple steps, and the marinating time is worth the wait. It really helps to keep it juicy.
Let's get started!
Resources for Homemade Chicken Strips
Coconut oil– for greasing the pan or to use as your frying oil. Coconut oil has replaced shortening at our house and is my go to oil.
Cast Iron Skillet– I use my cast iron skillet for everything, from frying up chicken, to baking it in the oven, and for cornbread… because cornbread and chicken are best friends. Seriously, every kitchen needs at least one cast iron skillet, if not more.
Smoked Paprika– You can use regular paprika, but smoked paprika raises any dish to a whole new level. Your taste buds won't know what danced across them, but they'll be begging for more. I get my smoked paprika from Mountain Rose Herbs… and they're smoked sea salt.
How to Make Homemade Chicken Strips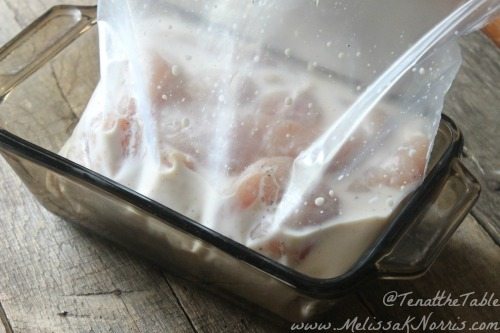 Don't have buttermilk? Don't despair, simply add 1 Tablespoon apple cider vinegar or lemon juice to a cup of milk and let it sit for a few minutes. Voila, buttermilk!(It just sounds better with a little French thrown in) ~Melissa
Place all the marinade ingredients in a gallon size freezer bag or deep container with a lid for the fridge. Combine the chicken tenders with the marinade ingredients and place in fridge for at least 4 hours of overnight.
Melissa Note: I simply use two large chicken breasts and slice them up into chicken strip sizes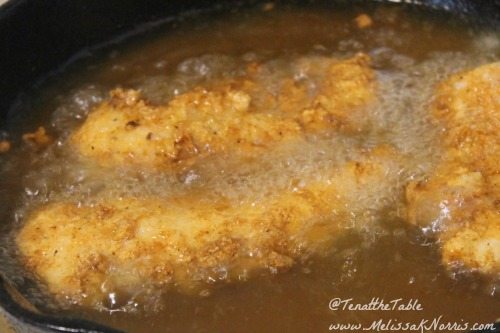 After chicken strips have marinated mix your breading ingredients in a large bowl. Dredge chicken strips through the flour mixture. Don't be afraid to press them down in deep and get them covered in flour. Ya know how your mother told you not to play with your food, well this is one time you get to play away. Fingers just work best for this, ya need to get in there and get down and dirty.
To fry chicken strips, get a large cast iron skillet out and place approximately a quart of oil in it. I prefer coconut oil or lard (yes, lard does magical tasty things to food and I whole hardly use it in my kitchen, in face here How to Render Your Own Lard)
Turn it on medium heat and let liquify. To test if it's hot enough to cook with, place the end of a wooden spoon in the oil, if it bubbles, you're ready to go. You can also place a small piece of chicken in the oil and if it starts to bubble or spit when the chicken hits the oil, it's ready to fry.
Baked Chicken Strips
~Melissa While I love cast iron and a good old deep fry, sometimes a girl is in a hurry, doesn't want the grease mess, or is low on said oil/grease…
So she needs an alternative. And that is where baked chicken strips come in. Preheat your oven to 425 degrees Farenheit.
Take a rimmed baking sheet (we don't want to clean up the drips by using a regular cookie sheet) or a large cast iron skillet and grease it well. I find coconut oil works great for this and is my go to cooking grease.
Beat an egg and dredge chicken strips through the egg before putting it through the breading. When baking, the egg is needed to keep the breading on the chicken.
Place breaded chicken strips on sheet, leaving space in between them. Put in oven and set the timer for 10 minutes. With tongs (nothing worse than a burn, nothing) turn chicken strips over and bake for another 10 minutes or until golden.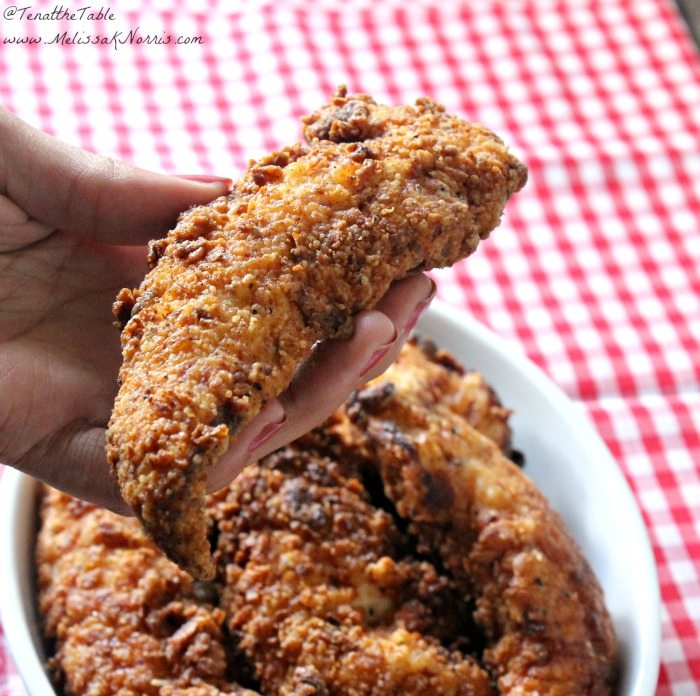 There you have it, homemade from scratch crispy baked chicken strips.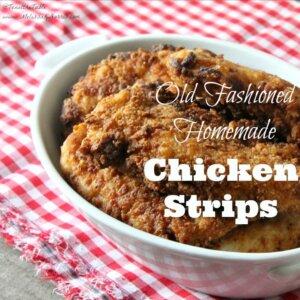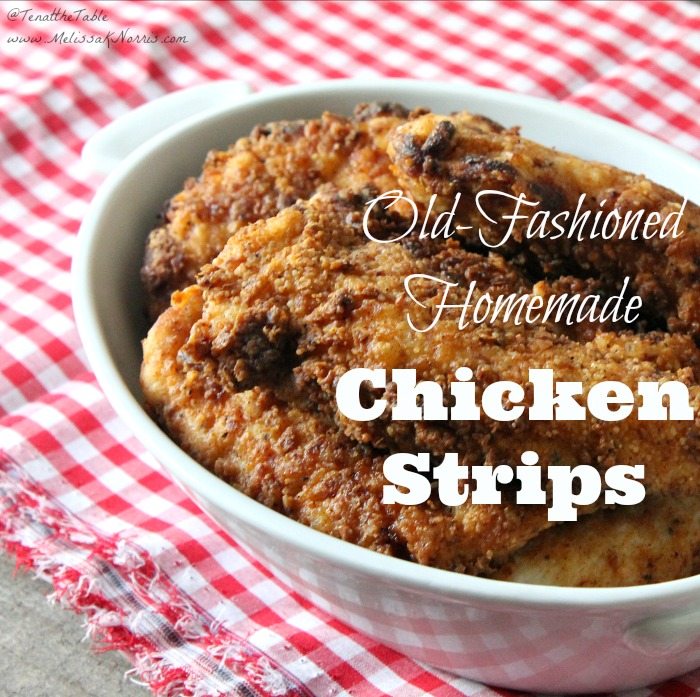 Buttermilk Fried Chicken Tenderloins
Ingredients
For the marinade:
2

pounds

chicken tenderloins

1

cup

buttermilk

1-1/2

teaspoons

salt

1/4

teaspoon

chili powder

1/4

teaspoon

garlic powder

1/4

teaspoon

paprika
For the breading:
2

cups

Spelt or whole wheat flour or 2 cups bread crumbs

or 1/4 cup cornmeal and 1 & 1/4 cups all purpose flour, or just 1 and 1/2 cups all purpose flour (really any combo ya want)

1

heaping teaspoon salt

3/4

teaspoon

black pepper

3/4

teaspoon

garlic powder

3/4

teaspoon

paprika

1-1/2

teaspoons

baking powder

3

tablespoons

buttermilk

reserved from the marinade

Oil for frying

about a quart

1

egg when baking them on a well-greased rimmed baking pan
Instructions
Combine the chicken tenders with the marinade ingredients in a large ziplock bag. Seal the bag tightly and smush it around to ensure chicken tenders are evenly coated with buttermilk and seasoning. Place in a baking dish (to prevent messes) and refrigerate at least 4 hours.

Make the breading by combining the dry ingredients in a large bowl. Whisk until well combined, then add the buttermilk and stir with a fork until mixture is evenly clumpy. (You can also use your fingertips for this.)

Line a baking sheet with a cooling rack (or foil). Remove the chicken tenders from the marinade a few at a time and toss into the flour mixture. Make sure to press the chicken firmly into the breading so clumps stick to the chicken. (It's best to use one hand to remove the tenders from the bag and the other to toss in the breading.) Set the breaded chicken on a large plate.

Add oil to a large pot or cast iron pan until the level reaches about 3/4-inch. Heat over medium heat until oil is shimmering. (If a small piece of the chicken sizzles when you drop it in, it's ready. This will take a few minutes.) Using tongs, place several chicken tenders in the hot oil without crowding the pan. Cook until golden brown on the bottom side, a few minutes, then flip and cook until second side is also golden, a few minutes more. Set cooked tenders on baking sheet lined with paper towels to drain. Fry remaining tenders in batches. Serve hot.

Optional Baking Instructions. Don't want to fry your chicken strips? Bake 'em instead. Preheat oven to 425 degrees.

Beat egg, then dredge chicken through the egg and then your breading. Place chicken strips on a well-greased rimmed baking pan (coconut oil works well) and bake for 20 minutes, turning over half way through.
Notes
Adapted from Once Upon a Chef (http://www.onceuponachef.com/2012/01/buttermilk-fried-chicken-tenders-2.html)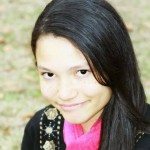 Maria Alison is family-focused Christian, who's finding new ways to feed her family quality home-cooked food on a budget. She understands how difficult it can be to prepare a meal from scratch with such a busy schedule. On Maria's blog Ten at the Table you will find time saving recipes that are friendly to your budget and your health.