Anyone else think its weird we use chemicals to clean the things we cook our food in? Have you read those labels?
In the pioneer spirit I prefer to use natural cleaners. I don't like my food, body, or home exposed to chemicals.
Can I get an amen? Our skin is our largest organ and the things we touch or put on our bodies shouldn't be dangerous or come with warning.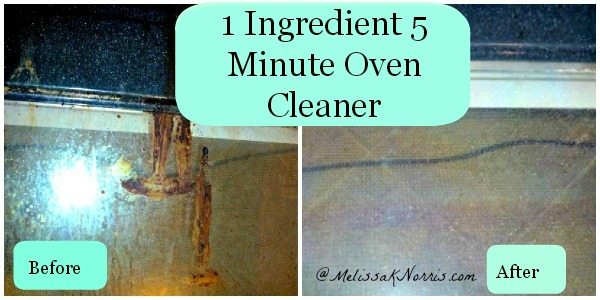 As I started out quest to all natural cleaners and products in our home, one of the things I discovered was a DIY natural oven cleaning recipe. It used a paste of baking soda and water. You put it on your oven, let it sit a few hours, and then wiped it clean.
I was very excited to try this. I made my paste, applied it thickly, and waited the two hours. I scrubbed and hardly anything came up. Maybe I didn't leave it on long enough?
I reapplied and let it sit for four hours. Still nothing! By this time I was exasperated so I poured some vinegar on. It foamed marvelously, but most of the burnt on mess was still there. Disgusted, I gave up and used the nasty old spray on oven cleaner under my cupboard.
A few months later I baked some fish in a glass baking dish. I let the pan soak overnight in hot soapy water and still couldn't get the burnt on mess cleaned off.
Grab our FREE Homemade Citrus All-Purpose Cleaner Recipe
Fast Acting Easy DIY Oven Cleaner
Baking Soda
Elbow Grease
The box of baking soda was sitting on the counter from the earlier scrub on the sink. The glass dish was dry and I decided to pour the baking soda on the burnt crud. I rubbed it around with the pad of my finger and almost immediately the baking soda turned brown from absorbing the grease and the black mess lifted off the glass! Eureka. I rubbed the pan clean in less than a minute.
I yanked open my cold oven door and poured the baking soda on the glass. Using just my finger I rubbed the entire surface clean in less than five minutes. Every time the baking soda turns brown from absorbing the grease, I simply poured more on. When I was done, I swept up the dry baking soda, now a brown color from the grease, and wiped the glass down with a damp towel. It sparkles!
No heat, no smoke, no chemicals, no fumes, and just a tiny bit of elbow grease. The key is dry baking soda. Best part, it only took 1 ingredient and 5 minutes for a natural DIY oven cleaner.
Want more natural DIY cleaning products for your home? (yes, the answer is yes!)
Grab our FREE Homemade Citrus All-Purpose Cleaner Recipe
More Household Cleaning and Organization Tips