Some of the links below are affiliate links, which means I will earn a commission at no additional cost to you, if you click through and make a purchase. Regardless, I only link to products we use on our homestead or believe in.
Salmon patties with kale… who would have thought this would have ended up one of our favorite recipes? Plus, it's made in a cast iron skillet, not much else makes this homesteading Mama happier than that.
Any of you planning on eating healthier this new year? It's on my list, too. So is enlarging the garden and trying our hand at a homemade greenhouse. (It's been on my bucket list for years and you can bet there will be some tutorials.)
Last spring, my husband and I went on a paleo (paleo is eating like they did during the Paleolithic era, aka caveman era, before domestic farming). You eat vegetables, fruits, meats, and eggs. Essentially, no dairy or wheat. We followed it strictly for 24 days and then slowly introduced dairy and wheat (ground at home) back into our diet.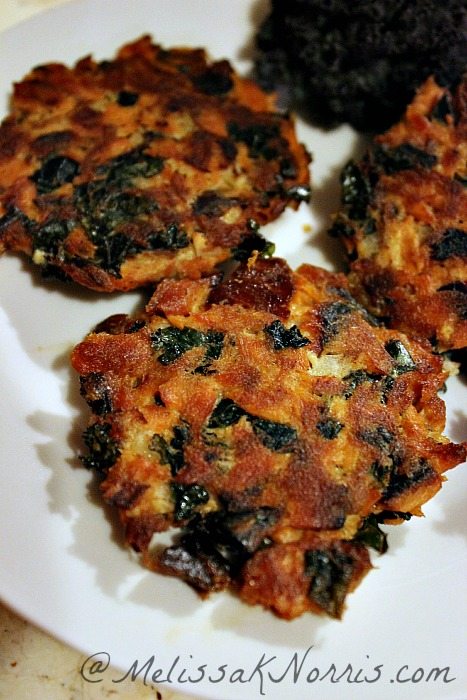 We both lost weight (my husband totally beat me, but we're not doing it to be competitive, right?). We function at our best when we have some wheat in our diet, but regardless of where you fall on the gluten train, we can all benefit from learning to add more veggies into our diet. I love vegetable rich meals because we have the most ease growing vegetables at our home. I can't produce enough wheat to sustain my family for the year, but I can with vegetables and fruit, for the most part.
Kale is one of our new favorites. After discovering my kids ate kale chips without even knowing they were a vegetable, I kind of fell in love with this veggie. Plus, it's cold hardy, meaning I can grow it much longer and earlier in the growing season than most plants. Our growing season is five short months, on a good year, so I'm learning to embrace hardy veggies.
So imagine my squeal of delight (I gave the pigs a run for their money) when I saw this cookbook from our affiliate partner Amazon Crazy for Kale: Glow from the Inside Out with 40 Gluten-Free, Dairy-Free Recipes. Did you know kale could be introduced into over 40 different recipes, all gluten and dairy free, including a Chocolate Milkshake? Me, either, but ya can!
I couldn't wait to try the recipe for Kale and Salmon Cakes. I whipped up and promptly ate over half of them, just so I could share the recipe with ya. I'm awful nice that way… 🙂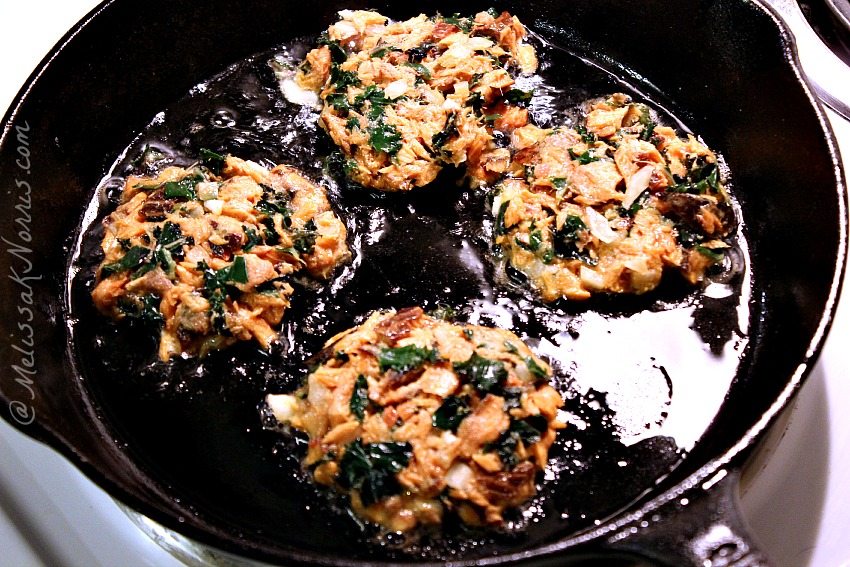 The original recipe calls for a sauce and is baked in the oven, but I like the crispiness provided by frying the cakes in a cast iron skillet, and they were so good by themselves, I didn't feel they needed any sauce. Plus, it gave me an excuse to cook with my new favorite kitchen staple, home rendered lard. Which is Paleo and completely healthy for you, despite what you may have thought for years.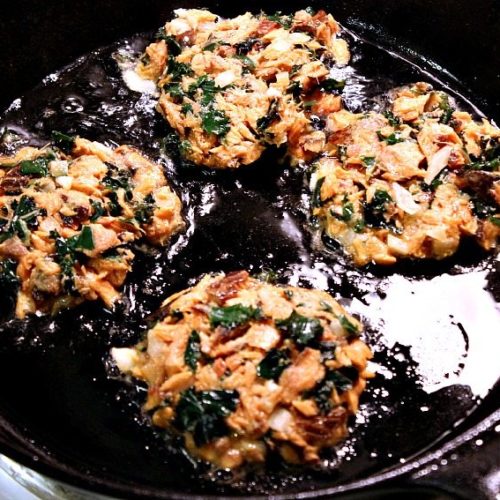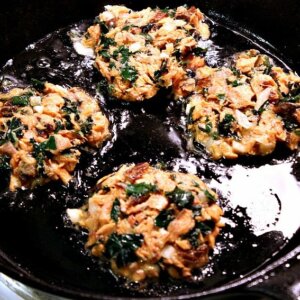 Kale and Salmon Cakes
Ingredients
1

cup

finely chopped kale

3/4

cup

water

1

pint

canned salmon

or 2 six ounce drained canned salmon from the store

2

Tablespoons

finely chopped onion

1

clove

minced garlic

1

teaspoon

basil

1

egg

farm fresh if best

1

Tablespoon

Dijon mustard
Instructions
Put kale and water in a small pot. Bring water to boil over medium heat. Boil for 2 minutes then drain.

Put a small amount of lard, butter, or coconut oil in a cast iron skillet over low medium heat.

Mix the kale with the remaining ingredients in a large bowl. With your hands, form 6 patties. Fry for about 3 minutes on each side. Place on plate and enjoy!
Is your mouth watering?
What are your plans for the new year?