Salmon patties with kale… who would have thought this would have ended up one of our favorite recipes? Plus, it's made in a cast iron skillet, not much else makes this homesteading Mama happier than that.
Any of you planning on eating healthier this new year? It's on my list, too. So is enlarging the garden and trying our hand at a homemade greenhouse. (It's been on my bucket list for years and you can bet there will be some tutorials.)
Last spring, my husband and I went on a paleo (paleo is eating like they did during the Paleolithic era, aka caveman era, before domestic farming). You eat vegetables, fruits, meats, and eggs. Essentially, no dairy or wheat. We followed it strictly for 24 days and then slowly introduced dairy and wheat (ground at home) back into our diet.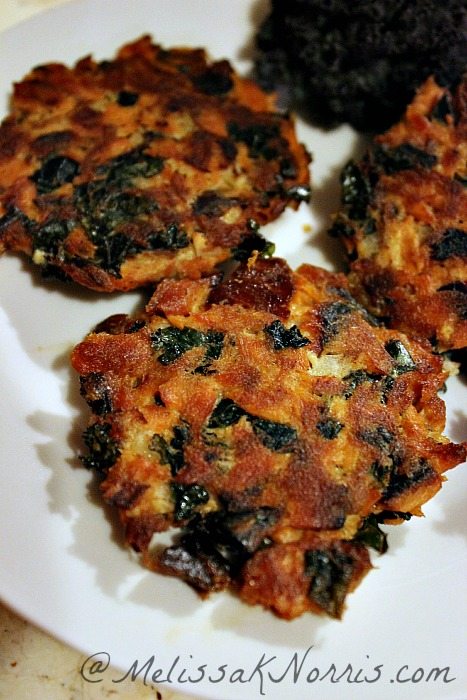 We both lost weight (my husband totally beat me, but we're not doing it to be competitive, right?). We function at our best when we have some wheat in our diet, but regardless of where you fall on the gluten train, we can all benefit from learning to add more veggies into our diet. I love vegetable rich meals because we have the most ease growing vegetables at our home. I can't produce enough wheat to sustain my family for the year, but I can with vegetables and fruit, for the most part.
Kale is one of our new favorites. After discovering my kids ate kale chips without even knowing they were a vegetable, I kind of fell in love with this veggie. Plus, it's cold hardy, meaning I can grow it much longer and earlier in the growing season than most plants. Our growing season is five short months, on a good year, so I'm learning to embrace hardy veggies.
[Read more…]