Chocolate beet cake… who would have thought this from scratch gluten and dairy free chocolate beet cake would be one of the best things I've ever eaten. Yes. Ever. With beets!
I'm always on the hunt to make yummy things a tad bit healthier, without sacrificing the taste. Because, I've got to be honest with you, I don't care how healthy something is for me if it tastes like sawdust topped with a sprinkle of honey. And it doesn't do me or my family any good to waste money or time on foods that are healthy for them but are so bad, it's a fight and struggle to get them to eat it.
But, if I can make a recipe healthier and tastes just as good or better than the previous unhealthy version, than I'm so going for it. With being frugal and trying to use up the food stock we have on hand (which is rotated out so it's always stocked 6 Tips to Avoid Food Storage Mistakes), I've been putting our root vegetables to use as some of them are coming to the end of their shelf life.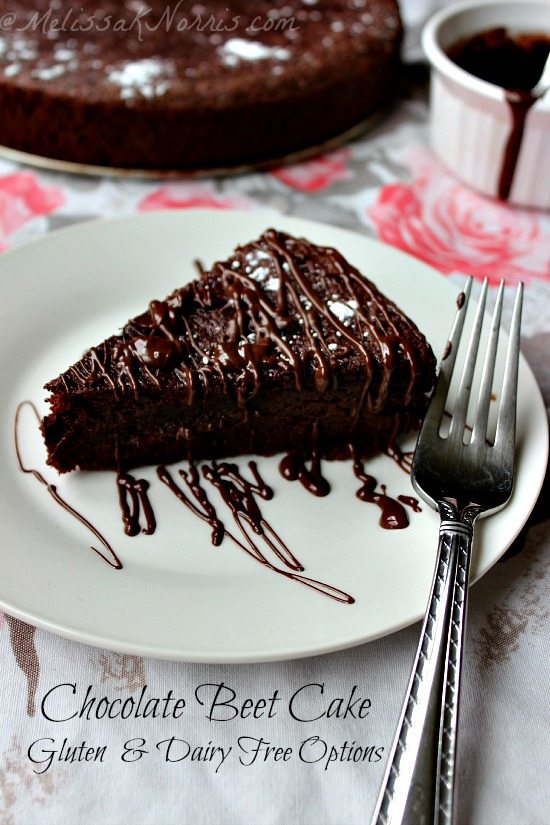 Which brings me to today's surprise star ingredient. Hold your judgments when you hear it… beets. Yes, BEETS! And they my friend, make a moist, decadent, to die for chocolate cake, without a trace of dirt flavor to be found. I seriously had to fight my husband over a piece of this cake.
I first saw a version of this recipe in a little insert paper called Relish (here's the original recipe) with our local newspaper. But I had to change up a few things because I for one, do not like the taste of olive oil in baked goods. And I needed a dairy free option, so I tossed out the heavy cream, with a few other modifications.
The result is a thing of beauty. Like a cross between cheesecake and a truffle, wrapped in decadent chocolate, so moist it practically melts in your mouth. I'm not kidding.
I adore that it has a cup of beets in it because, while I like beets (steamed with a splash or two of balsamic vinegar on top), the rest of my family isn't so keen. This is a way I can use up some of the beets grown and harvested in the garden and sneak them into my family's diet… and have them begging for just one more slice.
The fun thing about the beets is they give the cake almost a dark red velvet feel in color. And come raspberry time, I can't wait to try a raspberry reduction sauce on top. I love how seasonal foods can make a dish brand new again. But for this time of year, it's beets! Never thought I'd get to say have your beets with chocolate cake and eat it too.
Want more from scratch cooking?
Tired of hectic meal times and complicated recipes or relying on processed foods?
Simple and easy time tested from scratch meals
Easy skillet suppers
Nourishing and kid-approved soups and stews
Old-fashioned baked goods from buttermilk pie, homemade cake mixes, to Mom's chocolate chip cookies
Don't spend all day in the kitchen, tips for busy times without sacrificing hand made goodies
Wholesome ingredients without processed and questionable items
All of this and more in with 100+ old-fashioned from scratch recipes in Hand Made: the Modern Guide to Made-from-Scratch Living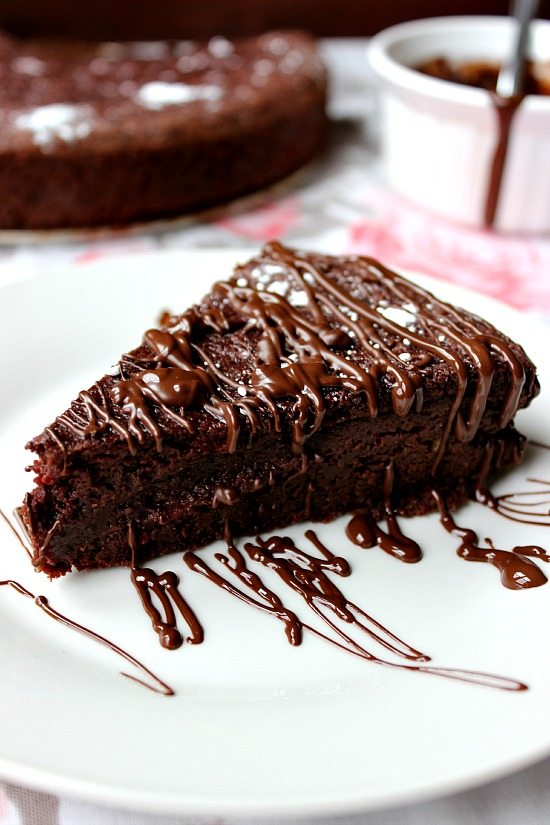 Are you drooling yet?
Resources for Chocolate Beet Cake
To make this dairy free, besides the options I've included, you'll need to use dairy free chocolate chips, this is my favorite brand. These are the only SOY FREE chocolate chips I've been able to find and they taste just as good as the other brands without the GMO's –> Enjoy Life Semi-Sweet Chocolate Chips, Gluten, Dairy, nut & Soy Free
A springform pan, seriously, you're not a real baker until you have a springform pan because that is how you make this cake and all other cheesecakes… which means you need to invite me over for dessert! I share my recipe, you share your cheesecake made in this–> Baker's Secret Springform Pan
Coconut oil is the best thing that's happened to my kitchen since I don't know when. It's good for me, and it doubles as a lip balm, eye cream, and all around moisturizer–> Organic Coconut Oil
More Gluten Free Recipes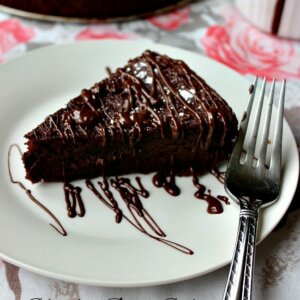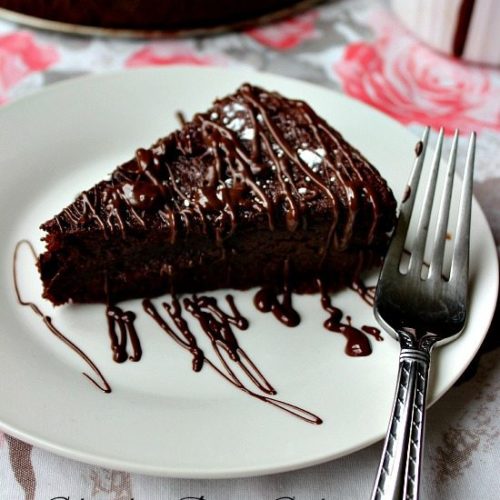 Chocolate Beet Cake (Gluten & Dairy Free Options)
Ingredients
9

ounces

or 1 cup plus a few tablespoons of semi-sweet chocolate chips

1/2

cup

organic butter or coconut butter for dairy free

1/2

cup

melted coconut oil

6

farm fresh eggs

separated

3/4

cup

sugar

I use organic evaporated cane juice or coconut sugar

1

cup

pureed fresh beets

one medium steamed beet

1/4

cup

coconut flour

1/2

cup

almond flour or rice flour

If you're not gluten free, you could use 3/4 cup spelt, whole wheat pastry, or all purpose flour

2

Tablespoons

powdered sugar

Glaze

1/4

cup

semi-sweet chocolate chips

1

teaspoon

coconut oil
Instructions
Preheat oven to 350 degrees.

Set up a double broiler (preferable to the microwave) to melt your chocolate, butter, and coconut oil in. Bring water just to a low boil and then set your bowl of ingredients on top. Once chocolate turns shiny stir and remove from heat. Return to heat and stir until melted. If heated too quickly, chocolate can seize, so I take mine off about two times and return it only if needed. Set aside and let cool to room temperature.

Whisk together egg yolks (set whites aside in a mixer bowl) and granulated sugar until well blended. Add cooled chocolate to bowl and whisk. Stir in beets and flour.

With an electric mixer beat egg whites with powdered sugar until soft peaks form. Fold this into the chocolate mixture, careful not to over mix, just until combined.

Pour this into a spring form pan.

Bake 40 minutes. Remove from oven. The center will still look raw, don't worry, take it out. It will set up as it cools. Cool on a wire rack and then chill in the fridge.

For the glaze, use a double broiler or the microwave to melt the chocolate with the coconut oil. Drizzle over cake or eat by the spoonful, whichever you like.