The smallest amount of light can penetrate the heaviest dark. When the power goes out, there is nothing more reassuring than having a light source.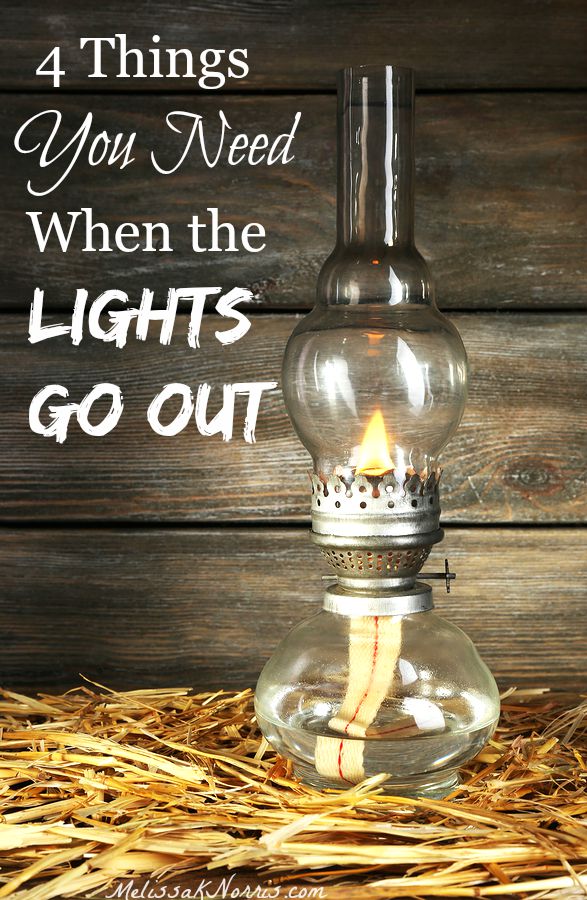 It's funny, we humans have lived for centuries without power, but in just a little over a hundred years, most Americans shudder at the inconvenience of going without electricity for a few hours and get quite put out if it's over a day. Now, I'm not saying I don't enjoy my electricity. I certainly do. When we were without power for almost 2 weeks, I cheered when it finally came back on. Like full on jumped up and down and may have went through and flipped a few light switches on and off like a kid to make sure it was really back on.
Life is easier with electricity for most of us, unless you've converted your home to complete off-grid or some sort of solar or wind generated energy. This is something we've look at, but haven't made the plunge just yet.
Because we do experience power outages, and because we're extremely rural with no businesses for miles around, we are last priority to the power company when there are large storms. We've learned to always be prepared for an outage.
Heat is the first thing you'll want during a power outage. We have our trusty wood stove as our main heat source and always have seasoned and dry wood stacked in the woodshed. For us, heat is not a concern.
For those who rely completely on electric heat, I'd encourage you to look into another heat source if at all possible. We'll go into other options in another post.
Second thing to the lights going out is finding away to provide yourself with light. If you can't see, you're not going to be able to get your food out, see how to cook, find your warmer clothes, or walk without stubbing your toe (yeah, done that one).
4 Things You Need When the Light's Go Out
1. For a quick solution, we love these little head lamps. We have one in our children's bedrooms just in case. My husband and I both use it when going out to the wood pile in the dark and feeding the animals in the winter when we get home from work after dark. They allow you to work hands free, which is golden. They're under ten dollars and a great tool.
2. A great solar option are these LuminAid lanterns. They're small and will stay lit off of one charge for 16 hours. They provide a decent amount of light and don't require batteries, just access to daylight to recharge. They're also water proof, so you can use them outdoors in the wet or if they're dropped in a puddle, you're good to go.
In the evening when the whole family is gathered in the kitchen or living room, you're going to want something that will provide a decent amount of light. I've found nighttime is the hardest without power as we're not as accustomed to rising and going to bed with the sun (most of society, that is). Though if you're without power for long, you'll begin to find yourself adjusting to that rhythm more readily.
3. Like a true pioneer of old, an oil lamp is your best bet. They give off a lot of light and can be adjusted by turning the wick for more or less light. My father grew up with kerosene lanterns and they always make me feel a bit nostalgic. I purchased this glass oil lamp to have when the power went out and it stays on the kitchen counter for emergencies and part of our decor.
Note: With any of your preparedness items, take them and know how to use them before it's an emergency.
A few things to remember is keep it on a stable place when lit where it can't be jostled or knocked over. Our kitchen goes into our living room and I usually leave it on the counter. Remember, the glass chimney will become hot, so be careful when moving it. If a wick is kept too long it will smoke more.
Obviously, you need oil in order to burn your lamp. Make sure you have at least a back up bottle or two. We purchased and have been burning this brand of oil in ours. We didn't notice any odor or smoke when using it in our living room and kitchen.
For over all efficiency, the oil lamp is my number one pick when the power is out. I can sew by it, read a book, the kids can color or play a game, and we aren't having to each hold a small light or get close to a candle flame.
4. The only thing more old-fashioned than a kerosene or oil lamp are candles. Candles will help light a room, but unless you have a lot of them, I don't recommend them as your main light source. But we will light a candle in bathroom of for light in another room of the house for short periods of time. Candle wicks should be kept trimmed short to avoid smoking. And I hate to state the obvious, but don't leave any kind of flame, be it a candle or lantern, burning unattended.
For us pioneer and homestead folks, you're going to love these candles. They're made form beeswax and lard and I have a full on DIY candle making tutorial so you can make your own to have on hand for preparedness. I kind of think they'd make an awesome gift as well.
Do you have any other tips or suggestions to add for lighting when the power is out?