Some of the links below are affiliate links, which means I will earn a commission at no additional cost to you, if you click through and make a purchase. Regardless, I only link to products we use on our homestead or believe in.
A Borscht recipe is something every home should have, regardless if you're Ukrainian or not. This traditional Ukrainian borscht combines the earthiness of beets with the freshness of dill and other vegetables. A hearty, healthy and frugal way to use up your garden vegetables and stretch your food budget while filling your family's bellies this fall!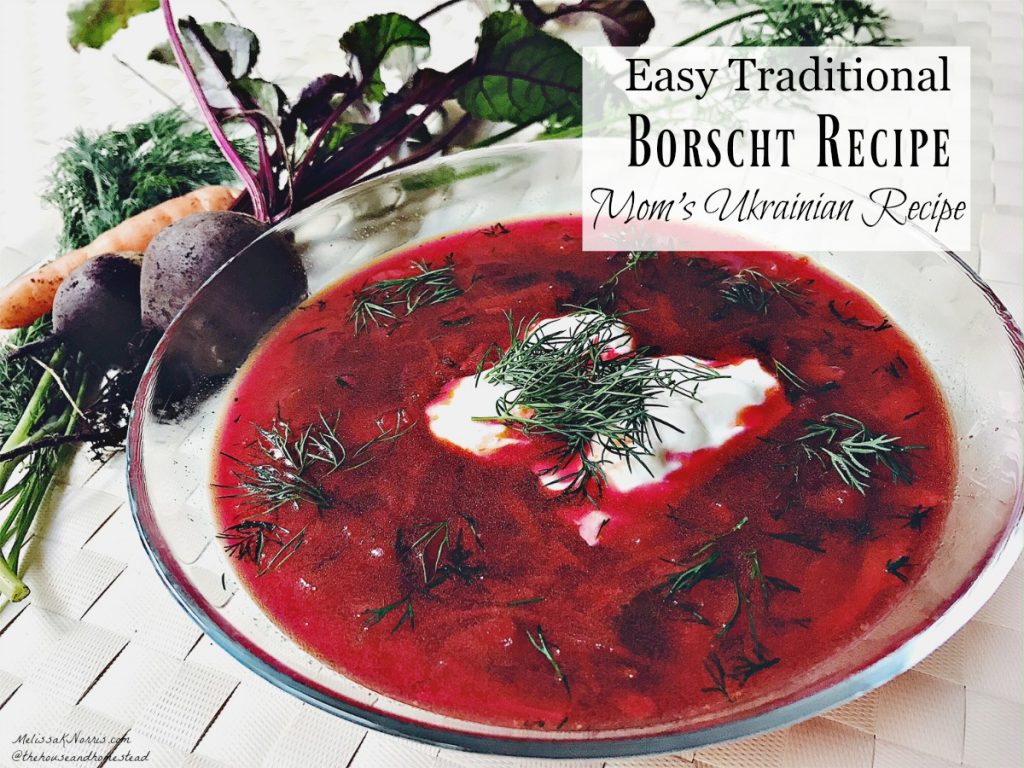 This post and recipe is from Anna from The House and Homestead, "I come from good Ukrainian stock. I know this because my mother never lets me forget it. I'm reminded at every family gathering, at every communal meal and pretty much every other chance my mother gets to tell me (or anyone else).
"We are Ukrainian. We come from good stock. We eat well, and we feed people. It's what we do."
I can't tell you how many times I've heard this or some version of this in my family.
Perhaps it was this not-so-subliminal messaging that drove me to pursue a homesteading lifestyle. Regardless, there is some truth to these words. We have always eaten well, even on a tight budget, and we love to make sure others are fed well when they are in our company.
Is Borscht originally from Ukraine or from Russia?
Believe it or not, this is a common question. There are a few staple Eastern European dishes that my proud Ukrainian family has come to be known for. My aunt's handmade perogies and my mother's cabbage rolls always make an appearance at holiday dinners in our family alongside bowls of sauerkraut, fermented pickles, pickled beets, kielbasa (sausages), fried onions and a heaping helping of sour cream.
About the debate of whether Borscht is Ukrainian or Russian, it's believed to originate from the Ukraine, however, Russia now has its own similar version of this traditional dish.
Is Borscht Healthy?
One of my favorite things about Borscht is the deep ruby color that comes from the cabbage and beets! I also love that it's incredibly healthy and packed with protein (from the broth and optional meat), iron (from the beets), vitamin C, potassium and vitamin B6 (from the carrots) plus fiber and vitamin K & C (from the cabbage).
I always feel great about serving this Borscht recipe to my family.
Frugal comfort food for the body and soul
Because we come from a lineage of Ukrainian peasants who had to survive harsh Eastern European winters with nothing more than the few staple food items they had on hand (wheat, potatoes, cabbage and beets mostly), our traditional foods tend to feature these ingredients over and over again in various ways.
One such dish that needs no special occasion to grace the dinner tables in our family is borscht.
What does Borscht mean?
Borscht definition: a beet-based soup that can be combined with whatever else you've got growing in your garden to create a hearty, healthy meal that also stretches your food budget and weekly meals just a little bit further.
In the late summer and fall, there is almost always a pot of borscht simmering away on my mother's stovetop as she makes use of the beets, carrots, potatoes and fresh dill weed that need harvesting from her garden. If it's green bean season, she'll throw some chopped green beans in the soup as well. If not, she'll make do with whatever ingredients she has on hand (this also makes it a great "clean out the fridge" recipe).
Vegetarian Borscht recipe option
Traditionally there are a few different ways to make borscht. One way is to make it with sausage or shredded meat, but of course, not everyone had access to meat in the "old country," so borscht can be (and has often been) made vegetarian.
My mother has always made vegetarian borscht, but the beauty of this (or any other) soup is that you can pretty much throw in whatever you have on hand to make use of fresh ingredients and make your meals really stretch. As long as you've got beets, you can make some version of this hearty and beautiful fuchsia pink soup that smells and tastes like a comforting hug from a Ukrainian baba (aka, grandmother).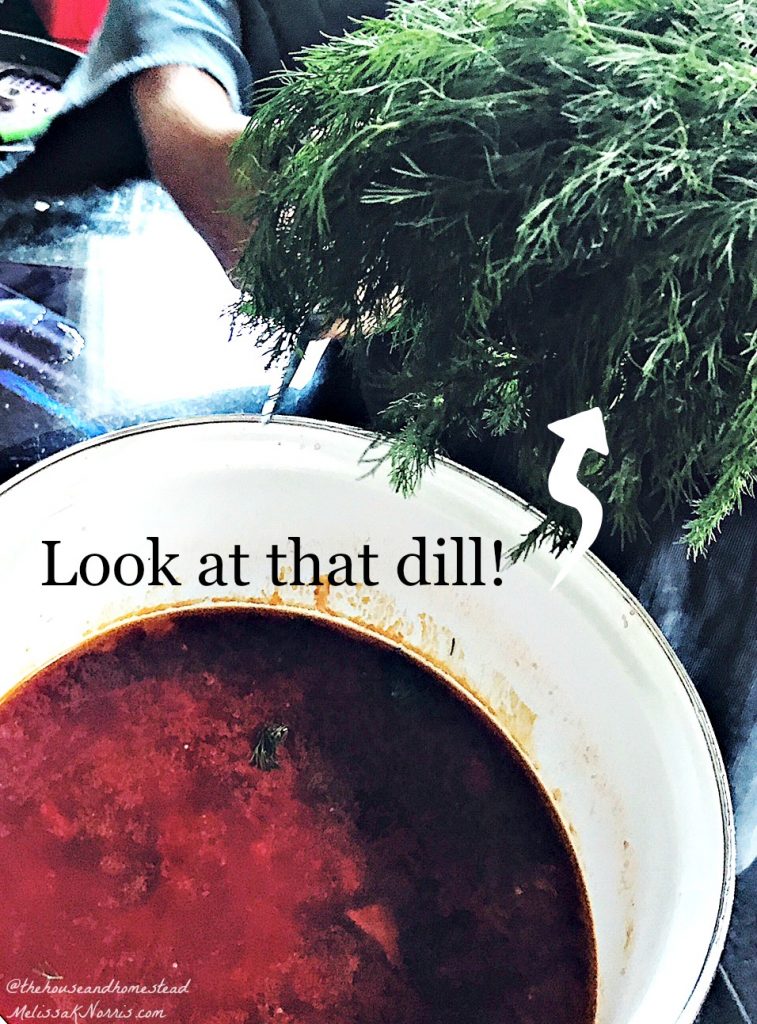 How to Make Borscht
My mother's basic borscht recipe begins with a base of chopped onions, cabbage and celery sautéed in butter, fresh-pressed (or grated) garlic, a can of diced tomatoes and a few cups of chicken broth (or beef broth, or even water with a little chicken or beef bouillon added for flavour). To make this a vegetarian borscht recipe, use vegetable broth.
Then she adds some grated carrots, diced potatoes and fresh beets that are first peeled and then diced and grated and added to the broth, giving it a rich earthy flavour and bright pink colour.
Once all the ingredients have been thrown into the pot, they are left to simmer until they have softened just enough and all of the flavours are well-combined. Then she adds a little salt and black pepper to taste. Just before serving, she adds some chopped fresh dill weed.
When ready to serve, the borscht is ladled into a soup bowl and topped with a large dollop of sour cream.
Variations to this Borscht Recipe
You can change up this traditional borscht recipe by adding or substituting fresh diced tomatoes (instead of canned), green beans, peas, beet greens and shredded pork or sausage.
I like my borscht with a side of fresh bread and butter, which I love to dip in the broth. This is one case where I prefer the dense rye bread that Eastern Europeans are known for. Rye bread tends to soak up the broth better without making the bread go mushy. The deep, hearty flavour of the rye bread also compliments the complex earthiness of the beets in borscht.
But a true Ukrainian will make use of whatever bread she has on hand. Waste not want not is a rule of thumb when it comes to Ukrainian food.
The best thing about Borscht
To me, the best thing about borscht is that you can make a few simple garden ingredients go a long way. A few beets, a couple of carrots, an onion, a couple cloves of garlic, a can of tomatoes and a potato or two can be turned into enough soup to fill the bellies of a family of five, and you might still have some leftover.
Can you freeze Borscht?
Borscht also freezes exceptionally well and would make a good candidate for pressure canning too. And it's a great way to use up all sorts of late summer and fall vegetables out of your garden that you might not think to combine otherwise (like tomatoes, carrots, beets and dill).
To freeze, allow your soup to cool and store it in a glass mason jar. Be sure to leave an inch or two for expansion.
When you're ready, simply defrost borscht in the refrigerator and heat in a pot.
All in all, if you're looking for a frugal meal that is also healthy and hearty, and can be made entirely from ingredients out of your own home garden, I can't think of anything better than this easy borscht recipe to warm the body and soul. And I should know, I am Ukrainian after all.
More Articles You May Enjoy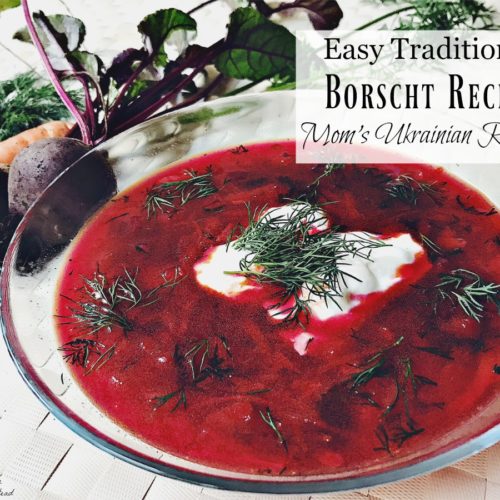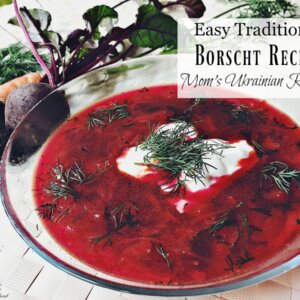 Traditional Ukrainian Borscht Recipe
This traditional Ukrainian borscht combines the earthiness of beets with the freshness of dill and other vegetables. A hearty, healthy and frugal way to use up your garden vegetables and stretch your food budget while filling your family's bellies this fall!
Ingredients
1

cup

of diced celery

1

cup

diced onions

1

cup

of chopped cabbage

2

cloves

of garlic

grated or pressed

1

tbsp

of butter

for sautéing onions and celery

8

cups

water

beef broth or chicken broth

1

can diced tomatoes

home or commercially canned

2

or 3 medium to large sized peeled beets

half grated and half diced

1

or 2 medium carrots

grated

1

medium potato

diced

1/2

cup

of fresh dill weed

Salt and pepper to taste

Optional ingredients: Bay leaf

green beans, peas, beet greens and shredded pork or pork sausage
Instructions
Sauté the onions, celery and cabbage with the butter until soft and translucent.

Add the can of diced tomatoes and the garlic, as well as all of the water or broth.

Bring to a boil over medium high heat, then reduce to medium heat and let simmer.

Peel the beets, carrots and potato.

Dice half the beets and grate the other half.

Grate all the carrots.

Dice the potato.

Add the beets, carrots and potato to the broth. If you would like to add any other optional vegetables (ie. beans, peas, beet greens, etc.) do so now.

Allow soup to simmer on medium until diced beets and potatoes are soft (test them with a fork or by biting into them!), about 15 minutes. Remove soup from heat.

Stir in chopped fresh dill weed and salt and black pepper.

Serve hot with a dollop of sour cream and a slice of bread and butter (rye bread is best!)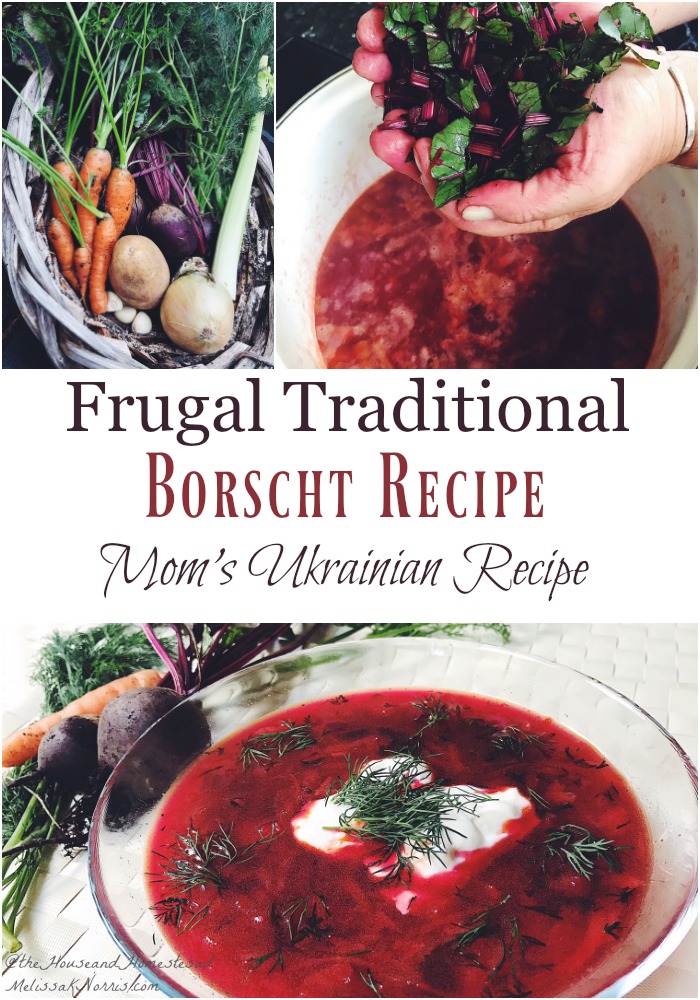 There you have it, a traditional Borscht recipe.
Have you ever had Borscht before?