Sit down with Joel Salatin and me as we discuss methods for increasing the profits from your homestead, different methods for earning a living from your homestead, and ways to increase production (even on a small homestead).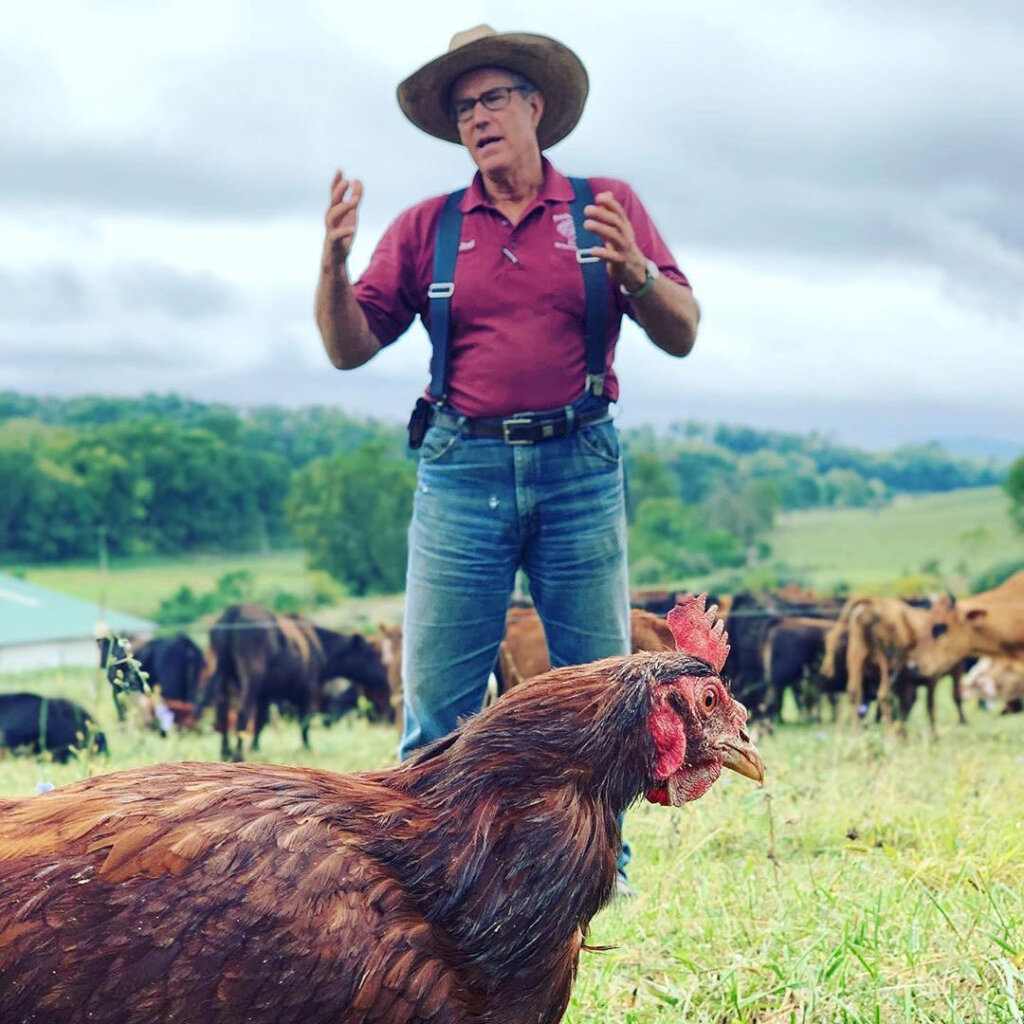 I've talked a lot about whether homesteading saves you money, or how to homestead, make money and do everything else, and I've also talked about how to use your homestead skills to save money (especially during the holidays), plus ways to earn cash from your farm.
In this post, we're talking about maximizing your homestead not only for production but for profit. Here is another podcast with Joel where we are talking about mRNA in livestock.

This may just mean you're increasing what you're providing for your family, but it could also mean, if you'd like to earn a profit from your homestead, learning different methods for earning money from what you're already doing.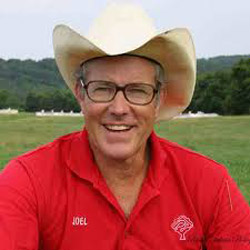 In today's episode of the Pioneering Today Podcast (episode #308), I'm sitting down with Joel Salatin who has helped our family come up with a game plan to expand our food production and get us to where we can not only improve our own farming practices but to also provide food to our local community.
Joel is the grandfather of the modern homesteading movement, especially in regards to regenerative agriculture and spreading the word even beyond the homesteading community for this way of living.
Joel's motto is "fill it up". Meaning, you're not ready for more until you've filled up the existing space that you have.
How to Increase Profit on the Homestead
Before thinking you need more acreage (which is exactly where my husband and I were before we went to the Homesteader's of America Conference last month) start brainstorming what you can do to stack additional enterprises upon what you're currently doing.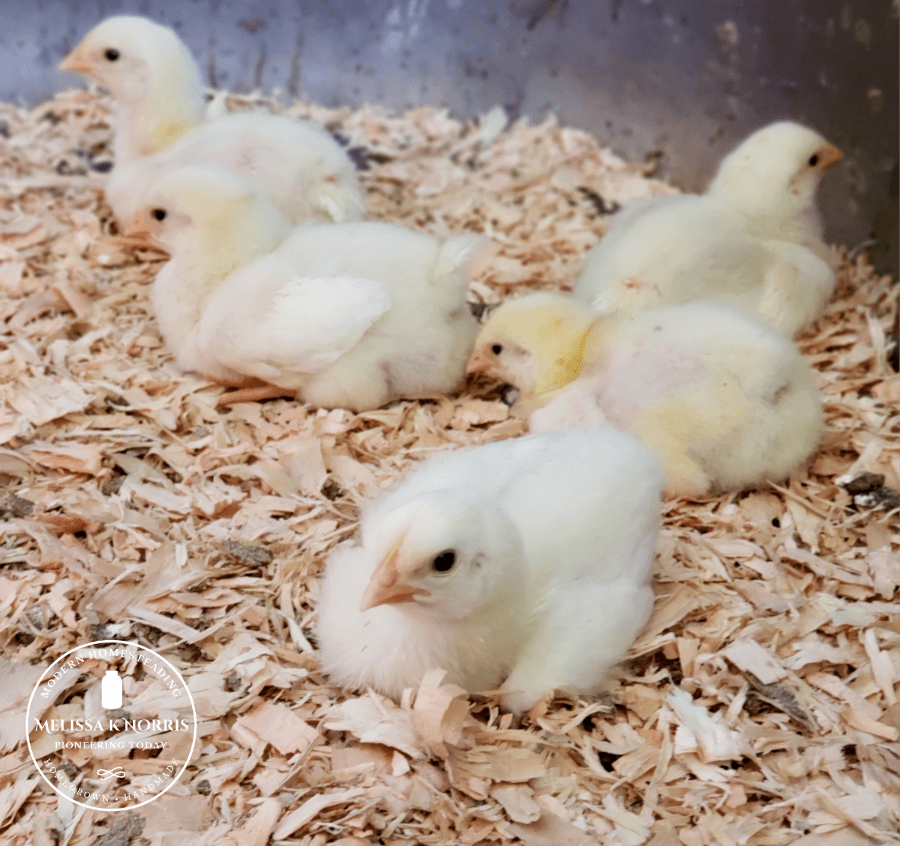 Add More Livestock
Joel shared with us that we could, using permaculture practices, raise 3,000 broiler chickens (worth $15-$20 each) on our 6 acres while renewing our land and gross about $45,000.
I'm not sure we're quite ready for this type of infrastructure, but if this is where you are, it's definitely worth considering!
If raising and selling chickens isn't of interest, there are always turkeys, you could fit about 500-1,000 laying hens on 6 acres, you can start keeping honey bees, or even turn that pasture land into more garden space (which we did by adding an additional garden space that you can see in this video!).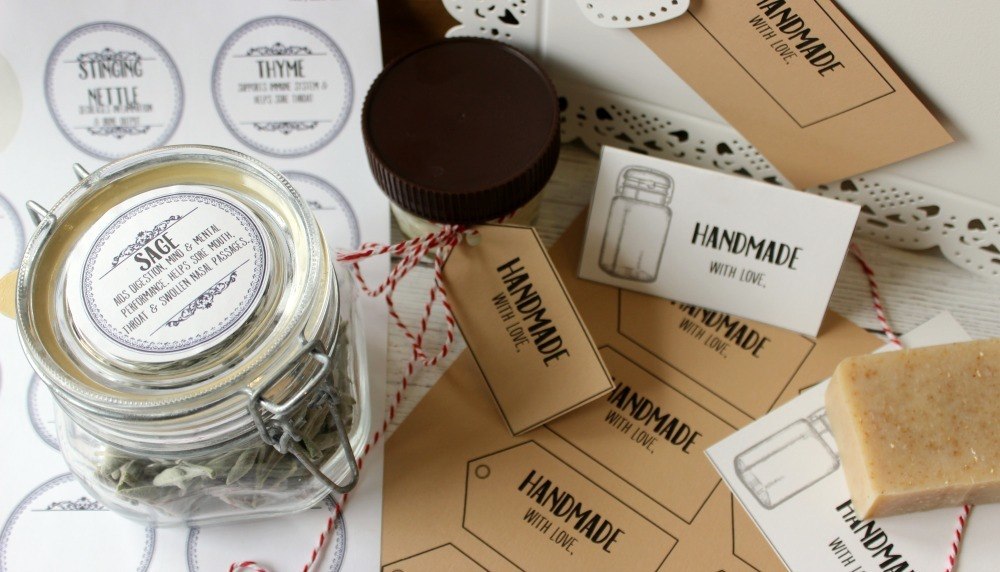 Make a Sellable Product
Furthermore, Joel talks about taking the food or livestock you're growing/raising and turning it into a sellable product.
So raising chickens and growing cucumbers could turn into selling chicken pot pies and pickles. Now we're turning what we're growing/raising into food that we're selling.
If learning how to sell a homestead product on social media without a website, email list, or fancy sales page is something you're interested in, I'm doing a FREE training series with Anne of All Trades, 3 Days to Sales: How to Effectively Sell Your Product On Social Media, snag your seat!
Farm Tours
Another idea that Joel shared was to open up your homestead for farm tours, inviting people onto your property to see how you're raising and growing your food. The day could turn into an evening where you serve them a home-cooked farm-style meal and have a bluegrass band playing music.
All of a sudden, you're charging people $50-$100 for a full-day experience, which in turn could earn you $5000 or more for one day.
We're considering doing this next spring (2022) so if you'd be interested in coming to our homestead for not only a tour, but hands on classes, let me know!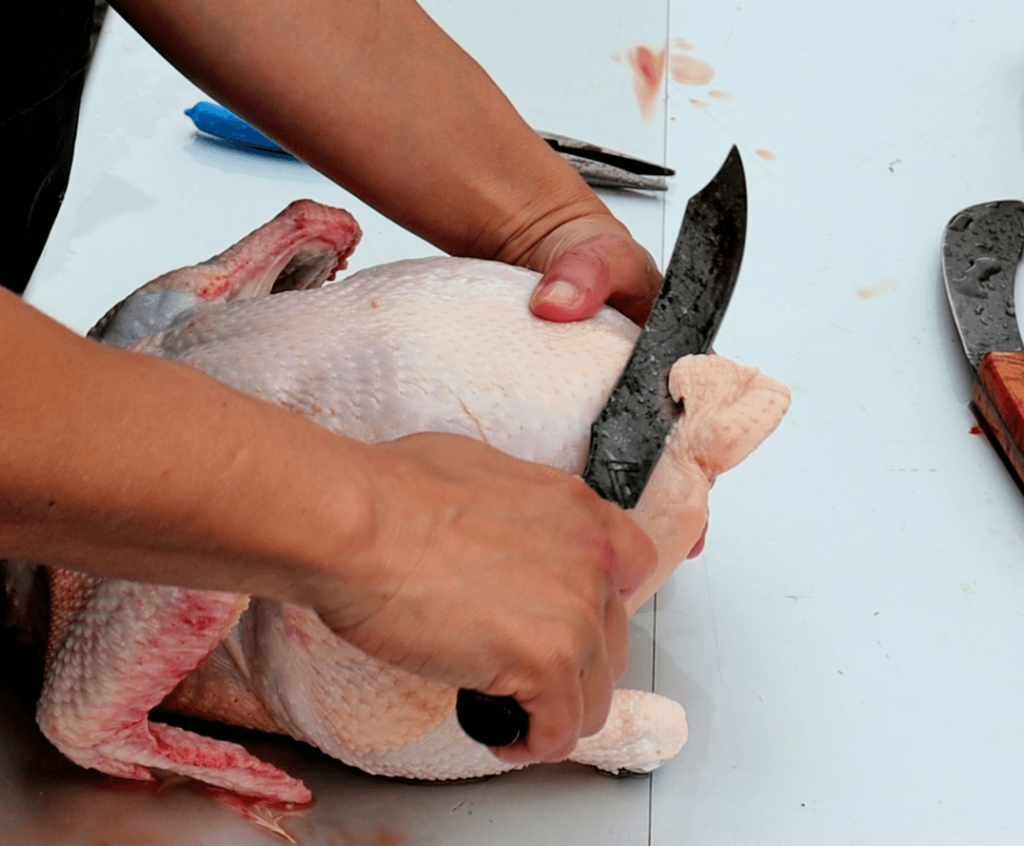 Learning/Teaching Experiences
One idea I've had is to host a chicken butchering day where people can come and learn how to butcher their own chickens. There would be a fee for the class, but at the end of the class, they'd be able to take home their chicken for free.
Certainly, this type of learning experience isn't limited to meat birds, you could teach all sorts of homesteading skills from how to raise meat chickens, how to raise backyard egg-laying hens, how to raise pigs, how to raise grass-fed beef, etc.
Licensing & Permits
Before you jump into producing goods on your land for profit, it's good to know what it will take to not only process the animals, but what special licensing or permits are required.
Joel suggests looking into the Federal Exemption PL90-492 (Producer/Grower Exemption) which allows you to raise and sell up to 20,000 chickens per year without inspection.
That doesn't necessarily mean you won't get a visit from an inspector, but it means you don't have to have someone on the premises during processing. They'll usually want to stop by to make sure you're working in a clean, safe environment.
Some states are more strict than others, so it's good to know what your state requires before jumping in with both feet.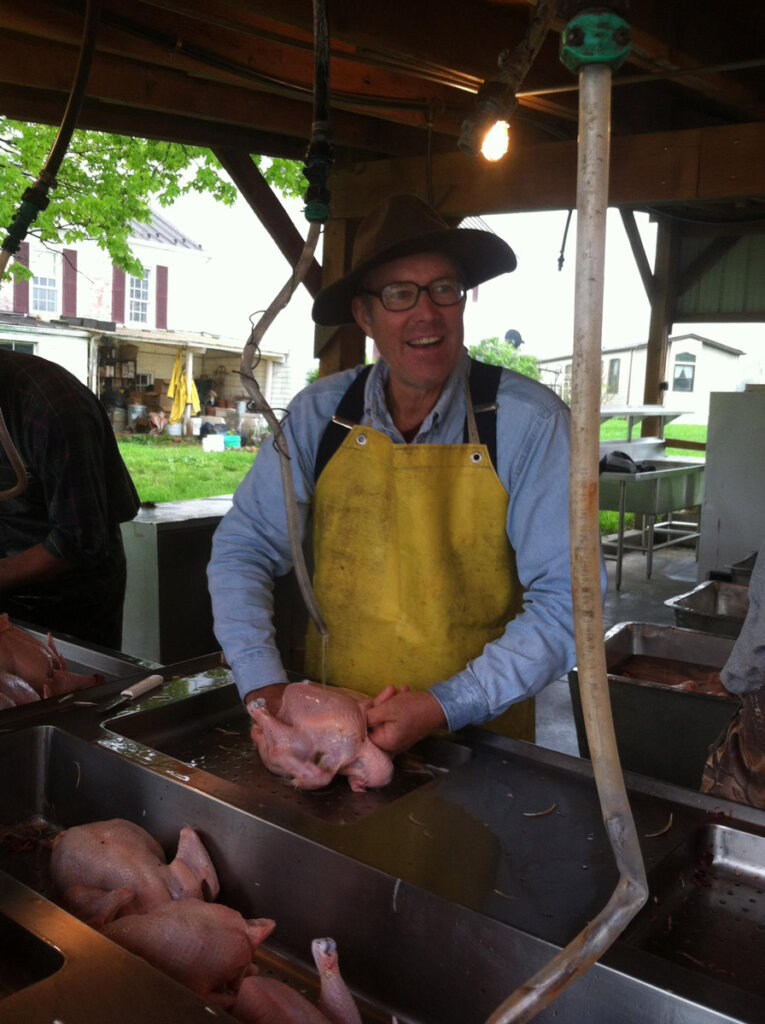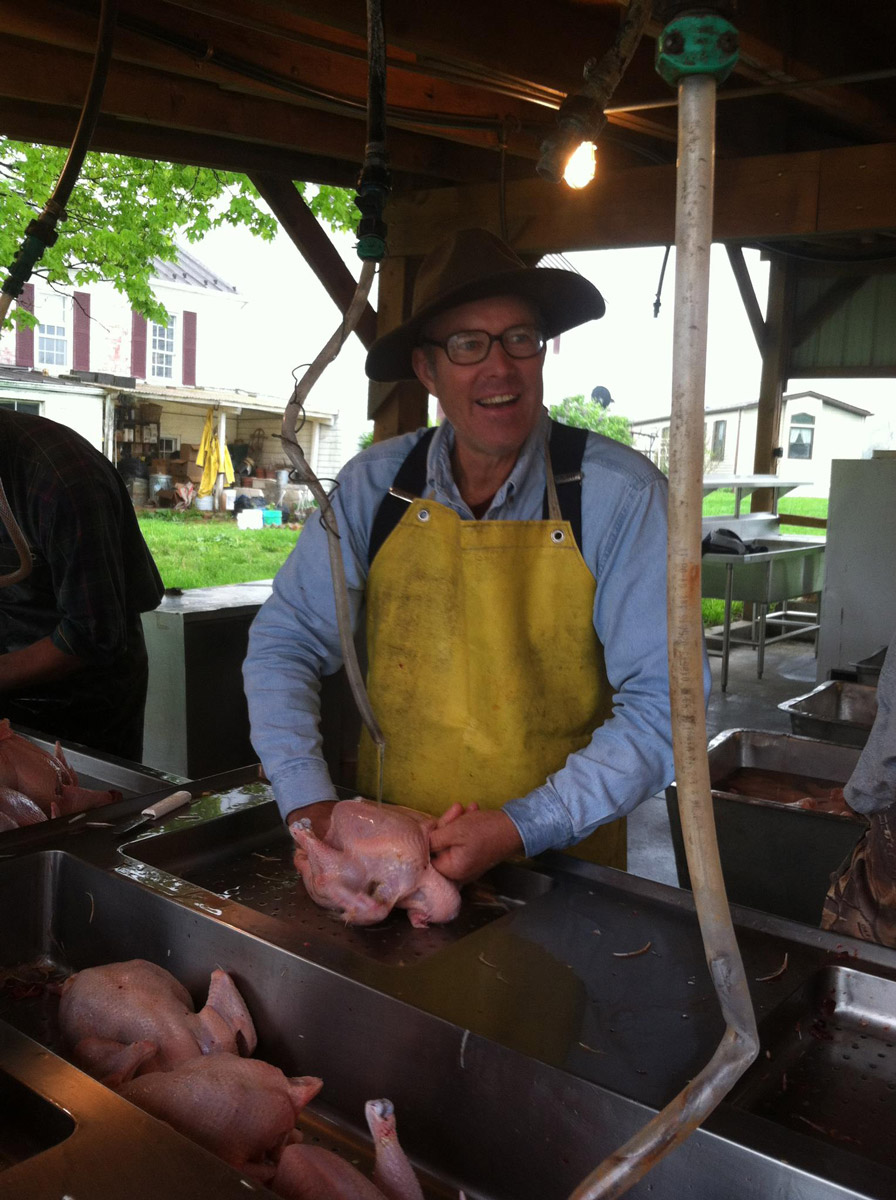 Time Commitment
Raising animals and butchering them yourself is a time commitment, one you should know about ahead of time, especially if you're working another day job as my husband and I do (this blog, my YouTube channel, and The Pioneering Today Academy are all my full-time job) and would need to find additional time for processing and selling.
For example, Joel and his wife can process 50 birds per hour. For three days every three weeks, they process 200 birds, earning roughly $3000 per day of processing. In this podcast episode, Joel lays out what a typical processing day looks like for him and his wife, but everything is wrapped up by about 4 pm (although he does start early!).
Joel says the trick to success is having good efficient equipment (like an automatic scalder and pickers) and having the skills to do it.
The weak links are always the catch to having a quick productive day. If you're inviting friends to come help butcher 200 chickens, that may slow up the processing just a bit. So decide if it's a "teaching" day or a "production" day and you'll be fine.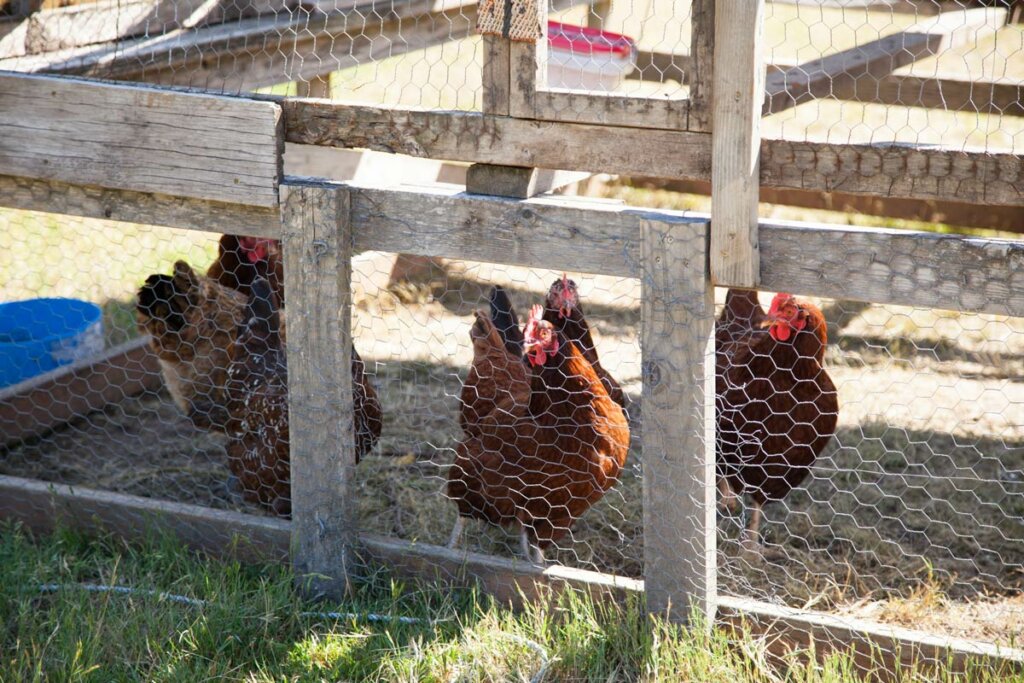 Start Small
Joel also recommends starting on a smaller scale before jumping into larger numbers as mentioned above. Don't jump right off raising 200 meat chickens expecting to raise them, butcher them, and sell them. Just start raising and selling 25 or more and sell them to friends and family, or by word of mouth.
By the time you get to a level where you'll need permits or government involvement, you'll know whether or not this is an avenue of business that you want to continue with.
Joel is also actively looking for loopholes that bypass the government. In his words, you can give your neighbor a bale of hay, but the minute you charge them money for it, you're not in compliance with the law.
I know I'm not the only one who thinks this is ridiculous because Joel does, too, and he's actively working on ways to circumvent this.
One way is through the Rogue Food Conference where Joel and a few other team members are bringing together the best circumvention ideas and practitioners in the country to share their ideas and loopholes for people to be able to transact business in their communities that circumvent the regulatory oversight.
Value Adding to Increase Profit
When Joel and his wife first started raising, butchering and selling chickens they only sold them as fresh whole birds. They didn't freeze them, or piece them out.
After so many years of clients asking them to part their chickens out (saying they'd buy more chicken if it was already cut up and they could just buy boneless, skinless chicken breast, or wings, etc.) they did so. Without adding to the number of chickens they sold per year, they actually increased their annual revenue by $20,000, basically doubling the value of those $15 chickens that were pieced out.
Joel mentioned they also don't differentiate their prices the same way grocery stores might. The prices of boneless skinless breasts to legs and thighs are much different (keep reading for Joel's pricing structure).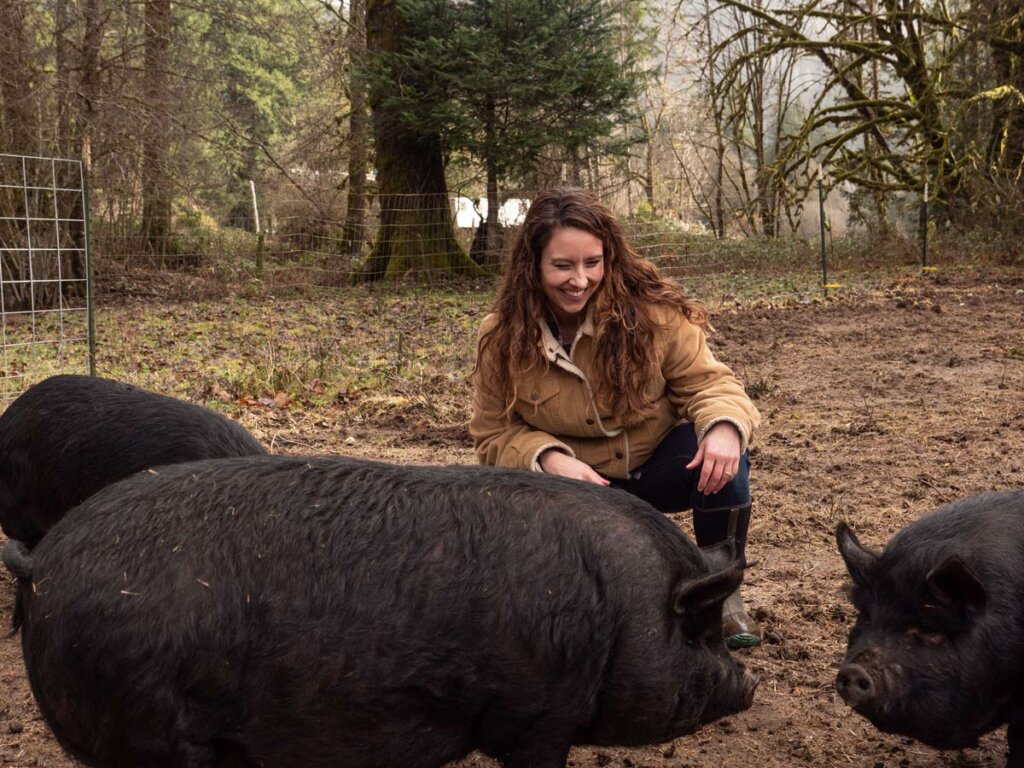 Farm-Raised vs. Store Bought
One of the things, in today's culture, is this idea that farm-raised meat (whether it's poultry, beef, pork, etc.) has a flavor profile so different than what you buy in the grocery store and the end product of correctly raised/fed farm-raised meat is much healthier. Beef raised on only grass and chickens allowed to free-range and peck for bugs taste so much better and have much better nutrition.
Therefore, the price for these should be higher than what you pay at a grocery store. Is it possible to support local farmers and stay within a budget?
If you're looking to buy high-quality meat, raised correctly, at better prices, you might need to consider buying in bulk. It's when buying in bulk that you'll start to match what you might pay in the grocery store, only the product is much better for you.
It's also important to remember that when buying in bulk the price/pound is for the entire animal. That means for beef, you'll be paying the same amount per pound for ground beef as you are for ribeye steaks. For chickens, you're paying the same amount for chicken legs as you are chicken breast. For pork, you're paying the same amount for ground pork as you are pork chops, etc. So the savings may not seem as huge on some cuts, but overall the savings are huge.
Likewise, Joel shared his pricing for chickens, because it's based on manual labor, they price out their legs/thighs at about $5/lb versus $14/lb for their boneless skinless breast. Their thought was they needed to cover the cost of the whole bird at the risk of people only wanting to buy the breast in case no one wanted to buy the bottom portion of the bird.
Again, Joel sells the whole bird for about $15, so you can see how, if you're willing to cut it up or piece it out yourself, the savings are greater.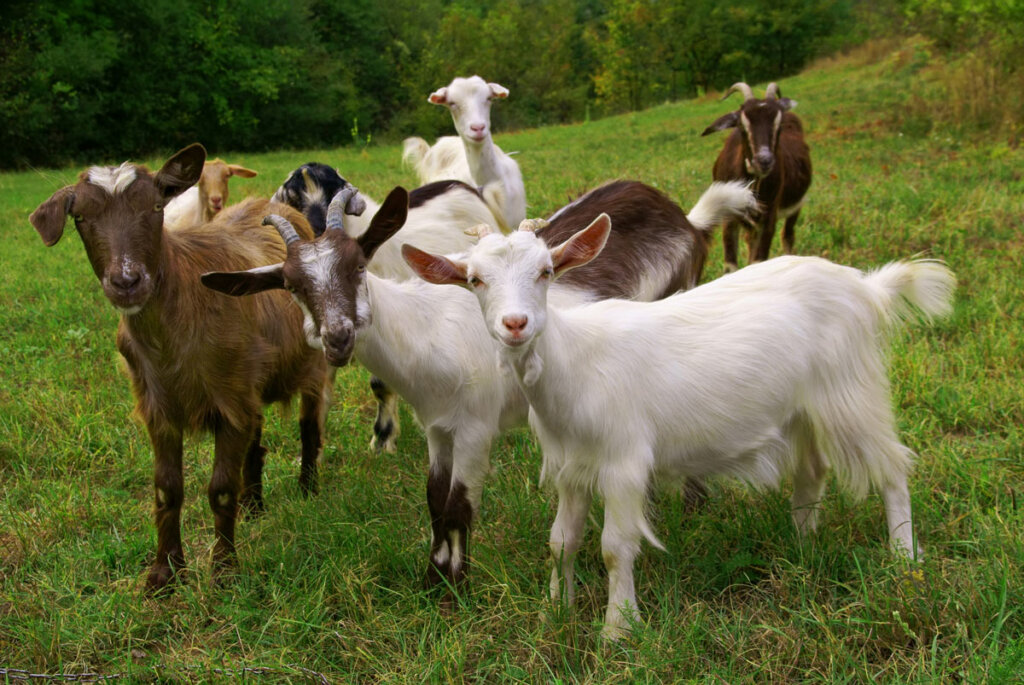 Sheep vs. Goats
I've been wondering lately about adding another animal to our farm. We currently raise cows, pigs and both meat and egg-laying chickens, but we felt like we needed something to help us maintain our land a bit better.
Joel shared the pros and cons of sheep and goats, mentioning that both will eat more thorny plants which cows don't. However, a goat is a browser, meaning it will eat 70% of its food from shoulder height and above. Whereas a sheep is a grazer and will eat 70% of its food from the ground (more like a cow).
However, goats are much harder to keep inside a fenced area. The saying goes, "if a fence won't hold water, it won't keep in a goat", so you need to consider your area, neighbors, etc. when planning on keeping goats.
Goats also don't need to be moved as often as sheep because they're not grazing the ground as much. Sheep need to be moved more frequently to avoid over-eating grass (which we'll discuss in the next part of this post) and to avoid eating where they just pooped.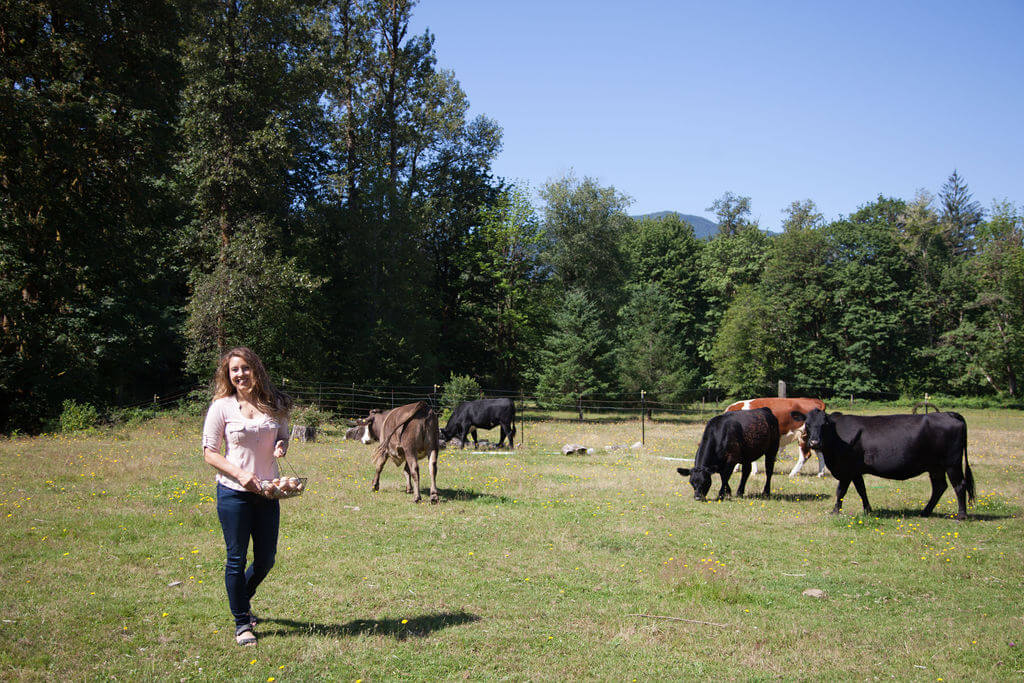 Rotating Cows for Maximum Pasture Production
"Change the management, change the vegetation." This is what Joel told me when I mentioned that I was curious if we needed to re-seed our pasture and keep the cows off it for a time in order to restore the land. His take was much more practical and makes perfect sense.
Before talking with Joel, we had our 6 head of cattle on 3 acres split into 1-acre parcels and were rotating them every 2-3 weeks. Our issue was that our grass and clover just weren't growing back fast enough for the size of our herd. They also weren't eating down all the weeds, so we'd end up with little grass and lots of weeds.
Joel's suggestion was to put the 6 cows in a spot that will feed them for one day. What this means is that they stop re-biting the new growth as it begins to come up. It also means, because they're only left to eat what's available, they'll eat down the weeds as well instead of foraging for those tiny shoots of grass.
André Voisin calls this the law of the second bite. The problem with cows eating the tiny shoots of grass is that it weakens the grass plant because it's not able to get past the baby grass stage into the juvenile adolescent stage where it grows very rapidly and can attract more sunlight to replenish nutrients.
The reason the grass and clover in our pastures have been wearing out is that they're not being allowed to rest long enough between the grazing (or as Joel likes to call it, initial pruning and the second pruning). We want the cows to naturally prune the grasses to help them restart a freshened-up vegetative production cycle.
Using this method, Joel has gotten his cattle production down to needing .9 acres per cow.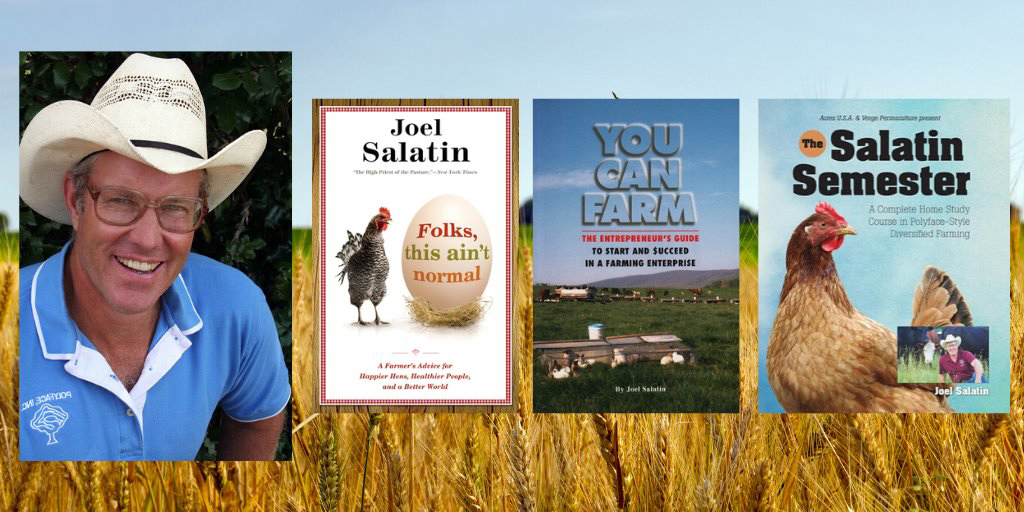 Homestead Animal Happiness
Joel has a new book coming out in August 2021 called "Homestead Animal Happiness" and it has a whole chapter explaining what we discussed in this podcast, even scaling food productions down to 2-3 acre parcels.
You can check out Joel Salatin's other books on the Polyface Farms website, and keep your eyes out for when his new book is released.
Interested in hearing from more homesteaders? Check out these interviews and other posts.
Melissa K Norris: Hey, pioneers, and welcome to episode number 308. Today we're talking about maximizing your homestead for profit and production. We're going to be talking about ways to manage your property to increase the amount of livestock and/or garden, it may not be livestock, but maybe it's produce that you're growing, and we're going to be talking about it in a way that maybe it's just increasing what you are providing for your own family. But if you are looking to make money from your homestead and sell some of the things that you are growing and/or making, you guys, this episode is gold.
Melissa K Norris: It is on my podcast episode, but the reason I am telling you that it is gold, because I learned so much from this episode, that as soon as I got done with this interview, I immediately sent the link, the unedited link to my husband, because it hadn't even been released yet. I said, "You've got to listen to this episode." He did, and I'm not kidding you, he listened to the episode and within two days, we began implementing a lot of what Joel, yes, that is who we are interviewing today.
Melissa K Norris: You probably have heard of him. You may not be as familiar with his work, but most folks in the homesteading realm have heard of Joel Salatin from Polyface Farms. He's kind of like the grandfather, so to speak, of the modern homesteading movement, especially within regenerative agriculture practices, permaculture practices with livestock, but also with really spreading the word within larger ... Without just in the homestead community, is what I'm trying to say. Joel has been kind of an evangelist, as well as a teacher for this way of living, for both you and I, who are homesteading and doing this, or wanting to do this on our properties, but also in outside of the homesteading realm, which has been really amazing.
Melissa K Norris: I have known of Joel for years. In fact, when we first started raising and butchering our own chickens, we watched YouTube videos of Joel showing how to butcher a chicken, and we would play it the night before, the morning of, and this is going to sound funny, but back when we first started, our cellphones, we didn't take them out with us, like a lot of people will do now. Because now with the cellphone that I have, back in the day when we first started raising and butchering chickens, I didn't have a cellphone I could take actually out in the field, or we probably would have had the video playing on our first time that we butchered right there, so we could go step by step.
Melissa K Norris: I've known of Joel, and also our chicken tractor is another thing that Joel really I should say pioneered and made really popular, and people are aware of, and so we modeled our moveable chicken tractor with both our meat birds and our laying hens, after Joel's teachings and all of that. But I had not actually read any of his books. I had never had the privilege of hearing him speak before, besides a podcast episode. I listened to a podcast episode that he had done. When my husband and I went to the Homesteaders of America's event, which was in Tennessee, and so if you've listened to any of my past episodes, you're familiar with that.
Melissa K Norris: But we got to hear Joel not only teach, and he was also showing a chicken butchering presentation demo, it was a hands on event, and we were so inspired by so much of what Joel was sharing, that on the flight home, we bought on Audible three of his books, so that we could listen to them, one on the flight home, because from Tennessee to Washington state was a layover. Let me tell you, we had a lot of hours that was sitting either in the airport or in the airplane. Also, we could listen to the books when my husband was at work at his day job, and I was doing stuff that we could listen to them, and then come back together in the evening and talk about what we heard, and how we wanted to apply that to what we were doing on our homestead.
Melissa K Norris: When I say Joel is a wealth of knowledge, like literally you probably are going to want to be taking notes. I was taking notes as this interview was going down. I shared the notes with my husband. I shared even some of the other notes about the profit and production, as far as a homestead business part, with some friends of mine who are members of a small group, Mastermind. I got on Boxer and I'm like, "You guys, I just got done doing this interview. Listen to this," and was sharing a lot of the points that you're going to hear here in just a moment.
Melissa K Norris: This is a phenomenal episode. I hope that you really enjoy it, as well as Joel's words of wisdom. Now, for links to any of the stuff that we are going to be talking about, you can head over to my website, Melissaknorris.com/308, just the number 308, because this is episode 308, to get resources to a lot of those links.
Melissa K Norris: Now, we do talk both about the produce side, but we also talk quite a bit about livestock as well. Speaking of livestock and having wonderful meat that is pasture raised, today's episode is sponsored by ButcherBox. Now, ButcherBox, even though we do raise a lot of our own meat, I signed up with ButcherBox, because one, they contacted me and said, "We'd like to send you some of our meat to get your opinion on how it basically goes up against your own meat, to see what you think of the quality and the difference. If you like it, then to share it with your audience."
Melissa K Norris: I did, and so they sent me a box with a bunch of stuff, and we have been going through it. We've done their grass fed hamburger. We actually did the New York steaks this past weekend, and we're very happy with them. I always say that if you can raise it yourself, that's always the best, but we have layers in life. There's the top, which is always the best, and then we come down. If you can't raise it yourself or buy from a local farmer, then I think ButcherBox is an excellent option.
Melissa K Norris: I have to say that right now, at the time that you are listening to this, you could go to butcherbox.com/pioneeringtoday, for a very special deal. This is a limited time offer to new members, but right now, you can get free bacon for life. What this means is with every order that you place, if you sign up using butcherbox.com/pioneeringtoday, then you are going to get a free package of bacon, which is from Heritage Bread Pork, a package of uncured, unbelievably delicious bacon added to every single box for the life of your membership.
Melissa K Norris: Now, why is that a good deal? We raise our own pigs, so you've heard many of my episodes where I've talked about the different breeds that we've done, we have bacon, but we only have so much bacon per pig, right? You have the option, we have the option to, once we've went through the bacon that we get from our hog, to either not have bacon again until the next time that we butcher, or to search out bacon and just purchase some bacon from another source. I'm kind of, of the belief that life is too short to go without bacon, so when we exhaust our own bacon, then I will be getting my bacon from ButcherBox, but you could get a package of bacon for free by going there right now using the link, which is butcherbox.com/pioneeringtoday. Now, let's dive into this very, very incredible episode with Joel.
Melissa K Norris: Joel, thank you so much for coming on the Pioneering Today podcast. I am beyond thrilled to get to chat with you, and for our listeners to get to listen in to your wisdom as well. I know there is a plethora of things that you could talk about, but one of the things that we experienced at the Tennessee Homesteaders of America event, where we got to hear you speak, my husband and I both, is we were feeling we were at a place where we thought we really needed to have more acreage and we were not satisfied with the land that we did have for what we wanted to do with it.
Melissa K Norris: We currently raise grass fed beef cattle, and we do laying hens, and we do meat chickens, and pigs on and off. We don't at the moment have any meat chickens or pigs on the farm. We have about six acres as actual pasture, and then we have another six acres that is very heavily wooded and very brushy, and it's a little bit of a swampland. We're running six head of cattle right now, which is about obviously an acre of pastureland per animal, but it's overgrazed. It's not producing enough for that amount of cattle, so it's either we downgrade our herd, which we don't really want to, we run less cattle, or we thought we need to find more pastureland, is where we were at.
Melissa K Norris: Then we listened to you, one, talk about regenerative practices, which I would love to pick your brain on at the end, but really what struck us was when you said, "Don't be land hungry," and I'm paraphrasing slightly, "But learn to work with the land that you have." My husband and I's eyes have been opened to so much of what we could be doing with our land that we're not currently, by just switching our focus and looking at it as a way like, "Let's make this work to the best of it and our ability." I would love for you to share more on that with people, because I think a lot of people are at that point, where they think that they need more land to make it work, and we just loved all of your wisdom, so take it away.
Joel Salatin: Okay. Well, it's a great beginning here, I think, and it's good that people are feeling that, feeling some tension in their homesteads, in their small acreages, that they're looking for more. Around here, the phrase that we use is fill it up. You're not ready to move on to more until you've filled up what you have. Now, that's not always the case. I don't want to be an obnoxious cultist about this. I mean if you really like cattle and you're really good at cattle, and you want to expand the cattle, and you've only got six acres, you're going to have to find some more acreage in order to expand your cattle.
Joel Salatin: But the main thing I was trying to get at there was before you do that, before you go to more acreage, think about what you can do to fill up what you have. I mean when you start brainstorming what you can do to stack ... In permaculture style, stacking additional enterprises on an existing land base, on your six acres, you could obviously ... It wouldn't detract, in fact, it would simply add more grass to the cattle, if you for example covered the six acres with broiler chickens, for example. You could raise 3,000 broiler chickens on six acres. 3,000 broiler chickens is worth $15 to $20 a piece. You're suddenly up there in the $45,000 range of gross income, not net, but gross.
Joel Salatin: Then you could raise turkeys on that same acreage. You could raise a set of laying hens, maybe 500 to 1,000 laying hens on that acreage. That's that part, and then of course you could add honey bees. Honey bees, they don't compete with anything, they simply complement what you're already doing, and so you can do that. You can raise rabbits.
Joel Salatin: I'm obviously a heavy livestock guy, but you could also take a half acre off and do very, very intensive gardening. I mean the stuff that Ben Hartman has done with Lean Farm, or John Marten with his program there in Quebec, where they earn a full-time salary off of an acre and a half of high value produce. Singing Frogs Farm in Petaluma, California, I mean intensive production where you don't plant seeds, rather you start germination trays in say a solarium, or a hoop house situation, so that you never put seeds into the garden, you're putting plants into the garden. I mean with these little cardboard seed things that ... I forget now what the name of them is, but anyway, I mean people are actually transplanting ... You can transplant beets, you can transplant virtually anything that you would normally think you wouldn't transplant with this new, really sophisticated, intensive technology infrastructure.
Joel Salatin: My encouragement would be to think about how you can stack additional enterprises on there. Then the other thing of course is to add processing infrastructures. Rather than doing raw sales, turn everything that you produce into a higher value added product, like meat pot pies, for example, or developing an inspected kitchen. That wouldn't take but ... That's the footprint of a garage, but an inspected kitchen to take your cucumbers to pickles, and your chicken to chicken pot pie, for example, and your carrots to meat pie status, all those things. Suddenly, you're looking at a situation where you can generate $20,000, $30,000, $40,000 per acre, and suddenly the land is not your limitation. Your limitation is your own imagination. Our son Daniel says our problem is not resources, our problem is constipation of imagination. We just can't imagine all the things that we could do.
Joel Salatin: Then when you have something like that, that's so cool for people to see, then you could have farm tours, and you charge people to sit on a hay wagon and take a farm tour. Then you offer them a meal for $100 bucks a pop. Then you bring in a bluegrass band, and have an evening of entertainment, and you've suddenly generated $5,000 from an evening on the farm with a band and entertainment and homemade food. Those are all things that could be done either by you or by collaborative partners to generate additional income on your small acreage.
Melissa K Norris: Oh my goodness, Joel. That all in itself, unpacking each of those, we could talk for hours. But I love all of the examples and different things that you can give. We were looking at, I love your suggestions there, at increasing our broil chickens. We do the grass fed beef, like I said, a small herd, and the pigs, and those we sell to family and friends. Obviously, it's not a huge volume there. But we were thinking that goodness, we could do a lot more meat birds with the size of land that we have. Like you said, it's a smaller footprint, and that would also help our pastures. The pastures have been just grazed by cattle, except when we've took them over and have run small amounts of chicken over them for well over 70 years, and have nothing done to them. On one hand it's good, because there's not been commercial fertilizer, or weed killer, or anything like that, but it's very compact, it's very weedy. It's just not been cultivated. It's just had the mono crop of the livestock essentially on it, just cattle.
Melissa K Norris: We were thinking, "Okay, if we increase with the smaller livestock, which would be the chickens, that would give us something else to do. It would also really help restore the pasture, so that we could possibly run more cattle on what we do have if needed, and just make it better." But I was looking at, and I know this is getting really technical, and each state I know has different laws, etc. I started to look into that, and we would need to get licensing if we wanted to sell the meat chickens to people. Do you have anything, as you're actually digging into the licensing, and if you're looking to hire people, when you're doing that large of a volume and it's not just you and your spouse in our case? Do you have any tips for finding people to help, or about that process when you're looking to enlarge, going from just a one or a two person farm, if it's a couple?
Joel Salatin: Yeah, well let's take this apart a little piece by piece.
Melissa K Norris: Okay.
Joel Salatin: Interrupt me when I'm off the reservation here. Theresa and I did several thousand broilers, not 20,000, but we certainly did 5,000 to, I don't know, 8,000, pretty much ourselves there early on, just two of us. We had a regimen, but the two of us could process 25 birds an hour. In four hours ... I'm sorry, the two of us could process 50 birds an hour, that's 25 birds per person an hour. In two hours, we could do 100 birds, and so in a morning, we would start ... I'm just telling you what we did.
Melissa K Norris: Mm-hmm (affirmative).
Joel Salatin: I would get up, set the alarm, get up, go out and start the scalder, go back to bed while all the water got hot. Then we'd go out at 5:00, and we'd process til 7:00. I had caught those 100 birds the evening before, and we'd do 100. Then she'd come in, get the kids up, and breakfast, and all that. I'd go do chores, bring in another 100, we'd start back in at 9:00, work til 11:00, clean up by noon. Customers began arriving by 1:00, and by 4:00 all 200 birds are gone, sold, and 200 times $15 bucks a piece is $3,000. Then I'd go do chores, she'd get supper, and that was the day. We could do 200, that was a sprint, that was a long day, but we didn't do it but about three days every three weeks. We'd have two weeks off, and then we'd process three of those days in the week, and do in the neighborhood of 600 birds in that week. We would do that eight times in a season, so you're looking at 4,800, 4,000, 4,000 to 5,000 broilers just the two of us.
Joel Salatin: The trick, what I'm getting at there is the trick is A, having good, efficient equipment, automatic scalder, automatic picker, a nice table to work on, a good water source. I mean just having some good infrastructure there, and secondly skill. The weak link in this is skill. The Waterloo for everybody is skill, and how to be able to process these birds fast. We were very skilled, and so we were able to do it real fast. I think it's always more fun with a couple other people, and I encourage that. We've always encouraged folks to come and process with us and learn. I'm just giving you some numbers, so you can see what is doable, what we did, and as my mentor, Al Ignatian used to say, "If somebody has done it, it can be done." That's the way we would go forward with it. Now, that's kind of the manpower situation that you asked about.
Joel Salatin: Now you get into the licensing and all of that. My encouragement there ... What state are you in?
Melissa K Norris: I'm in Washington state.
Joel Salatin: Washington state.
Melissa K Norris: Yeah.
Joel Salatin: Washington state, yeah, different states have different strategies, but there is a federal exemption, it's called Public Law 90-492, PL 90-492, it's the producer/grower exemption. It's a federal exemption. It allows you to do 20,000, it's the producer/grower, so a producer/grower, if you're the producer or the grower, you can do up to 20,000 chickens a year without inspection. Now that doesn't mean that a bureaucrat won't come and visit, it means that no bureaucrat has to be on site while you're processing. The only thing the law says is that they have to be sanitary and unadulterated. Now that's of course very, very subjective.
Joel Salatin: Now, a state can be more restrictive. If you know my book, Everything I Want To Do Is Illegal, you'll read in there our battles with the bureaucracy over keeping our open air shed legal throughout this process. We're still doing it, still doing it open air, in the backyard. Officially, we do 20,000 a year.
Melissa K Norris: Got you.
Joel Salatin: About 30 states have just written in the 20,000. I'm sorry, about 30 states have written in 20,000. About 20 states are more restrictive, some down to the 1,000. Here's my counsel, my counsel is don't do anything at first. Nobody's going to give you a fine, nobody's going to send you to jail. There's not going to be a big deal. If you get on the wrong side of a bureaucrat on this, what they'll do is tell you, you have to quit. That's the worst that'll happen. I encourage people to just go ahead and just start. Don't ask, don't tell.
Joel Salatin: Now, don't do a bunch of advertising. Don't advertise it in the newspaper or anything like that, just do it as you've done, family, friends, one on one, QT, on the quiet, just let it be gentle. We call this guerrilla marketing, and you just let it kind of organically go at its pace, as an undercurrent, a quiet grassroots revolution in the community. We did this for, goodness, for 15 years, before we got sideways of the bureaucracy, and then of course we had to deal with that. But most people, if you just remain quiet and just don't advertise, and just let it go word of mouth and gently, you'll be able to go three or four years.
Joel Salatin: At least that's long enough to find out if you like it, is it profitable? Is it something you can do? Is it beneficial? Is it a good fit for you? By the time that you get cross ways of the bureaucracy, you'll figure that out. If it's not a good fit for you, then well it makes it easy to quit, if the bureaucracy throws too big of a hurdle in front of you. But if it is a good fit, then there's a whole list of things that you can do to either circumvent or comply, depending on which is easier. Sometimes circumvention is much easier than compliance.
Joel Salatin: For example, you can sell the chick live to a customer, and process it for free. That way you're not processing chickens, you are offering that ... That's a free service you're not getting paid for. It's the transaction of money that gets you in trouble with the bureaucracy. You can process 100,000 chickens a day in your backyard, and give them to neighbors, and it's completely legal. But the second you charge a penny, now it's quote/unquote in commerce. The government basically does not regulate things that are in charity, but they regulate things that are in commerce, and there are now numerous ways to circumvent that.
Joel Salatin: In fact, in August, we'll be hosting the Rogue Food Conference, R-O-G-U-E, Rogue Food Conference. Our moniker is, "Circumvention, not compliance." Where we bring together the best circumvention ideas and practitioners in the country to share their wisdom and their loopholes for people to be able to transact business in their communities in ways that kind of circumvent the regulatory, the draconian regulatory oversight. But there's a lot of options there, once you get to that point. But my advice is always just go ahead and start. You can get up to 500, 600, maybe even 1,000 birds, and the worst that'll happen is somebody will say, a bureaucrat will say, "You've got to stop this," and then that's when you make a decision as to how you want to proceed going forward.
Melissa K Norris: Got you. If we did where you came in, bought a farm tour, and learned how to process a chicken, and then you just got to take the chicken for free, we're not actually selling the butchered meat. Would that be kind of what you're saying?
Joel Salatin: Absolutely, absolutely. In fact, you may not know that Washington state, I think it was Washington state, the Seattle area is where the ... I don't know what the trade name was, it was like Backyard Butchery or something, but there's now a franchise for urban ... It's an urban meat processing franchise, where people come together. It's a popup backyard butchery deal, where they do pork. I don't think they do chickens or beef, but they do pork. 10, 15 people will get together and pay $200 for a day long class in butchery.
Joel Salatin: They kill the pig, they come together in somebody's backyard, kill the pig, and cool it down, and then in the afternoon they cut it up and make sausage, and all that stuff. Everybody takes their portion home, and it's a way for a farmer to be able to sell a pig direct market without any regulations whatsoever, even circumvent the entire slaughterhouse deal, and it's actually a ... I wish I could remember the name of it right now. At least several years ago, it was a growing concern and actual franchise deal that was spreading from the Seattle area into other cities around the country.
Melissa K Norris: Oh, I'll have to look that up. We're about two hours northeast of Seattle. We're much closer to the Canadian border, but that's still relatively close, so I'm sure I can do some searching around and see. That'd be very interesting to look at. My brain is going 100 miles per hour now with all of the different things that you've said here and ways that we could do that.
Melissa K Norris: Now, I do actually have one question. You were every three weeks, so you were obviously just getting chicks in at various stages, in order to butcher every three weeks. But when you guys first started, you said you would do about 200 birds would be in that day, and you would do it over about a three day period. So every three weeks, was it new customers? Was it just people that would buy enough birds to just get them through, or was it just a combination? I'm just really curious what the clientele looked like when it was at that smaller point of operation and it was direct to consumer.
Joel Salatin: Sure, sure. Well, it was all over the board. I mean we had people who would come a long distance once a year, and get 50, even 100 chickens. There weren't very many of those, but we still have those today, who come even up to 500 miles with a minivan, and take all the seats out of it, mom and dad take a weekend away, and leave the kids with grandma, and basically it's their pilgrimage to Mecca, and they fill up the freezer for the year.
Joel Salatin: But most people would come and get 10 or 15, was the normal thing. They'd eat a couple of them fresh, but the rest, put them in a freezer. Some people took them home and cut them up, and parted them out. They had breasts, and thighs, and legs, and different things. Make stock out of the backs and necks. It was the whole gamut.
Joel Salatin: Back in our early days, we didn't actually sell frozen, but we only sold fresh birds. I've been at this a long, long time, and watched the erosion, if you will, of domestic culinary skill and participation dwindle over the years. I mean when we started, you couldn't even buy boneless, skinless breasts in the supermarket. I mean if you wanted boneless, skinless breasts, you had to go get a chicken, and take a knife, and cut it out, and all that stuff. Then gradually pieces and parts started coming up in the supermarket.
Joel Salatin: Gradually we had more and more customers asking, "Well, would you do pieces and parts?" We didn't want to do it, and didn't want to do it. Finally, we just had so many people saying, "Well, I'd buy more chicken if you do that," that we decided to offer it. The first year we offered it, we sold another $20,000 worth of chicken, without raising another chicken. That's what value adding does for you.
Melissa K Norris: Wow.
Joel Salatin: We'd basically take a $15 chicken, and we'd part and piece it out in about three person minutes of labor, and double the value of that chicken.
Melissa K Norris: Wow.
Joel Salatin: Yeah, so you can ... If you start doing all parts and pieces with your 3,000 broilers at $30 bucks a piece, because you're part and piecing them out, now suddenly you're up in the $90,000 range.
Melissa K Norris: Oh my gosh, that is fascinating. I would have never guessed that you could increase the profit just by doing some of that manual labor and selling it by the piece, rather than the whole. That is fascinating for both a business aspect, but also you're right. I'm not excluding myself from that, because there are times when it is nice to pick something easy, and someone else has done part of the work for you. But that is just amazing, those numbers. Wow, I would have never guessed that.
Joel Salatin: Yeah. Now Melissa, to be sure, to be sure, we don't charge ... Our differential in price between, for example, boneless, skinless breast or chicken tenders, versus wings, which we're now in short supply of, but versus wings, or legs, or thighs. Our price differential is way, way different than it is in the supermarket, because we're using all hand labor. We consider this a luxury convenience. In the greater supermarket marketplace, the boneless, skinless breast is considered kind of a staple. While our legs and thighs ... I'm looking for a price list right here. Our legs and thighs might be $5 bucks a pound. The boneless, skinless breast is $14 a pound.
Joel Salatin: That's a much wider separation than you'll see in the supermarket, but what we wanted to do on this, we were paranoid ... Our biggest fear, when we started this, was we'd get left with a bunch of the bottom end of the bird. What we wanted to do, we wanted to make the boneless, skinless breast, we wanted to get our value back on the entire chicken, that we could actually throw the whole chicken away, the rest of it away, if all we sold was the breast, that way we covered our risk and made it better. You know what? That price differential for us has helped keep equilibrium in that inventory, so we aren't throwing away the bottom end of the bird.
Melissa K Norris: Oh yeah, that makes a lot of sense. Honestly, I know too, with pasture raised, and we have modeled the way that we raise our meat birds, even just for our own personal consumption, from you. I know you experience this too, but I experience with our meat, people want to compare the price they would get at the grocery store for slaughterhouse meat, versus this pasture raised, heritage breed, done well. But when they taste the difference, then they're like, "Oh my gosh," they get it, because there is no comparison. The texture, the flavor, I mean let alone the humanity of it for that animal.
Melissa K Norris: If someone's listening and if you've never had true pasture raised poultry and chicken, you don't even know what you are missing until you've tried it, and then you're like, "Oh yeah, it's worth every penny, because it is so much more flavorful, and better for you," and obviously better for the environment, and the animals involved. But just on a flavor, just on the eating part, so different.
Joel Salatin: One other little item I would like to add to that, when you start talking about price pointing, which we could do a whole podcast just on price pointing, and the messaging around artisanal prices, and the art of setting price points, and prejudicial price points, what can people stand, what can they not, that sort of thing. But we just point out to our people all the time, to realize that our chicken, if you buy a whole chicken, it's cheaper per pound than boneless, skinless breasts at Walmart. That chicken will give you several meals, not just one from that boneless, skinless breast. Nutrition, taste, all those things aside, just from a price pointing standpoint, our whole chicken price is roughly the same as boneless, skinless breasts from Tyson at Walmart. That's an important selling point that we make in price point.
Melissa K Norris: Oh man, yeah. Amen. Yeah, I feel like that's, not feel like it's true, it is true. Anytime I feel like you're buying the whole thing, or even if it's a half of beef or a quarter of beef, because you're paying the same price per pound for all of the cuts, and you don't get that when you go to a store, Walmart, Costco, whatever it is you go to. Yeah, thank you for pointing that out, because it's very true as well.
Melissa K Norris: Joel, I have to ask you, I know time is precious here, so we're looking at wanting to do more regenerative practices on our existing pasture that we do have, and chickens are going to be a part of that. But one of the things for our brushy areas, so we have a lot of blackberries, just invasive blackberries, which were actually brought here. A lot of people think they're native, they're not, they were brought here in the 1800s, and that's why they're so invasive. But we also have predominantly in our forests here, we've got cottonwoods, alders, and maples, and then our evergreens are cedar, fir, and hemlock for the most part. Then we'll have some vine maples in the underbrush, salmon berries, etc.
Melissa K Norris: For our forested area, because we don't want to take away all of the forest, and turn that all into pasture, but we would like to get more use out of that land. We are looking at considering either sheep and/or goats. I have no experience with either of those, from a livestock, or as a dairy animal. All of our experience lies in chickens, cattle, and pigs. Do you have any advice as to when you're looking at bringing on either of those parts of livestock, as to things to consider when you're choosing between them?
Joel Salatin: Yeah, I do actually. First of all, I would say that ... I mean you've got to remember that sheep and goats are very different. They both have a much broader palatability index than a cow. In other words, they'll eat more thorny, and briary, and different things than a cow. The main difference between a goat and a sheep, a goat is a grazer, like a cow. I'm sorry, a goat is a browser and wants to eat 70% of its intake above its shoulders, whereas a sheep is a grazer, like a cow, and wants to eat 70% below its shoulder.
Joel Salatin: If you're trying to clear out brambles and brush, and things like that, there's no better tool to do it than a goat. Just remember that a goat is a lot more difficult to keep in. The old saying, "If the fence won't hold water, it won't hold a goat," and so a goat's difficult to get in. But here's the silver lining, everything has a silver lining. The silver lining of a goat is that because they eat above their shoulders predominantly, you don't have to move them as frequently as you would a sheep or a cow, to keep them from grazing over their own defecation. The reason you have to move a sheep and a cow so frequently, I mean we move them daily, there are a lot of reasons for that, but one reason is because they're grazing over their own excrement. Whereas a goat, because they're browsing, they're not down, they're nibbling and running their lips across where they just pooped yesterday. While the fencing requirement is more on a goat, you can leave a goat in a place, goodness, a week, and move them weekly, and be fine.
Joel Salatin: Now, the other thing to remember, as you think about this, is that the recovery period on brushy, woody vegetation, the energy and recovery period, in other words it's defoliated, and then it has a recovery period where it uses its own internal energy to send out new shoots, and buds, and leaves. The recovery period is way, way longer on woody species than it is on foraged species, legumes, grasses, medics, all those, the forages.
Joel Salatin: That's why goats tend to transition a brushy, weedy place from brushy stuff to grass over time, because they gradually kill the brushy material, and aren't that aggressive at grazing the grass, so the grass tends to come up under the defoliated brush, which tends to gradually die over time, because most people don't give it enough recovery. People don't want to give it enough recovery to actually completely recover its energy cycle, so that the general trajectory is that the brushy stuff goes downhill, and descends in vibrancy in a given landscape, and the grasses, the grazing, the sheep and the cow preference, the grasses then tend to come on.
Joel Salatin: That sounds like a very nice landscape trajectory, for someone who wants to bring on forages. Here's the problem, it takes about five years for that to happen. At about the five year level is about the time you start really liking goats. You learn how to keep them in, you learn how to move them, and take care of them, all the different things you just start learning about goats. At the five year level, just when you've fallen in love with your goats, is right when they've eaten themselves out of their habitat. Then you turn them into grazers, and now they're eating over their manure. They're eating candy bar forage, when what they want is a lot of roughage and cellulitic material. Suddenly then you get prolapsed uteruses, you get mastitis, you get hoof problems, all sorts of things because we've taken this browsing animal that wants to eat more rough stuff, more fibrous, less protein, and turned it into a lush candy bar forage grazer, like a sheep or a cow. Those are just some things to keep in mind on these systems.
Joel Salatin: Depending on the acreage and your own energy level, sometimes these things are easy, in the big picture, just as easy to convert with a chainsaw, mattock. Obviously, you can run pigs in there, but the pigs won't ... They'll take brush down if you put their feeder on them. You can get pigs to mash over and kill brambles and brush, if you put their feeder or water on the spot. We've done a lot of that, where you just keep moving that feeder and water around. Each time the pigs access a given lot, you continue to move the pig infrastructure around, and create high impact zones where that infrastructure is, and you get this bramble patch one time, you get that bramble patch the next time, and before you know it, you've got nice grass, and clover, and plantain where there used to be blackberries and multi-flora roses, and the pigs have done all the work.
Joel Salatin: The pigs will not climb up something like goats. They won't climb up, push things down, but they do have a very, very broad palatability index. Don't discount what pigs can do over time, especially if you help them a little bit with the mattock, and a chainsaw from time to time, and even a machete, and just kind of come in there as a partner to the pigs, and be their partner.
Melissa K Norris: Yeah, we've had great success actually with the pigs helping clear. I think part of our problem is, is we either need to bring on more pigs, in order to get more of it cleared how we would like, and I think that's why we were kind of looking at the goats for some of those brushy areas, but maybe it is bringing in more pigs and finding more of a market for the pigs, or just enriching our customer base with the pigs, and doing that, because they did an excellent job.
Melissa K Norris: In fact, it was so funny, my husband was just out there this past weekend, we butchered the pigs in, actually it was late, we butchered them the end of January, and then reseeded that area, because they had gotten it down to the dirt, and so we reseeded it. He's like, "Man, in comparison to the rest of the pasture, I can't believe how rich the clover and the grass," everything in that area, it's just prime. It looks so good. But I think for us, it's figuring out how to be able to do that on a ... We want it on a faster scale, I guess is what I'm getting at there.
Melissa K Norris: Which does lead me to my next question that I've got for you. That is where we have the pasture, that doesn't have any brush on it, which is great, but it's where the cows have been predominantly, but it's very compact and it doesn't have a lot of clover, a lot of grass. It's just not prime, it hasn't been ... Is there a time when you would say, if you really needed to get turned over and loosened up, and you want to grow more clover, that you would just disc that up, and do it manually like that, with a tractor, and reseed it, and keep the cattle off of that for a time? Or are you always a proponent of, "No, see if you can do that with other livestock instead, and take the longer route."
Joel Salatin: All right, Melissa, I've got a question for you.
Melissa K Norris: Yeah.
Joel Salatin: Are you rotating these cows? Are they on the six acre pasture all the time? Is it divided in half? What's your management style?
Melissa K Norris: Great, yeah. It's divided in half. On the top half is where I have my laying hens, which is only a flock of nine right now, so we're moving them across, and then we're rotating the cattle about every ... Right now, in order to get it grown up enough to feed the six, as we move the herd, we're keeping them off for about two to three weeks, and then putting them back on. We have it rotated into thirds, and so every three weeks they're going from one to another. Because it's not growing fast enough, unfortunately, to feed them all, if we don't let it go that long.
Joel Salatin: Okay.
Melissa K Norris: Okay.
Joel Salatin: Here's what I'm going to suggest, this is what we do.
Melissa K Norris: Yeah.
Joel Salatin: I want you to think about this.
Melissa K Norris: Okay.
Joel Salatin: Imagine putting those six on a spot that would feed them for only one day, only one day, and you move them every day, and what happens then is that they don't re-bite the new growth. You can walk out there where they are, and you can look, get down on your hands and knees if you need to, but you can look at the new shoots. You can see the grazed grass sheath, the other sheath, and then the grass sends up a new whorl in the middle of that sheath, as it sends up its new blade. The cattle will graze that off, even when that new shoot is only an inch tall. Andre Voizine called this the Law of the Second Bite. The problem with that is that it weakens the grass plant, because the grass plant can't get beyond its slow restart, what I call diaper grass stage. It can't get into juvenile adolescent stage, where it grows very, very rapidly.
Joel Salatin: By confining them tighter to one or two days, the grass cannot regrow enough for them to eat the regrowth before the grass has produced the energy, has replaced the energy it used in sending forth that shoot. See, the plant actually uses up its carbohydrate savings account stored in the root, to send forth that new shoot. If you don't let that leaf area, the solar collector, if you don't let that solar collector get big enough, long enough, and strong enough to replace that savings account in the roots, that was expended in sending forth the shoot, you actually weaken that plant over time.
Melissa K Norris: Hmm.
Joel Salatin: What you're doing, the reason pastures wear out is because they're not being allowed to rest long enough between the initial pruning and the second pruning. Sometimes I like to use the word pruning instead of grazing. A, partly because grazing has such a negative politically incorrect connotation these days, but secondly, because pruning actually connotes a lot better what we're striving for. We're actually not trying to use up, i.e. graze, use up the forage, we are actually trying to prune it to restart a freshened up vegetative production cycle.
Joel Salatin: I can't tell you, sitting right here, I don't know what your rainfall is, I don't know what your fertility is. I can't tell you if six on six acres is too many. My sense is it probably is. But here on our farm, we're running 0.9 acres per cow equivalent, okay? We're getting 400 cow base per acre. I know that six can, in some places, six can be run on six acres, but you're going to have to really, really tighten up that grazing, where they never eat that new shoot.
Joel Salatin: What happens then is that you have, instead of three paddocks that you rotate every two to three weeks, instead what you have is ... Well, let's say we've got, just for sake of discussion, let's say we've got six acres and if we want to go to ... Let's say we want to go to 60 day rest periods, just for sake of discussion, that means you would have 60 paddocks. That would be a tenth of an acre per day, a tenth of an acre per day, for those six head.
Joel Salatin: Now, if you had ... What does a tenth of an acre look like? Well, a tenth of an acre, if an acre is roughly 5,000 square yards, a tenth of an acre looks like 500 square yards. What does that look like? Well, 500 square yards would be like 20 yards by 25 yards, just to give you a sense of it. As you go to that, you essentially create a mosaic, been grazed, regrowing, yet to graze. You get this extreme patchwork quilt view of your pasture, as you go that direction. It's quite profound. But that's the only way that I know, the only way I know that you can get maximum production without sacrificing gain.
Melissa K Norris: Okay.
Joel Salatin: There will be some times when you sacrifice gain to do that, because individual performance and acreage performance are on two opposite ends of the teeter totter. To get maximum gain, you need to reduce your intake, your production per acre, so they only eat cream. The problem is if they only eat cream, then they're going to gradually clean out all the good stuff, and they're going to eat all the good stuff, and they won't eat any of the bad stuff. You want them to eat weeds and everything, okay? By restricting them, that's the only way I know that you can get maximum production and maximum per acre, and what that will do is move ...
Joel Salatin: The bottom line is that, that kind of management style will move your species diversity to a totally different place. I never recommend planting a seed, you've got all the seeds you'll ever need right there in the pasture. Some of them have been there for 100 years, and they're waiting for management to change, so they feel comfortable germinating and will live, and they're just waiting. Our axiom here is change the management, change the vegetation. Whatever you have is a physical manifestation of the management that's been applied to that acreage for X number of years, and it can go back to long before you were there too. That enters into that context.
Joel Salatin: The faster you can get it to a primal movement choreography, think about the wildebeests on the Serengeti, think about the bison on the American Plains, the faster you can get it to that mob effect tight roped patien, the faster you'll start seeing these other species begin to develop, and you'll get a lot more organic matter, more fertility. I'm sure they have campsites, so they tend to have spots that they drop manure in, spots that they eat, until you get this real translocation of nutrients, incubator for pathogens, campsites, that sort of thing. By going to the smaller patches, you make sure that you put all your manure and urine right on the forage that they ate, and it tightens up your fertility program as well, and you're not trans-locating nutrients under other places.
Melissa K Norris: Okay. Goodness, that was a wealth of information. I am so excited. In fact, before this episode even releases to the listeners and public, I'm having my husband listen to this. There's so much good information in there. The actual growth pattern of the grass, like you were saying that they were eating that new, I did not even know that. I have not studied the growth of grass like I have our vegetables, and our fruits, and our berries, and that type of stuff. Thank you so much for explaining that to me in a way that I could understand, but also in a way that's like, "This is going to be your best practice." I really appreciate that.
Joel Salatin: I can't help but do a shameless plug here, I have a new book coming out in August called, Homestead Animal Happiness. It has a whole chapter explaining what I just explained to you. What I'm trying to do is miniaturize and downscale all the principles we use at commercial scale, downscale it to a two to 10 acre homestead capacity, and put in all the things that I have not seen in homestead livestock books. Stay tuned, that's coming.
Melissa K Norris: Yeah, and as soon as it comes out, I will be sharing it with my audience. On our way home from the Tennessee event of the Homesteaders of America conference, we got three of your books and put them on Audible, so that my husband and I could listen to them together, and then come back in the evenings, he works a day job, and go over the stuff together that we've listened to. We've already been so inspired to do so many things, so yes, your books are really great resources. Thank you so much for coming on today, Joel. I really appreciate it.
Joel Salatin: Thank you, Melissa.
Melissa K Norris: Was that not an incredible episode or what? We have already begun implementing. We've got the pasture divided out, and we have started rotating the cattle through the exact process that Joel shared in this interview. I have to say, my husband and I were both shocked to see it worked exactly as Joel said. Now I should say we've only been rotating them through, we're only into day three, but when we put them in the very small paddock for the first day, and had that sectioned off per his recommendations, you guys, they ate weeds, and small little things of brush that were just starting to come up in that area, that they never have touched previously. By putting them in, just like he said, they definitely went after and ate down the weeds as well.
Melissa K Norris: We are really, really excited to see how our pasture is going to evolve and improve by using these methods, and of course the longer we do it, the better that's going to be, and the more apparent it's going to become. But right off the bat, we're very, very excited to see how that was coming. Now, we've also already begun implementing some of his strategies and marketing advice with raising chickens for meat, which we've already done for ourselves for years, but looking at offering that as actually a profit center for our homestead, where we can offer that to community members.
Melissa K Norris: Now, if diving into business, turning your homestead, or maybe it's a skillset that you have, or maybe it's even a product that you have, but learning how to turn that into a business, specifically with marketing and using online avenues, in order to be able to market and to find your customers, and then to sell effectively to those customers, then I have partnered with Anne of All Trades, who is a dear friend of mine, who is also a very, very savvy online marketer herself within the traditional skillset. She does carpentry, if you're not familiar with Anne, as well as a bunch of other homestead things.
Melissa K Norris: We are doing a free challenge. I'm very, very excited about this, because I've never actually done the ... I've done business ... Consulting is ... Actually, business consulting/coaching privately with friends and acquaintances, but I've never done it in this type of a public before, and getting to do it with Anne. So you're getting two of us with both of our experiences. We are doing it completely for free during this amazing three day challenge.
Melissa K Norris: During this three day challenge, you're going to discover your product hook, in order to nail your marketing and get targeted customers that buy. That is the key there, targeted customers that buy. You're going to learn how to find the right customers to increase your sales organically with free resources that everyone has access to during this free three day challenge. It's starting on Tuesday, June 22nd, with myself and Anne of All Trades. You need to go and get your seat, get registered at melissaknorris.com/business, melissaknorris.com/business.
Melissa K Norris: I cannot wait to begin talking about all of these things, and sharing everything that both Anne and I have learned over the past decade in order to grow our businesses, so that you can create streams of income for yourself and your family using your homestead skills and/or possibly your homestead. Go and snag that seat right now, and I will meet you back here next week for another amazing episode. I really do hope that you found Joel just as delightful and his knowledge base as wonderful as I did. Blessings and mason jars for now.
Sign up to receive email updates
Enter your name and email address below and I'll send you periodic updates about the podcast.