Some of the links below are affiliate links, which means I will earn a commission at no additional cost to you, if you click through and make a purchase. Regardless, I only link to products we use on our homestead or believe in.
If you're thinking about buying your first goats or raising goats on your property, this is the post for you. We're covering everything you need to know about raising goats for a successful journey.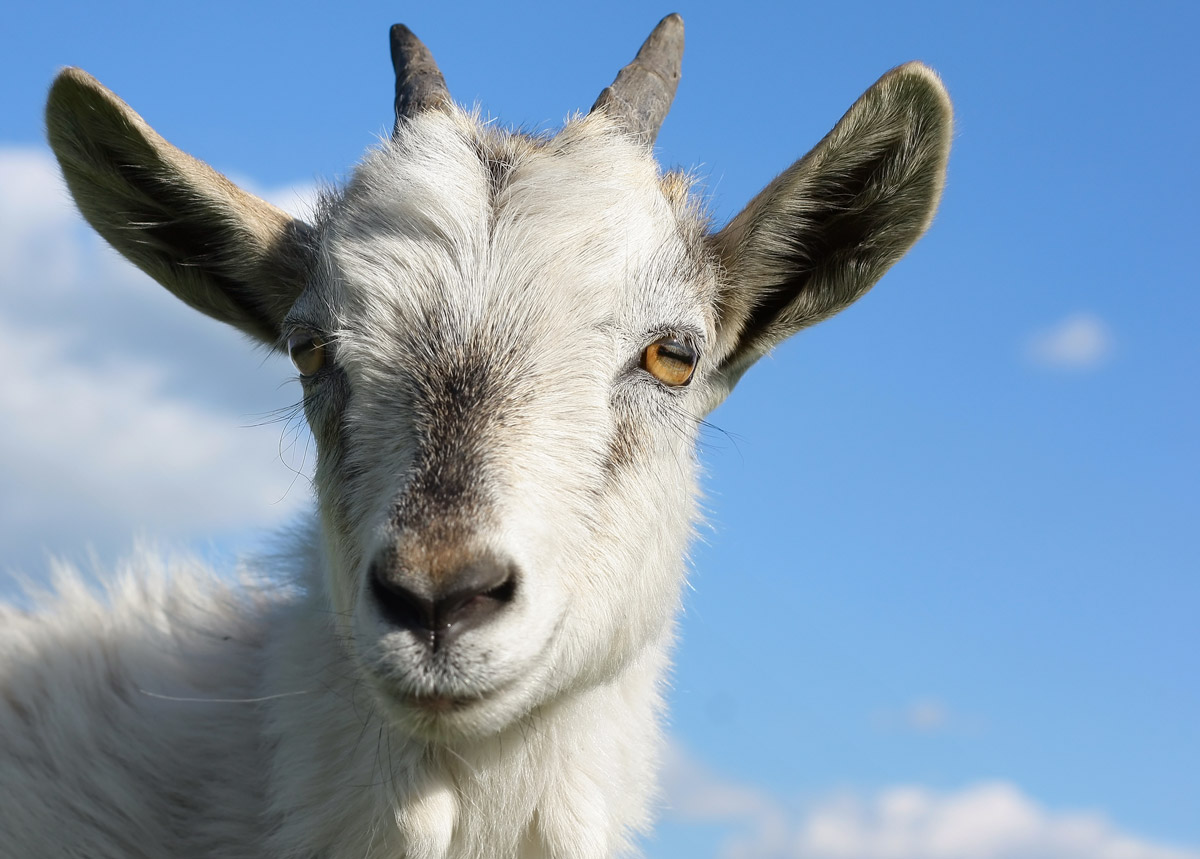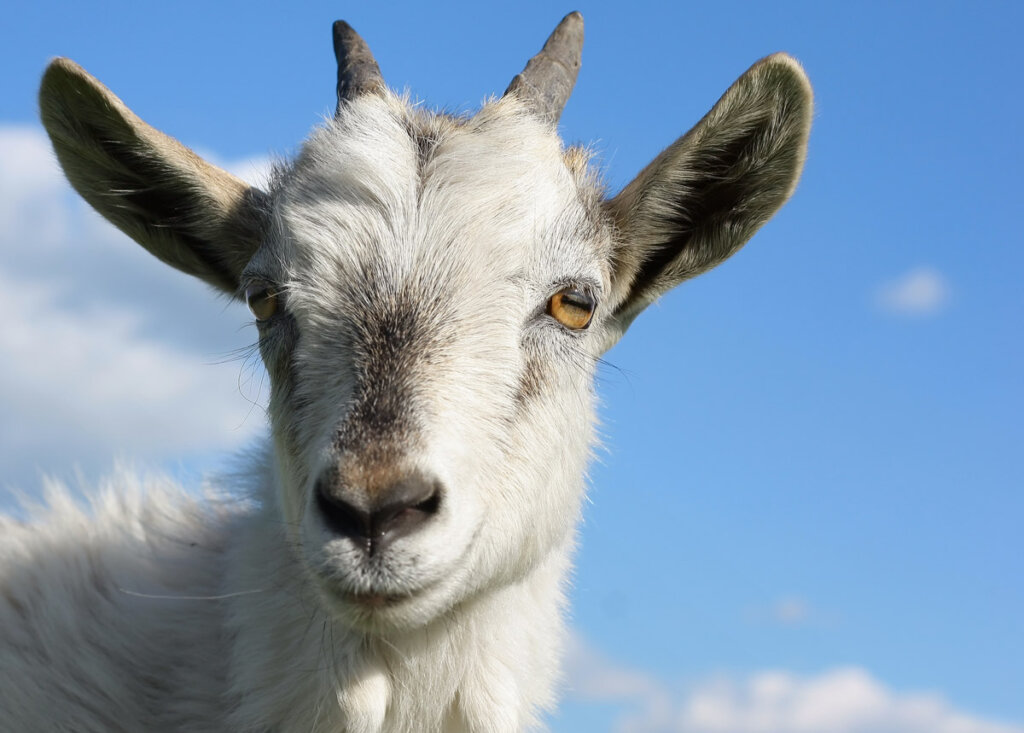 In this podcast (episode #319) I'm interviewing Rachael Tuller from Lost Peacock Creamery. She left her cubicle to start a dairy farm and is now five seasons into her and her husband's full-time job. She is a wealth of information when it comes to all things goats.
If you're thinking about getting, or already have goats of your own, this post will be extremely informative.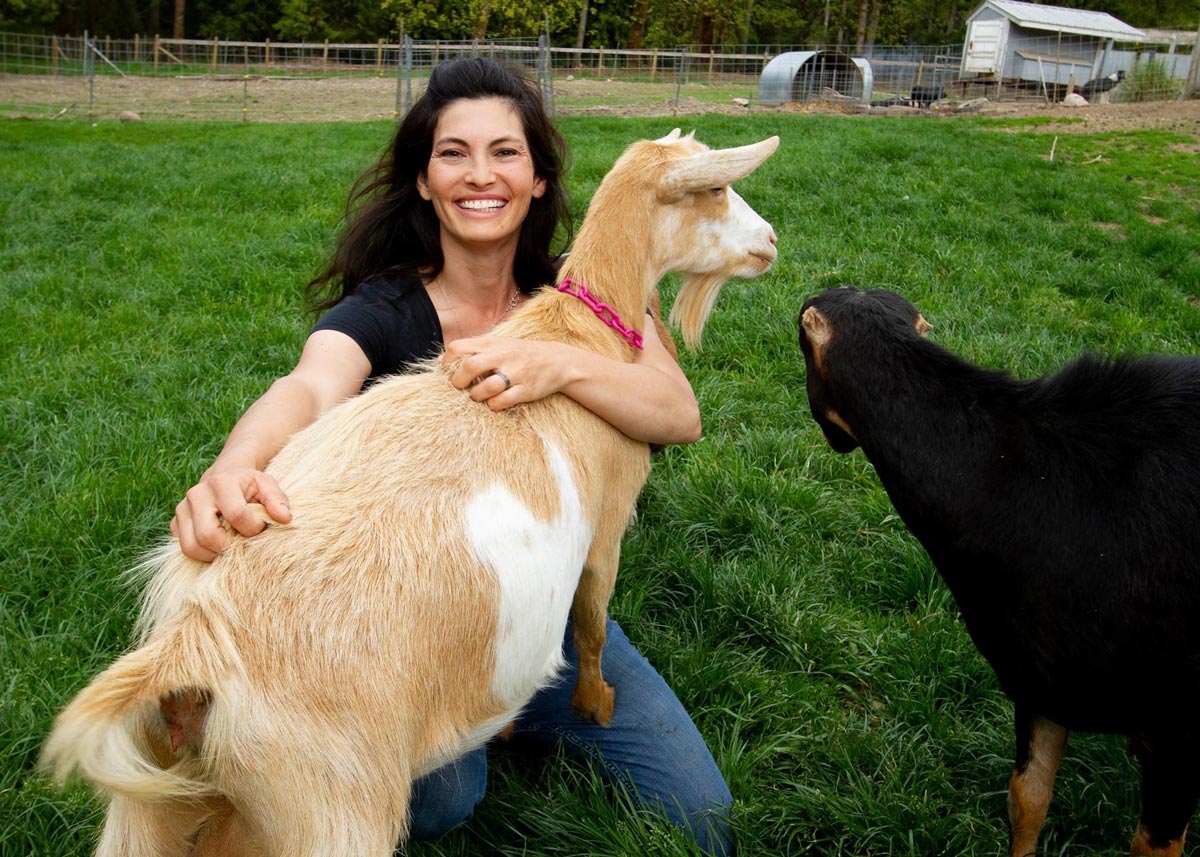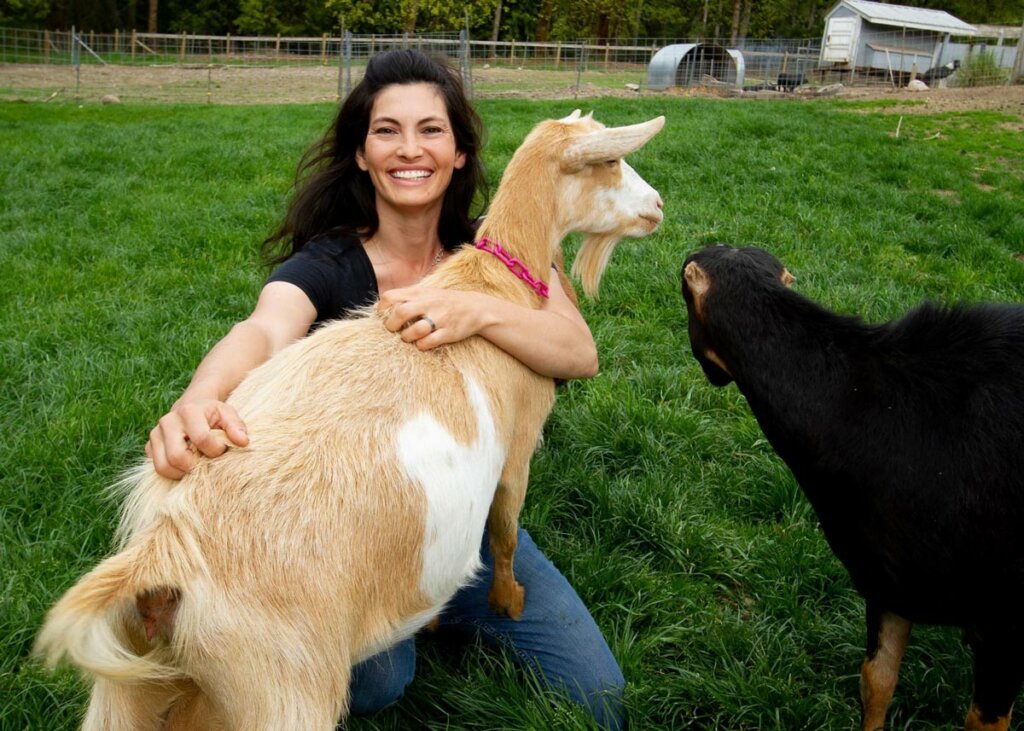 Why Raise Goats?
One of the reasons most people choose to raise goats is for their milk. Some people have allergies to the casein in cow's milk and find that they can drink goat's milk with no issues or reactions.
This was the case with Rachael. Even a little cow's milk would give her a stomach ache and cause bloating. After trying goat's milk she realized she wanted to get goats of her own.
If you love food, you will absolutely love goat's milk for making cheeses, yogurt, and other incredible dairy products.
Are Goats Hard to Raise?
Whether or not goats are hard to raise is really based upon the type of goats you get. There are some goats that are just naughty and hard to deal with, whereas there are other goats that are much like friendly dogs. They'll cuddle and snuggle, yes they'll get out whenever they can, but they can also be very loyal and kind.
No goat is without its flaws. If they get out, they will eat through your yard and garden, so being prepared with adequate fencing is key before bringing the goats home.
Just be prepared, even with the tightest fencing, goats somehow, someway tend to find their way out.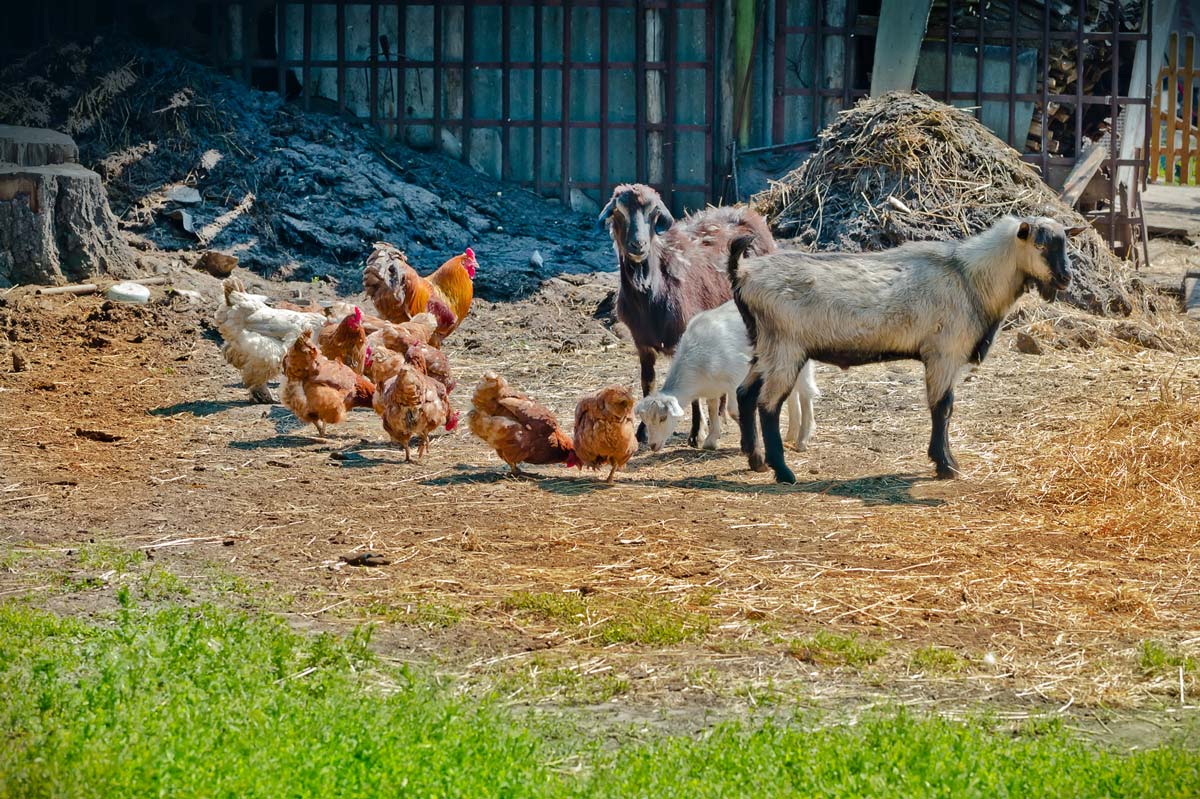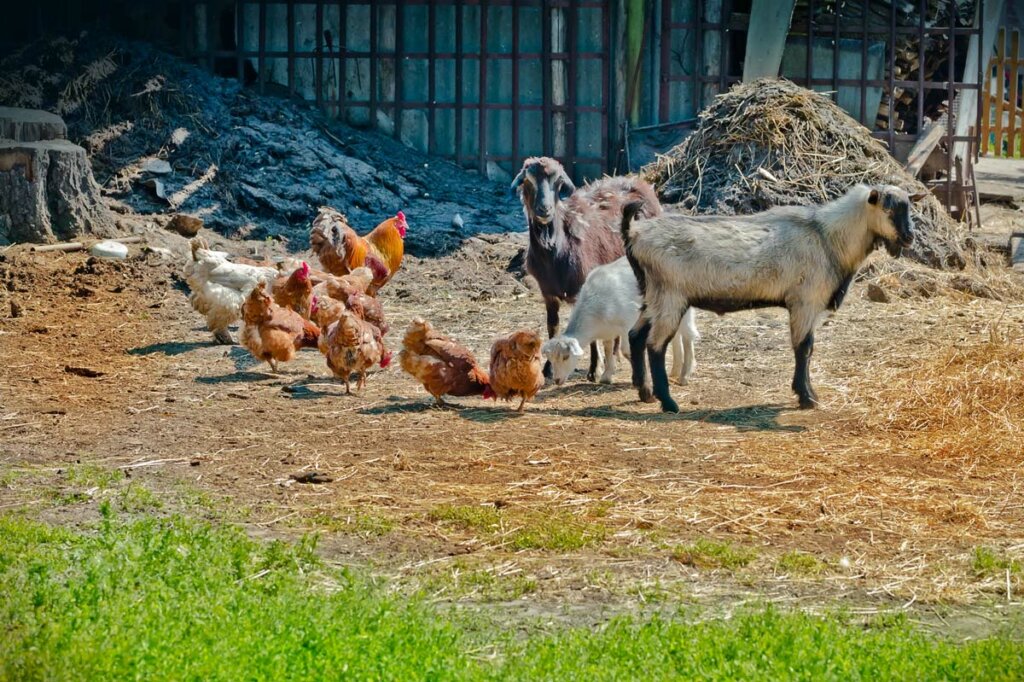 Advice for Buying First Goats
Know what you're planning to do with your goats. There are three things most people use goats for: dairy, meat, or fiber (mohair, or goat hair).
Once you know their purpose, this will narrow down the different breeds to choose from. After that, Rachael's advice is to choose a breed you like the look of! Goats will cause mayhem at some point in time, so if they're cute, it helps you to be more forgiving of them!
If you're going to be milking your goats, be sure the udders are shaped right for your hands, especially if you have hand issues such as arthritis, etc.
Nigerian goat's milk is delicious and makes fantastic products, but they can be harder to milk.
Knowing the familial history of the goat you're looking to buy can be helpful. If you're able, take a look at the mom and dad's utters, this may help you to know if the baby's udders will be good for you or not.
Goat Breeds
Rachael says she prioritizes milk production over the breed, on their farm they have Nubians, Guernsey, Alpine, Lamoncha, Nigerians, and Saanen. All their goat breeds produce at least one gallon of milk per day.
They also like to look for easy kidders, since they kid all their goats on the farm. If goats need help getting out of the womb, they don't keep these goats.
And finally, they keep goats based on friendliness and goat taste. Rachael's husband is constantly checking each goat's milk to make sure the taste is great.
Nigerians and Nubians are known for their high butterfat, and Alpines have more "salty" milk.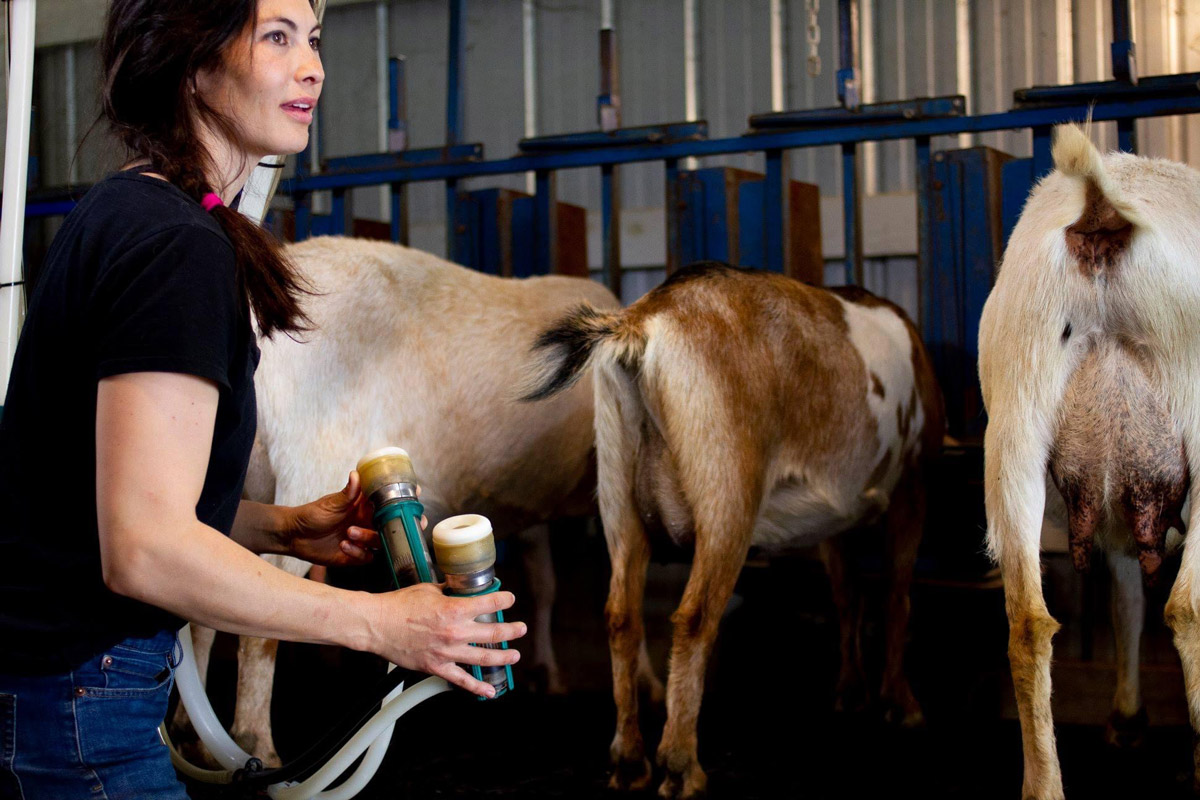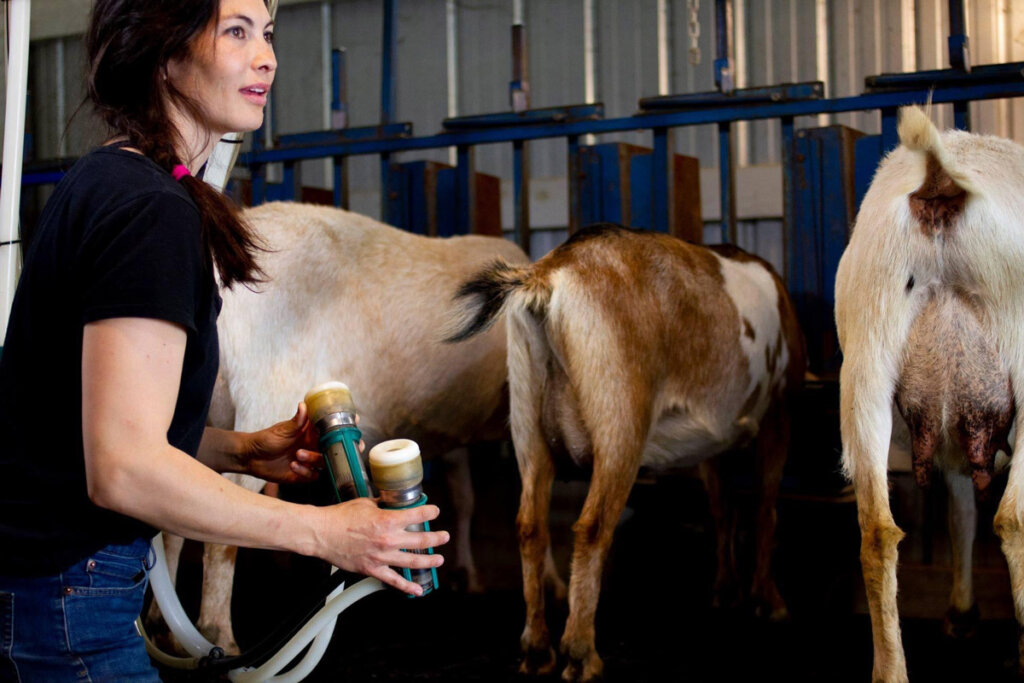 Milking by Hand or Machine
Rachael's advice when it comes to milking is to do your homework. Because they have so many goats on their farm they do use a milking machine. However, if you're working with just a few goats, it may be faster to milk by hand.
You have to take into consideration the amount of time it will take to clean and sterilize the milking machine (which Rachael shares takes about an hour and a half), versus simply washing your hands.
Rachael shares that they don't fire up the milking machine until they're milking 11 goats or more.
Hardest Part of Raising Goats
Rachael says 100% the hardest part of raising goats for milk is kidding season. They do all their own kidding on their farm, and it's a very taxing time with many sleepless nights, making sure all the animals are safe and sound.
Last year they made a change to how they raise their animals because they want to be sure they're following ethical practices. So, if babies want to stay with mom and nurse, then they let them as long as mom and baby are both doing well.
If the babies are struggling, or the mom isn't doing well feeding the baby, they turn the goats into bottle babies.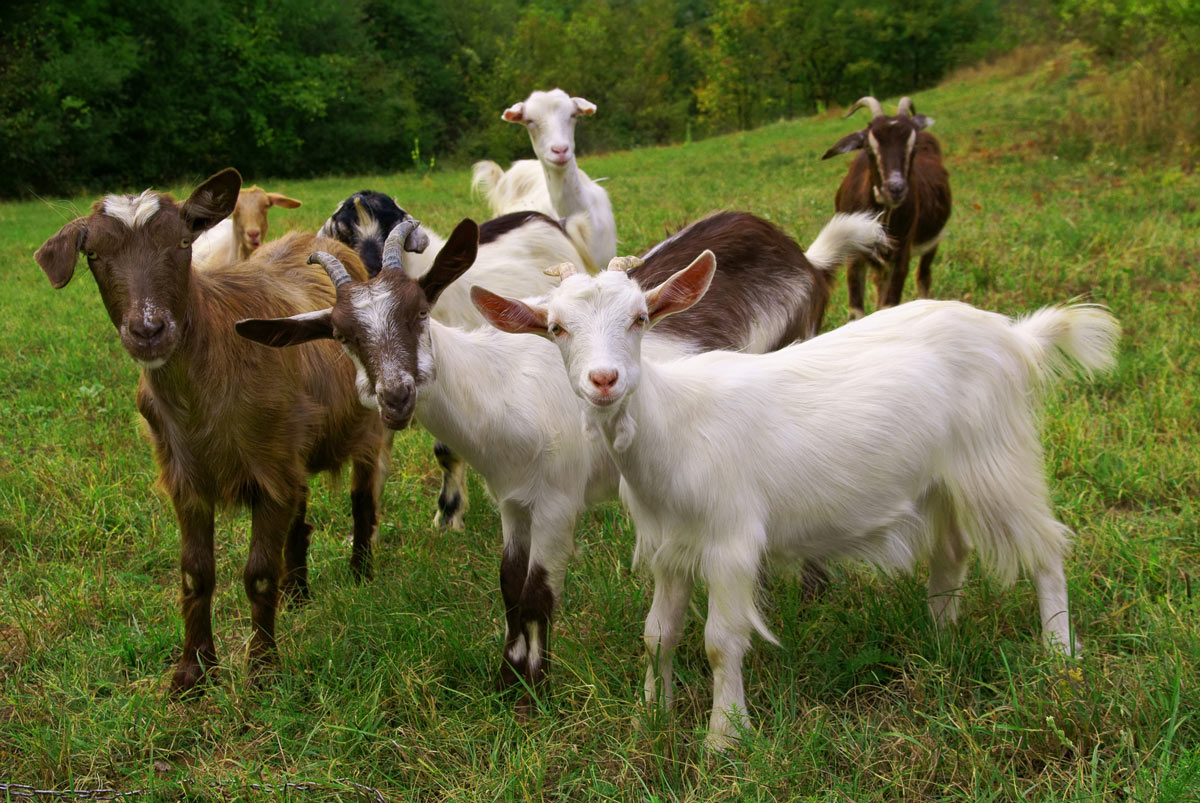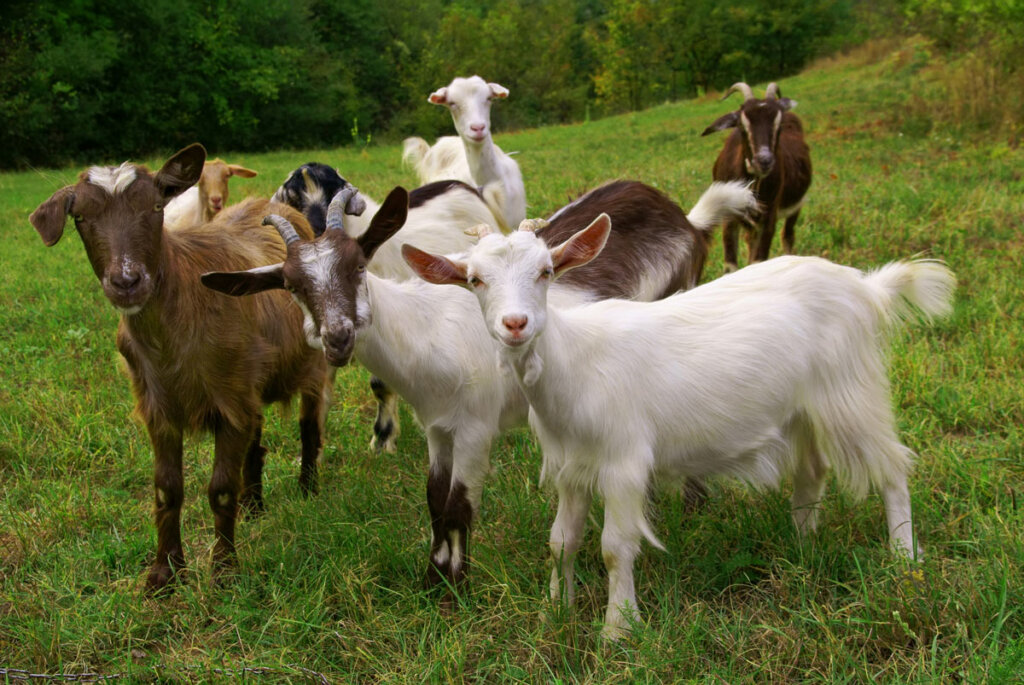 How Many Acres do you Need Per Goat?
Because goats like to browse for their food and not graze (more on this below in the common diseases and health concerns for goats), it's more important that the land you have is able to supply their needs with the forage they like to eat.
That being said, as with sheep, you can keep about six to eight goats on one acre of land.
If you listened to my podcast with Joel Salatin on maximizing your homestead, we discussed partitioning off your land in order to practice regenerative agriculture as well, so I highly recommend giving that blog post a read.
Finding a Goat Vet
Unfortunately, Rachael mentions that many vets these days aren't trained how to treat goats. Therefore, goat owners really need to become their own at-home vets.
Facebook has many groups you can join and can be a great resource and community to help you out when learning how to treat sick goats.
Common Diseases and Health Issues with Goats
Parasites
Rachael shares that the biggest thing to look out for with goats is parasite control. Many people say, "I want goats to mow my lawn", but actually, you don't want goats, you want sheep.
Goats tend to graze higher up, so they'll reach over the top of fences to eat the bushes, or they'll graze the tops of high grasses, etc. But when goats are forced to graze closer to the ground, they are susceptible to the parasites that live on the ground.
When a goat gets a heavy parasite load it can be fatal to them. There's a FAMACHA chart that helps you monitor the color of your goat's eyelids to see the amount of blood circulating in their body.
If their eyelids are bright pink, they're doing good with no threat of parasites, but if their eyelids are light pink or even white, that means there's something that's competing with their blood flow and they're in danger.
Worming only when you need to is healthy for goats and helps keep them alive longer.
Hoof Rot
Goats were intended to have their hooves trimmed and it's very important to keep up on trimmings or else they can get hoof rot (also called foot rot), which is very smelly and gross, but also not good for the goats and can eventually lead to lameness.
The best treatment is preventative, but if your goat does get hoof rot, they may need antibiotics to get it cleared up.
Hoof rot is also caused when goats have prolonged exposure to damp, moist ground, so making sure your goats have proper enclosures is key.
Poisons
Rhododendrons and azaleas are poisonous to goats. It's important to keep an eye on your goats and know what they have access to in order to keep them safe.
Goats don't know what plants will hurt them, so if you're thinking about getting goats, know what plants are dangerous to them and consider getting rid of them from their property.
Polio
Goats are also highly susceptible to getting polio, but a simple influx of B vitamins can treat them.
Knowing the common diseases and health issues for goats can go a long way in preventing illness and even death for your herd.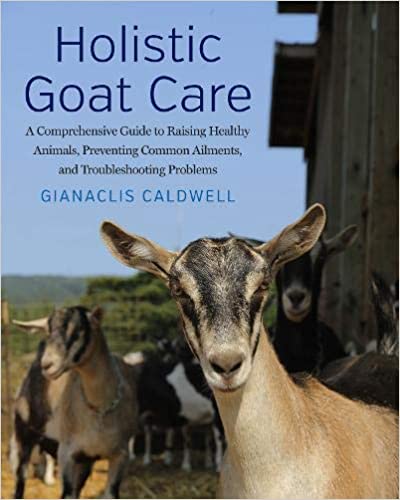 Resources
Rachael recommends a few resources to help you on your journey to keeping a goat herd.
Melissa K Norris: Hey, pioneers. Welcome to episode number 319. Today's episode we are going to be talking all about goats. Advice for you if you're thinking about buying your first goat, what to look for when buying a goat, finding a goat vet, learning about dosing, medications and diseases that can be common or problematic, I should say health issues that can be problematic or common with goats. So you know what to be aware of, as well as breed of goats for milking, learning about creating a dairy from your goats, the hardest parts and of best parts. It is a jammed packed episode. I am really excited for you to listen into today's episode. Welcome to the Pioneering Today podcast. I'm your host, Melissa K Norris. I'm a fifth generation homesteader, as well as a bestselling author of three books, including my newest book, The Family Garden Plan.
Melissa K Norris: I help hundreds of thousands of people with my website, this podcast, YouTube channel, every single month learn how to use easy and simple modern homesteading techniques to create a more self-sufficient and healthy life no matter where you live. Today's guest is a Rachel Taylor-Tuller, who is an air force academy grad who served in Iraq before launching into the world of corporate marketing and homesteading, which kind of sounds like an oxymoron, but is a really, really cool story that I'm excited for you guys to listen to. Rachel ended up trading in her cubicle for open pastures and chased her dream to start a grade A goat dairy in Olympia, Washington as a first generation farmer, meaning she did not come from any type of background of farming and homesteading. Five seasons in Lost Peacock Creamery is now Rachel and her husband's full-time job. They farm 40 goats on just 11 acres with their two children who are the number one taste testers of their award winning cheese.
Melissa K Norris: And I've actually had the privilege of trying Rachel's cheese way before I ever met her, and it is really, really good. I am super excited for you to listen to this interview not only if you are thinking about getting goats and dairy goats, but also just listening to Rachel's story and how they have been able to create a full-time income from the goats and the dairy process. I know many of my homesteaders are hopeful that someday they can create a home, excuse me, they can create an income from their homestead practices. So I think this is a really, really great, and there's also some info at the end that you're going to want to keep your ears perked for that Rachel offers. For today's blog post that accompanies this episode and any further links and, or resources, make sure you go to melissaknorris.com/319. Melissaknorris.com/319, just the number 319, because this is episode number 319. All right. Let's get straight to this interview. Rachel, welcome to the Pioneering Today podcast.
Rachael Tuller: Thank you for having me.
Melissa K Norris: Yeah. So I am really excited to talk to you today, because I need to preface this with saying that we had some goats in the past. They were very older, male goats. So we got them, they had went through multiple hands before we got them, and we got them to clear some brush on our property. And the male goats and I did not get along. They would rear up on their high legs and try to strike at me. They got out and ate all of my plants. So I'm trying to overcome my prejudice against goats. I will be honest there.
Melissa K Norris: So I was excited to talk to you because you've done some really amazing things with goats, and I know they have a lot of good things to offer. So I wanted to talk to you to help get me over a little bit of my prejudice, and in case any of the listeners may have that as well. So first tell us about why did you get goats and also a little bit about your guys' creamery, Lost Peacock Creamery, because I'm very interested to know if you got the goats with the vision of having the creamer. Or did the goat come first or the creamery or how did that progression work for you guys?
Rachael Tuller: Yeah. If we're talking about how it all started, it started with chickens, because like most people who start out homesteading, you start out with chickens. Right? And then you get that first egg and then you are like, wow, that was really fun to grow my own food. What else can I grow on my own land? And so I like to say that chickens are the gateway drug to a farming lifestyle. And for me, that was very true. So I actually, after chickens, and I tried my hand at that and I enjoyed the process of working the land and having an animal that I was beholden to because you are, I got goats. I am one of those people who has a casing intolerance and cow milk just doesn't sit well with me. If I have too much, I get really sick.
Rachael Tuller: If I just have a little, I just get the belly stuff. And so to me, goats, everyone talked about how great goat milk is and how gentle it is on tummies. And so I got a goat. I rescued my very first goat from Puget Sound Goat Rescue, which is, I don't know if you've heard of them, but they're an incredible organization out of Maple Valley Washington and I fell in love. I was just smitten instantly. So where you were turned off instantly, I fell in love. I just, I laid up at night thinking, what job can I have, where I get to just buy all the goats and I can just be surrounded by goats. And so I fell on goat dairy because I also love food. It's one of my favorite parts of being alive. And so I just wanted to make really beautiful food and I wanted to do it with goats that I owned. So the goats definitely came first in the creamery dream.
Melissa K Norris: Okay. And it is always interesting to hear about people's initial reactions and different things like that with farming, because I have some people who love chickens and some people who don't like chickens. And I think the moral of that is the beauty of homesteading is you can pick which livestock animals that you want so that you are enjoying it. Right?
Rachael Tuller: Right? It's your homestead. You don't have to do what your neighbor does. It's literally yours. So some people love ducks more than they love chickens. And I'm like you with ducks and goats. I have a visceral reaction to ducks. I've tried three times. They're not for me. It's just not going to be something that ever lives on my farm.
Melissa K Norris: So tell me, what is it that you loved about the goats?
Rachael Tuller: Oh gosh. Okay. So goats are like potato chips, first of all. So you can't have just one, and not for a lot of reasons, but goats, they're a herd animal. And so people who think that you can have just one goat, that's actually doing a big disservice to them. They need another goat or I'll say they'll just get depressed. And so I love that about goats. I love that they really thrive in these kind of relationships with each other. If you've ever spent any time with a goat, there's just such a wild, carefree I don't really care about you attitude that I find inspiring. I think, we go through life and we spend a lot of time worrying about what other people think of us or how we're being presented to the world, and goats don't care. They'll fart, they'll sneeze, they'll run amuck.
Rachael Tuller: They will do everything their heart desires and they'll make no apologies. And I like being around that kind of energy. The other thing about goats is they're very, very sweet. If you get a good pair, which it sounds like you got some rotten goats, and I have seen rotten goats. We have never really had a pair that kind of bucked up and reared and did all that stuff. But all of our goats we've always hand raised from babies. And so it sounds like you got a pair of goats that just didn't have boundaries and didn't know how to be a companion in a human home. But the goats that we've always had, they're like dogs. They're just so friendly. They're excited to see you. They talk to you. They do eat all your raspberries if they get out, which they do get out.
Melissa K Norris: Yes.
Rachael Tuller: So my goats were not without flaws in that, I think I've been planting the same apple orchard for four years now. And it just keeps going to the goats. Raspberries. I had this amazing raspberry crop. It was all gone. They love kale. They love getting into the vegetable garden and eating all the kale. So my goats are not immune to mayhem, but they're just sweet enough that I kind of let it slide. So I really love their personalities.
Melissa K Norris: Okay. Well, and you do get, as long as you're getting dairy goats, I should say, then there is that side benefit of the goat milk, especially like you said, for those who have casein issues or have issues with cows milk. So if someone's looking about getting their first goats and would like to have a positive experience, unlike mine, which I'm sure you're true. There was a reason and that they had went through so many different homes and when you go through so many different homes, even in animal life, you don't get consistent training. You don't know how they were treated, the people before you, all of that, et cetera. So for someone who's looking to buy their first goats, can you lay out some guidelines?
Rachael Tuller: I can. Yeah. So I always tell people when you're getting your first goat, the very first thing you should think about is whether you want dairy or meat. Right? So we actually have a meat. We have a meat buck. So a large portion of our girls are bread to meat bucks. A lot of our goats are baby goats because we're a dairy... Right? So there's 44 girls that we milk and they kid every year, because in order to make milk, you have to give birth. And so we have a dairy buck and we have a meat buck and, and I actually really enjoy our meat buck. He's very sweet. He was a bottle baby, and he's not in your face. And he's a sweet boy, but he's a meat buck. So he just has a lot more meat. He eats more.
Rachael Tuller: So you need to decide whether you're going dairy or meat or fiber. Fiber's another option. We had Pygoras and we had Angora goats for a little bit because my mom is a spinner. And so you make that decision first. Right? And then once you do that, I always tell people, you should get a goat you like the look of, because you're going to be yelling at it. It's going to cause nonsense in mayhem at some point in its life, on your farm a hundred percent, I guarantee it. So you should like the thing that you're yelling at. You should like the look of it.
Melissa K Norris: That's some of the best advice [crosstalk 00:11:41].
Rachael Tuller: Agree with it. Right?
Melissa K Norris: That is the best goat advice I think I have ever heard. I'm not kidding. I love that. Okay. Sorry. I just was like, yes. Genius. [crosstalk 00:11:52]
Rachael Tuller: Yes. So that's always the first thing I tell people is make sure you like the look of it. And then if you're going to milk it, a lot of people have hand issues, carpal tunnel, cubital tunnel, just like wrist things. And if your utter isn't shaped right for you, you will have frustration and you will probably never find success. So when you get into those smaller Nigerians, which I know a lot of people, especially with not a lot of land tend to go to, because their milk is beautiful and their butter fat is beautiful. And when you talk about making a product on your stove top, Nigerian milk is just incredible for it. But they're pretty hard to milk. A lot of them. I mean, I actually have some Nigerians in my herd and they're not terrible, but I have friends who have bought them and couldn't even get three fingers around a teat.
Rachael Tuller: So if you are looking at getting an animal for milk, knowing what the mom's utter look like is pretty helpful and knowing what the dad's mom's utter look like. Just because you got to make it easy for yourself. If it's a challenge, you're not going to do it. And you want to set yourself up for success. So I don't think you need to spend a ton of money on your first animal, but I do think buying it in milk to start off. So you know what the utter looks like, and you know what you can milk or knowing a little bit of familial history can be really beneficial towards setting yourself up for success.
Melissa K Norris: Now, with the dairy goats, obviously with dairy cows, you can buy milking machines. Do they make such a thing for dairy goats or do you feel like you get more milk if you're milking by hand or how does that work with a goat?
Rachael Tuller: So they do. They make milking machines. We, because we're a dairy, we use a milking machine and we actually use what's called a pipeline system. So we have a big parlor and they run in, they run up the ramp and we can milk six girls at a time. The other milking machines that a lot of micro dairy's use can do two goats where you alternate back and forth and it's wheeled around. And I do think people have a lot of success with that, especially if hand milking isn't an option. But as you get faster and as you get more comfortable milking your animals, you will find that your hands are often faster because all those machines take cleanup. And it's an hour and a half, the full cleanup cycle.
Rachael Tuller: Even on the small milking machines, just because you have to run through all the different cycles of acid and chlorine and detergent and all of that. So we actually, when we start milking again after the goats have given birth, we don't fire up the machine until we have 11 goats and milk. Because I can hand milk 10 goats faster than I can run all the cleaning stuff to fire up that machine. So, I mean, you really do get efficient. I also, now that we're a grade A goat dairy, and we're licensed and it's a little bit more formal. I often find myself daydreaming about those early mornings or those late evenings when it's just you and the goat and you're in your parlor, whatever that looks like. Mine was just the corner of a barn for a long, long time.
Rachael Tuller: And I had a little swing in it for my baby. And you're really close. You can lay your head up against that goats' rumen, and listen to the gurgles in their belly. And they're warm and you're milking them and you hear the milk being splashed into the pale. And it's really one of the most beautiful things I think you can do with an animal is have that really peaceful exchange. They're happy to be there, they're getting emptied, they're eating grain because obviously you trade the grain for the milk. And that's something that I miss. And if I was, I mean, I will homestead again, I'm sure. I look forward to that. It's a very personal, intimate exchange between human and animal, and it feels like a really beautiful way to honor what you're doing. And you're trading basically comfort for milk.
Melissa K Norris: I love that. So it sounds like that unless you're going for a large operation, that hand milking is really going to be your best bet?
Rachael Tuller: Mm-hmm (affirmative). I think so. And there's even times now out where we don't have milk because we just made cheese and there's no milk in the bulk tank. And I'll send my daughter out and say, can you go get milk? And she'll just run in the fields with a pale and grab some milk. And you don't have that kind of flexibility when you're milking with a machine. So, I mean, people have been milking with their hands for centuries, so-
Melissa K Norris: Amen.
Rachael Tuller: Obviously it works.
Melissa K Norris: Yes. I love that. Very practical advice, which is my favorite kind. So do you have any other advice that people really should be considering when they're looking to buy their first goats? Because I kind of sidetracked us on that tangent of milking.
Rachael Tuller: Yeah. So I think the other thing that you should ask yourself is whether or not you want horns or not. Disbudding has become a pretty common practice, just among goat owners. We disbud. Our farm is animal welfare approved. So we get audited by a greener world, is the person who holds that logo. But we get audited every year and they make sure that what we're doing is right for the animals, but disbudding is allowed through that. You just have to do it within the first seven days of life. And we actually, my husband is an RN and so he has figured out how to nerve block them. So when we disbud them, our goats actually don't even feel anything, which is pretty nice. But choosing whether or not you want horns, a lot of people who decide to go pack with goats, the horns are good, because that is how they release heat from their bodies.
Rachael Tuller: In the Pacific Northwest, it's not as big a deal because we don't get as hot, but it is one of their nature provided devices for cooling their bodies. The one thing about horns though is we have small children, we were one week old, or my son was one week old when we got licensed as a dairy. So we've been, I mean my children were, I was 41 weeks pregnant and still milking goats. So we grew up with goats. My babies did. And so I just never wanted horns on my animals because they can fling their heads around pretty fast, and what's eye level? My child's eyeball. Well guess what? You don't get more eyeballs. So I decided I was like, I just don't want horns. Is it a disservice to the animal in some way? Maybe you could make that argument, but is it more important that the goat has a healthy, secure home?
Rachael Tuller: And I want to keep it here because it's not going to injure anyone. Yes, definitely. The other thing about goats with horns is they are often needing to be rescued because they're stuck. They're not in the wild. They are in some form of confinement. They have fences that they have to navigate. They have feeders that they have to navigate. And so those horns often pose a challenge to them. Our meat goat does have horns just because it's very rare that you'll see a meat goat that is disbudded, and he is he's being cut out things on a quarterly basis. I would say he's just stuck. So deciding whether or not you want horns is a big deal because if you're getting an adult goat and it has horns, you would need to take it to a vet to get those removed.
Rachael Tuller: So that horn decision happens at a really young age for babies. It was something that would play into how you are managing your own animals. And then apart from that, it's really just, I mean, I think you need enough space. You don't need a ton of space. I tell people that there are 100 right ways to raise a goat. You see, there's a lot of things out there that are like, oh, this is the only way. And this is the superior way. And maybe, but at the end of the day, if your goat is well fed and dry, I tell people that goats are they're made of sugar, which is why they're so sweet.
Rachael Tuller: But it also means that they melt in the rain. So goats don't want to get wet. They never want to get wet. So they always need a place to go to be dry and they need a three-sided shelter so they can get out of the rain. But I mean, apart from that, it's pretty creative. You can get pretty interesting about how you're creating a home for your goat. And so if it works for you and they're fenced in and they're not getting out, and they're dry and they can get out of the rain, and they're not being stuck in their horns, then you're good to go.
Melissa K Norris: How do they handle the snow?
Rachael Tuller: Ours loved it. They were just a hoot. I thought they would stay in the barn because snow is kind of like rain, and ours were just running all over the place. They were rolling in it. They were having the time of their lives. So it must have felt interesting to them. That's that's one of the joys of goats is they really do know how to enjoy life. And so letting your goats have enough space to be themselves and then you get to sit back and watch it, it's a way to fill your cup.
Melissa K Norris: Okay. The cattle, it's funny because the cattle are kind of the same way. They actually fare better in snow than they do in the rain, though they tolerate the rain it sounds like a bit more than the goats do. So I just was curious on that one. So what breed of goats do you guys have then for your creamery?
Rachael Tuller: So I always tell people we have all the goats. We do not discriminate. We celebrate diversity at Lost Peacock Creamery and we just have all the dairy goats. So Nubians, Alpine, Lamancha, Nigerians, Guernseys, Saanens. We have a little bit of everyone. And what we've prioritized more than breed is milk production. So all our goats make at least a gallon a day. Easy kidders, because we're a farmstead goat dairy. So we do all the breeding and we do all the kidding here at the farm. Goats that can kid easily without pulling, we keep those babies and not the babies who needed help getting out of the womb. Those aren't ones that we keep. Personality, we keep goats based on personality and also milk taste. So my husband can tell you what the milk tastes like from every single individual girl, because he's always checking on it. So dairy goats, no specific breed, just because I love all the goats, but definitely all the friendly goats that are really good at giving birth.
Melissa K Norris: Is there a specific breed that tends to give you more of a cream line or is that more what they're eating in their diet?
Rachael Tuller: So you will see that, that Nigerians and Nubians are known for their really high butter fats. And they say that Alpines have more of a salty milk. We have kind of found that, but where it's not... You know how you have cows, right? And you have dairy cows?
Melissa K Norris: I don't have dairy cows [crosstalk 00:23:37] I don't, no. I don't have a dairy animal yet. We have beef cattle.
Rachael Tuller: Oh, you don't have a dairy animal?
Melissa K Norris: No, I don't.
Rachael Tuller: Oh my God. You [crosstalk 00:23:44]. You got to get a goat.
Melissa K Norris: For milk. I know.
Rachael Tuller: Its settled. You got to get a goat. This is it. This is the call that makes it happen. Well with cows when you milk, if you leave your milk in the fridge, it'll get that cream line and you can scoop it off. Goats milk is naturally homogenized, and so it's a little bit harder to do that. And so we have had a few goats that would make a cream line in the fridge. But it's not all of them and it has not been breed specific for us. So I'm not saying that's not the case and I'm not saying that there's not a goat breeder out there that's figured out how to get really easily accessible cream from their milk. I'm just saying that's not the case for us. And so I wouldn't. I think goat milk is just really beautiful just in general. And so if you think you want goats and you want to make your own dairy, I wouldn't stress so much about who's going to give you higher cream just because we have made milk. Or we have made cheese with all the milk, and they all work out great.
Melissa K Norris: Okay. That is really good to know. So actually operating a dairy, not just having a couple of goats, like a pair. And maybe this is going to apply to both of those situations, but what would you say is the heart hardest part of dairying?
Rachael Tuller: A hundred percent the hardest part of dairying is kidding season because it's a lot of animals. We have 44 goats that we're milking right now. So this last season 44 goats gave birth and Matthew and I, we very much these animals as a part of our world and not just livestock that's out there to serve us. And we don't have to worry about their emotions or who they are. I mean, we, we really, we feel like they're an animal too, which means every year we have an existential crisis because it's like, are we doing the right thing? We're asking these animals to give us milk. And in exchange they have to give birth. And it's very stressful. So kidding season is always, always hard. We actually, last year though, we made a big change in dairying, because for us it was very important to make sure that we were daring in an ethical way. And so the moms that wanted to keep their babies on, because I'm sure you know this, dairy's have a very dark side. Right? They pull babies as soon as they come out.
Melissa K Norris: Yeah.
Rachael Tuller: Boys get bludgeoned. They go to a slaughter house, whatever happens. We never wanted to be that dairy. And so now when babies come out, we let them stay on moms. As long as the moms are doing a good job of feeding them, they can stay. And we start a milk share. And if they're not doing a good job, then we pull them and we turn them into bottle babies. So that's stressful in its own way because you're just constantly checking in. Are you feeding your baby enough? Oh, you decided after one week you're done being a mom. Now we need to pull your baby. There's just a lot more intensive management that comes with letting the mom have a chance to be a mom.
Rachael Tuller: And so it's just a hard time. There's there's no sleep. Goats are kidding all around the clock. We actually leveled up our game a few years ago and got Arlo cameras in all the barns. So we could lay in bed now and check in and sign in and see if anyone's in labor. But when you have that many goats, someone's always in labor. So you're always going down. It's cold. The past two kidding seasons we've had a snowpocalypse. So it's been snowing and you're hauling hot water and there's placentas everywhere and there's screaming babies everywhere. And it's a stressful time on that scale. So kidding season is by far my least favorite part of dairying, even though there's baby goats involved.
Melissa K Norris: Yes. I hear you. We usually only have about three to four cows that we're breeding, so much smaller scale, but yes. Making sure when they're ready to go into labor, keeping an eye on them. Thankfully we have only ever had to pull one. So we're lucky in that aspect. I should say with my husband and my farm growing up, my dad, we usually had to pull. We had a lot larger herd though. So I've definitely been a part of that process. And then like you said, making sure the mom actually takes the baby, which we've had some pretty.
Rachael Tuller: Yeah.
Melissa K Norris: Yeah. And you're a much larger scale than we are, because you've got 40 where I'm just dealing with three to four. So how did you actually learn how to dairy though? Because it doesn't sound like that you came from, maybe growing up on a dairy or something like that.
Rachael Tuller: Yeah. No, I'm a first generation farmer and so is my husband. So I was a military brat. We moved every 10 months, every two years. We were just all over the place. So farming was very new to me and my husband as well. He's from a smaller town and he would work running sprinklers in alfalfa fields in the summer, but he didn't grow up raising animals. YouTube. YouTube is the way you learn anything nowadays. Right? It's the answer.
Melissa K Norris: Amen. Yes.
Rachael Tuller: So we learned how to dairy via YouTube. There are a few really good books out there. Gianaclis Caldwell is a small dairy owner down in Oregon actually. And she has written probably the only document or books about actually how to start a dairy from scratch. So she walks you through a lot of, what does the building look like and how do I do it? And so that was pretty helpful. And then, how do you learn anything? Just by doing it and failing. And we have failed a lot. A lot of money has gone away because of the failures. But every time you learn a little something more. Right? I always tell my kids, this is why old farmers are so smart. It's because they have already made all the mistakes and we're just making them a little bit older in life.
Melissa K Norris: I love that. So I'm assuming not only did you have to learn the dairy portion, but then you had to learn the cheese making as well.
Rachael Tuller: Yes. We definitely had to learn the cheese making too. That's actually where most of the waste of money went, was failed batches of cheese. Goats are pretty easy. They're pretty forgiving. So learning with goats, the biggest thing with goats is vet hair. You will find that, and I think anyone who has goats can probably attest to this, that vets just don't know how to treat goats. It's not something that they're learning anymore. So that's kind of a shame, which means that goat owners very much have to become their own at home vet. Facebook has some really incredible things that are available for goat people and has been a really great solution for a lot of people. Oh, do this, do that. Let me post a picture. So I think that the community of goat owners have rallied around how to treat sick goats, because there just really isn't a vet option. But other than that, goat are pretty easy to raise. The cheese making though, there's been some costly mistakes.
Melissa K Norris: I bet. Just because I'm venturing into the world of hard cheese making, I've done soft cultured dairy and soft cheese making, but I'm just starting on my [inaudible 00:31:51] into the hard cheese making, and already am finding it quite interesting and frustrating, but with anything new. I do want to ask you though with the goat vets, because even finding a large animal vet for our bovines, a lot of the vets that I had used previous. We had a calf that we actually needed a vet. It's the first time we've had a vet come out onto the farm for cattle.
Melissa K Norris: When I had horses, the vet all the time with horses, that's a whole nother podcast episode, but the reason I was... What are some things? Because you said it was hard to find a goat vet and I've even had trouble [crosstalk 00:32:22] there's only one that now actually services large animals in cattle. But what are some of the, I guess, main besides like, if they get hurt, like a wound or something. Is there certain diseases or things like that, that are more common that you would want to be on the outlook for that are goat specific?
Rachael Tuller: Yeah. I think the biggest one for goats is parasite control. Goats are browsers. So they're not grazers. People who say, I want some goats to mow my lawn. Well, no you don't. You want sheep, because sheep graze closer to the ground. Goat's naturally graze higher up because they are so susceptible to parasites. And where do the bugs live? Usually in the ground. So when a goat gets a heavy parasite load, it can be fatal to them. There is a chart out there, it's called the FAMACHA chart. And I think it was developed in South Africa, but I may be hallucinating that. But basically it has to do with monitoring your goats eyelids. So you pull their bottom eyelid down and this chart is great. It's Googleable, it's everywhere, but you're comparing the amount of blood basically in your goats eyelids.
Rachael Tuller: So if it's a really dark healthy pink, then they're fine, but if it's white, when you pull it down, there's something that's sucking their blood and they have a high parasite load. So you worm your goat. One of the things that I think we need to get out of just as animal owners, as homesteaders and farmers is routine worming. It's made worms really powerful and resistant to wormers. So with goats, worming only when you need to is a really good way to manage them and keep them alive. And also just making sure that you're checking on them. A lot of goats don't get the proper hoof care just because it takes time, maybe a goat wasn't socialized to have it hoofs picked up, and it's really annoying to trim their hoofs.
Rachael Tuller: But then if goats don't have proper hoof care, then they get hoof rot and then that starts to smell and degrade their hoof, and then their lame. So staying on top of your goats hoofs is really important. And then one of the things I think people end up with the most is, their goat got into something like a rhodie or an azalea, they're poisonous to them. So being able to treat those based on what's happening to them, which we've had to do. And polio is another weird one that we just never thought we'd see, but it's so treatable with just an influx of B vitamins. You just give them a whole bunch of B vitamins and they're no longer star gazing. So there are a lot of routine things out there that goats go through that are pretty easily treatable if you just know what to look for.
Melissa K Norris: Okay. Very interesting on the polio and funny story is the goats that we had, we had just landscaped. We had bought the property and totally put in septic, all the things. And so I had just went and bought some azaleas and some rhododendrons, because it was just raw land and put into some landscaping along the driveway. And at that time it was really only, probably about five plants, but that was a lot of money for us at that time. I literally had gotten them planted two days before and then those goats got out, ate them all and people are going to think this sounds harsh, but it's the truth. And I was so mad at those goats because they were mean at me, to me anyways. And I didn't want them anymore because they were so ornery, and that they just decimated all of these plants that I had saved and was a lot of money for us at that time. And I'm like, serves you right. You're going to die because you ate those azaleas and rhododendrons And no, they must have not been large enough [crosstalk 00:36:24]
Rachael Tuller: They were super human.
Melissa K Norris: They did it. All they had was really bad, runny diarrhea all over the place for three days. And then they were fine.
Rachael Tuller: They did it. They did just despite you.
Melissa K Norris: They did.
Rachael Tuller: That's a goat right there.
Melissa K Norris: Yes. So anyways, when you said that I'm like, because that's what I had heard. I'm like, it obviously must be a certain amount per goat that they have to consume for it to be deadly. Anyhow, sorry. That's my goat story. My goat trauma coming out. So if you do find goat in trouble and hopefully it's not them eating your brand new azalea and rhododendrons plants, but I'm assuming if you can't find goats or it's really hard to find, I should say, not goats, but a vet that will treat goats, dosing medications. And are you able to get medications over the counter without a prescription from the vet? And is there any guideline surrounding that?
Rachael Tuller: Yeah. Well, Tractor Supply or your feed store here where we are locally, it's Kiperts, and the Urban store, but a lot of those have a lot of over the counter, the C&D Antitoxin and milk and magnesia is really big. All the electrolytes are big. B vitamins are really good for goats. So there's a lot of options at feed stores. Anyone who has goats though, I would recommend finding a group, there's an emergency goat medicine on Facebook group. And just being a part of it and knowing that if something happens with my goat, I can post a picture and tons of people are going to jump in and help me. The, the goat community is a really big community and they're very helpful. So just if you have those animals, I would go ahead and find that resource now and become a part of it. So you're ready if something does happen.
Melissa K Norris: Yeah. Very wise advice. That's always smart to know. Know it before you need it type of a thing, especially in an emergency. Yeah. Well, Rachel, I have enjoyed this so much. We could go on and on because there's so many questions that we didn't even get to really dive into cheese making, but I think that will have to be, a goat cheese making will have to be another episode because there's so much there to cover. But for those who are looking into creating a small farm as a business, because you and your husband now, this is your guys' full to time income, correct?
Rachael Tuller: It is. Yes. We're full-time farmers. We both left our full-time jobs. Mine was in a cubicle and his was in a hospital, and we're full-time farmers and we make a living wage, which is pretty special considering we're on 11 acres and we only milk 44 goats.
Melissa K Norris: Yeah. It's really awesome. Kudos to you guys, that is amazing. And you have an online class for those who are looking into, if they have a small farm, marketing for small farms, looking into doing farmers markets, CSAs, farm stands and that type of a thing too, don't you?
Rachael Tuller: I do. Yeah. So I was a corporate marketer for 10 years before I became a farmer. And so I draw on that. And I just did a quick, it's 45 minute, all the way through. And it's got a bunch of resources that are downloadable, but it's a crash course for marketing, for people who sell at farmers markets, CSAs or farm stands.
Melissa K Norris: Awesome. And you are very generous and you have a coupon code for listeners of the podcast.
Rachael Tuller: Yes, I do. So the code is MKN and it makes it $20 off. So the course is just $39. And I mean people, if they're selling at those places, I made a lot of mistakes and they can learn from them.
Melissa K Norris: Awesome. So guys we'll have the link as well as the, my code. It's just my initials, MKN. But we'll have a link for that in the blog post episode that accompanies this episode and in the show notes for you. So you can go out and check that out if that's something that would be of interest to you. And Rachel, where can people connect with you further find out more things, not only about the class, which we'll have the link to, but your guys' creamery as well?
Rachael Tuller: So everything is at our website, lostpeacock.com. So it's like lost and found and then a peacock. So lostpeacock.com. We're on Facebook and Instagram as Lost Peacock Creamery. And then I always tell people, you're welcome to text me. The phone number is on our website. It's actually the quickest way to get ahold of me. I don't know about you, but Facebook messenger is just hard for some reason, things don't show up and then it's just, I don't get notifications. So I always just tell people, just text me or call me. I don't mind. I'll talk to you on the phone.
Melissa K Norris: Well, you are very [crosstalk 00:41:25] you are very sweet to offer that up. So thank you so much for coming on. I learned a ton, it was so much fun and we're going to have to have you back on.
Rachael Tuller: And now you're going to go look for your very first dairy goat, and friend. Because remember, you can't have just one and then you're going to start milking your own animal.
Melissa K Norris: I love this. You're giving me a homework assignment. So I can take that recording and send it to my husband and be like, hey look, I'm just doing what I was told.
Rachael Tuller: I have to. Yeah.
Melissa K Norris: I love this. Well, thank you Rachel so much for coming on.
Rachael Tuller: Yeah. Thanks for having me. Have a good day.
Melissa K Norris: I hope that you enjoyed this interview as much as I did and learned as much as I did from Rachel. I don't always have a Bible verse at the end of interviews because usually those episodes go a little bit longer, but I felt like today we really needed to have one. And this Bible verse goes so well with everything that we were talking about. And that is from Exodus chapter three, verse eight. So I have come down to deliver them from the power of the Egyptians and to bring them up from that land to a good and spacious land, to a land flowing with milk and honey. Well, because we've been talking about dairy goats, I think you could obviously see why I pulled that verse and have been thinking about that in context to milk. But one of the reasons that I really wanted to is if you know the Old Testament and the storyline behind this, is the Israel lights had been in Egypt for 400 plus years as slaves.
Melissa K Norris: And then when they, with Moses fled from Egypt, so parting of the red sea and all of that, then because of their disobedience to God, they were stuck wandering in the desert for 40 years before they were allowed to enter into the promised land. Now there's a lot more that goes into depth of that story. You could go and read that yourself in the Bible, but this was God's promise to them that they would not stay in the desert forever. And that he was going to deliver them out of Egypt and out of the wilderness and into a land flowing with milk and honey. Now, they were going into a land that was inhabited by others and what others had put in God that was God's land that was given to his promised people. And so they were going to go into this land that already had been cultivated.
Melissa K Norris: So they going to have honey, there was going to be animals and livestock that they would be able to take. So they had livestock that was also with them. It was a lush land that was going to provide very well for them. But for you and I today, I think this is really important because oftentimes when we are in a bleak time or what feels like our bleakest moment or that we have been going round and round, and round in the same situation for hopefully not 40 years, but sometimes it can feel like that. Is to remember that God does have good things that are going to be coming for us and to keep our eyes focused on that, to keep our eyes focused on his promises and not that of a specific situation that we're in or the bad things. Because oftentimes when we're experiencing something like that, it's really hard to keep our focused moved forward and on the good things when it doesn't feel like good things are happening to us.
Melissa K Norris: So I don't know about you, but sometimes, oftentimes if I'm being honest, I really need to be reminded to focus on the promise of what's coming and a land flowing with milk and honey, even if we are thinking about that more metaphorically as I'm breaking this first down for you. Well, I hope that you really enjoyed today's episode though. And I want to thank you so much for joining me. I can't wait to be back here with you next week when we are going to be diving into fermenting. Talking more about fermenting safety, as well as success and what you need to know in fermenting your foods at home. So I look forward to being with you on that episode and for now, mason jars and blessings.
Sign up to receive email updates
Enter your name and email address below and I'll send you periodic updates about the podcast.
Related Articles You May Enjoy