Ever wondered why is my bread dense and heavy or why is my bread crumbly? Learning to make the perfect loaf of homemade bread, that doesn't fall flat, can be tricky. Trickier still when you add in sourdough, but these tips for better bread baking will help you turn out the perfect sandwich loaf or any bread recipe you're making.
As we head into the late Fall and Winter season, you can find me in the kitchen baking a lot more as we put the garden to the rest for the winter. If you're like me, your sourdough starter goes into hiatus. Maybe you're entirely new to the bread baking scene and are super excited to get started, or perhaps you've done some bread baking in the past, but are looking up your game. If you're any of these, this post is for you!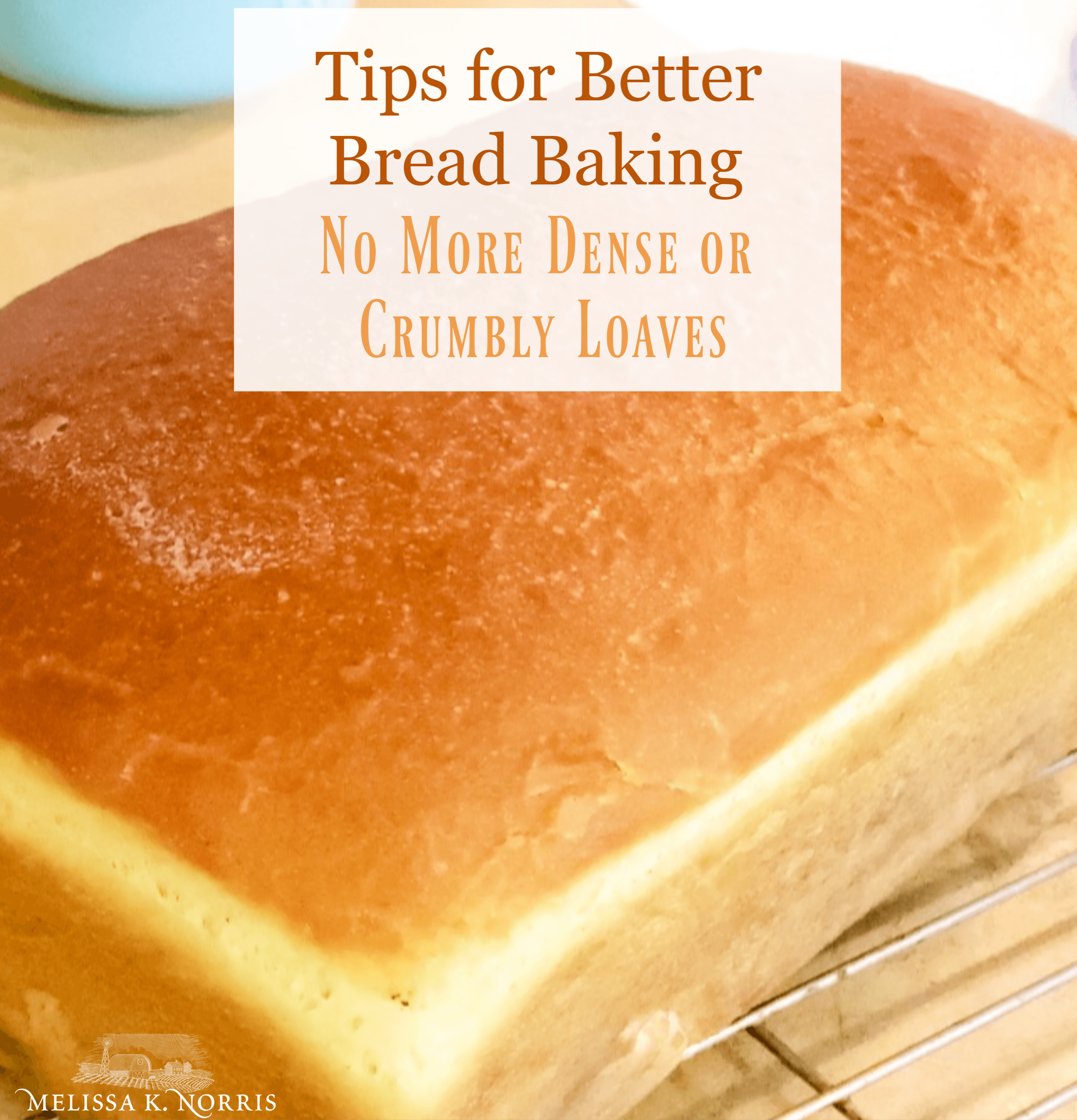 Listen in below to the full podcast, Episode #211 Tips for Better Bread Baking (no more dense or crumbly loaves) of the Pioneering Today Podcast, where we don't just inspire you, but give you the clear steps to create the homegrown garden, pantry, kitchen and life you want for your family and homestead.
The two main issues that I often hear with baking bread loaves are:
The bread is not rising as much as you would like.

The bread is too crumbly when you cut it.
So, with that, I'll be sharing tips and tricks for better bread baking.
Tips for Better Bread Baking (no more dense or crumbly loaves)
Let me preface to say the sourdough bread can be a little bit tricky to get a good rise from as compared to making bread with regular yeast to leaven your bread. The trick to getting the best rise is to learn how visually read the sourdough starter and use it when it's beginning its active state.
Getting the perfect rise
The starter itself has to be strong enough to rise bread without adding additional store bought yeast. If you started it from scratch, this takes at least 4 weeks before you begin to use it for baking any bread. When the starter has risen to about 30% is when you want to start making up your bread dough. So if it is completely doubled by the time you start your bread, then you actually went past the point of being active and is starting to come back down. It needs to be in its active stage so that your culture and the good yeast are consuming the food so that you get that excellent rise on your bread.
The other important aspects of getting a good rise is the temperature in your home so that it can actually rise up. You also need to bake it at the right time as you don't want it to be overproofed or underproofed.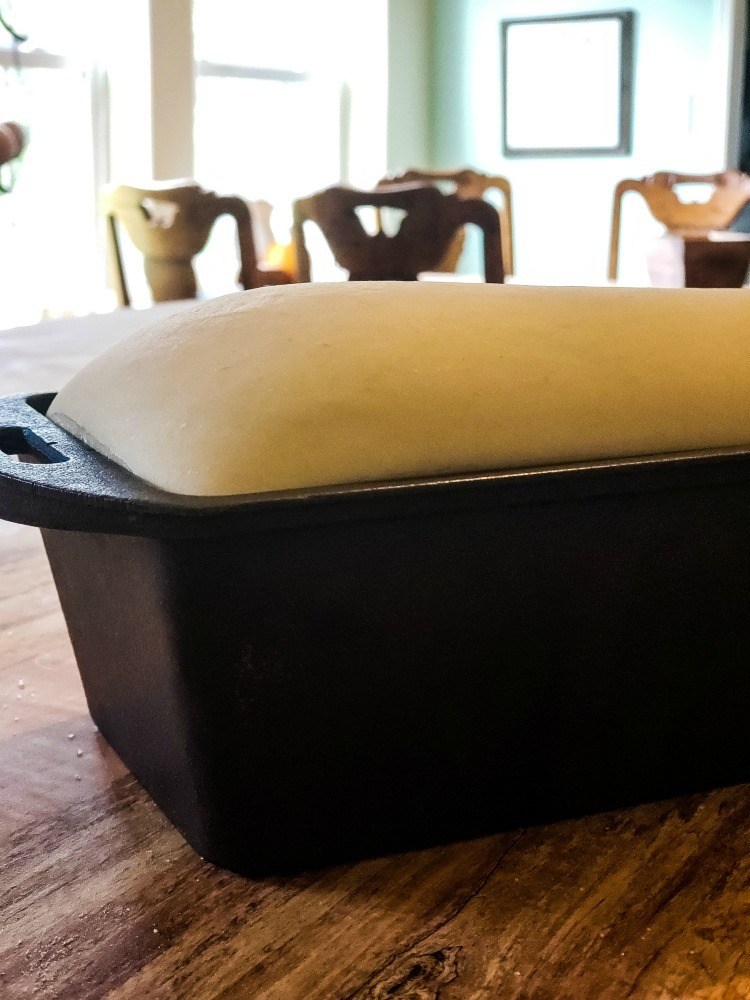 Getting the perfect texture
When it comes to texture, our goal is to get the perfectly great sliceable sandwich loaf. If your bread comes out too crumbly, we need to make sure that the gluten strands were developed sufficiently. The easiest way to know this is to achieve windowpane when you are kneading your dough, and you are getting ready to form your loaf.
If you achieved windowpane and you're bread loaf was still crumbly, then it could be an issue of being too dry. In this instance, my recommendation is to add a little bit more fat. My favorite fat to add to my bread is melted butter. I personally love the flavor and extra richness that the butter gives the bread. If you are dairy-free, you can add coconut oil or olive oil to increase the fat. I recommend adding about a tablespoon more of fat to the recipe to help with the dryness.
The last culprit that can leave you with crumbly bread is cutting into the loaf too soon. It's so hard to take our bread baked bread from the oven and not immediately slice into it, but if you're looking for improved texture, you must let the loaf cool completely. For a regular loaf, it has to cool for at least an hour. For artisan loaves, they need to completely cool for two hours.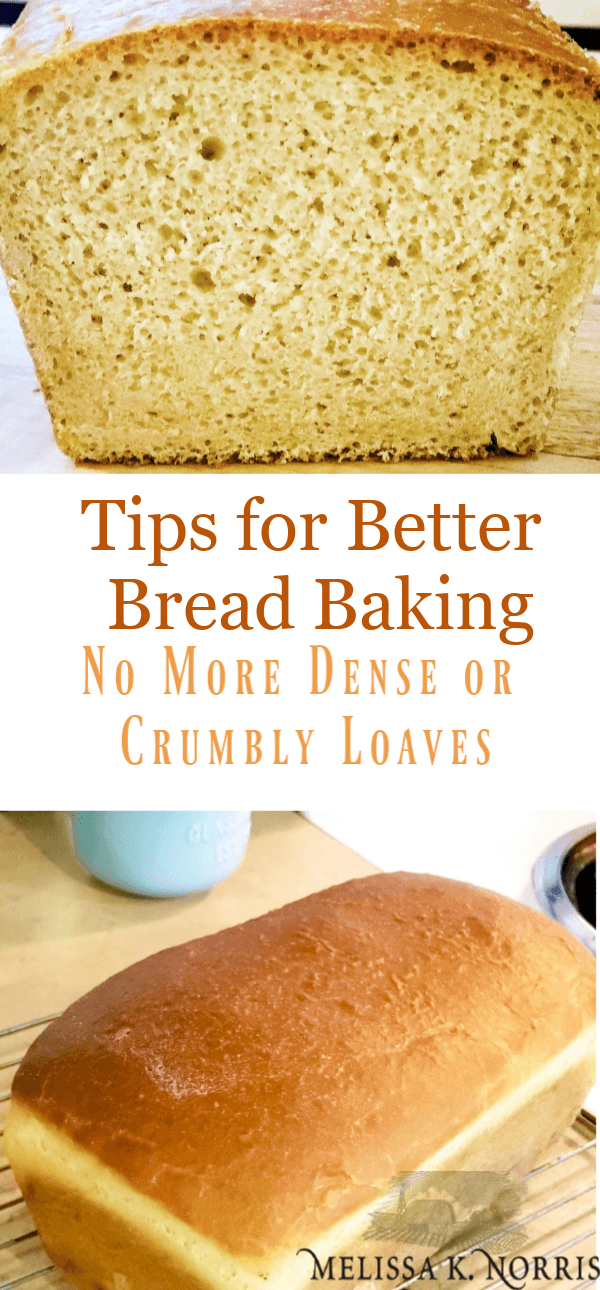 Resources for better baking:
Whether you're a newbie and want to learn how to be a pro baker or you've tried your hand and baking sourdough and it didn't turn out well have the solution for you! Check out my FREE Sourdough Video Series! In this training, I share all my secrets on how to create a sourdough starter from start to finish with some of my favorite recipes.
More Homemade Bread Recipes and Resources