Learn how to plan your crops for the garden customized to your homesteading needs and what YOUR family eats.
I'm always excited about the new year, it's when I take the time to step back and evaluate what's working and what isn't, and to make changes where they need to be.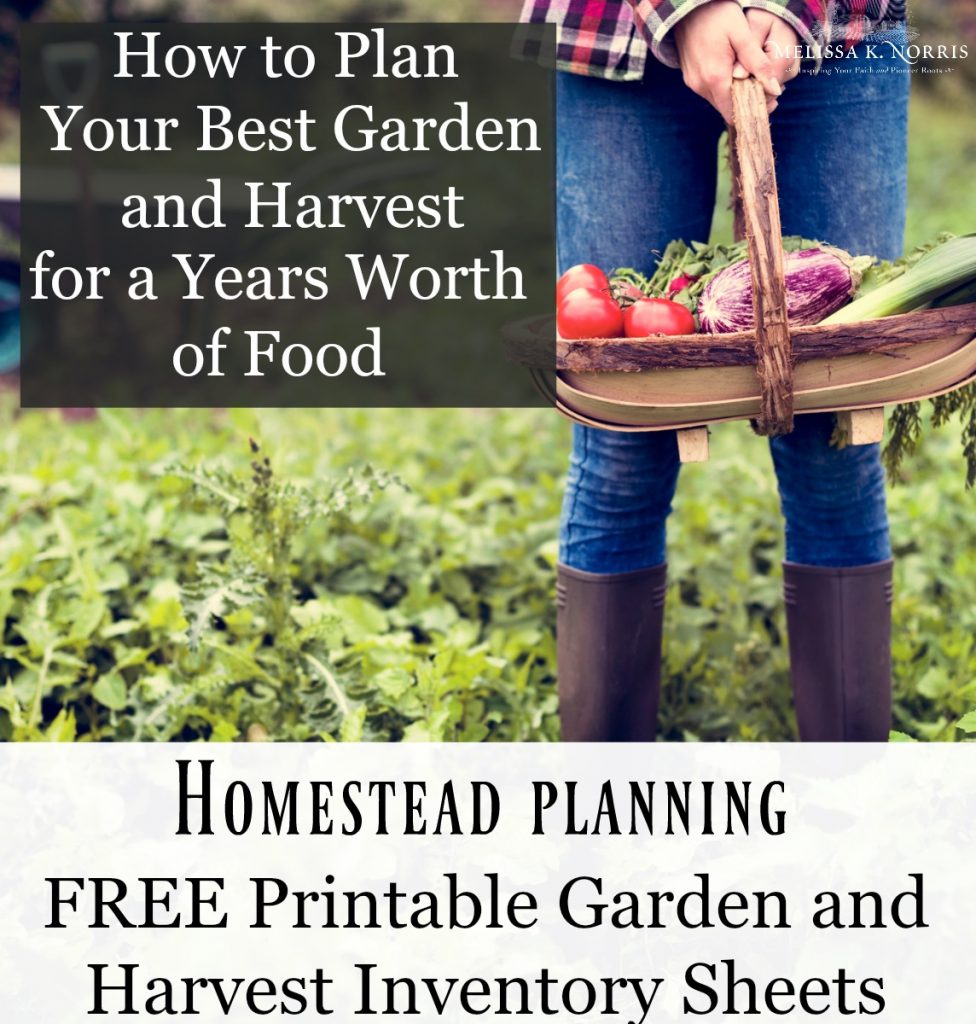 This is the season when we begin to plan the crops for our homestead for the coming year. Because when you raise all of your own meat, most of your own fruit, and a whole lotta your veggies, ya gotta plan things out to make sure you don't miss anything.
This is episode #124 of the Pioneering Today Podcast How to Plan Your Crops for the Garden and Homestead, where we teach families how to grow, preserve and cook their own food using old-fashioned skill sets and wisdom to create a natural self-sufficient home.
Step 1. The first step is to evaluate how much food you have left from last year's growing season
Grab our FREE How Much to Plant Per Person Gardening Charts
If this is your first year growing your own food, you may not have an inventory of home grown and preserved to go through, but you still need to do some evaluating. Look at your current pantry and see what foods are you using a lot of?
Don't have a very well stocked pantry? Keep track of the meals and foods you're eating on a regular basis. Do you have spaghetti, chili, or something with tomato sauce in it weekly or almost weekly?What frozen or canned vegetables are you using on a consistent basis?
Document this, write it all down and keep a notation of what you'd use in an average month and then multiply this out for a year.
Go through your freezer and your pantry shelves of preserved food to see where you nailed it to have enough food for the year and where you're falling short. Don't forget the spice and herb cupboard, I need to increase my dill production this year.
I have 18 jars of tomato sauce left and our typical first large harvest (enough to make sauce) isn't until August. This means I can use approximately 2 jars a month if I don't want to purchase any from the store. This past year I tried a new type of tomatoes and didn't grow as many paste tomato plants as I usually do. I will make a note to go back to my typical amount of paste tomatoes (about 18 plants) for our growing season so I have more sauce.
I have 27 jars of cucumber pickles left, which means a jar a week until main harvest time, more than enough (we generally don't eat an entire quart of pickles in one week). This means having 3 hills of pickling cucumbers was the perfect amount for our needs.
I do this process with all of my preserved foods, including dehydrated, canned and frozen. We still have all of our whole chickens from 2017 because we're just now finishing up the rest of the chickens from 2016. That means I have enough whole chickens to serve two whole birds a month until butcher time in July.
Now that you've evaluated how much food you have left, you know which crops needs to be increased or decreased for this year.
One year I had 30 jars of salsa left over from the previous year, so I did not can any salsa that year, instead, I used up what we had. Some years I will preserve a double amount and not grow that crop the following year.
It's crucial you go through your inventory each year and not go by the previous year, because things change. Right now, my son is hitting his teenage years, aka, eating a lot more food. My daughter loves pickles (she didn't use too). Over the years, we eat more of some things or less, and the beauty and point of growing your own food is to tailor it to your exact needs.
Step 2. Decide which crops you're going to be growing. Based upon my inventory, I plan out which crops we need to grow for this year.
Where do you start in planning your garden if you've never grown one or preserved the food before
You've done step 1, right? You've got a pretty good idea of what foods you're eating on a regular basis.
When deciding what plants to grow you'll need to look at:
what you have space for
your growing season
what grows easily in your area
If you don't have a lot of space then trying to grow all of your own corn is not feasible. If you have limited space, go for plants that grow vertically. Check out Podcast Episode #76 The Best Vegetables for Small Spaces & Self-Sufficiency for my top picks.
For example, we grow pole beans, that way, my squash can vine out among the beans, letting me use the space for two crops at the same time.
Don't waste your time trying to baby plants that aren't adapted to your growing climate and season. I live in the Pacific Northwest, we are too cold to grow okra and sweet potatoes.
Could I try with a large black grow bag? Yes, and I may some day, but it would take a lot of babying and extra work on my part without a high likelihood of a large crop, or any crop at all.
If you live in a hot climate, you're probably not going to have luck with snow peas, they like cooler weather.
Want to put in fruit trees? (Yes, the answer is yes!) Here's 9 Fruits You Can Plant in Winter.
Step 3. Check your seed supply. If you've ordered seeds through the mail, you'll notice you get new seed catalogs starting in December through January. Because now is the time to get your seed house in order.
If you're a seed saver (meaning your save your own garden seed each your from your plants) and/or have some seed left from previous years where you didn't plant it all, go through your seeds.
If the seed is older than three to four years, you may want to order a new batch as seed does lose some of its germination rate (how many seeds will sprout when planted) the older it gets.
Make a list of what seeds you need to order and get your order placed now.
For a bit more info on the differences between GMO, hybrid, and heirloom seeds with 4 Tips to Successfully Grow Your Own Food check out Episode #75
Step 4. Keep notes on which varieties do best for you. It's important to note which varieties of seeds or plants you plant and work best for you… or don't.
I've tried several types of pickling cucumbers but last year I planted three hills of Chicago Pickling Cucumber and had the best and most prolific cucumbers. They made excellent pickles but were also a great fresh-eating cucumber. I will stick to this variety from here on out.
Last year I tried a Black Cherokee Tomato variety along with my San Marzano Lungo #2 and while the flavor was fine on the Black Cherokee, it wasn't nearly as prolific as the San Marzano and I almost ran shy of having enough tomato sauce to last us for the whole year. This year I'll go back to the San Marzano's.
For a complete update on what is or isn't working for me, and new varieties and techniques I am using this year, don't miss New Gardening Techniques & Varieties to Grow in 2022.