Homemade chocolate cake is sooo much better than the store bought boxed mixes, without any weird processed ingredients, is super frugal and did I mention it plain tastes better. Score!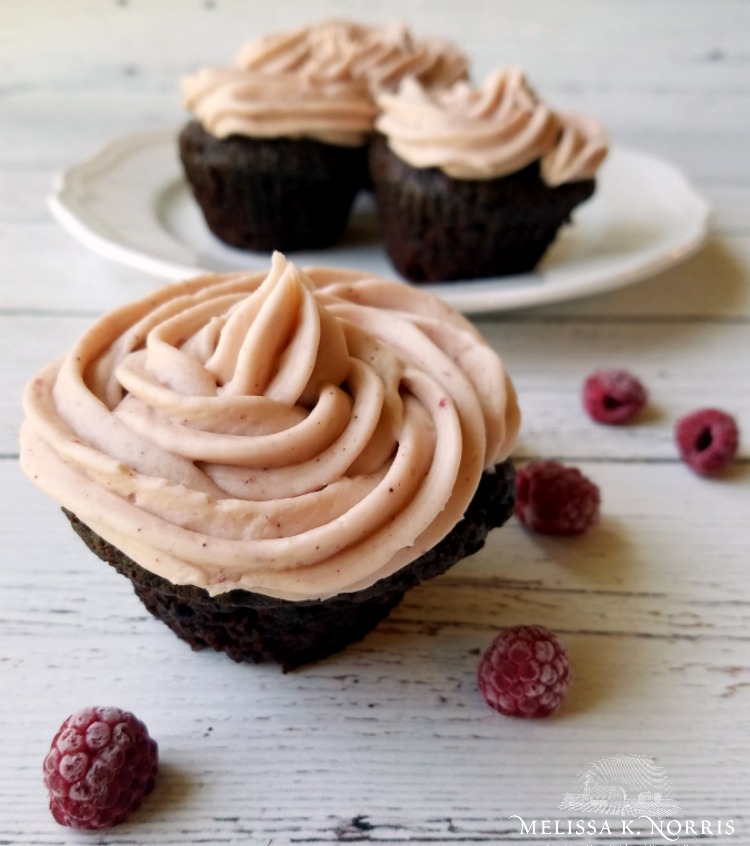 My great-grandmother passed down many things in our family, and though I never knew her, I still think of the woman she was whenever I use her recipes or sieve when making applesauce, raspberry jelly, and blackberry syrup.
I know she was a God fearing woman and an excellent baker, hence her recipe for Heavenly Chocolate Mayo Cake is still our go to recipe. I wonder if she had any idea her legacy would live on in my home.

I love getting old family recipes (even when they're not from my family) like this 1930s Chocolate Gravy Recipe. There's something about reaching back through generations that make me feel connected. And if a recipe has been passed down, then you know it is going to taste amazing.
I didn't name this recipe, it was already called Grandma's Heavenly Chocolate Mayonnaise Cake. It's a from scratch, honest to goodness moist and heavenly cake. My son requested cupcakes with caramel frosting.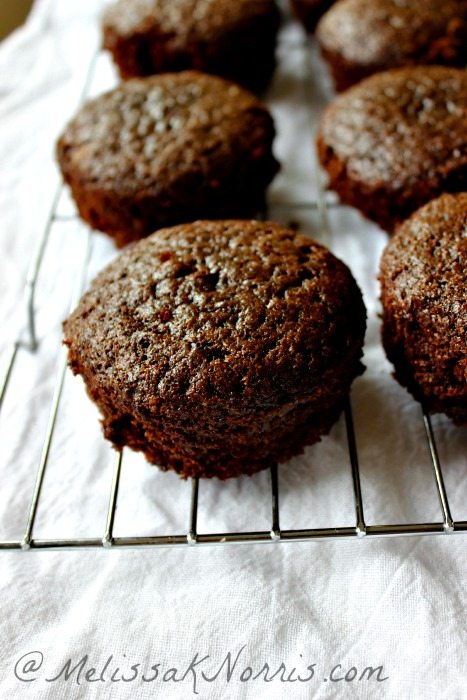 It's been a tradition since my children were born to bake all of their birthday cakes. It's been fun, we've had tractors, ninjas, Mickey and Minnie Mouse, and my daughter wants a Barbie cake this year. This year, my nine year old didn't care so much about the theme, just the taste. Can you hear the tremor in my voice? How do they grow so fast?
Here they are cooling. My daughter kept begging for one of the muffins. Because if she called them a muffin, who cares if they were before lunch. And frosting, who needs frosting? She takes after her mother with the no patience gene.
Resources for Homemade Chocolate Cake
I use the old-fashioned chocolate cake recipe for everything, seriously, don't waste your money on those boxed cake mixes, because from scratch is better and so much healthier. The same goes for this exceptional homemade vanilla extract and homemade mayonnaise.
Speaking of from scratch, if you like this recipe and adore vintage and the old-ways of doing things, you'll want to check out my new book The Made-From-Scratch Life, for more family recipes, tips, and simple living advice (this is one of the recipes in there, plus others from my grandparents, great-grandparents, and my parents.)
This recipe will yield a regular cake in either a 9×13, two circle pans, or 24 cupcakes (depending on how full you fill them). I actually used my super large muffin tins (these are from our affiliate partner Amazon Baker's Secret 116466007 Basics Nonstick 6-Cup Texas Muffin Pan, but then I realized I needed more cupcakes for the party and switched to my regular pans. I'm kind of partial to the jumbo tins. I like cake, what can I say.
Make this into a DIY Mason Jar Chocolate Cake Mix with this FREE printable jar tag and the full recipe card.Click here for FREE Printable Jar Tag and Recipe Card!
Click here for FREE Printable Jar Tag and Recipe Card!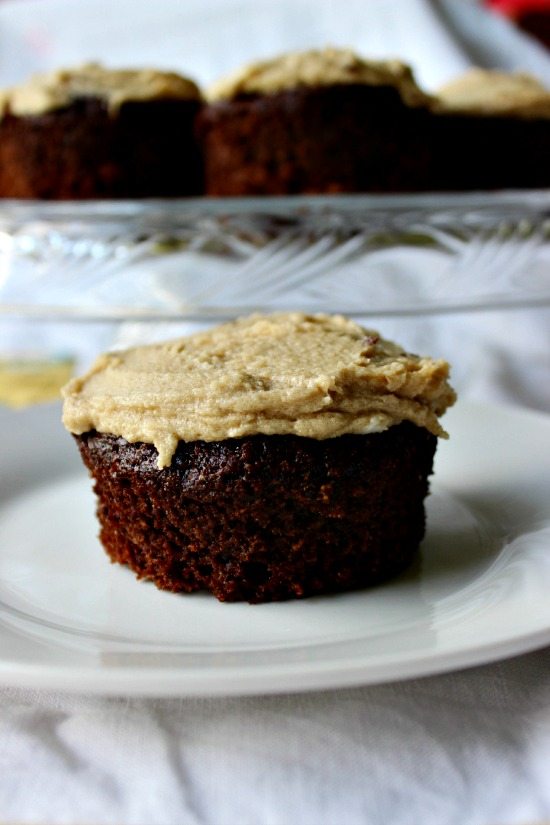 Great-Grandma's Homemade Chocolate Mayo Cake
To make sure your cake turns out wonderfully moist, don't over bake. I pull my cakes out as soon as the center tests done by pulling out a toothpick with no batter stuck to it.
The secret to this cake is both the mayonnaise and the brewed coffee. You don't taste the coffee, but it works like magic to make this especially moist, rich, and dare I say… heavenly.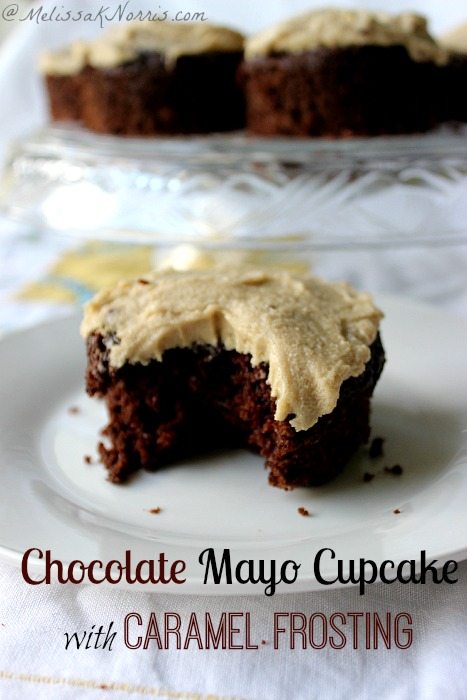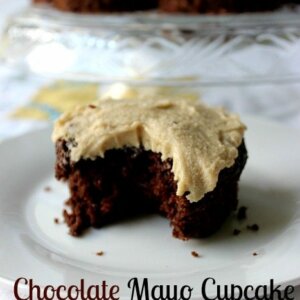 Grandma's Chocolate Mayo Cake & Caramel Frosting
Ingredients
2

cups

flour

I used soft white wheat but all purpose or cake flour is fine

1

cup

sugar

I use organic evaporated cane juice

1/2

cup

cocoa

1

teaspoon

baking soda

1

teaspoon

baking powder

3/4

cup

mayonnaise

1/2

cup

cold water

1/2

cup

brewed coffee

1

teaspoon

vanilla

Frosting

5

Tablespoons

butter

I think cream cheese would work well, too

1

and 1/2 cups brown sugar

3

Tablespoons

boiling water

1

teaspoon

vanilla
Instructions
Preheat oven to 350 degrees. Stir all dry ingredients together. Combine wet ingredients with dry until smooth. Pour into greased and floured pans. Bake at 350 degrees for 30 to 40 minutes for a cake or 16 minutes for cupcakes. Cool completely before frosting.

For frosting. Beat butter and vanilla together. Slowly add in sugar until creamed together. Pour in boiling water and beat until creamy. Spread over cupcakes.
My daughter requested raspberry frosting this year, I used a little bit of beet root powder and raspberry jam with the buttercream frosting recipe in The Made-from-Scratch Life.
Do you have a special family recipe that's been passed down?