Some of the links below are affiliate links, which means I will earn a commission at no additional cost to you, if you click through and make a purchase. Regardless, I only link to products we use on our homestead or believe in.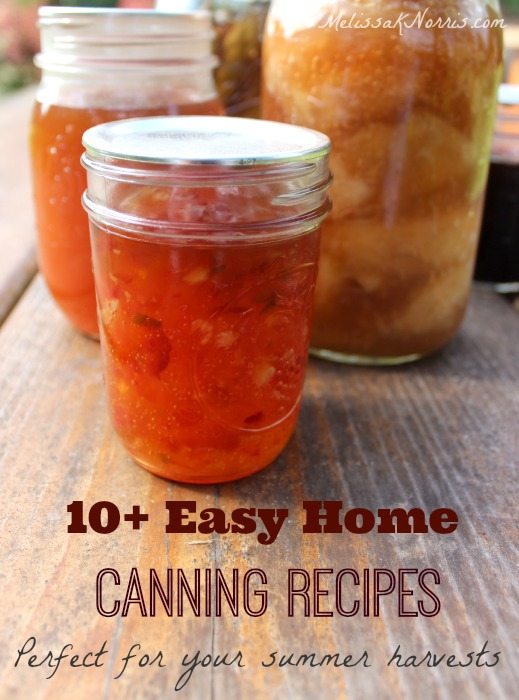 Am I the only one always on the hunt for awesome canning recipes? I've rounded up my favorite 10+ easy home canning recipes for you. I have a love affair with canning. Seriously, wholesome food, ready to go meals with just a pop of the lid, food storage in case of emergency or financial crisis, frugal (as in most of the time free except for the cost of the lid with our garden), and fun. What's not to love?
Yep, I said it, fun. I know it's some work, but I truly enjoy it. I'm gonna let you in on a secret, I sometimes turn on the light in our pantry and gaze at my rows of home canned goodies because I think they're pretty. You don't do the same thing? No judgement, folks, no judgement.
Are you ready for some awesome recipes?
Homemade Jams and Jellies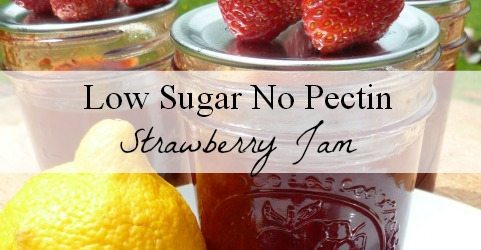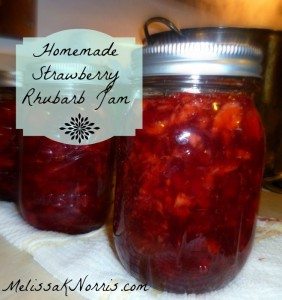 This low sugar no pectin strawberry jam is one of our favorites. It's also my most visited recipe right now…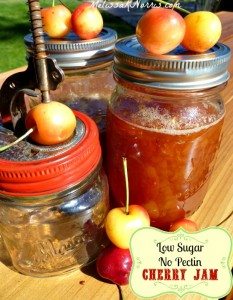 Rhubarb is one of my favorite spring treats. I love this strawberry rhubarb jam, especially on homemade biscuits still warm from the oven.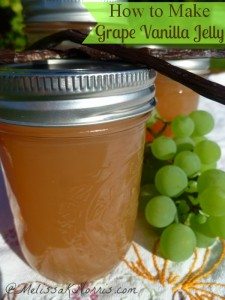 Got cherries? This cherry jam is low sugar (I have a thing for keeping my preserves tasting like the fruit) and no pectin.
We have a grape arbor and our wine grape is too tart all by itself, so this white grape and vanilla jelly is the perfect way to use them and we like it over pancakes, smooth and lightly sweet.
Savory Treats
Because jelly is not just for fruit folks, we love this red pepper and garlic jelly with cream cheese as a dip or as as a great sauce for meatballs!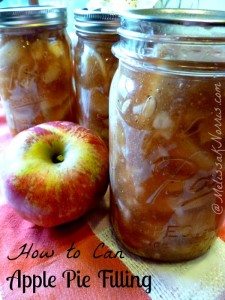 This peach salsa recipe is great with baked salmon or your favorite chips.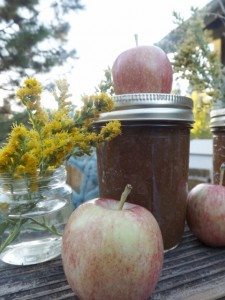 One of the reasons I love my pressure canner is this pressure canned Apple Pie filling. It's delicious, holds it form, and makes me want to eat it out of the jar with a spoon…
Now this is a recipe a first time canner can do with ease–and guess what– this was her first time ever canning! Check out how to can apple butter.
Home-canned Veggies
We put up over 24 quarts of these pickled asparagus. They're delicious all by themselves or wrapped up in a piece of ham or turkey.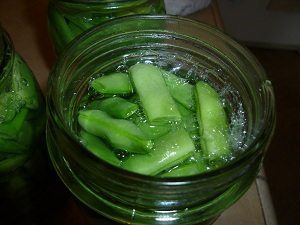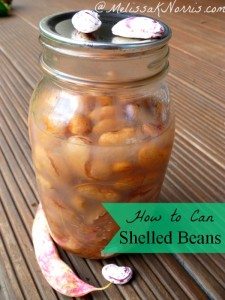 I've never buy green beans from the store. We put up over 80 jars from our garden and you can too. Here's how to pressure can green beans.
What about shelled beans? I've got ya covered in how to can shelled beans. We use these to make 10 minute re-fried beans, chili, and soup beans.
Not sure if you need a pressure canner or water bath canner? Here's the low down on waterbath vs. pressure canner and which one you need for what.
Are you ready to start canning? What's your favorite home canning recipe?