My grandmother rarely used a recipe or a cookbook. In fact, most pioneers didn't lug around numerous cookbooks or recipe cards, they simply put together the ingredients they had on hand and in season to create their meals.
Which is an old-fashioned skill I think we could all do better at. If you've ever planted oregano, you know it spreads quickly and grows like a weed. However, it's delicious enough I let it hang around and play, though it is sequestered to a corner of a rock bed to keep it from growing into the yard.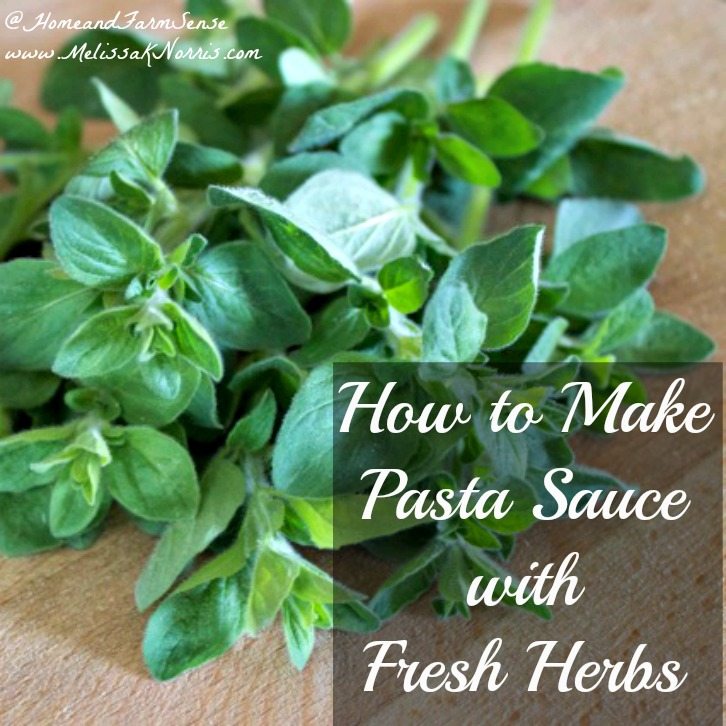 When using fresh herbs, you generally need three times as much fresh herb as you do dry. So don't be afraid to use more of the fresh herbs and add it towards the end of cooking, as it tends to loose its flavor if cooked to long.
This recipe from Amy is fun because it also incorporates a lot of spinach, but feel free to exchange the fresh herbs for whatever you have in season at your house.
Aren't you glad its Spring? We have grass growing like crazy, bees buzzing, apple trees in bloom – its such a lovely time of the year! Another huge benefit of Spring is the harvesting of greens and perennial herbs. My oregano patch has grown quite large and so I wanted to come up with a recipe to showcase all that yummy herb flavor.
We have also been gifted with lots of spinach from a friend who starts his plants early in a greenhouse. Because my kids don't tend to jump for joy at the thought of eating spinach, I try to incorporate it into everyday recipes. I will be posting more spinach recipes at my blog Home & Farm Sense over the next couple of weeks.
This pasta sauce is super easy to make and who doesn't love spaghetti? We start by browning some of our farm's sweet italian sausage in a medium stock pot with a large onion, chopped up and some garlic.
While its browning, I strip the oregano leaves and finely chop them on my mezzaluna board (I've never used one of these, but apparently, they are the bomb for chopping up fresh herbs,~Melissa). Then, I take the stems off the spinach and roughly tear it into bite size pieces. The amount of spinach and oregano you use is totally up to you. The spinach cooks down so much that I think I used two whole bags.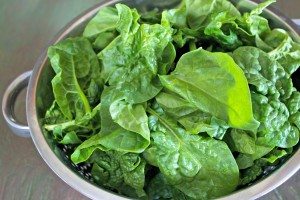 Once the sausage and onions are nicely browned, I add in tomato sauce, tomato paste, honey, salt and red wine.
I made a huge blunder when making the recipe for this post. I needed to open a new bottle of wine and so just grabbed one out of the cupboard. I asked my husband to uncork it but unfortunately neither of us really looked at the bottle. If we would have paid attention we'd have realized the wine I grabbed was a special bottle he had bought in Brindisi, Italy while stationed there 15 years ago that he wanted to keep as a souvenir. Oops..
The final step for this sauce is to add in the finely chopped oregano and spinach. The spinach will not all fit in the pan at first but will wilt as the pasta sauce cooks, so I just keep adding more until its the amount I want. I then let the sauce simmer for about 30 minutes in order for the flavors to maximize. And that's it – I told you it was easy…:)
You can serve this sauce over pasta but its also great over polenta or spaghetti squash.
Bon Appetit!!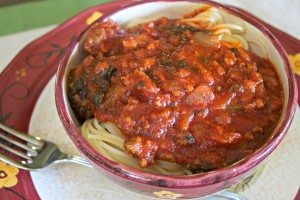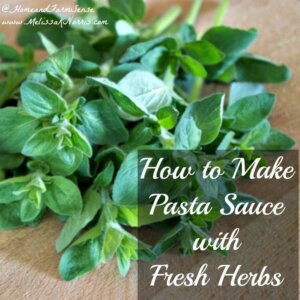 Pasta Sauce with Spinach and Fresh Oregano
A yummy Spring pasta sauce using fresh spinach and oregano from the garden.
Ingredients
1

lb

Italian Chub Sausage

1

chopped onion

2

cloves

minced garlic

28

ounces

tomato sauce or stewed tomatoes

2

cans tomato paste

6 ounce cans

3

TBSP

Honey

1

TBSP

Salt

5-6

Sprigs of Fresh Oregano

1

or 2 Bags of Spinach

ends removed

1/2

cup

Red Wine
Instructions
Cook sausage, chopped onion and garlic in stock pot until sausage is cooked and onion is soft.

Add in tomatoes, tomato paste, honey, salt and red wine.

Remove stems from oregano and chop fine. Add to pasta sauce.

Remove ends from spinach, tearing any really large pieces. Add to pasta sauce.

Simmer over low heat for approximately 30 minutes.

Serve over pasta or polenta.