Some of the links below are affiliate links, which means I will earn a commission at no additional cost to you, if you click through and make a purchase. Regardless, I only link to products we use on our homestead or believe in.
Learn how to make perogies (or pierogies) from Anna, with her traditional Ukrainian Perogi recipe.
I can hardly remember a Christmas dinner without perogies. I want to say it happened once and so many family members complained that it never happened again.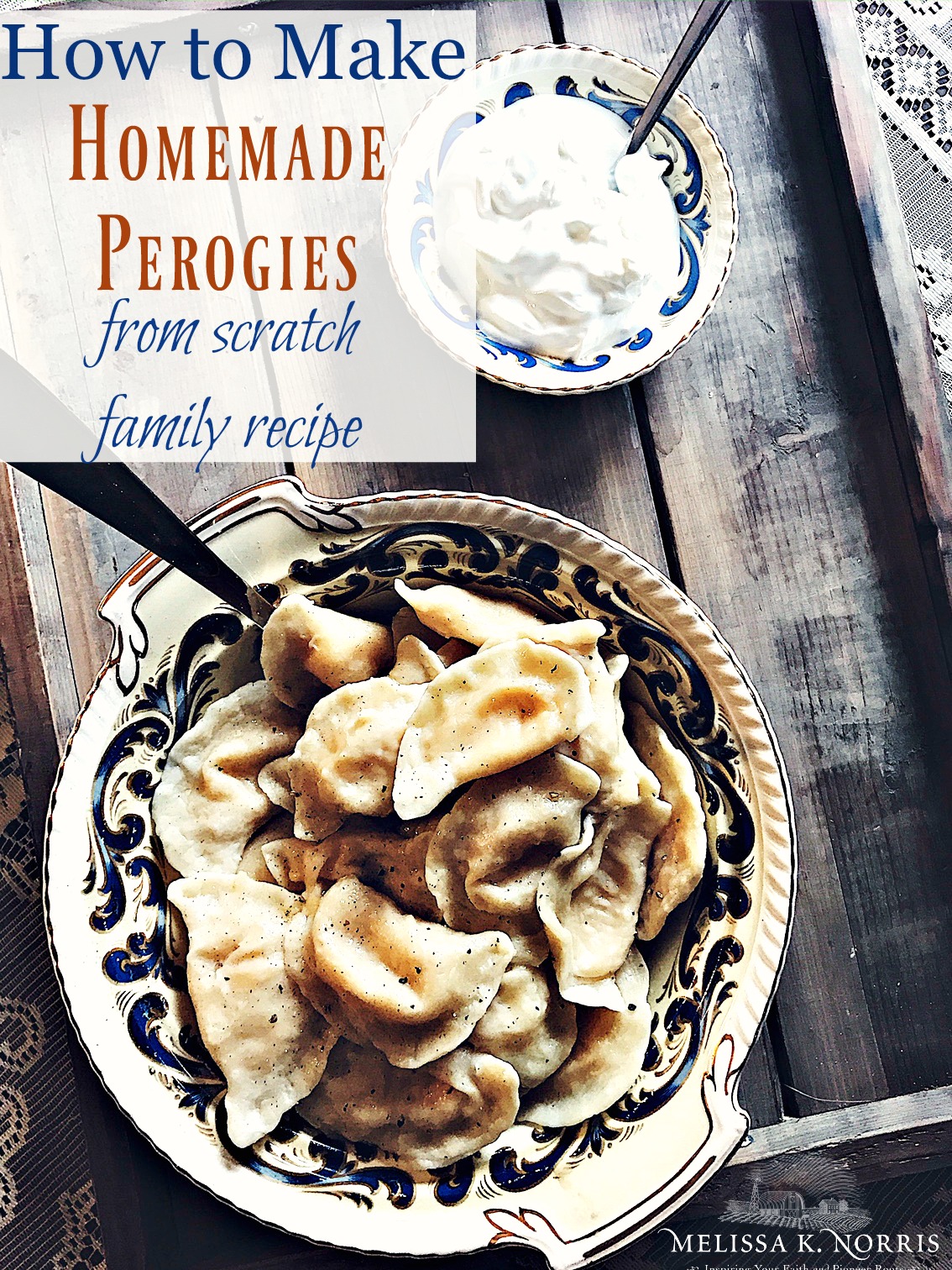 Because these potato-filled dumplings aren't just a staple of holiday dinners in my family, they're a part of our heritage; A heritage full of traditions that have been passed down through generations, many of which still find a place on our dinner table at every special occasion (and many meals in between).
Perogies are a versatile food, great for both holiday dinners and midweek meals alike. They're also super frugal, costing mere pennies a piece when made from scratch. And a single batch will easily feed a large family (or a small village).
They make a fantastic main course as well as a perfect side dish. They stick to your ribs despite having no meat, and they're pleasing to just about everyone's tastebuds. I've literally never met anybody who doesn't like them.
The History of the Humble Perogy
Perogies originated in Eastern Europe out of necessity. They were originally considered a peasant food as they are composed of humble ingredients like flour, potatoes and onions. Nevertheless, they were a frugal way to fill hungry bellies with a few simple ingredients and helped stave off hunger during frigid and barren Eastern European winters.
Today they are enjoyed by all, regardless of class or social status, and they remain a staple food for Eastern European families like mine, even though we've lived in North America for multiple generations.
Food is one of those things that connects us to our past and to our ancestors and to the ways of life of long ago. Although I'm fourth generation Canadian, the perogies I make and feed my family have changed very little from those my great-great-grandmother fed to hers.
A Frugal and Filling Addition to Your Family Table
Many people are familiar with perogies, but unfortunately they don't know much more than the fact that you can buy them pre-made from the store. I often meet people who tell me they love perogies but have never made them from scratch (and probably never even tasted them from scratch). And yet, these are one of the easiest things to make at home!
They do tend to be a little time-consuming as you typically roll out enough dough at one time to make anywhere from 50 to 150 perogies at once. But the process is straightforward and a few simple ingredients go a very long way, making this an easy pierogi recipe.
Pierogi filling recipe
5 lb. bag of potatoes
1 lb. of sharp cheddar cheese (optional)
1 large onion
a pinch of salt
pat of butter
With these ingredients you can make a batch of about 150-200 pierogis, depending on how large you're cutting them. Now, it's been a while since we bought them from the store (yes, it's happened), but I think you get around the same amount or a little less in a large box from Costco and that will run you around $10.00 plus tax.
Store-bought perogies also contain added, unwanted ingredients like the food additive soy lecithin that you won't find in this homemade version.
If you're making them with cheese (which I highly recommend), the cheese will probably be the most expensive part of this recipe. We bought a 1-lb. brick of cheese for $6.50 and a 5-lb. bag of russet potatoes for $2.50. Add in an onion, a couple eggs and some flour and salt from our pantry, as well as a little butter and oil, and our last batch probably cost around $10 or $11.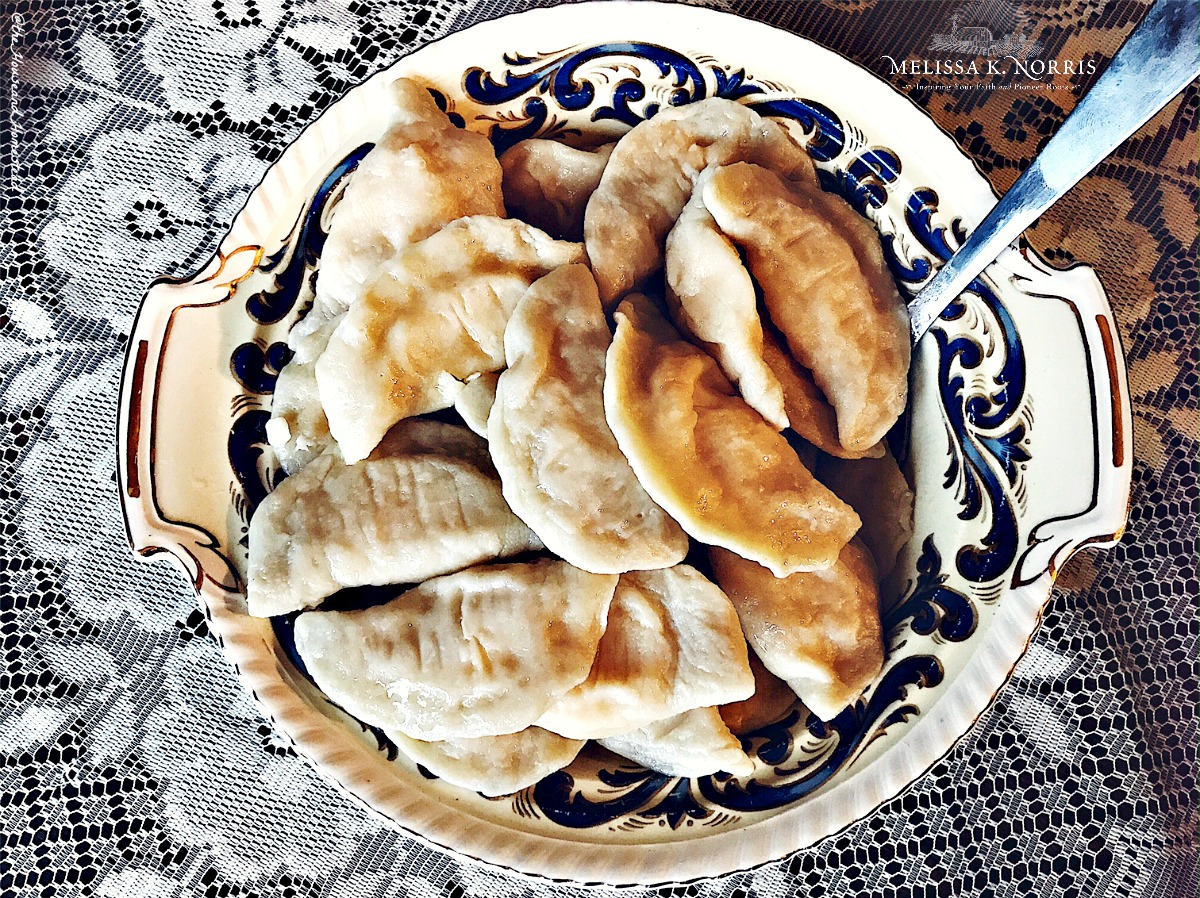 While this is roughly the same as the store-bought Costco version, it contains no questionable ingredients, the cheese is real (not processed) and you could essentially cut your costs to under $5.00 for the whole batch if you omit the cheese. For a batch of 150, this works out to just over 0.03¢ per perogy! Even with the cheese it still works out to around 0.07¢ per perogy. Now if that ain't frugal I don't know what is.
My Family's Pierogi Main Dish Recipe
This perogy recipe was passed down to me from my aunt, who inherited it from her mother who learned it from her mother and so on. Every year around this time we begin making dozens and dozens of these little dumplings to serve at Christmas dinner as well as for Ukrainian Christmas in January and then for Malanka (Ukrainian New Year).
Traditionally, the women and girls of the family would get together to make a huge batch of perogies together. I highly recommend making this a family affair if you can!
For one, many hands make light work. But more importantly, this is such a fun tradition and is something that all generations can do together. And nothing says the males in the family can't help out too. In fact, my husband enjoys a good perogy session just as much as I do:)
Old-Fashioned Cooking for a Busy Home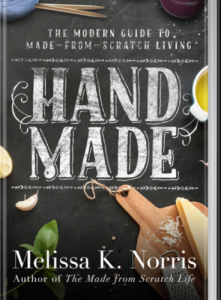 Tired of hectic meal times and complicated recipes or relying on processed foods? Instead, learn how to have
Simple and easy time tested from scratch meals.
Easy skillet suppers
Nourishing and kid-approved soups and stews
Old-fashioned baked goods from buttermilk pie, homemade cake mixes, to Mom's chocolate chip cookies
Don't spend all day in the kitchen, tips for busy times without sacrificing hand made goodies
Wholesome ingredients without processed and questionable items
Want more easy homemade recipes all in one place? This recipe and 100+ more are found in my book–-> click here Hand Made: the Modern Guide to Made-from-Scratch Living.
How to Make Perogi Potato and Cheese Filling
First you'll want to prepare the ingredients for your filling. Start by peeling your potatoes, then cut them into quarters and boil them until soft enough to mash. While the potatoes are cooking, grate your cheese and then dice up one whole onion and sauté in a little butter.
Once the potatoes are ready to mash, strain the water out but reserve 2 cups to make your dough with. You can use regular water but using the starchy potato water makes for great dough and makes this recipe even more frugal.
Return strained potatoes to the pot. Add grated cheddar and sautéed onion and mash really well. You want the filling to be thick and firm (so don't add any milk or cream like you might with regular mashed potatoes). But you also want to make sure there are no lumps, so mash well.
How to Make Perogies
Prepare your dough. This perogies recipe will make about 150-200 depending on how big you cut them, but you can easily multiply or divide this recipe to suit your needs.
How to Make Pierogi Dough
Mix together flour and salt.
In another bowl, mix a little oil with a couple eggs and the potato water (or regular water if you accidentally dumped your potato water down the drain).
Slowly add wet ingredients to dry and mix well.
Flour your hands and knead your dough ball until smooth.
Then let it rest, covered, for about half an hour.
When perogie dough is ready, roll it out to about 1/8 of an inch thick. You want it thin, but be careful not to roll it too thin as it could break.
Either use a biscuit cutter or an upside-down cup to cut your circles out. Cut out as many as you can and then ball up remaining dough and roll out once more. Repeat the process until all of the dough has been used up.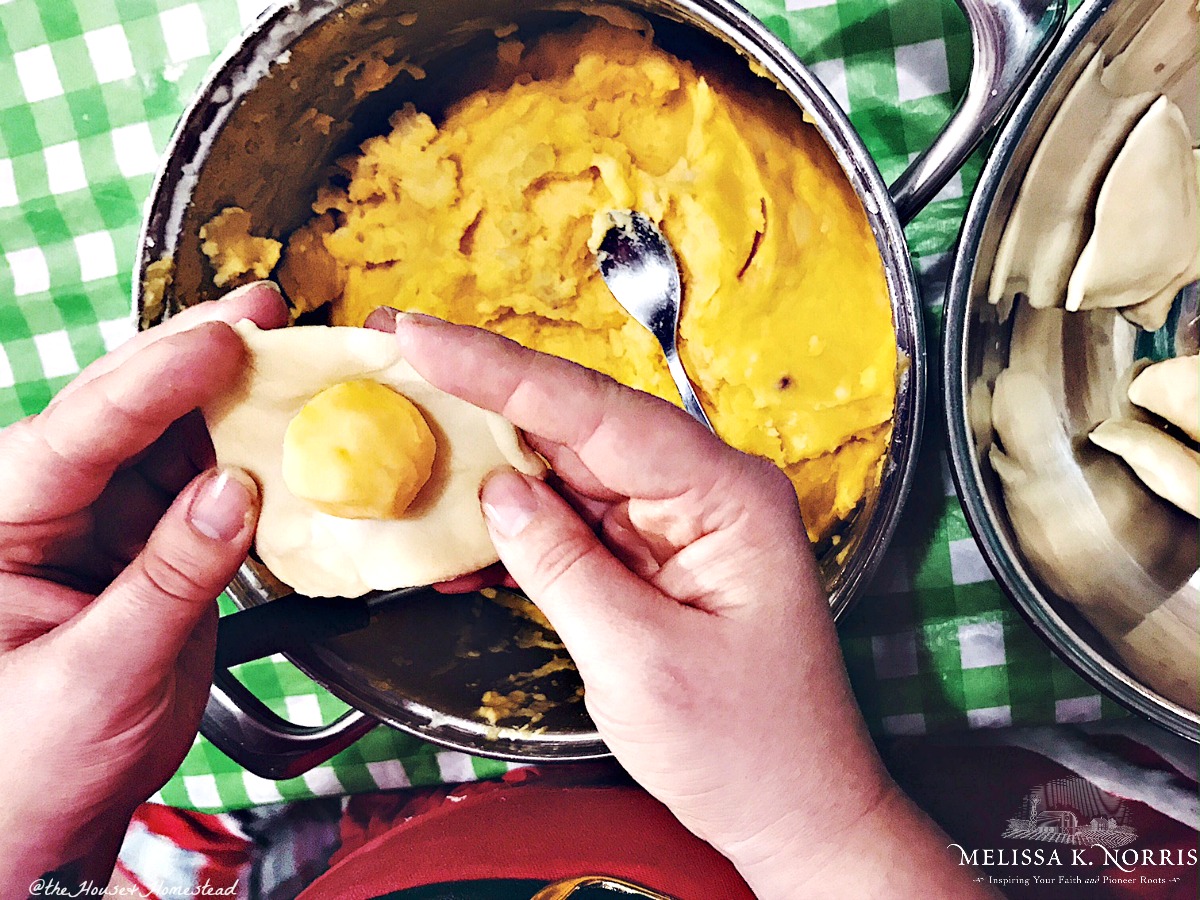 By this time, your perogi filling will be cool enough to touch. Scoop about a tablespoon of potato filling for each dumpling and roll into a neat little ball. It's easiest if you prepare a bunch of these balls before you start filling your perogies.
Gently stretch out each circle of dough and then place a ball of filling in the centre of each one. Seal them up with your fingers as you go, pressing the two edges firmly together. Wet your fingers a little if needed to help stick the edges together.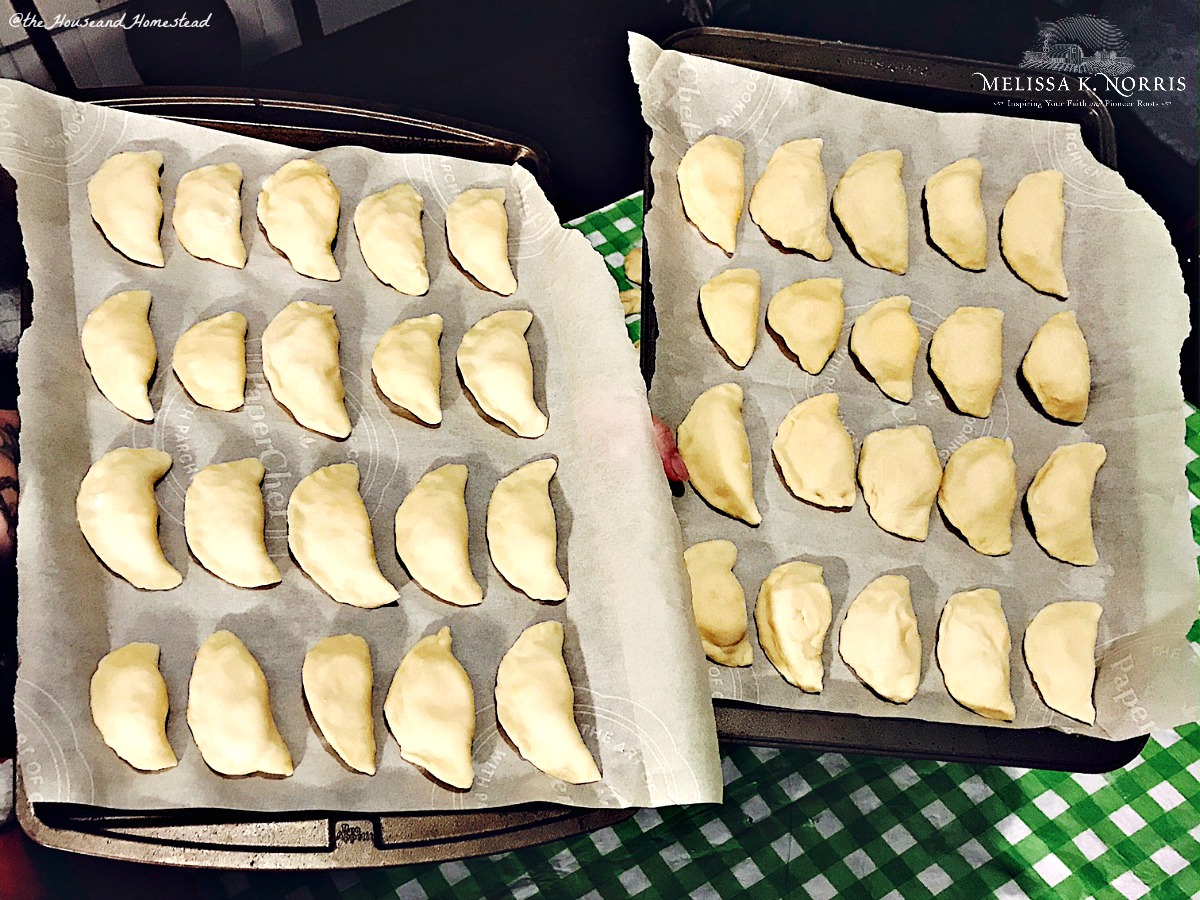 Be careful not to get any filling between the dough as this can prevent a proper seal. If your perogy dumplings aren't sealed well the filling could boil out when you cook them. The dough is still quite edible (and yummy with sour cream!). But let's face it; A perogy ain't a perogy without the filling.
Repeat this process over and over until you've filled and sealed all your perogies. Lay each finished perogy on a baking sheet lined with parchment paper so they don't stick together. Double check each one to make sure they've sealed all the way around.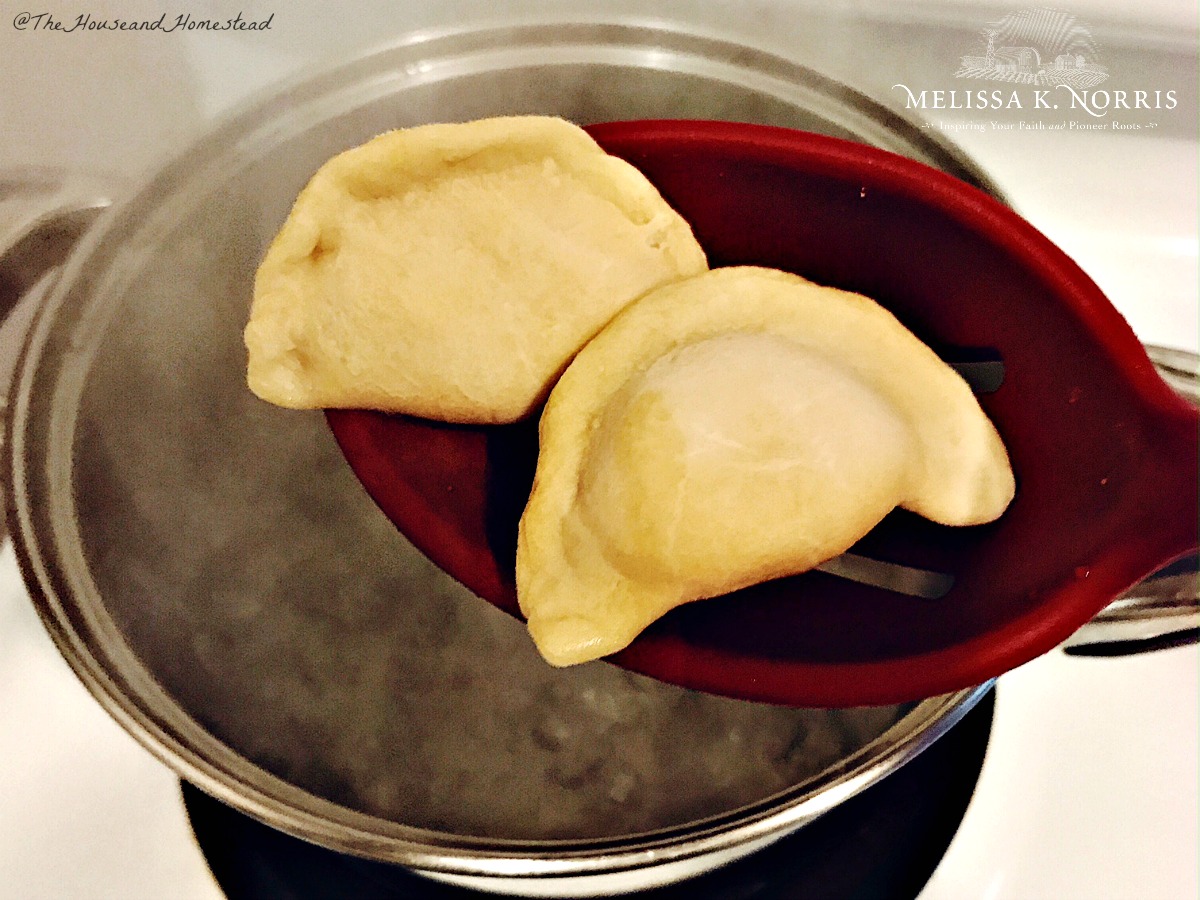 To cook, bring a pot of water to a boil and cook in small batches (no more than 10-15 perogies at a time for best results). Cooking them in small batches keeps them from sticking together as much. Stir them gently to keep them from sticking as well. Boil until done. Perogies will float to the top of the pot when they're finished.
For best results (and to prevent them from breaking), use a slotted spoon to remove perogies from water and transfer to a colander to let drain more. Toss each batch with about a tablespoon of butter (again to prevent sticking… and because… butter).
Repeat until all perogies are cooked and then transfer to a serving dish. Serve with fried onions and sour cream, and enjoy alongside sauerkraut, cabbage rolls, pickles and Ukrainian or Polish sausage with a little mustard and you've got yourself a meal that's fit for a king, but on a peasant's budget.
Homemade Frozen Pierogies
Now, what to do with them all? Perogies freeze really well, so if you're not planning on cooking them all the same night, put the baking trays in the freezer to flash freeze them before transferring them to a freezer bag. They should keep in the freezer for up to 4-6months.
Other Creative Fillings and Meal Ideas
Once you've A) used up all your dough or B) used up all of your filling, you're finished your batch! But don't worry about having leftover dough or filling. You can add an egg to the potato filling and form into balls, then roll in bread crumbs and fry to make potato croquettes.
And if you have extra dough, you can fill them with a variety of other ingredients to make different types of perogies. Pierogi dinner ideas with other popular fillings are sauerkraut and bacon, cottage cheese, ground or shredded meat or fruit fillings like cherry and blueberry.
You can really put anything you like in the middle. This is just a dumpling after all. You could even just cook the dough on it's own and serve dumplings with chicken or in soup. Get creative with whatever you have on hand! Just be sure to cook any meat before using it as filling.
Share with loved ones and enjoy!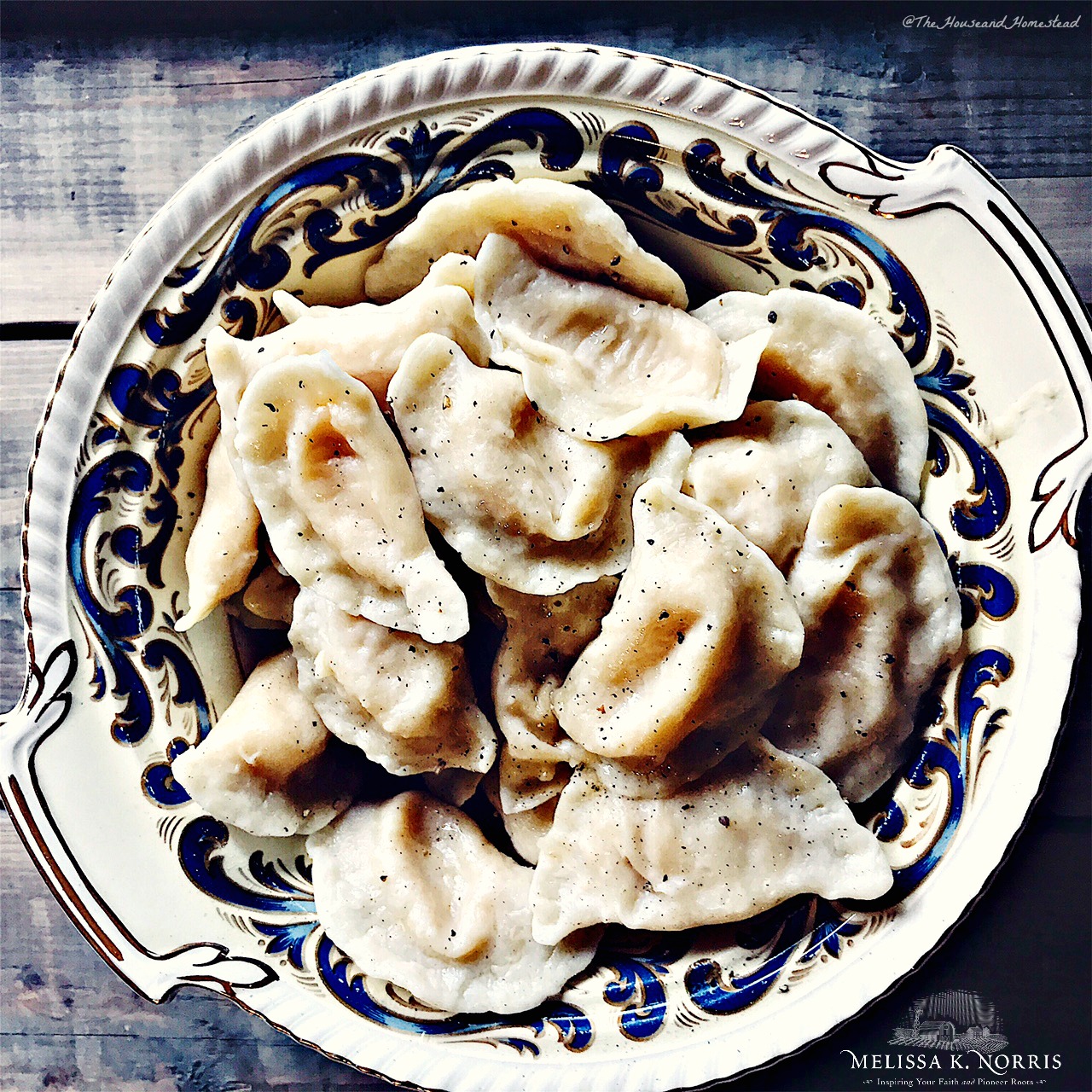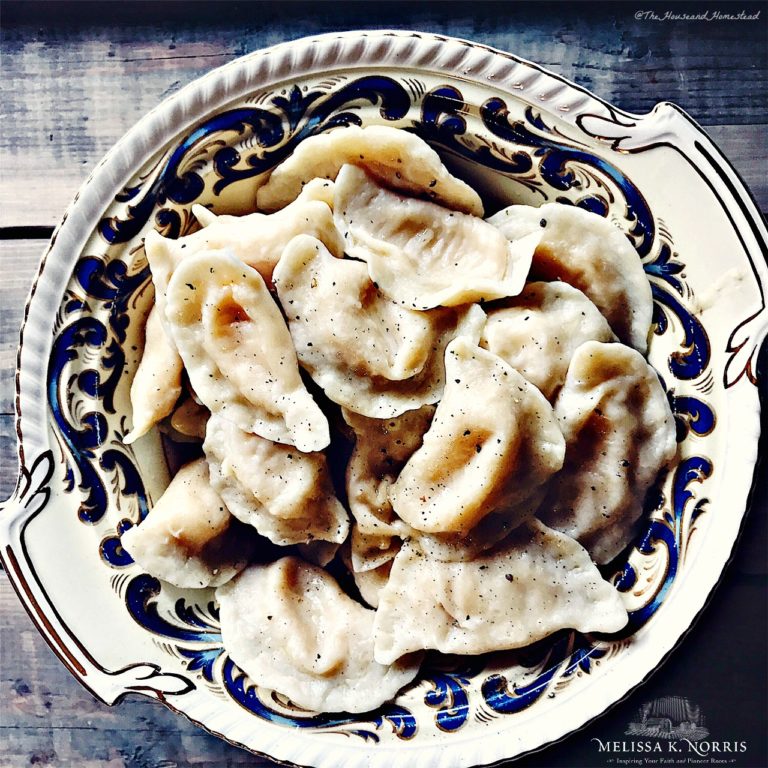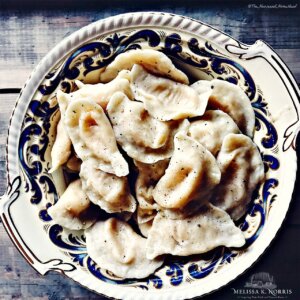 Traditional Ukrainian Perogies
This traditional Ukrainian perogy recipe is extremely frugal, averaging out to less than 10¢ a piece. This recipe makes around 150-200 perogies but can be doubled or divided to fit your needs.
Ingredients
For the Filling:
5

lbs

russet potatoes

1

lb

brick of old/sharp cheddar cheese

grated

1

onion

finely chopped and sautéed in butter
For the Dough:
6

cups

all purpose flour

2

tsps

salt

2

cups

warm water

potato water from filling is the best

2

Tbsp

vegetable oil

2

large eggs lightly beaten
Instructions
Peel potatoes and cut into quarters. Cook in boiling water until soft enough to mash.

Drain well, reserving 2 cups of potato water for dough.

Return potatoes to the pot and add grated cheese and sautéed onion. Mash until smooth. Let filling cool while making the dough.

In a large bowl, sift flour and combine with salt.

Mix together water, oil and egg, and pour half of mixture into flour. Mix and slowly add the remaining liquid. Knead by hand until flour and liquid are well combined, into an elastic ball. You may need to add a small amount of either flour or water, depending on the consistency of the dough.

When well blended and smooth, wrap in plastic wrap or a clean plastic bag and let dough rest for at least 30 minutes.

Cut dough in half or in thirds, keeping unused dough well wrapped in plastic until needed. Flour the table or counter lightly and roll dough to about 1/8 inch thickness (thin is best, but not too thin, as you don't want the dough to break as you fill your perogy).

Cut the dough in rounds using a biscuit cutter or a small drinking glass (upside down).

Scoop about 1 Tbsp of potato filling for each perogy and roll into a ball in the palms of your hands.

Fill each round of dough with a ball of potato filling and seal the edges of the dough together with your fingers. Make sure when pinching the edges to ensure there are no gaps or that the 2 sides of the dough do not pull away from each other. Wet you fingers just a little if needed to help dough stick together.

Freeze on a baking tray and then transfer to a freezer bag if making in advance.

To cook, bring a pot of water to a boil and cook in small batches (10-15 perogies at a time), stirring gently to prevent dumplings from sticking together. Perogies are finished cooking when they float to the top.

Use a slotted spoon to remove them from water and drain before transferring to a serving bowl. Toss with butter and serve hot with sour cream. Add fried onions and.or bacon bits to take your perogies to the next level!
There you have it, how to make perogies at home. Will you be making this treat any time soon?