Some of the links below are affiliate links, which means I will earn a commission at no additional cost to you, if you click through and make a purchase. Regardless, I only link to products we use on our homestead or believe in.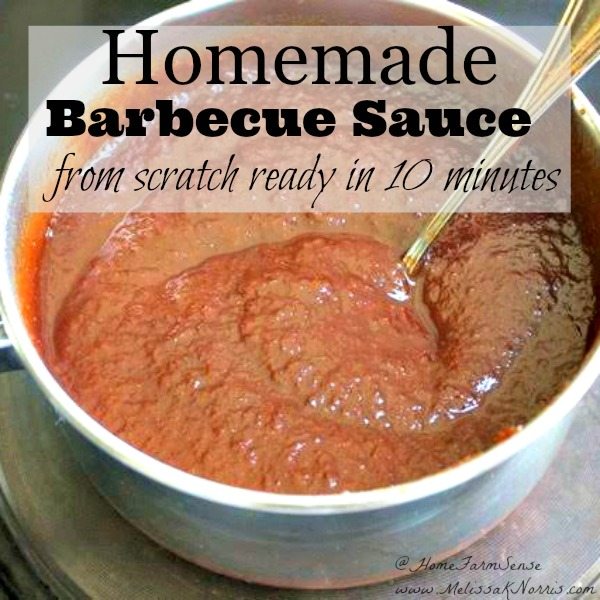 A homemade barbecue sauce recipe made from ingredients in your pantry, especially homemade canned goodness, is high on my list of must have. I've made several different variations, but when I saw Amy had incorporated both flavored vinegar and homemade fruit butter… I might have started drooling.
This is definitely a barbecue sauce recipe you'll want to print out and play with the ingredients you have on hand. I plan on trying it with some of the cherry jam I have on hand from last year in place of the fruit butter.
Being a pioneer woman or guy (aka frugal person), it's important to use what you have on hand, instead of running out to buy specific ingredients. Don't be afraid to try substitutions. This is also the benefit of having a well stocked basic food pantry. 8 Foods You Should be Storing and How
Summer can be a crazy time of the year, can't it? There is lots of weeding to be done, beginning harvests and canning and so many other homesteading projects.
I find that these busy times are when I need simple, fast recipes that are both nourishing and tasty. As we raise pastured pigs on our farm, barbecue pulled pork is a family favorite. I can put a pork shoulder in the crock pot overnight, add in some barbecue sauce the next day, make up a hearty green salad or cooked greens and I have a complete meal that my family loves.
I have a few cookbooks with all sorts of variations on barbecue sauce. They are very good but take a lot of ingredients and can be time consuming to make. I came up with this barbecue sauce recipe when I was in a hurry one night. I already had ketchup on hand so that part was done.
I looked through my pantry to see what I could combine to make a good sauce.
Homemade Barbecue Sauce Recipe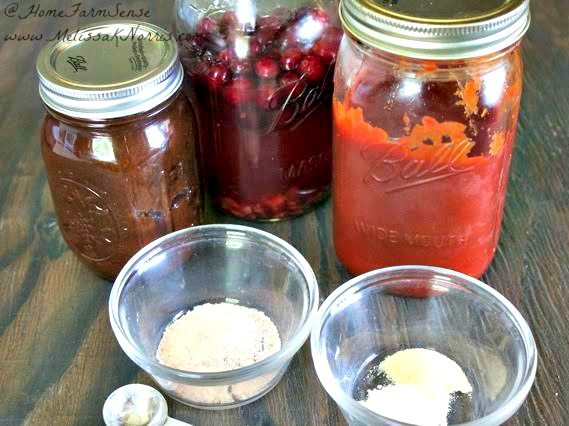 I added some of my home canned apple butter. I also had flavored vinegar ready to go (flavored vinegar is really easy; fill a quart jar with raw apple cider vinegar, add in fruit like cranberries, blueberries or blackberries and spices like orange peel or whole cloves and let sit for a month at room temperature) but regular apple cider vinegar works just as well. Here's our tutorial on making blueberry basil thyme vinegar.
Then I went to my spice cabinet to see what flavors would round it out – salt, garlic and onion powder are what I decided on.
I put all these ingredients into a sauce pan to simmer and added a chunk of butter for extra flavor. I cooked the sauce until the butter melted and it began to bubble slightly (keep it at a low temperature and stir often to prevent splattering). The sauce turned out really yummy and I made the whole thing in about ten minutes. The best part was that my family absolutely loved it. We used the leftovers on grilled salmon the next day…:)
Please, don't be afraid to experiment in your kitchen. It's really a lot of fun! Sometimes its easier to start with a recipe you have and change a few items just to see what you come up with. You will have a few duds now and then but the more you experiment the better you will get at combining flavors, even ones you wouldn't necessarily think to combine.
P.S. Make sure you keep good notes so that when your family raves about your new recipe you can make it again (made that error a few times…).
Anyway, happy Summer everyone – anyone hungry for barbecue???
Barbecue Sauce Recipe Ingredient Swaps
Don't have apple butter? Any fruit butter will work, giving it a slightly different flavor, peach would be fun.
Use jam or jelly. Grape jelly is wonderful when paired with meat, I also love cranberry and cherry (low sugar no pectin cherry jam recipe) with both chicken and pork.
Or for a more savory sauce, try using this red pepper garlic jelly in place of the apple butter.
No ketchup? You can use a cup of tomato sauce, or add tomato paste and extra water or juice. If using tomato sauce or paste, add in a teaspoon or so of ground mustard and a dash of pepper.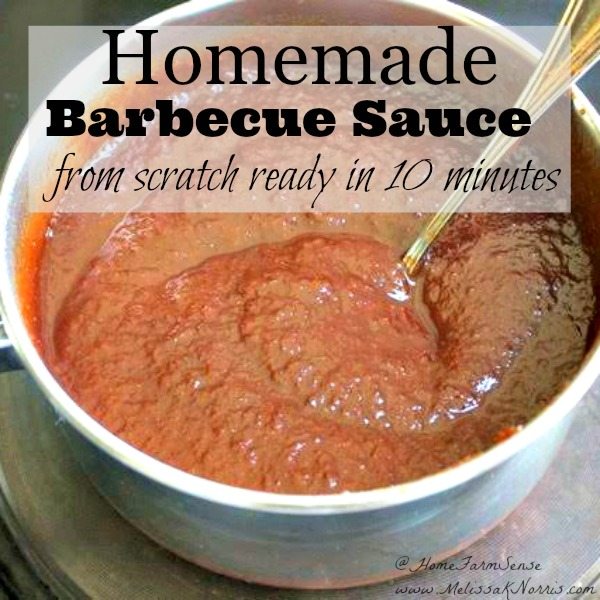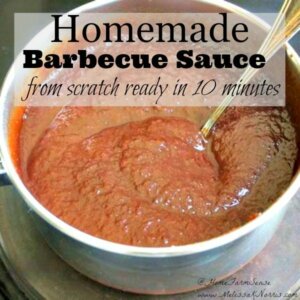 Barbecue Sauce with Pantry Staples
Ingredients
1

cup

ketchup

1

cup

apple butter

1/2

cup

apple cider vinegar

or flavored vinegar

1

tsp

salt

1/2

tsp

onion powder

1/2

tsp

garlic powder

2

TBSP

butter
Instructions
Combine all ingredients in a small saucepan.

Cook over medium heat until smooth and bubbling, stirring occasionally.