Some of the links below are affiliate links, which means I will earn a commission at no additional cost to you, if you click through and make a purchase. Regardless, I only link to products we use on our homestead or believe in.
Want to make your recipes healthier and more frugal? These 10 frugal and healthier ingredient swaps to your existing recipes will come in handy and are just as tasty, if not more. We're gearing up for holiday baking. I love to bake. If I had to pick between cooking dinner and baking, I hands down pick baking. Probably due to my sweet tooth…
There's a lot of Christmas recipes I only bake during the holidays. Not sure why, I should pull them out all through the year to bake and enjoy. But, when I'm going through a lot of our older recipes before our whole food makeover, some of them have some not so great ingredients. I don't want to toss them out because they're foods we grew up on and relate with Christmas.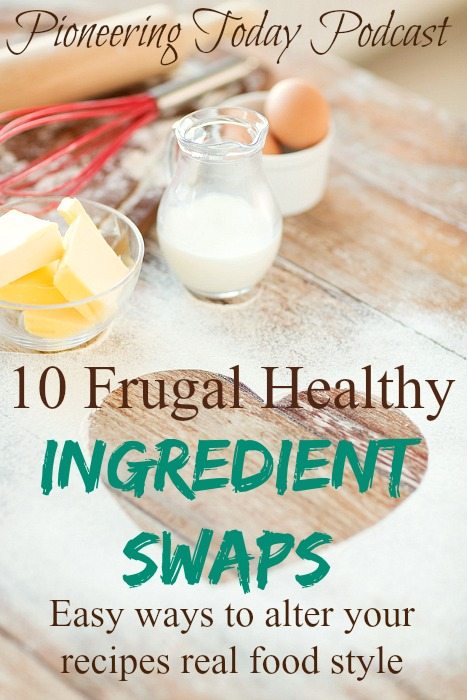 I post new episodes on Friday mornings. You can subscribe via RSS and receive every episode for free.


Or subscribe via Itunes
These are ways I adapt some of our recipes to our more whole food real food healthy. It saves us time to have a list of swaps so I don't have to run to the store if I'm missing one ingredient. It's also more frugal to make it from scratch.
Recently I've done the math on my recipes on the cost of making it from scratch. For instance we don't use commercial cream canned soup. They contain hydrogenated oils and GMO ingredients and they're not frugal. The name brand is like a $1.69 where we live and I can make the same thing with organic ingredients for $.50 in less than 3 minutes. Here's my recipe so you can use it, too!
A lot of my holiday baking recipes call for shortening. Shortening used to be cheaper than butter, but it has hydrogenated oils in it and GMO ingredients that is not good for us. Shortening was one of the items I threw out of the kitchen a few years ago. You can swap out any fat in a recipe. I mainly use organic butter, my own rendered lard from our pigs (you can also get it from the butcher if you're not raising pigs) The first rendering is used for baking, and coconut oil. When you use coconut oil in a recipe called for shortening, coconut oil melts at a lower temperature than shortening or butter. Coconut oil makes things like cookies spread out faster. If the recipe calls for 1 cup of shortening or butter, I use 3/4 cup coconut oil. My mom made pie crust and mixed all three of these fats. Play around with your recipes and see which fat you prefer. I like coconut oil in brownies, muffins, and cakes. I use all butter in my cookies recipes. I love lard for pie crusts. (This is my great-grandmothers 15 minute flaky pie crust recipe)
Use molasses and honey for some of your sweetener. I get a tub of molasses and maple syrup grade B from our local co-op. I use honey in things I'm not cooking such as teas or no bake candy/cookie recipes. I like to get our raw honey locally. When you use molasses and honey it creates extra moisture in the recipe. You can cut back a little bit on the fat if you're using molasses and honey instead of sugar in a recipe.
Use applesauce or pumpkin puree in place of some of the sugar and fat. I use this to replace some of the fat, in pancakes I use 3/4 of the amount in I make my own sugar pie pumpkin puree and our homemade applesauce which is naturally sweet.
Try and cut back the sugar in your existing recipes. I've used the Betty Crocker chocolate chip cookie recipe forever. I altered it from part shortening and butter to all butter and fresh ground spelt flour. It calls for brown and white sugar and I cut back each cup to 3/4 cup which makes for a 1/2 cup less sugar total. I didn't tell my family because they are the most picky things under the sun when it comes to their favorite recipes. None of us could tell a difference with the elimination of the sugar. I
Have a dry recipe? You can also use brown sugar (it has molasses still in it) and this will add more moisture into a recipe as well. I prefer the taste of brown sugar in a recipe, but I like to use maple syrup, molasses, or honey as my sweeteners. One thing I learned about maple syrup is to pay attention to the grade of the maple syrup. Most stores carry grade A, but grade B is less refined and retains more of the minerals and vitamins in it. It needs to be stored in the fridge, but it's an easy swap.
We don't have our own dairy on the homestead. I've got eggs, but we've not jumped into the milking… yet. If you have a recipe that calls for milk and you're running low, you can use half water and milk, or just all water. I can't tell much a difference in taste or texture this way either. You can also use yogurt in place of milk. Yogurt gives a more richer flavor and heavier texture, but not denser. I love using buttermilk in place of milk in recipes. It has acidity to it which does wonderful things to baked goods. How many times have you went to the fridge and realized you were out of buttermilk? I refuse to the run to the store (which is 10 miles away) for an ingredient. You can add 1 Tablespoon of lemon juice or apple cider vinegar to a cup of milk in place of buttermilk. Let it sit for a minute until it begins to curdle.
If you're making a chocolate recipe use a small amount of coffee. When you mix coffee with chocolate it brings out and heightens the flavor of the chocolate. I use leftover brewed coffee in my chocolate recipes. If I'm making a chocolate cake or muffins I use a 1/4 cup of coffee in place of some of the liquid. You don't taste the coffee flavor but it brings out the chocolate.
Reader Question of the Week: Can I use a sourdough starter if my daughter is allergic to yeast. Does it have yeast in it?
Answer: Sourdough does have yeast in it, but it's not the strains found in store bought yeast. Store bought yeast came out from the military and use in the 1940's. It's only one strain of yeast. Yeast is wild and natural and lives on the surfaces around you. Traditional sourdough captures wild yeast in the air, using just flour and water and it captures the natural yeast in the air. It starts to ferment. It does have yeast in it, but not the concentrated single strands from the store. I don't know if she'd be allergic to all strains of yeast and to the yeast in the sourdough, but it does contain yeast. Every area has different types of yeast, hence the Alaskan and San Francisco sourdough starters.
Sourdough is a great way to make some of your holiday recipes healthier. The good bacteria in the sourdough helps break down the phytic acid in the flour and makes it easier for us to digest. It's also frugal as you don't have to purchase yeast when using sourdough. It replenishes itself and makes the food nutritionally better for you.
Everyone's heard of sourdough bread and pancakes, but you can do sooo much with sourdough. You can do biscuits, tortillas, crackers, cakes, you name it! I'd had a lot of failures with sourdough starter. About 12 years ago I tried doing sourdough starter with sugar and store bought yeast. It always molded, sigh.
But I'm stubborn and two years ago a friend told me how to do a traditional sourdough starter. I wasn't feeding it enough and she gave me some great tips. When it was two weeks old I wasn't sure how to really cook with it. It's different than using regular store bought yeast and a lot of people don't know how to use this traditional method. A few recipes were really sour. I like sour, but this was way too sour.
I found this e-course and e-book on sourdough from GNOWFGLINS. It shows you how to make sourdough pizza crust and a ton of recipes. I printed it out and keep it on my cookbook shelf in the kitchen. They have a free video and recipes on how to make your own sourdough starter with traditional methods (including gluten-free starters). You can get the recipes and watch the video here.
Verse of the week:
A lot of the time when I'm reading the Bible, especially in the Old Testament, I really focus on God's punishment. I think of all the areas I've failed, what I've done wrong, things I shouldn't have said, and I get caught up in a cycle of guilt. I feel like I've been a total failure for Him. God doesn't want us to feel that way, He
Isaiah 30:18 Yet the Lord longs to be gracious to you; he rises to show you compassion. For the Lord is a God of justice. Blessed are all who wait for him!
He wants to be gracious to use and rises to show us compassion. The enemy was trying to get me away from God's goodness, grace, and mercy. Nothing, not angels, not death, nothing can separate us from the love of Jesus. If you feel like you've done too many things for Him to love you, remember He longs to be gracious to you.
What I'm reading this week:
I read more in the winter months. One of my favorite series is author Joanne Bischof, it's historical fiction set in the Appalachian mountains in the late 1800's, called the Cadence of Grace series. My family hales from the hills and hollers of North Carolina so it feels like home. Her characters are very real, in depth, and flawed. It shows how God uses us and all our mess ups to draw us back to Him.
It's filled with surprises, it has more twists and turns than I can say, because it wouldn't be very nice if I spoiled it. She just released a novella called, This Quiet Sky, that I read last week. I read it one night, staying up to midnight. I cried at the end…