Raising your own livestock is one of the best ways to become self-sufficient, eat healthy organic meat, and increase your preparedness in times of disaster with a ready food supply. Because the time to prepare is before you have the need.
Being prepared does not have to be scary or overwhelming! With the right approach, it's simple and practical — but especially, it's extremely important for a family's safety and security.
We raise our own beef cattle, but what if you don't have land? What's urban or country folk to do? Raise chickens!
I'm so excited to have Erin giving us the low down on how to raise chickens. We went the baby chick route a couple of years ago and in four months went from a flock of fifteen down to one.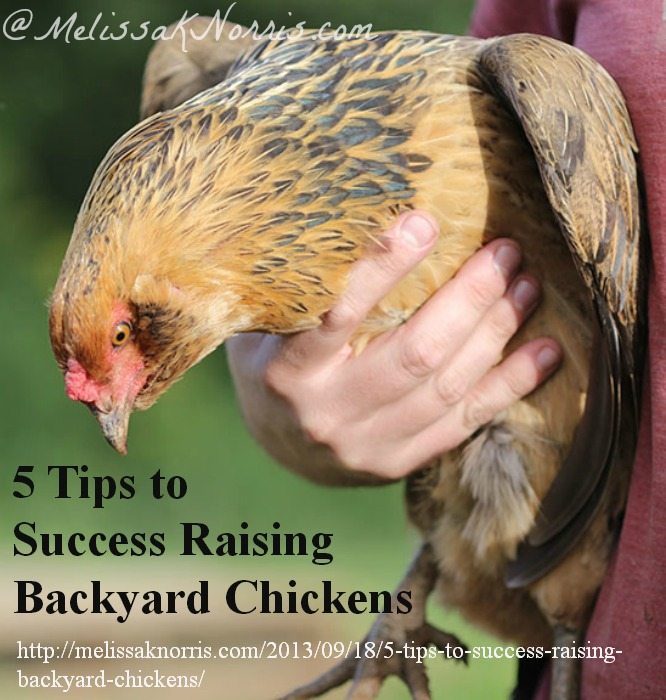 If I'd had this post, I'd have known young chicks aren't as "street" wise and we could have avoided the pain of loosing them by investing in older chickens. Plus, I would have gotten some eggs for my trouble. If you're considering chickens, or already have chickens, you'll love this post! Plus, chickens are a great way to provide food for your family in case of emergencies.
From a chicken wise farmer…
There is a reason you'll always see chickens scratching and pecking in a farm yard or homestead. They are one of the easiest farm animals to own, and provide meat, eggs and insect control. Not to mention plenty of entertainment!
Since chickens have become the hip farm animal of choice, there are more books, podcasts, "how to" blog posts and ironclad chicken rules than you can count. It's enough to make a prospective chicken owner's head spin. For something so simple, we've certainly made it overwhelming and complicated.
And how about those premium chicken coops that cost in the $600 and upwards range? Ouch!
But here's the secret. Chickens don't need those things. They're chickens. Think small feathered dinosaurs, and you've got them pegged. They do well in hot weather, cold weather, snow, urban, suburban, rural, fancy coops, old sheds, a camper shell. You name it, a chicken has lived and thrived there.
So let that weight off, and get ready to jump in with your first chickens. Here are a few guiding tips to make it an easier process:
#1 – Buy Adult Chickens
I know, I know. Baby chicks are sooooo cute. But here's the thing. They take forever to get to laying age, we're talking MONTHS, and they are so very fragile. Brooding baby chicks requires a warm, secure location and lots of pampering. Well, maybe not LOTS, but more than an adult chicken.
Contact a local farm, and ask to buy 3 or 4 of their one year old layers. Most farms that sell eggs have to dispatch those hens because they can't keep laying at a production level. But for your needs? They'll be perfect.
#2 – Don't Overthink the Coop
Yep. Your first coop doesn't need to be complicated. You might have lofty ideals, and that's great. But get the chickens, put them in a secure shed/barn/camper shell/etc and brainstorm their needs by watching them. It's more fun that way!
#3 – Free Range or Not
We personally free range our chickens. We've lost a few adults to predators over the years, but it's usually the younger chicks or the smaller size breeds (like Silkies) that get snatched. If you keep your coop close to home, and buy adult hens that have been free ranging, you've already got quite the leg up.
Be prepared that you might lose a hen or two. It's natural selection, but unless you have severe predation issues, you should be able to trouble shoot the problems that arise. We also find that a large rooster (if allowed), geese or a dog can really help deter daytime predators. And at night, your chickens will be in their secure coop!
#4 – They'll Eat Anything
Chickens are omnivores, and they love to eat. You can feed them a wide variety of chicken feeds, and as long as they're getting enough protein and calcium, they'll be happy and healthy. Organic, non-GMO, etc etc are all great, but not necessary. They also love scraps from your meals.
Try to avoid things that have mold, and chicken "killers" like avocado, citrus, caffeine, onions and chocolate. Ours have had all of those in limited quantities thanks to their compost raids, and we haven't lost a single chicken. Now, would I give them a big bowl of guacamole topped with chocolate ice cream? Probably not.
#5 – Enjoy Yourself
You're reclaiming some food security with your first laying hens. Having farm animals means a closer relationship to the circle of life. So you might lose a few, or choose to cull them when they start slowing down laying. These are all decisions and experiences you'll need to embrace. It's part of the experience.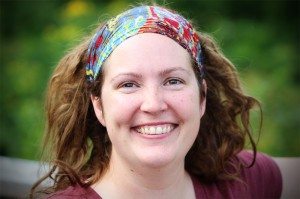 But for now, just enjoy the freshest eggs you'll ever taste and enjoy taking a big step in your sustainable food journey.

BIO: Erin and her husband, Mike, left their stressful urban lives two years ago to live in a big blue yurt on 22 rolling acres in rural Southwest Virginia. A rag tag mix of farm animals keeps them company, from oinking pigs to honking geese. They're slowly using sustainable methods and animal power to rehabilitate their land…one acre at a time. Follow their adventures on the Blue Yurt Farms blog or Facebook page.
More Articles on Raising Chickens