Some of the links below are affiliate links, which means I will earn a commission at no additional cost to you, if you click through and make a purchase. Regardless, I only link to products we use on our homestead or believe in.
Why should you learn how to cook on a wood stove?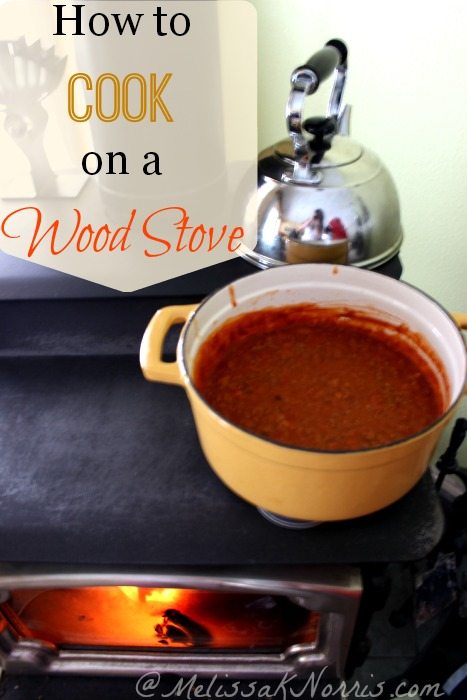 As a little girl, I remember my mother cooking stew on top of our wood stove during the winter months. We have a decent size forest on our homestead and every year we lose a few trees to a windstorm or old age, so a wood stove is the perfect way to use our resources.
Cooking on a wood stove takes me back to the pioneer days and to my grandmother's kitchen, where she had an old wood cook stove. My parent's still have a hybrid 1940's Monarch half wood and half electric stove. You could say I come from a long line of wood stove cooking.
Learning to cook on a wood stove is smart for survival type situations, such as power outages, but I cook on mine even when we have power. It's extremely frugal to cook on a wood stove, like as in free. You're already using your wood stove for heat, so using it as a cooking source is doubling your resources.
Here's my 6 tips for cooking on a wood cook stove.
Have an established fire. You'll want to have your fire started and burning before you begin cooking. The surface of your wood stove should be heated and have a good source of coals inside. Remember your heat actually comes from the coals, not the flames, so start the fire about an hour before you need to cook, it can take it longer for the top surface to fully heat. Keep your drafts open to heat things up quickly. Dry and seasoned firewood is a must in order to produce heat. We use fir, maple, alder and hemlock in our wood stove.
Use cast iron cook ware. Cast iron does not retain hot spots, plus it conducts heat. All of our cooking is done with cast iron. For more tips on cooking and caring for cast iron, read my article (has a video too!) How to Season Cast Iron Pan or Dutch Oven. This Lodge Cast Iron Dutch Oven doubles as a slow cooker/casserole and when turned upside down the lid is a skillet. How awesome is that? I have a thing for items that double as others…
You can use trivets to lift the pots, pans and skillets up off the top of your stove, which helps to keep things from scorching or adjusting the temperature. In a pinch, I've used canning bands/rings as they're not damaged by the heat (see tip #4).
Plan your time accordingly. Cooking on a wood stove takes longer than cooking on a gas or electric stove. It takes about the same as using a slow cooker. Give your food enough time to cook. However, if you get it hot enough, the frying time should be about the same. Usually, it will heat up the house too much to keep it at this high of a temperature to cook the entire casserole, soup, or dish.
Know your temperatures. The main part of your wood stove top will be the hottest. You can use canning rings to lift your pot up from the heat. The upper shelf of our wood stove is cooler. After I've browned the meat or gotten things to a boil, I move the pot to the upper shelf to stay at a simmer. The main cooking area of our wood stove measured at 250 degrees, which is in the average between the low and high setting on most slow cookers.
Watch your food. Keep an eye on how fast or slow your food is cooking. Too fast, turn down your drafts and move the food to a cooler area of the stove top. Too slow, open up your drafts and add more wood to the fire. Also, if you're using damp uncured wood, you won't get a hot fire.
Have fun! Cooking on the wood stove is fun. You can bake bread in a cast iron Dutch oven, rolls, biscuits, and of course, stews, soups, chili, roasts, and even casseroles. Need some recipes? Check out my recipe section, this Bean and Ham Soup and these Cabbage Rolls would be perfect cooked on the wood stove. These 25+ One Dish Cast Iron Skillet and Dutch Oven Recipes will help you come up with lots of tasty eats to cook on your wood stove.
For more tips on baking on top of a wood burning stove read Living Like it's the 1800's – Wood Stove Baking & Frugal Living Tips
UPDATE: Many of you have asked what kind of wood stove we have and the costs of putting one in. Our wood stove went in about eight years ago and for the cost of the stove and installation, it was about nine hundred dollars. We have a Lopi wood stove and I made sure to purchase one that has a cook top. You want to make sure it's the right size for the square footage of your home. Here's a similar version to our wood stove .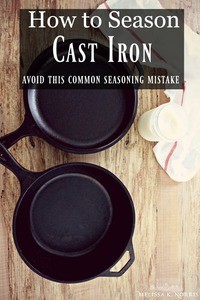 Living Like it's the 1800's – Wood Stove Cooking & Frugal Living Tips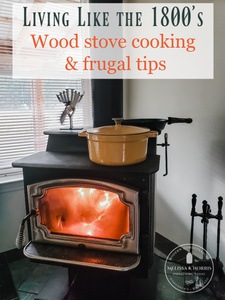 Now that you know how to cook on a wood stove, what are you planning on whipping up first?