Some of the links below are affiliate links, which means I will earn a commission at no additional cost to you, if you click through and make a purchase. Regardless, I only link to products we use on our homestead or believe in.
When freezing temps and winter storms are on the way, a homesteader has more to deal with than a regular household. I'm walking you through a week on our homestead and tips you can use when you have freezing tips or storms moving in. If you haven't had the wild winter weather hitting your area yet you most likely will be very soon.
When we get predictions of freezing temps and winter storms we prepare our homestead in a specific way, so if you get similar weather in your area you can get prepared with your garden and livestock and even some tips in the kitchen.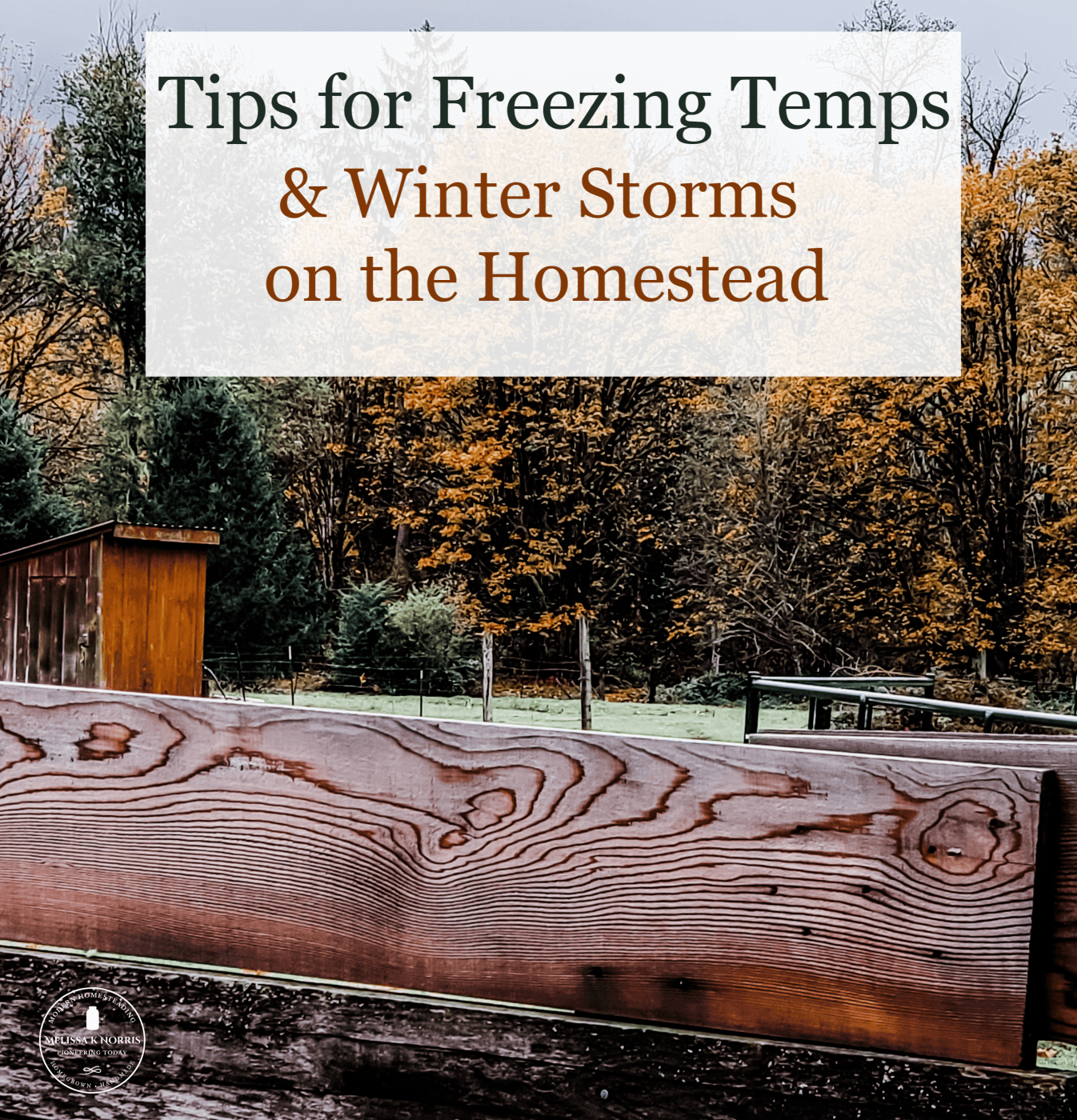 Listen in below to the full podcast, Episode #220 A Week in the Life – Tips for Freezing Temps & Winter Storms on the Homestead of the Pioneering Today Podcast, where we don't just inspire you, but give you the clear steps to create the homegrown garden, pantry, kitchen and life you want for your family and homestead.
Tips for Freezing Temps & Winter Storms on the Homestead
Fruit Trees
As you begin to experience those really hard freezes (20 degrees or even in the teens) you'll begin to notice on your perennials plants will lose all their leaves if they haven't done so already. This happened for us with our apple trees. If you remember from episode #207 – How to Treat Fruit Trees Organically, that my apple tree was showing signs of disease or infestation of some pests. I was waiting for them to drop all their leaves because it is so important to pick up all leaves and fruit that drops from the tree because many times the fruit and leaves harbor pests that we don't even see. Remember that these leaves are not ideal to add to your compost as we don't want the possibility of cross-contamination.
We had a winter storm come through over Thanksgiving where we had a Northeastern storm funnel through our area. We were forecasted for the temperature to drop to 12 and 14 degrees F for our low temperatures. When we get predictions of such cold weather like this we know that it's time to take action.
Protect faucets
If your outside faucets are not frost-free be sure that they don't have any hoses hooked up to them and that they are drained. You can also protect these faucets with styrofoam covers by wrapping them.
Because we have livestock that we need to provide water to we made sure that we had the frost-free faucets so we wouldn't have to worry about them freezing. This is something I highly recommend doing as these two faucets have never frozen since 2006 when we started living on this homestead.
Pumphouse
You also want to make sure to not have any hoses hooked up to your faucets and that your hoses are all completed drained and stormed away. We keep all ours in the pump house. We also rotate our chicken waterers so these are also stored in the pump house as well.
Stock water tank heater
The stock water tank heater is for our cattle. This heater keeps the water from freezing which is crucial to have water for your cattle at all times. People don't realize how important it is to have water available to their cattle because it's just as important if not more important to have water available in the winter months. This is because when animals are left outside during cold temperatures they burn a lot more fuel in order to stay warm. So they need to have that extra drinking water so they can keep their metabolism going.
Movable coop
This is our chicken tractor that has our chicken coop on top. I don't free range my chickens because we have too many predators around. I still wanted to give them the availability of pasture, grass, and bugs and not being cooped up. I move the tractor every 2-3 days around different parts of our pasture. I've learned when doing this in the winter months that wherever their coop is at on the field that it's not in the frost line and that I've got it positioned to block the wind.
Firewood
You do not want to be scrambling for firewood in the middle of winter. We know during these cold months that we'll be burning more wood to keep the house warm. So I always make sure that we have extra firewood stacked and ready right outside the back door.
Food
One of the best things about growing and preserving a year's worth of food is that I'm not ever worried about food during the winter months with the low temperatures and winter storms. We have:
Dehydrated food

Canned food

Frozen food
We also have a wood stove and can also cook with my dutch oven.
Also, be sure that you keep an eye on all your stored crops in your pantry (garlic, onions, pumpkin, squash). This is normally the time that you may have one begin to go bad so you want to be sure to remove that from the others and consider making any recipes with that specific vegetable so that you'll be able to use what you have on hand.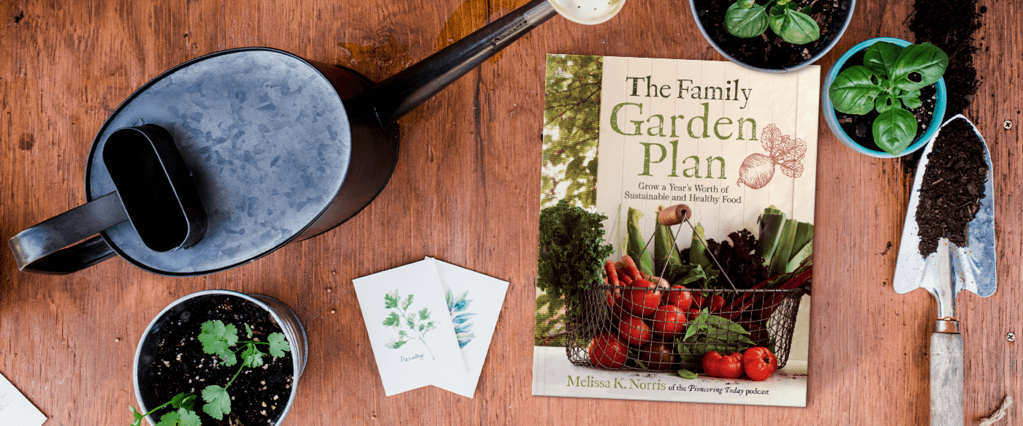 I hope that you enjoyed the sneak peek to our homestead and the things that we do to prep for freezing temps and winter storms. If you weren't able to grow enough food to last you through the winter months or you didn't plant any at all you'll definitely want to preorder my new book today The Family Garden Plan to take advantage of all the bonuses!
In this book, you'll learn how to grow a year's worth of food for your family! Increase your harvest and maximize the space you have using organic and natural methods to raise a year's worth of the fruits and vegetables your family enjoys with Melissa's step-by-step plans and charts. Click here for FREE How Much to Plant Per Person Charts