Today we're talking all about how to prepare for a snow storm on your homestead, or for emergencies like storms and extreme weather or any other type of big event that might leave you stuck at home, unable to get to the grocery store and possibly without power.
Now, for homesteaders or for those of us in the Pioneering Today Academy who are already living and using those old fashioned skill sets in this modern world, we like to be prepared and have things on hand at home so that we are ready no matter what. And when it comes to extreme weather, it's even more important that you've got all of these things in place already.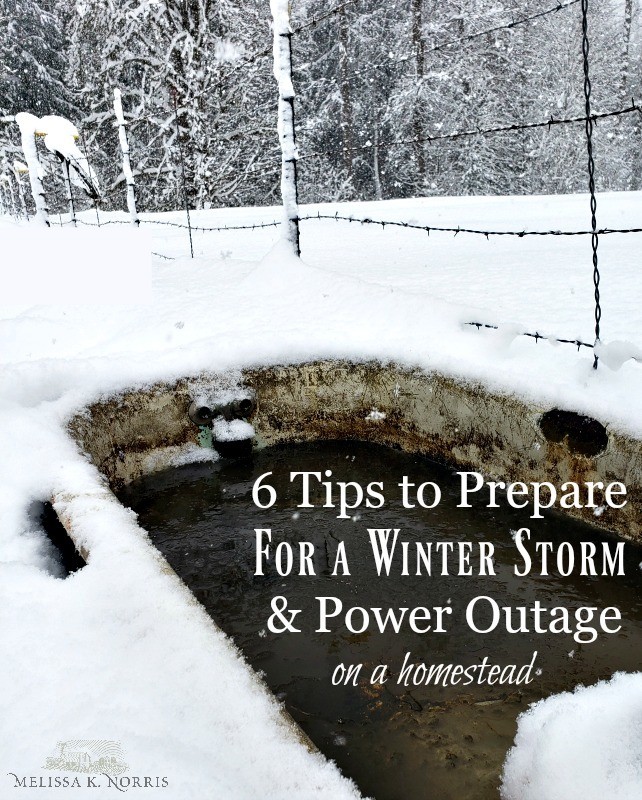 At the time of publishing, it has been snowing on our homestead for almost 24 hours straight and has dumped over a foot of snow on top of the snow we already had on the ground.
Listen in below to the full podcast, Episode #170 , of the Pioneering Today Podcast, where we don't just inspire you, but give you the clear steps to create the homegrown garden, pantry, kitchen and life you want for your family and homestead.
We live in the Pacific northwest. I'm on the west side of the North Cascade mountain range, tucked right up into the foothills, so it's not unusual for us to get snowfall and to have some really cold temps for a few weeks. But this February we've had way more snow than usual and it's been really cold and even a bit stormy. Last week we had temps down in the single digits.
We had windchill factors that put us down into negative digits. It was really, really cold. Then we had 60 mile+ per hour winds that came down from the Fraser Valley in Canada and they funneled down through the valley where we live up into the mountains and funnel right through our homestead, some wicked, very cold whipping winds!
The real crazy part is, there was certain areas of Washington state that declared a state of emergency before the snow even hit the ground! So naturally this whipped up a bit of hysteria among people here in Washington, and what came next had me really shaking my head.
I'm talking about the stores, y'all. There were lines longer than Black Friday!
No milk.
No dairy whatsoever.
No bread.
No fresh produce.
Nothing.
The store shelves were wiped empty over an eight-inch predicted snow storm!
Now, don't get me wrong, I don't like to drive in a bunch of really deep snow and ice, so I understand people stocking up on essentials and not wanting to have to come out in a big snow storm. But I cannot imagine being that panicked over a little snowstorm! Everything was wiped clear and people were genuinely panicking.
These events tend to be a wake-up call for a lot of people. So I thought that this would be a great time to talk about the steps that we take on our homestead, when we know a big weather event like this is coming, where we have a high likelihood of losing power and/or we're not able to get to the stores, especially when the stores might not even have anything left by the time we do get there!
So I'm going to start by telling you what we do and then I invite you to let me know what you need more help with when it comes to getting prepared.
How to Prepare for a Snow Storm
Priority #1: Water
When I know that there is a high likelihood of losing power or of big storms coming through, the first thing that I do is I run water into our bathtubs. We are on our own private well and when the electricity goes out, I don't have electricity to pump my well. Therefore I don't have any water. We're also on our own private septic system, which means I can flush toilets into my septic system, but I've got to have water to put in the toilets to flush them!
The second thing I do is I fill up the tea kettle, then any of our extra pitchers, and water bottles. We do have some water we keep in reserve and plastic, but honestly I don't like to use that very much because the plastic breaks down over time, so I keep a few different glass pitchers and containers on hand.
Next I fill up water for all of our livestock. This is really important for us because we have a herd of cattle and I've got my chickens. Our number one priority is making sure the livestock tanks are totally topped off. We keep a livestock water tank heater plugged in which keeps it from freezing.
You can see water is a big priority for us and our animals because without electricity, I don't have the availability to get fresh water. Now I know y'all are like, well, why don't you guys have a generator? Well, we actually do have a generator, but the generator that we have is not large enough to run and power a well.
Priority #2: Back-Up Electricity
We use our generator to keep deep freezers and refrigerators running, which is our main priority when the power goes out. This time of year, we have one big deep freezer that's actually out in our pump house, so when the power goes out, it's full of meat and it's cold enough it really wouldn't matter if the power went out. But inside the house we've got our refrigerator and then we also have an upright freezer that need powering to keep all of our meat (all of which we raise, hunt or catch ourselves) from thawing and going bad.
Now, you can absolutely can meat. I do can some of our meat, but I don't can all of it. My freezers are the primary spot where we keep all of our meat and a few things that don't really lend themselves well to canning, like summer squash, spinach, broccoli… Those are things that just don't hold up well when canned, so I keep them in the freezer.
I do like to have some frozen blueberries and frozen raspberries. Otherwise, I can most of our fruits and vegetables in the fall, but most of the meat stays in our freezer, which is why it's so important that we keep our freezers powered and cold so we don't lose what's in them.
We don't have our generator hardwired into our house. What we do right now is we've got it stored and then we fire it up and we run an extension cord from the generator through the window into the house and then I've got to plugin each appliance. We have to use extension cords in order to reach the fridge and freezer though, so while we've got it pretty much down to a system, it is kind of a pain to constantly be pulling all these extension cords out.
We're looking into getting a generator that we can hardwire into our house. We are looking at some different generators and I'll let you know when we finally decide on one. I'll go through the whole process and I'll probably make a youtube video and a podcast about it, so stay tuned. In the meantime we're doing lots of research into the best generator for our homestead. And then when that happens, then we can just power up the generator and we could power most of our house.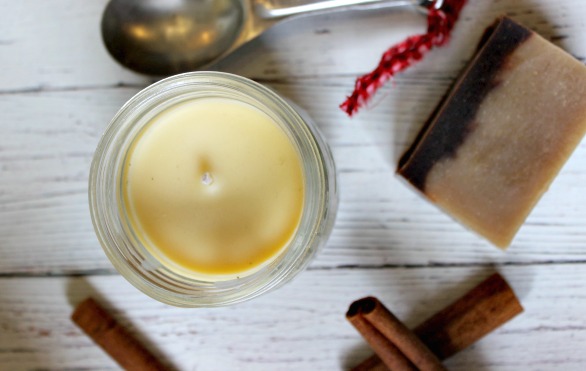 Also, we do have a wood stove, so luckily we don't need to worry about heating our house when the power goes out. If you don't have a woodstove for heat, check out 10 Ways to Keep Warm Without Electricity here
Priority #3: Light
When it comes to lighting, we can run a lamp or two off of the generator even while it's doing the freezers. I also make my own candles. I do beeswax and lard candles in mason jars. So we've got plenty of candles. But I've got an oil lantern that we use that gives off more light than a candle so we use this a lot when the power goes out.
We've also got headlamps, which are wonderful when it gets dark early and you still have to go do livestock chores. We have quite a few of those so we can use them in the house too if needed. But the oil lamp really does give off the most light.
I always make sure that I've got my WIC and that the oil lamp is full and I have back up oil in the closet. That way I always have extra oil on hand if I need to refill my lantern.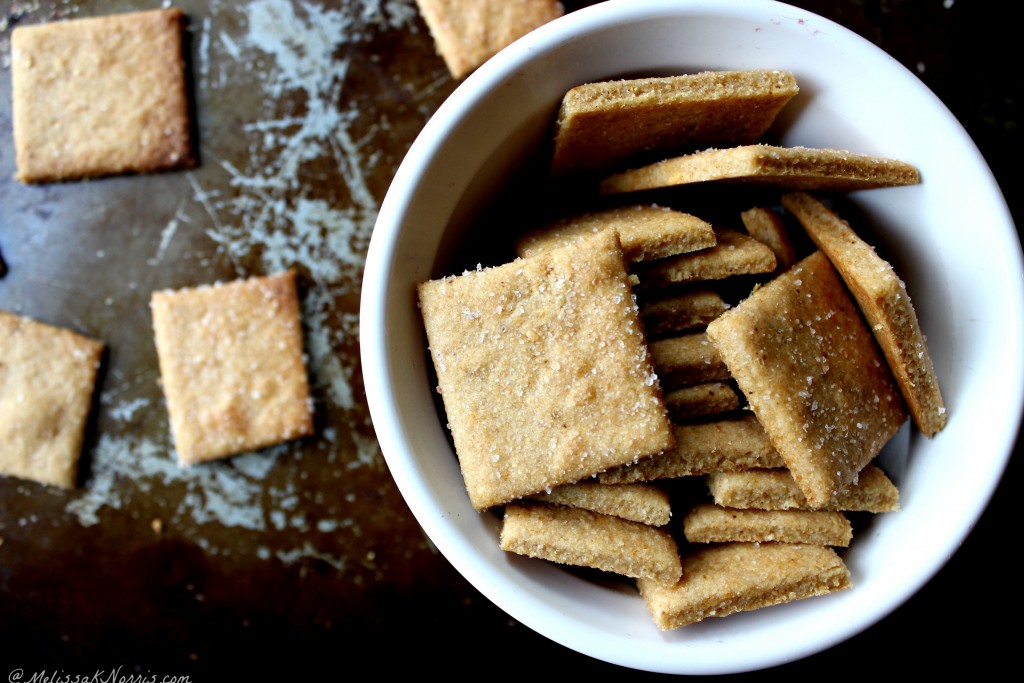 That's the process that I use for almost everything in our house, especially when it comes to our food and pantry. I always have extras and backups on hand so that I essentially have a store within our home where I can "go shopping" from. And snag my recipe for making these homemade crackers pictured below here How to Make Homemade Crackers in 5 Minutes
Priority #4: Food
Now, because I know we've got plenty of food on hand, I don't have to worry about going to the grocery store. But I do start thinking about how I am going to cook our food without power.
In decent weather I can cook and even bake outside in our Dutch oven that we use in our fire pit. But in bad weather I'm going to be inside using my wood stove to fry or heat things up on top of it. I can't do a whole lot of baking though.
There is a baking box that you can get for your wood stove that sits on top of it. We haven't gotten one of those, but it's something I'm going to look into in the future. For now I can't do a lot of baking when we get extreme weather like this, so yesterday I did up a whole bunch of sourdough blueberry muffins so we would have them on hand and ready to eat when the power went out.
I also made regular sourdough dinner rolls and baked them, and then I made a big pot of beef stew knowing that I can easily heat up that beef stew on top of the wood stove if the power goes out. So I do some baking and cooking ahead of time so that we have things that are ready to eat or heat up.
Priority #5: Clean Laundry & Dishes
Another thing that I do when I know we're probably going to lose power is I do all of my laundry ahead of time, because when the power's been out for multiple days or even a week, trust me, you're going to have lot of laundry to take care of when it finally comes back on. So you don't want to be starting out already behind.
I generally try to stay on top of the laundry so that I have no more than one load of dirty laundry at a time to do. I usually put a load of laundry in and wash it and I try to get it in before 8:00 AM because most power companies in the U.S. actually charge you less before 8:00 AM on weekdays, so it's cheaper for you to use things before 8:00 AM during the week. So one load goes in, gets washed and then this time of year when it's snowing and we're not putting it out on the line, I sometimes will set up our drying rack next to the fireplace or I will use our dryer. Then I fold them as soon as they're dry and put them away.
That way if I do miss a day or something happens, I've only got maybe two loads that need to be done. I do this all the time to stay on top of our laundry but I also make sure all the laundry has been done ahead of time, especially if it's very likely that we'll lose power. Then the next thing that I do his dishes. I make sure that all of the dishes are clean.
If the dishwasher is full of dirty dishes, I make sure that that gets run and then all those clean dishes get put away. Then if the power goes out, I've got the empty dishwasher to put all the dirty dishes into so they're not piling up in the sink. If we lose power for an extended period of time, I'll use paper plates so that we don't have tons of dirty dishes piling up on our counter. Now, I don't use paper plates very often, but I do keep them in reserve for times like this.
But if you can get all of your dishes done up beforehand and that dishwasher empty, then you've got a place to put any dirty dishes while the power is out.
So those are all of the things that I do when I know a storm is coming and a power outage is very likely. Those are my priorities. As you may have noticed, going to the store and getting supplies and food is not one of the things that we do.
So quick recap: here's what I do when I know we're going to lose power:
Water:
Run the bath tubs with water, so I've got water to flush the toilets with
Fill up any containers I have with water
Fill up water for our livestock
Light/Electricity:
Make sure we've got gas to run the generator
Make sure that all of our oil lamps are filled with oil and keep a reserve of lamp oil on hand
Do any baking or cooking that needs being done before the power goes out so we have food that is ready to eat or easy to heat up on the wood stove when the power goes out
Do any laundry that you have that needs to be done
Get all of the dishes clean so that you're starting with everything being clean
As an added bonus, not only will you be better prepared for a storm or a power outage if you do all of the above things, but if it's the type of storm where you have a lot of snow, which we do right now, you have more time to go out and play in it instead of worrying about how you're going to make it through without power.
When it comes to food storage, we'll talk about that some more in part two because that'll be dealing more with the pantry and the system that we use. I also have some special free classes coming up in March where I teach how we raise a year's worth of food, and we'll also have open enrollment to the Pioneering Today Academy. So you'll want to make sure you're on my email list >><< or you keep your ears tuned into the podcast so you don't miss it!
For now, I hope you gleaned some helpful tips and information from this post and I can't wait to hear back from you, so be sure to leave a comment below to let me know how I can help you to prepare for a snow storm or any other weather emergency.