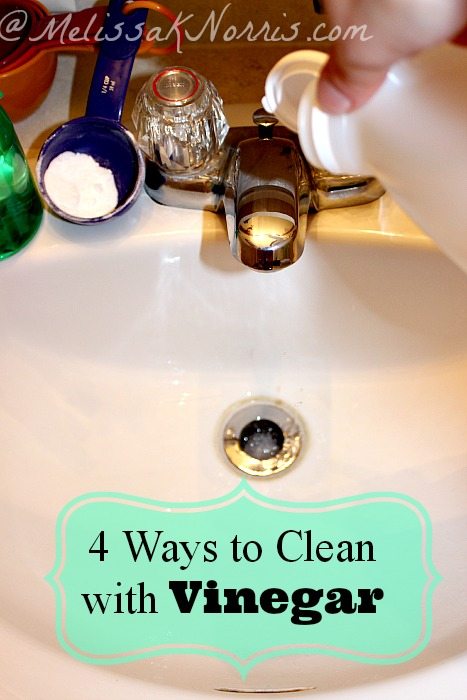 Are you ever overwhelmed walking down the cleaning supply aisle? There are tons of products on the market, all claiming to do the best job of keeping your house clean. Back in the day, there weren't foams, sprays, or gels to choose from. Good old-fashioned elbow grease and water were the two products on hand for the pioneers, along with one other little ingredient.
Vinegar.
Vinegar's preserving ability is well-known. My mouth waters thinking of the variety of pickles lining my pantry shelves. Sauces and dressings wouldn't taste the same without a small bite of vinegar. It's one of the most used items in our home.
Here are some other uses for vinegar you might not know about or use.
Window cleaner. Take a spray bottle and fill it halfway with vinegar and then top off with water. Even with paper towels (though we've since switched to washable rags for most of the cleaning), I washed my sliding glass door, mirrors, and all the windows without a single streak. Want a citrus smelling cleaner? I've got ya covered with this Homemade Citrus All-Purpose Cleaner.
Floor cleaner. Add a cup or so to your bucket or sink full of water. No soap. Use to mop your hardwood, laminate, tile or linoleum. Vinegar won't hurt your grout or your tile like other harsh cleaners, plus it kills bacteria. Ever notice small dark spots in the dips of your linoleum? Overtime, soap builds up and dirt sticks to it. Using vinegar eliminates these spots. If you have little ones or pets, you won't have to worry about harsh chemicals where they play.
Laundry room. Add ¼ cup vinegar to your laundry instead of bleach. It will kill odor causing bacteria, clean your washing machine, and no discoloring. I toss mine into the liquid softener dispenser.
Drain De-Clogger. Vinegar is also an awesome way to de-clog drains. Pour an 1/8 to a 1/4 cup of baking soda down your drain. Follow it with a chaser of vinegar. I pour until it reaches a good foam, allow it to foam for a few seconds, and chase it again. Let your drain sit for about 10 to 15 minutes and follow with a cup of boiling water. For an especially clogged drain, repeat. I do this every other month or so to keep pipes clear.
If you're having fruit fly troubles, they can lay eggs in your pipe, this will kill any eggs and help eliminate those pesky buggers. This fall, I couldn't get rid of the fruit flies for anything. I set traps, locked up my fruit, and still had a few buzzing around. Within 24 hours of doing this, we were fruit fly free!
You might enjoy this post.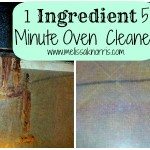 Do you have any other uses for vinegar?
Originally published in the Concrete Herald November 2011 edition and also featured on The Prairie Homestead Barn Hop.