Some of the links below are affiliate links, which means I will earn a commission at no additional cost to you, if you click through and make a purchase. Regardless, I only link to products we use on our homestead or believe in.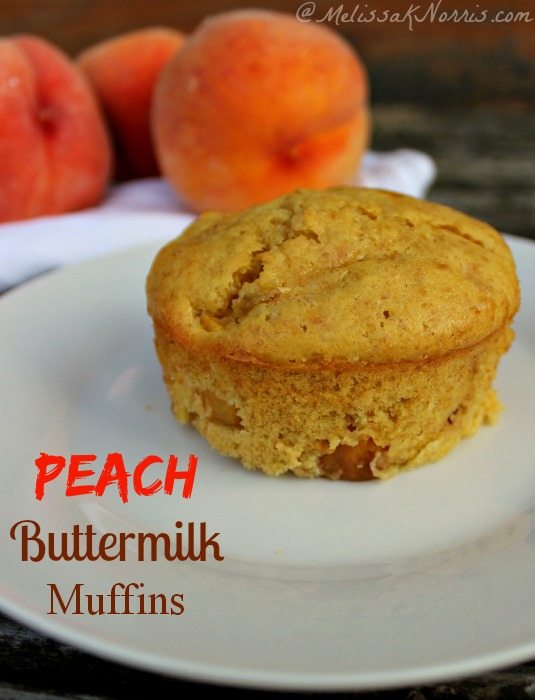 Nothing says the last days of summer more than a ripe peach, juices dripping down your chin. Is there anything better than a ripe peach? Sometimes I'm a purist.
But sometimes, I like to play with flour and sugar and buttermilk. Oh, buttermilk, you have a way of turning everything better. You make biscuits delicious and bread, oh the wonderful things you do to bread, especially my whole wheat buttermilk honey sandwich bread. Yes, buttermilk, you complete my baking.
I was lucky enough to get a box of gorgeous peaches. Of course, like any good pioneer woman I canned some of the for use this winter, and may or may not have gorged myself on a few along the way. Then I saw a request on facebook for a recipe using peaches and buttermilk. And I knew, just knew, this recipe would be born in my kitchen the next day.
We've been doing a grocery store fast for the past three weeks. Which means I've been doing even more cooking from scratch and using our home food storage. Quick bread, along with the zucchini and blueberries we had growing, have been center stage in muffins and breads for snacks and breakfast.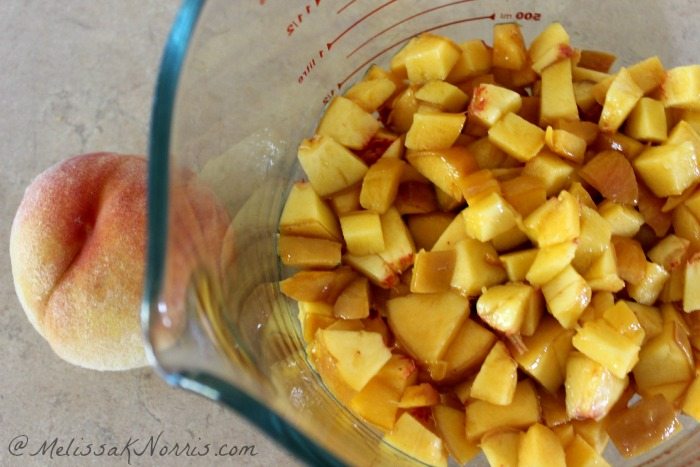 I pulled out my muffin recipe, tweaked, pinched, and rearranged it for a scrumptious, end of summer peach and buttermilk affair. Perfect on a mid-summer's eve…. or late summer.
Dice up 3 peaches or approximately 2 cups of peaches. I'd blanched a few too many for my jars so these were skinless peaches. Canned peaches will also work.
Add the peaches after you have all the other ingredients mixed together. I'm still just as in love with my Kitchen Aid Mixer *aff link as I was when I opened it for Christmas. Is it a bad thing I'm already dreaming of the next kitchen appliance I want for Christmas. I don't ask for things like new shoes or even clothes, no, I've got my eye on some kitchen bling, ya'll.
If you don't have buttermilk, don't despair. You can make a buttermilk substitute with a cup of milk and the addition of 1 tablespoon lemon juice. Stir and let it sit for a few minutes before adding to your batter.
This recipe will make 24 regular sized muffins. I made 12 regular muffins for the kids, because really, I can't resist any excuse for whipping out these reusable silicone muffin cups *affiliate link. But I made 12 jumbo muffins for myself, okay, okay, I did share some of the with my husband. Kind of hard not to when he gets up for work before I do.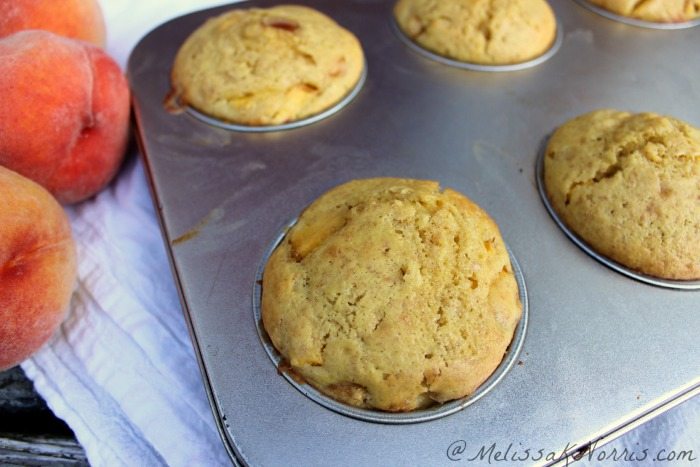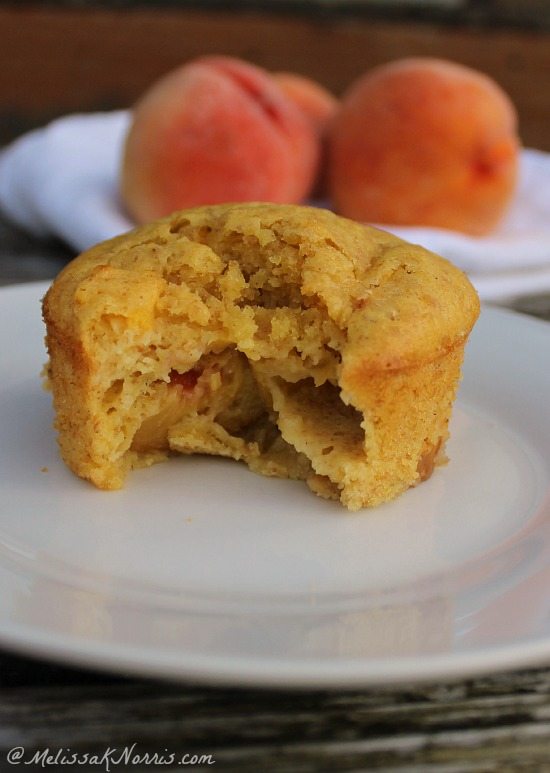 Can you smell them? Oh, my goodness, they melt in your mouth and I burnt my tongue because I was too impatient to let them cool all the way. You'd think I'd know better…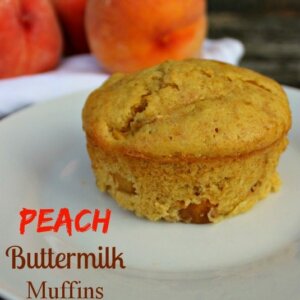 Peach Buttermilk Muffin Recipe
Ingredients
4

eggs

farm fresh eggs lend the rich yellow color to my muffins

1/2

cup

softened butter

3/4

cup

sugar

I use organic evaporated cane juice

2

teaspoons

vanilla

1

cup

yogurt

1

cup

buttermilk

2 1/2

cups

all-purpose flour or 3 cups spelt flour

1/2

teaspoon

baking soda

1

teaspoon

baking powder

1/2

teaspoon

ceylon cinnamon

2

cups

diced peaches
Instructions
Preheat oven to 400 degrees.

Cream together eggs, butter, vanilla and sugar. Add milk and yogurt. Stir in dry ingredients and mix well. Fold in peaches and place in greased muffin tins.

Bake for 18 to 20 minutes, slightly longer for the jumbo tins

This will make 24 regular muffins. I made 12 regular muffins and 6 jumbo sized muffins
What's your favorite way to eat peaches?